Making America great again…? Editor Ross puts Uncle Sam's Adventure Bike through its paces..
Harley-Davidson's made a name for itself over the past hundred-odd years by producing bikes that are big and brutish with plenty of power. While they could be said to be slightly agricultural in manner, Harleys do have a certain level of prestige – as the price of its used bikes prove.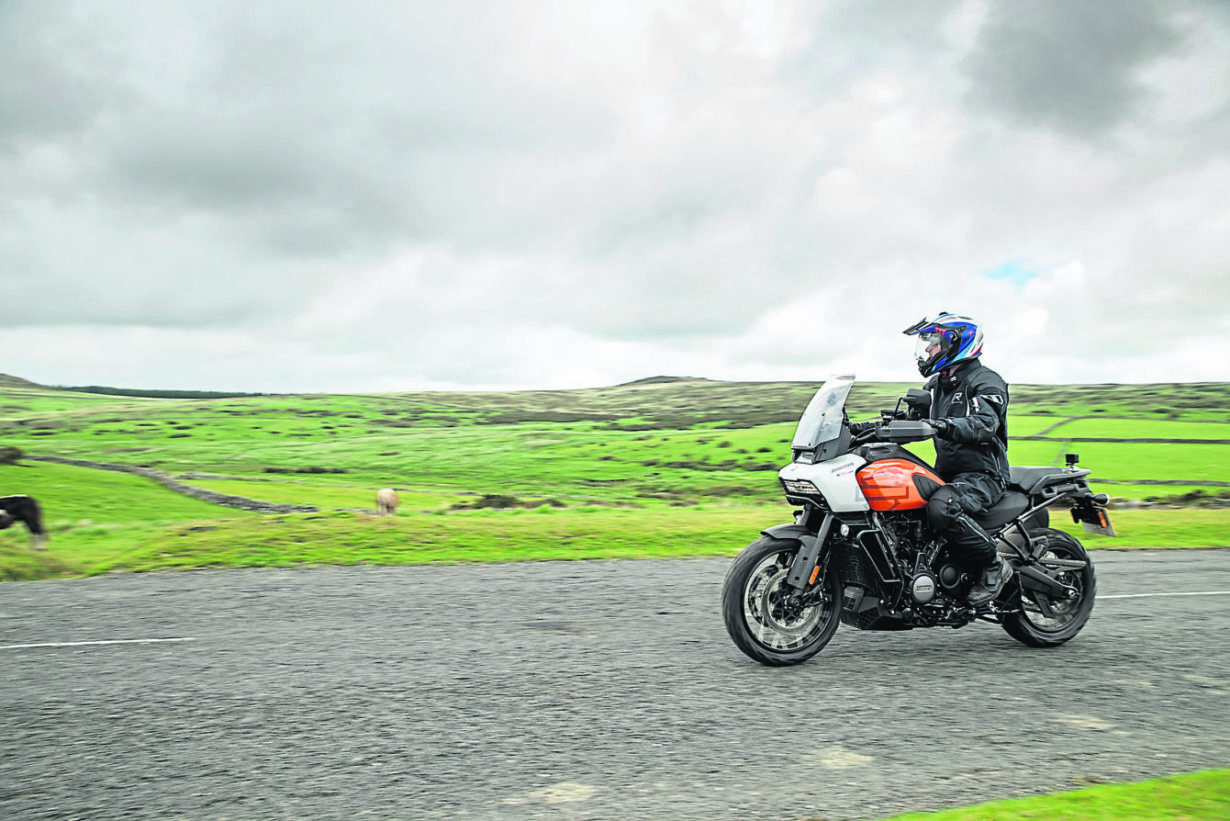 Times, however, are changing and H-D can no longer rely on its plethora of cruisers and tourers to bring home the bacon. Over the last few years it's been diversifying its range, developing electric bikes, going flattrack racing, and now it's released an adventure bike.
That's right. Harley-Davidson has built an adventure bike – and believe it or not, it's actually bloody good.
You might say the American factory's a little bit late to the party, but better late than never.
Looking good
The looks of the Pan America caused quite a stir when the bike was first revealed to the world a couple of years ago. Plenty of potential punters were dismissive of the funny-looking front end, but in person it's refreshingly unusual in a rugged, still-an-adventure-bike kind of way.
The 258kg Special weighs in a little more than its standard counterpart, partly as a result of the additional engine guards; centre stand; electronically adjustable Showa suspension; Daymaker Signature headlight with cornering lights; steering damper; and tyre pressure monitoring system. You can add Harley's own Adaptive Ride Height System (for an extra £600), which lowers the seat height to just under 800 millimetres when the bike comes to a stop. The system is only available for the 1250 Special, because the lowering kit relies on its more advanced electronics package.
It also comes equipped with Brembo brakes; heated grips; cruise control; a 6.8-inch TFT dash with Bluetooth connectivity (which is refreshingly simple to navigate); an adjustable screen; keyless ignition; riding modes; cornering ABS; and traction control.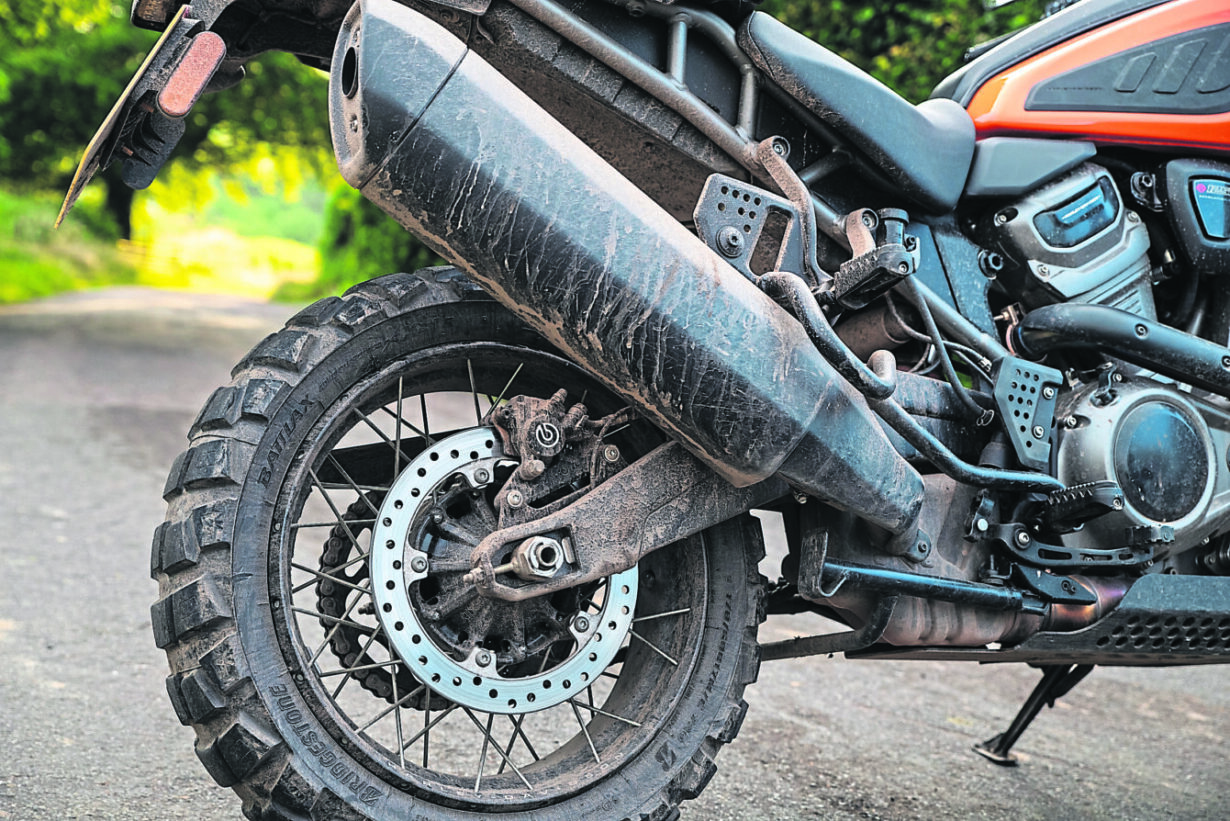 As the V-twin rumbles into life, it's still got a distinctly Harley vibe to it, but also feels different from anything Harley has released before. The new Pan Am is all about its 30 degrees of crank pin offset (which is why it doesn't sound so typically Harley), magnesium covers, variable valve timing and sodium in the exhaust valves for optimum cooling – to name just a few of the innovations.
It's saturated with state-of-the-art features that mean this newly developed 60° V-twin powerplant is immediately competitive within the big adventure bike market, and with 150bhp on tap at 9000rpm and 94lb-ft torque at 6750rpm, Harley is most definitely playing with the big boys. The ultra-modern Revolution Max engine wants to be revved, and thanks to the well-honed ride-by-wire system, it feels really sporty to ride. But the Pan America engine also works well at low revs, where it's impressively smooth. And the different riding modes, which can be selected at the touch of a button on the right handlebar, do actually make significant changes to the engine's characteristics. The step up from Road mode to Sport alters the throttle response to instantly feel more aggressive. The step back to Rain mode is another dramatic change in character, which will prove useful for less experienced riders.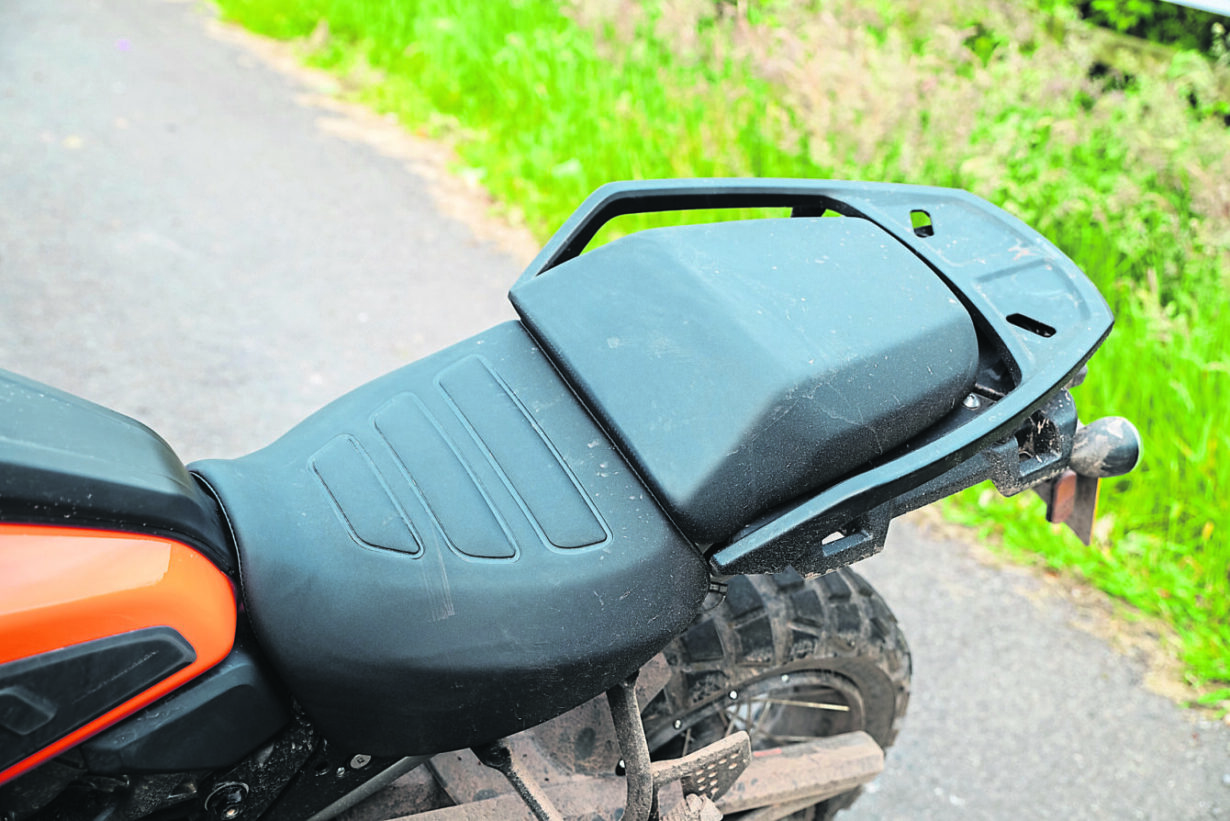 Yes, it handles
Article continues below...
---
---
While the Pan can hardly be described as a handling miracle, Harley's engineers have managed to achieve a centre of gravity that makes it easy to muscle around. The Special's electronically adjustable (and rather impressive) suspension comes from Showa, while the brakes come from Italian manufacturer Brembo. But, despite 320mm double discs at the front with radially mounted four-piston monobloc callipers, they lack bite and you need a lot of lever effort to stop quickly.
Through tight bends the Harley feels long and requires more effort to turn, while at speed it feels a bit sat down at the rear, taking the edge off its agility. Which is where the modes come in… Swapping to 'Sport' mode from 'Road' alters the Showa semi-active suspension's response and with firmer settings takes this feel away, resulting in a pleasingly sporty ride.
The angle-sensitive ABS and TC systems are excellent and should you venture off-road there is an off-road mode (there are actually several…) that softens the suspension as well as deactivating the rear's ABS if you require. It works well in the dirt. The standing position, the handling, the off-road ABS and the off-road traction control all work together extremely well, while the 'Off-road' mode also offers smooth power and torque delivery. It's far better than I thought it would be.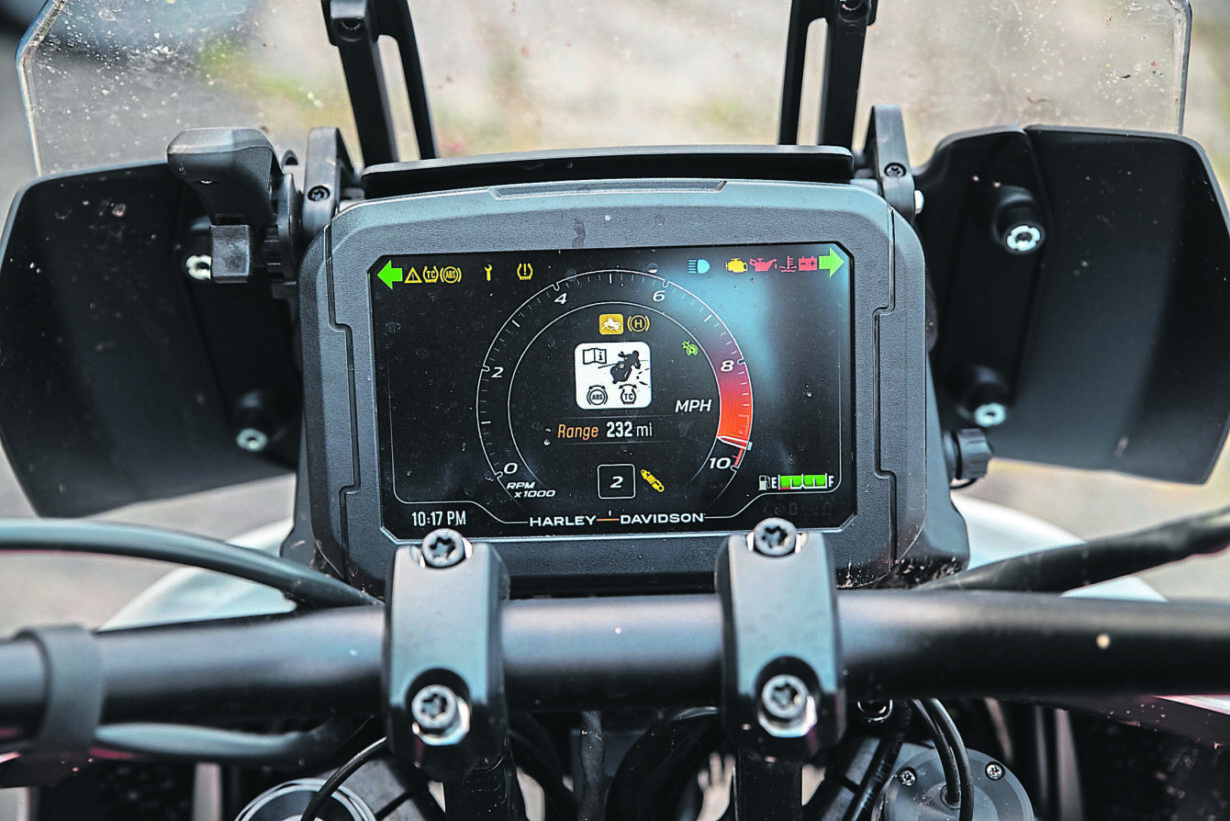 Tech spec
Harley-Davidson Pan America Special
Price: £15,500
Engine: 1252cc Revolution Max 60° V-twin
Power: 150bhp (111kW)
Torque: 94ft-lb (127Nm)
Suspension: (F) 47mm USD fork electronically adjustable semi-active damping control (R) Showa shock with automatic electronic preload and semi-active damping
Brakes: (F) 320mm twin discs, radial 4-piston callipers with Cornering ABS (R) 280mm disc, single piston calliper and C-ABS
Tyres: (F) 120/70R19 (R) 170/60R17
Frame: Tubular steel
Fuel tank: 21.2 litres (4.6 gallons)
Seat height: 895mm (35.2 inches)
Bike weight: 258kg
Fuel consumption: 43mpg (6.5 l/100km)
Warranty: Two years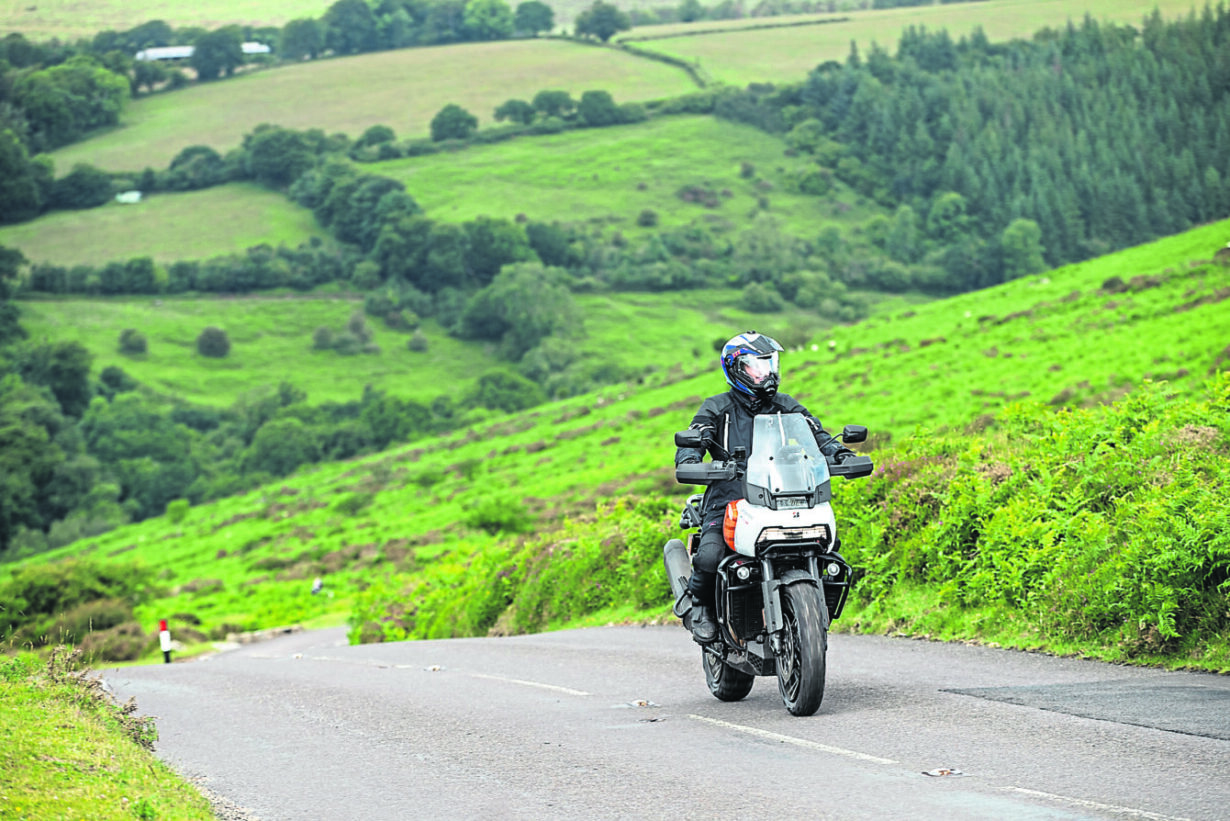 Is it worth it?
Coming in at £15,500 (or £15,750 depending on your choice of colour), the range-topping Harley-Davidon Pan America is a serious proposition in the saturated adventure motorcycle market, more than holding its own with some of the more established competition. It's the bike that surprised me most in 2021 – and is a fantastic first effort from H-D.
There are a few small niggles. The windscreen isn't particularly stable and rattles about more than I'd like it to. I didn't get on so well with the self-cancelling indicators either – the switch is a bit flimsy and on more than one occasion they cancelled in the middle of a turn. Oh, and there's no quick-shifter available either.
There's little doubt that Harley-Davidson is on to a winner with its Pan America. It's different enough in styling, seriously well-equipped and excellent value for money for its specification.
If you've never considered a H-D before, now's the time.
Watch the video
While on the road we did a video about riding in Exmoor and Dartmoor. The roads are ace, so if you are considering a trip, go to https://youtu.be/8w9T16zrj2U to see the video.
#morebikes #morereviews #harleydavidson #panamerica

Enjoy more MSL reading in the monthly magazine.
Click here
to subscribe.