Designed to be ridden flat out, the Laverda Montjuic was aggressive, hard work and loud – and it had bags of character.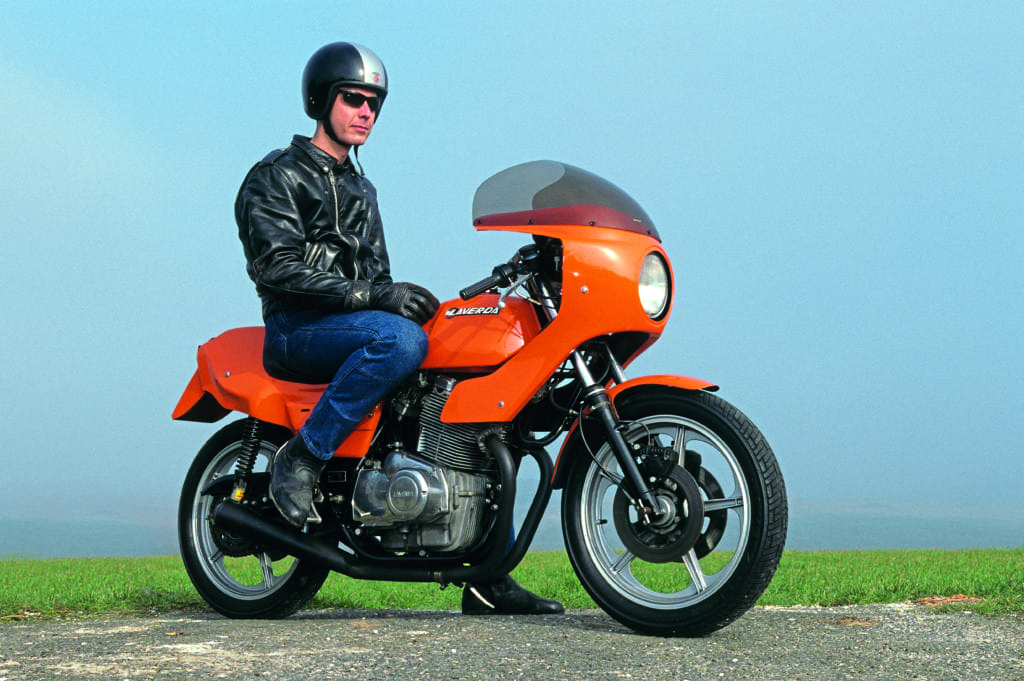 One image sums up the Laverda Montjuic perfectly. It's an illustration, published shortly after the 500cc parallel twin had been released in 1980, that shows a leather-jacketed guy sitting on a Montjuic, about to ride off – and first reaching up to remove his brain through a hinged lid in the top of his crash-helmet.
Tasteful? Not at all. Appropriate? Absolutely. The Montjuic was the archetypal 'brain out' motorbike: designed to be held flat-out everywhere, and best ridden after you've removed all thoughts of common sense or caution from your head.
To keep up to date with and everything Motorcycle Sport and Leisure, like our Facebook page or subscribe to our monthly magazine online!
That might have been a slight exaggeration, but the machine named after Barcelona's street circuit (where Laverda twins had been raced successfully) was certainly one of the craziest, most outrageous bikes of its era. Few models before or since have been so single-mindedly produced for fast and furious hooliganism as the Italian factory's loud and bright orange single-seat sportster – which, like the mighty Jota 1000 and Mirage 1200 triples, was devised by Slater Brothers, Laverda's Herefordshire-based UK importer.
The Montjuic traced its roots back to 1977 and Laverda's first 500cc parallel twin, which was originally called the Alpina until BMW's lawyers pointed out their firm had a car of that name, so the Italian bike became the Alpino. Either way, it was a roadster with pleasant styling, slightly raised handlebars, a capable, tubular steel-framed chassis and a 497cc, DOHC air-cooled engine.
Unfortunately for Laverda the Alpino made only about 40bhp and was, like most Italian bikes in those days, very expensive. For the UK market, Slater brothers Roger and Richard uprated it with higher compression pistons and a balancer shaft to create a bike they called the Alpino S, which made 44bhp and was just about good for 100mph. That was still unspectacular for a bike which, at £1675, cost almost twice as much as Honda's CB400 twin.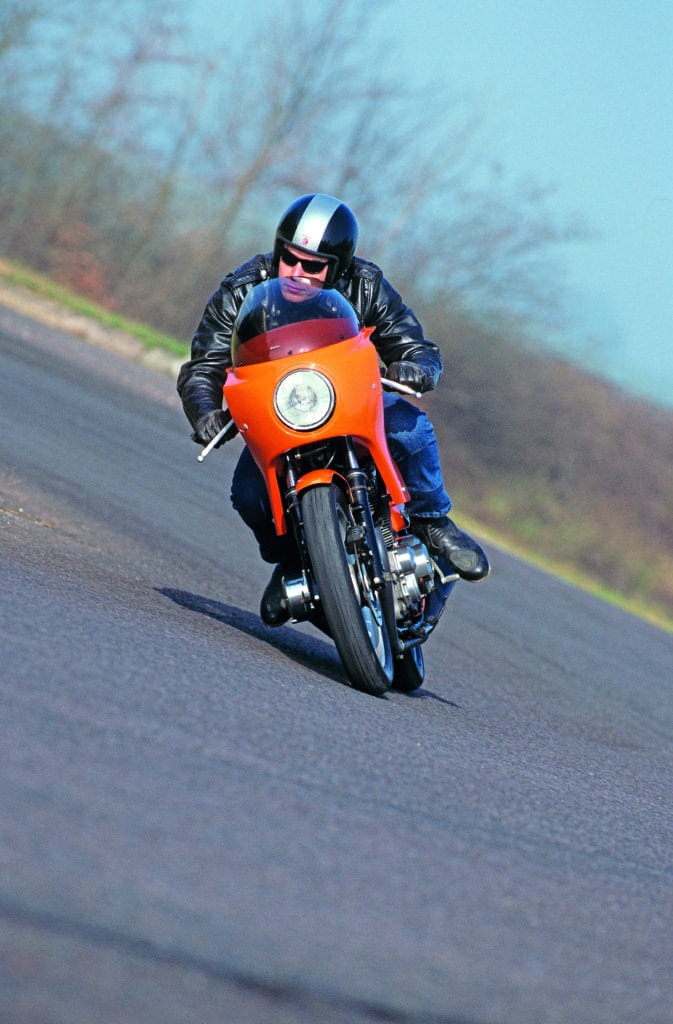 The Alpino lacked the performance and charisma that might have made it a sales success at that price, but Laverda added excitement in the Italian market by promoting a one-make race series, the Coppa Laverda, using a 'Formula' version of the twin. The Formula bikes – all identical to each other – had low handlebars, hotted-up engines, stripped-down chassis and racing bodywork. Motors were tuned to give 52bhp, using high-compression pistons, open Dell'Orto carbs and free-breathing exhausts, while the chassis lost 16kg of weight with the removal of unnecessary parts, and the use of a lightweight one-piece tank and seat.
Laverda promoted the Coppa series enthusiastically, setting up sponsorship deals and providing a large truck of spares at the rounds, held at circuits across Italy. The Formula twins were reasonably priced, costing little more than the basic Alpino in Italy, and were also in demand from enthusiasts in other countries. There was even a similar race series in Germany, but it was in Britain that the key development came, when Slater Brothers created a hotted-up roadster that they called the Montjuic.
To keep up to date with and everything Motorcycle Sport and Leisure, like our Facebook page or subscribe to our monthly magazine online!
"We'd been so successful with the Jota triple that we had to do something with the twin, especially for the racing," recalls Richard Slater, who still runs parts business Slater Laverda (www.slaterlaverda.com) from his long-time Bromyard base. "I wouldn't say the Montjuic was a road going version of the Formula; it was more of a development of the Alpino S that we'd been building."
The Montjuic had some important differences from the Formula racer, but very few concessions to road going civility. Adjustable 'Jota bars', angled steeply downwards, sat behind a small handlebar fairing. This, like the sidepanels and seat hump – which even had a semi-circular lower edge, to fit a racing number plate – was made by Midlands specialist Screen and Plastic, and painted in Laverda's traditional racing orange.
The Montjuic's rearset footrests, mounted on alloy plates, were located close to where the Alpino's pillion pegs had been, giving a very cramped riding position. The thinly padded single seat did nothing to help the rider's comfort, but this was a bike built for speed and aggression, with virtually no regard to anything else. Its unfiltered Dell'Ortos sucked mightily and sprayed petrol stains over the sidepanels, while the two-into-one exhaust system was legal but loud enough to be heard in the neighbouring county.
That pipe got plenty of chance to sing, too, because the Montjuic was a bike that just had to be revved hard. Although its Nippon Denso tachometer was redlined at 8000rpm, peak power (normally estimated at 50bhp) didn't arrive until nine grand, and the motor was good for 9500rpm – until, on occasions, it blew up in expensive fashion.
As for top speed, that depended on who you listened to. One magazine claimed the Laverda was good for only 105mph – on a par with Benelli's straight-four 504 model and Moto Morini's Maestro 500 V-twin, but almost 15mph down on Ducati's more sophisticated and streamlined Pantah 500. Another mag's editor quoted a top speed of 118.6mph "with more to come" and concluded by describing the Laverda as "the fastest, nicest, safest and most exciting 500cc bike in the world". Slater Brothers, whose racebike was clocked at 129mph at the TT, claimed 125mph as a genuine top speed on standard gearing.
To keep up to date with and everything Motorcycle Sport and Leisure, like our Facebook page or subscribe to our monthly magazine online!
Twin front Brembo discs ensured that the Montjuic had stopping power to match. And its light weight, strong tubular steel frame and firm, race-ready Marzocchi suspension helped give excellent handling until about 100mph when, some riders claimed, the handlebar fairing triggered a slight weave. That didn't stop Slaters' rider Peter 'PK' Davies winning numerous production races, although he didn't match the triple National production championship-winning success he had aboard the big Jota triple. Some riders blamed steering geometry for the weave, and fitted new yokes that increased trail. Others removed the fairing or insisted they had no problem anyway.
For its unique blend of style, sound and brain-out personality, the Montjuic deserves its place in the history books.
Having admired the Montjuic from afar back in the early Eighties, without ever getting even close to riding one, I approached this very clean, 1982-model Mk2 with slight trepidation. Could the twin come even close to living up to its take-no-prisoners reputation?
First impressions were positive. The parallel twin motor fired up instantly, with a raucous, aggressive bark though its black-finished two-into-one pipe. Mindful that the Montjuic was notoriously bad at idling, I felt obliged to keep blipping the throttle enthusiastically, savouring the race-bred roar while contemplating my chances of talking my way out of trouble if stopped by the law.
The view from the cockpit was suitably simple. The screen and fairing seemed large, rising up above two big black dials plus the slim tank and adjustable bars, whose position was not radical by modern sports-bike standards – unlike that of the footrests. The Laverda's seat was quite low, and the footrests so high that my knees felt as though they were round my ears as I set off, quickly being reminded of the Montjuic's dislike of low revs, as the Dell'Ortos spluttered to no great effect when given a fistful of throttle.
The Montjuic could hold its own with any opposition in the bends, and it still felt pretty good all these years later. Inevitably the ride was harsh, with those firm Marzocchis sending every pothole bashing straight to my kidneys. For a bike that was light – 179kg with five litres of fuel – the Laverda took a fair bit of effort to make it change direction, suggesting typical old-fashioned steering geometry.
The brakes didn't exactly have "stopping power to bulge your eyeballs", as one contemporary test put it, but the trio of 254mm Brembo discs and twin-piston calipers worked well enough that I could see why the set-up was so highly rated. This bike also wore good quality Metzeler ME33 and 77 tyres, so despite its relatively narrow 18in cast wheels I had enough grip to exploit the Montjuic's slim motor and excellent ground clearance in the bends. I ended my ride with another frenetic, high-revving thrash back along the narrow lanes, and got off the Montjuic with distinctly mixed feelings. It's not as fast as it looks and sounds, but riding it hard still provides a rush.
Montjuics come up for sale so rarely that putting an accurate figure on how much they're worth is difficult. Laverda made fewer than 3000 of the 500cc twin, of which between 250 and 300 were converted to Montjuics – even Richard Slater doesn't know the precise number. And John Fallon of Italian classic specialist Made In Italy (www.madeinitalymotorcycles.com) sees very few Montys through his showroom.
"We do get them occasionally, and I sold a Mk1 a year or two ago for £10,000," says John. "That was probably too cheap because it went the day after I advertised it. I'd say probably £10,000 to £12,000 for a Mk1; possibly slightly more for a really nice one. The Mk2 is worth slightly less although it's even rarer; more like £8000 to £10,000 for one of those." But it's a seller's market, so if you really want one you might be forced to pay more.
Although the Monty has a reputation for fragility, that's partly because back in the early Eighties many were raced or ridden very hard on the road. "They were reliable; we never had engine trouble," insists Richard Slater. "But you had to make sure to warm them up properly because people who revved them hard from cold did have problems."
It's down to common sense, Slater says. "Make sure the engine doesn't rattle or knock. They don't do that. And the engine should start easily from cold." But one thing that isn't a particular concern is a Montjuic that doesn't tick over. "It is possible to get them to tick over after a very good service, if the valve and ignition timing is perfect – but not for long," says Richard. "If it ticks over normally I'd almost be a bit suspicious!"
As with the Jota, one thing to be slightly wary of is that a 'Montjuic' is a genuine, Slater Brothers built bike rather than an Alpino that has been converted more recently. Richard Slater can help with authenticity and also stocks some parts (www.slaterbrothers.com), but bodywork and other unique Monty components can be very hard to find. "There are bits out there but they're generally original equipment and very expensive," warns Richard.
To keep up to date with and everything Motorcycle Sport and Leisure, like our Facebook page or subscribe to our monthly magazine online!