Five-time Enduro World Champion and Triumph Global Ambassador Iván Cervantes has claimed another title – Guinness World Record holder for the greatest distance travelled on a motorcycle in 24 hours by an individual.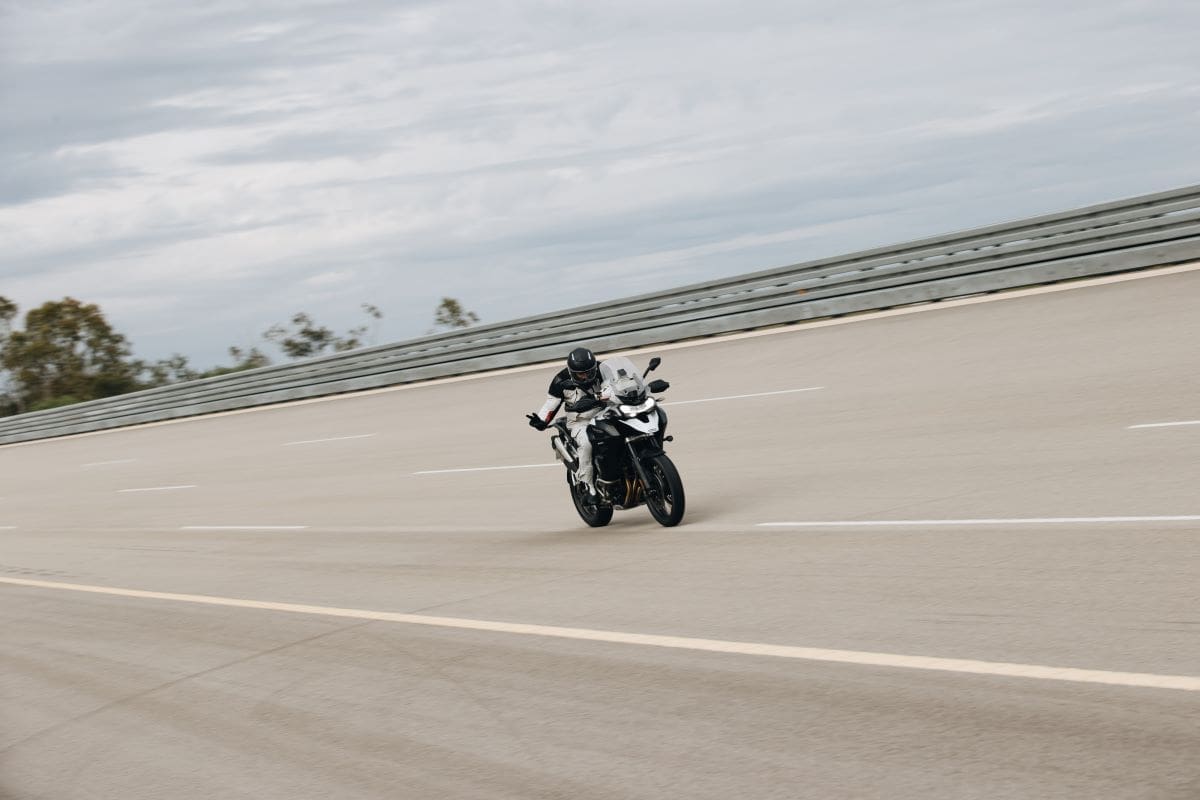 On 30th April 2023, Cervantes rode a Tiger 1200 GT Explorer more than 4012km in 24 hours on the High-Speed Ring at the Nardò Technical Center in Italy. His distance beat the previous record of 3406km by a margin of more than 600km.
The record attempt was witnessed and validated by a Guinness World Records adjudicator, with a final confirmed distance of 4012.53km – equivalent to travelling from London to the Great Pyramid of Giza in 24 hours!
Watch the full story of Iván's incredible challenge below:
Cervantes said: 'The Tiger 1200 GT Explorer was the perfect bike for this attempt. It's very comfortable to ride for a long time. For sure, the hardest part was the weather, because it started to rain, but this bike has a very big screen and excellent protection, which helped me a lot. It is a very special bike for me. It's not easy to ride for 24 hours in a row but, in the end, the record is mine with this amazing bike!'
A 5 times Enduro World Champion, 21 time Spanish Enduro Champion, and 5 time Spanish Motocross Champion, in July 2021, Iván was announced as one of Triumph's new Off-Road ambassadors, helping to develop the upcoming range of motocross and enduro bikes.
Since joining the Triumph team, Iván has seen great success in riding and competing on Triumph adventure motorcycles, sealing wins at the Baja Aragón, 1000 Dunas Raid, and Basella Maxi-Trail Race.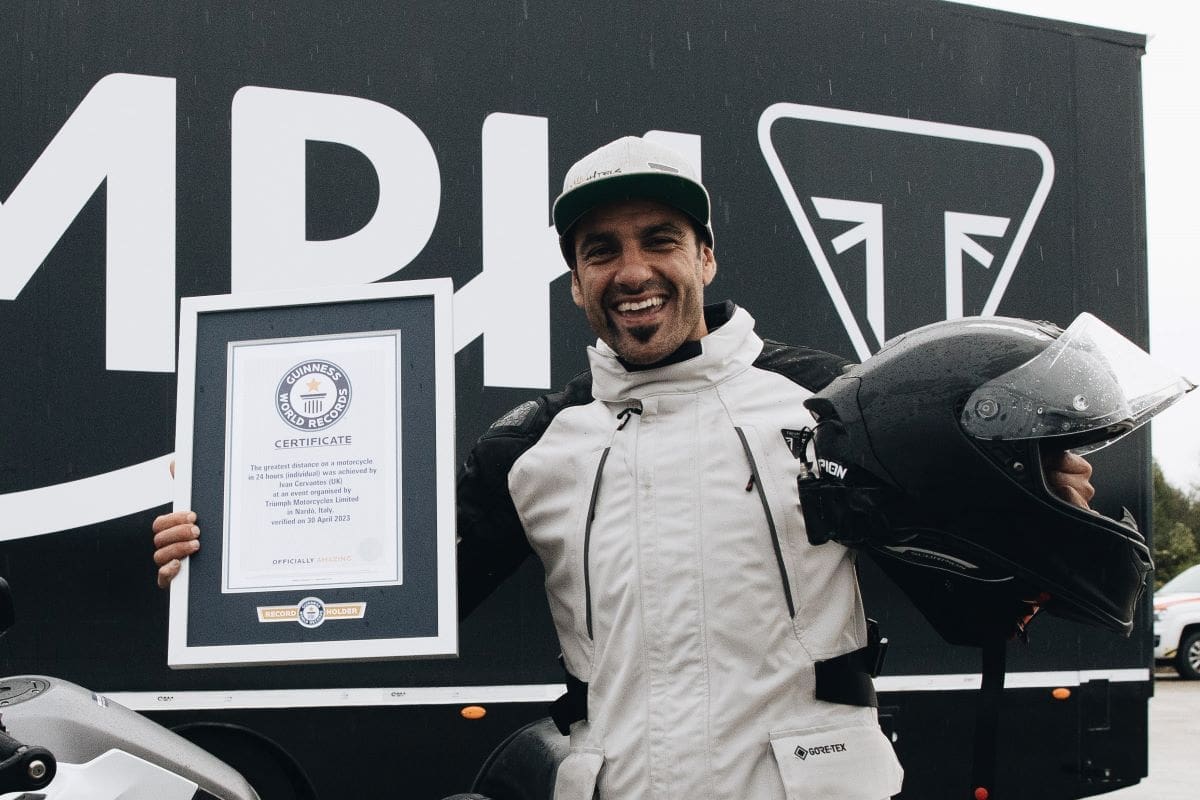 In preparation for the record attempt, in addition to intensive physical training on his own Tiger 1200 Rally Pro, Iván began carefully planning his nutrition and sleep strategy, in partnership with Professor Andrew Bagshaw at the University of Birmingham.
The Tiger 1200 GT Explorer used for the attempt was chosen at random from the production line at Triumph's factory in Hinckley, UK. No special modifications were made to the bike, other than completing the recommended running in and first service schedule before the attempt was undertaken.
Triumph have highlighted some of the features of the Tiger 1200 family which made it perfect for the attempt, including the 30 litre fuel tank, excellent wind protection, plus heated grips and seats which provided additional comfort during the cold early-morning hours and unexpected downpours of rain. The T-Plane triple engine and advanced electronics provided effortless power and control, and high-intensity LED lights helped Iván's visibility.
The only maintenance required on the bike during the course of the 24 hours was a single, planned tyre change half way through the attempt, where the standard fit Metzeler TOURANCE™ Next tyres were refreshed as the rain started and night began to fall.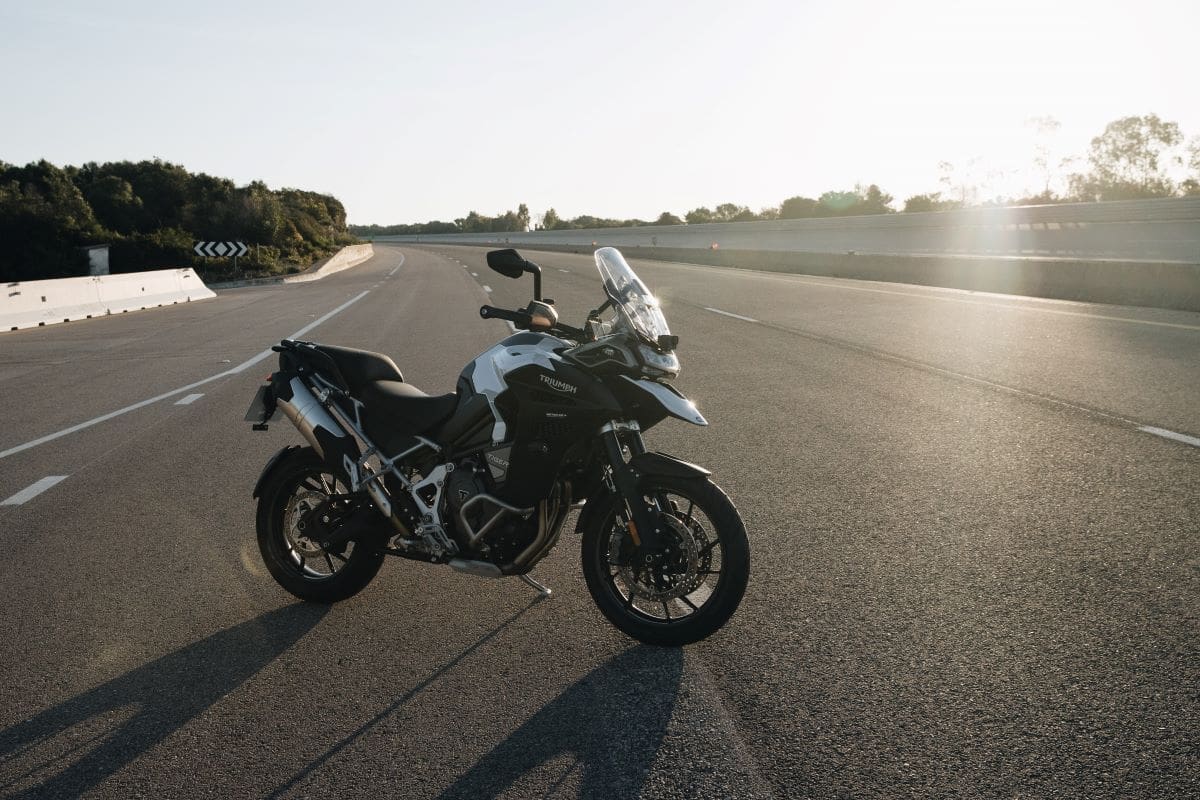 Nick Bloor, CEO, Triumph Motorcycles, said: 'Iván's achievement in taking the Guinness World Records title on the Tiger 1200 is simply incredible! His determination and perseverance have led him not only to beat the existing record, but to add almost 20% to the distance travelled in 24 hours. An outstanding effort, and one that everyone at Triumph is incredibly proud to have supported.'
The previous title of 3406.17km was achieved by American Carl Reese on 26th February 2017, recording an average speed over 24 hours of 141.9km/h.
Consistently riding at over 200km/h, Iván surpassed this existing record with 5 hours to spare in the 24 hour window and then set his sights on a new milestone – 4000km.
In the 5 hours that followed, he proceeded to ride a further 606km – essentially matching the existing record then continuing to ride the equivalent of the width of France in addition.

The record attempt was witnessed by Victor Fenes, an official Guinness World Records adjudicator, who validated the final distance travelled in 24 hours as 4012.53km, with an average speed of 167.79km/h. Fenes said: 'I am truly humbled to have witnessed Iván Cervantes's awe-inspiring achievement of setting the Guinness World Records title for the Greatest distance on a motorcycle in 24 hours (individual). Iván's unwavering dedication and Triumph's support embody the values we hold dear at Guinness World Records. It is a true testament to the indomitable spirit of human determination and the pursuit of greatness.'
KEY FACTS
Attempt duration: 24 hours
Total distance travelled: 4012.53km
Location: High Speed Ring, Nardò Technical Center, Italy
Length of one lap: 12.649km
Number of laps: 317
Riding speed: Over 200km/h
Average speed over 24 hours: 167.79km/h
Number of pitstops: 18
Litres of fuel used: 520
Number of tyre changes: 1
Hours of sleep: 0