The problem with riding America is that you want to go back again and again. Steve Rose is back for a third go.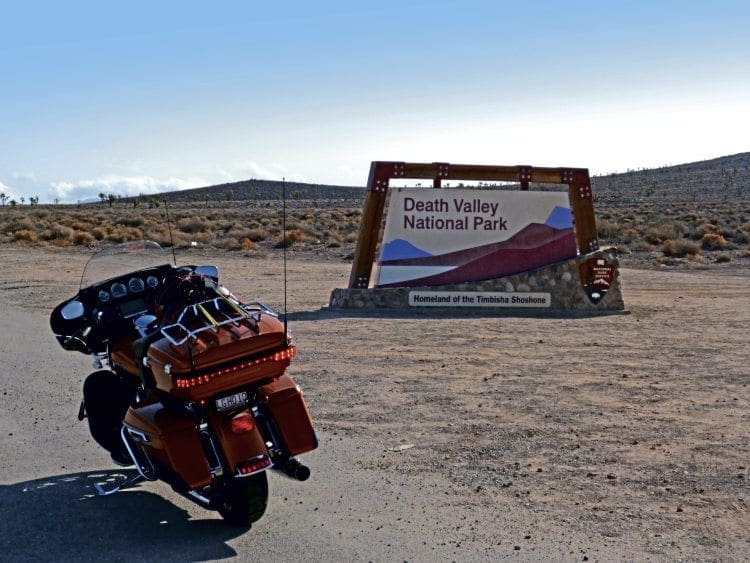 Las Vegas isn't a town, it's an industry designed to separate people from their money. Our hotel has 2000 rooms. Let's say an average of £100 per night… that's £2m a night before you factor in the cash from the casino, restaurants and bars. Even if you don't gamble, you'll find yourself looking at a lighter wallet and heavier belly before the jet lag's worn off.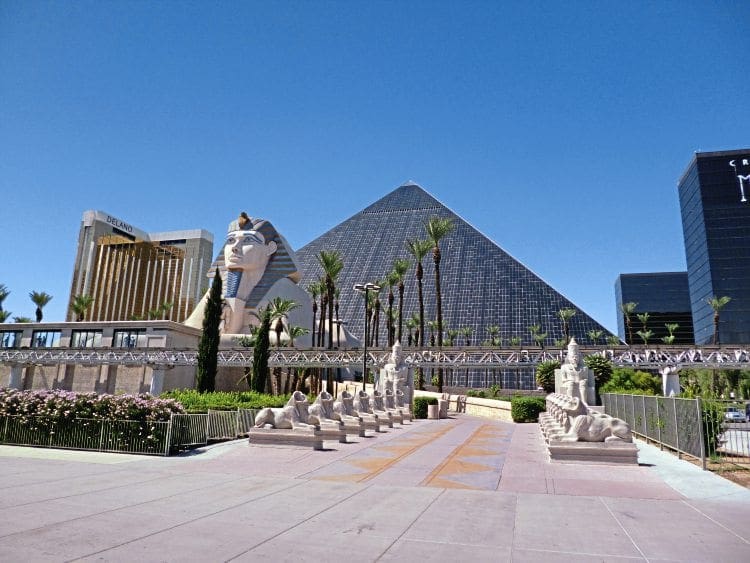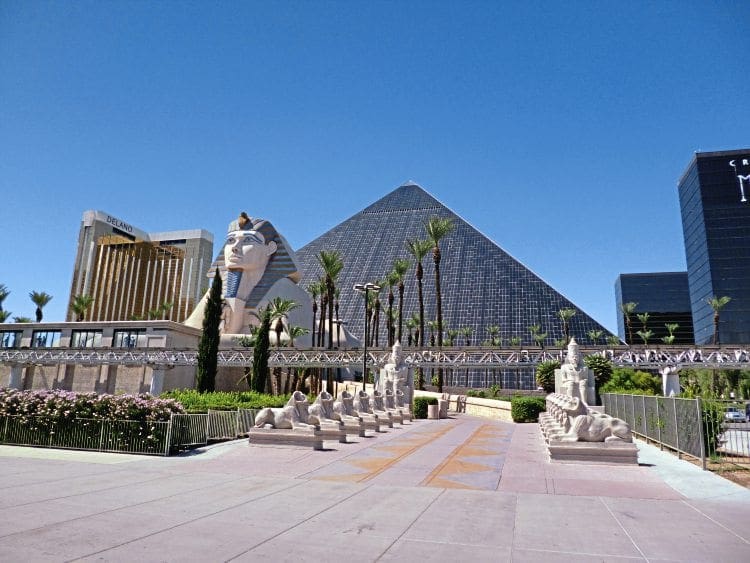 The big hotels are themed. Tropicana (Latin), Luxor (Egyptian), Venetian, Paris, New York, Bellagio (Italian renaissance), but nothing yet from the UK. Okay, London might not be glamorous enough, but surely a Yorkshire-themed hotel would be perfect for Vegas. The antidote to all that excess, filled with common sense, thrift, dour, gothic humour, and gravy. Las Vegas definitely needs more gravy.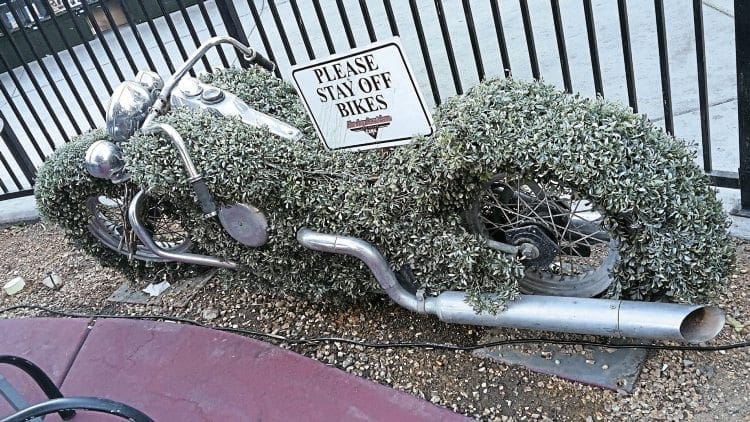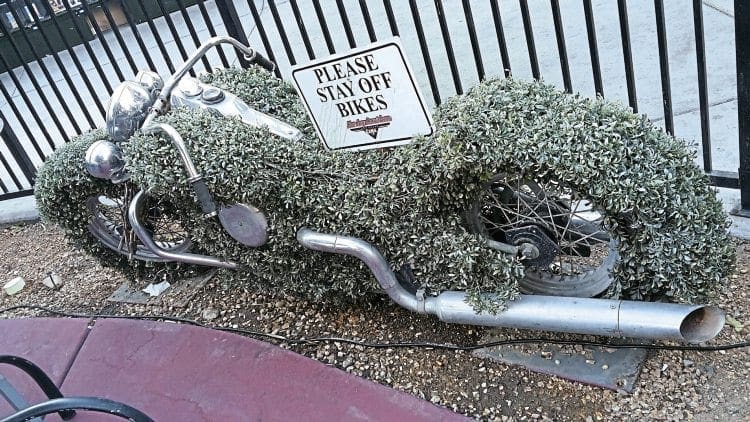 We, middle-youth, wide-eyed, aspiring middle-class, bucket-list bikers are out of sync here, but Vegas is the start point of our two week amble around western America. There are blokes in the street, with tickets offering girls to your room. Vans cruising round doing the same – dial the number and drop your trousers. Are the girls in the van? Is this the Vegas version of 'Just Eat'? Sorry… that's inappropriate, blame the jet lag. We flew in this afternoon and have tomorrow to acclimatise.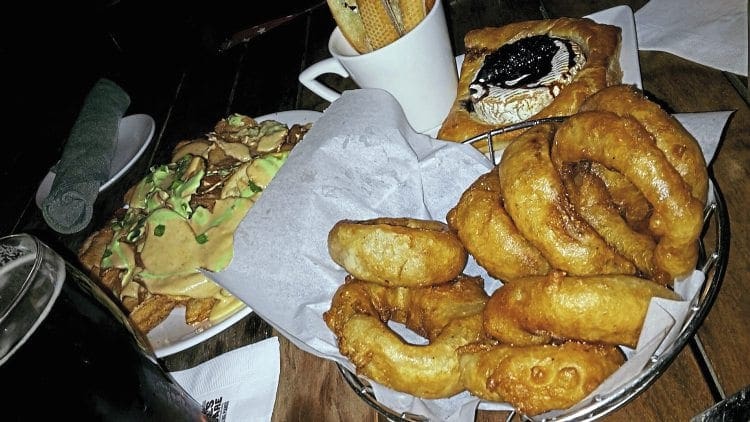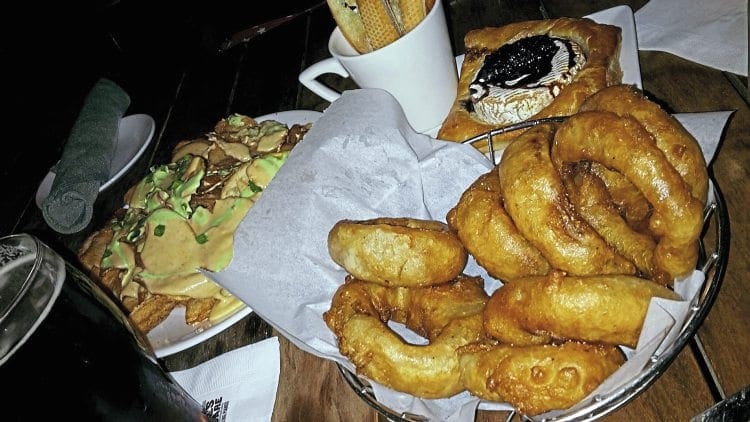 Our bikes have been delivered to the hotel – Orange and Black (our tour operator) is stunningly efficient. The two Harleys (Julie's on a Sportster 1200 Superlow, I've gone for the full Ultra-Glide experience) are almost new, very low mileage, spotless and prepped to perfection. Danny, the handover guy, makes us feel welcome as he goes over the bikes with us and talks me through the sat-nay on the Glide.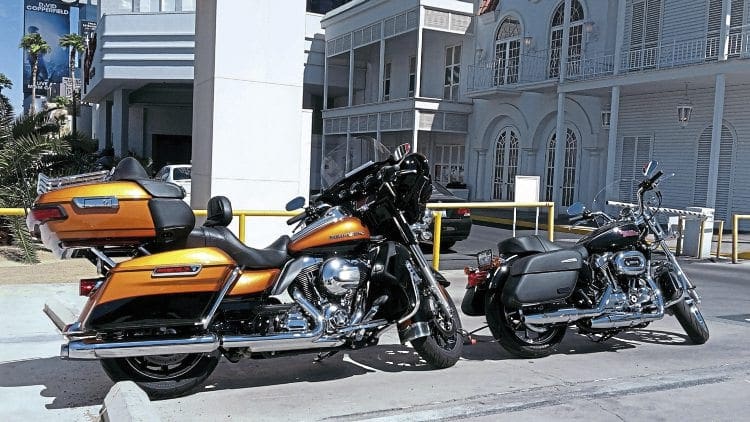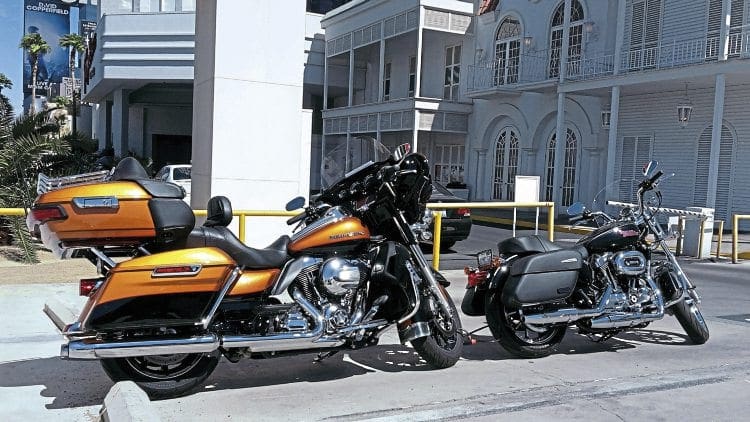 LAS VEGAS TO MAMMOTH LAKES; 341 MILES
We leave early because this first day is also our longest on the road. Getting out of Vegas is easy from our hotel, the Tropicana (thank you Orange and Black; good choice). Turn right, turn left, filter right onto the freeway and then right again onto Interstate 95. Done. Follow i95 for 123 miles to Beatty.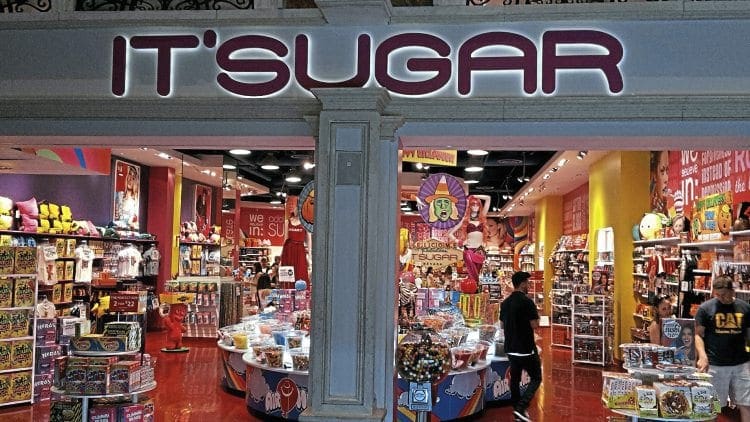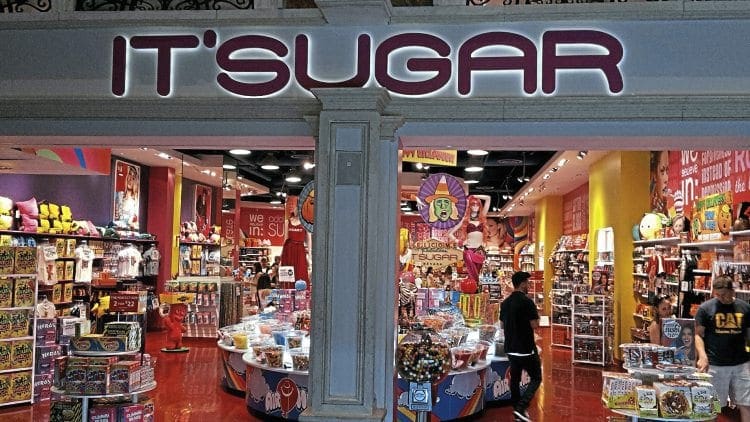 The desert is, er, deserted… the clue's in the name. Sixty years ago, this place was the setting for America's nuclear testing programme and the distant mushroom clouds were a tourist attraction in Las Vegas. Thirty miles out we see a drone, a proper one… big mutha, like the ones you see in movies. It's huge, silent and scary. It lands at Creech Air Force Base as we ride past the entrance – a place that I later learn is where they bomb Afghanistan from remotely. Above us, another drone circles. I think about stopping for a photo but think better of it. An Ultra-Glide probably makes an easy target.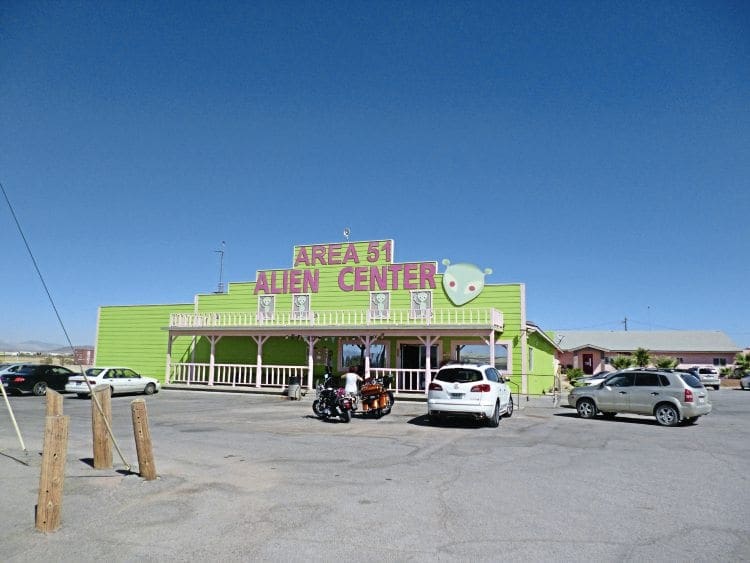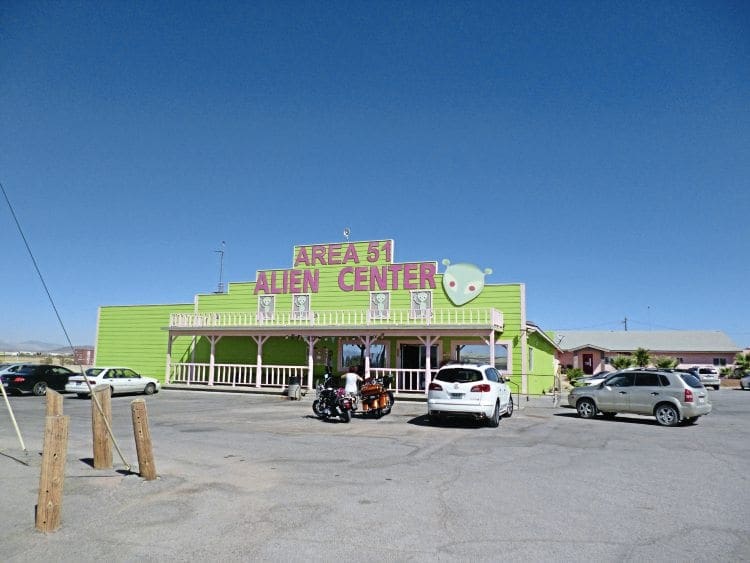 When I set the sat-nav earlier and looked through the points of interest I don't remember seeing 'brothel' or 'Area 51′, but right in front of me in the middle of the desert are those two things. It's not the real Area 51, that's a few miles north east of here, if it exists at all. This is a diner attached to a fuel station… and a brothel.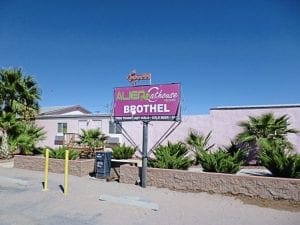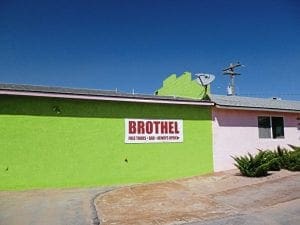 Nevada is gambling central. Every town has a half dozen casinos. Last time we rode here we went to Laughlin, which is the casino town that Jeremy Kyle would build. Beatty is a town still waiting for Jezza's call.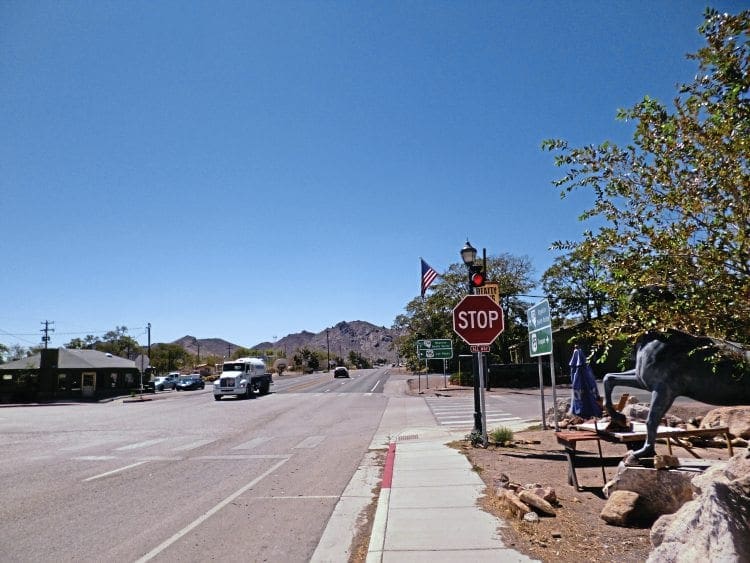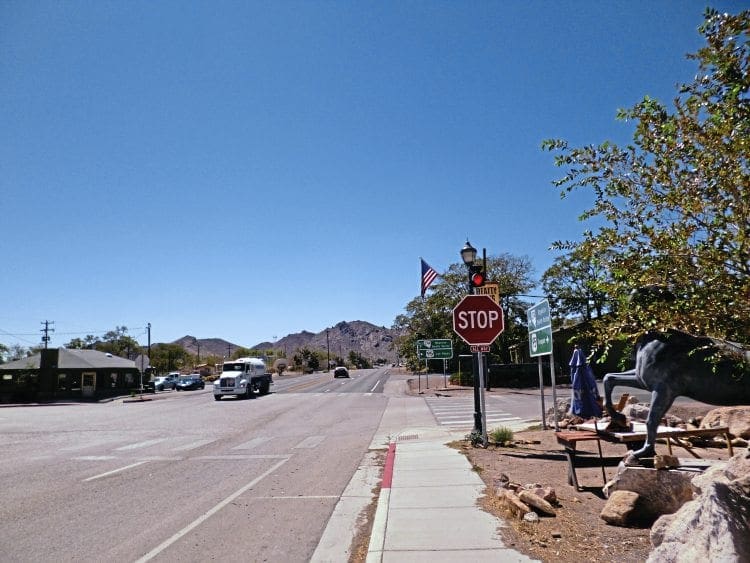 We dine at Denny's in the smoke-stained, deserted fleapit casino. Denny's is like an upmarket, American, Little Chef. Surprisingly good food, good value and cheery service.
It's the first day. We're acclimatising. We never intended to go through Death Valley while our body thermometers are still set to 'pasty and wet' And we certainly didn't plan on doing it in the middle of the afternoon when even the lizards are glugging Factor 30 and going for a lie down in the shade.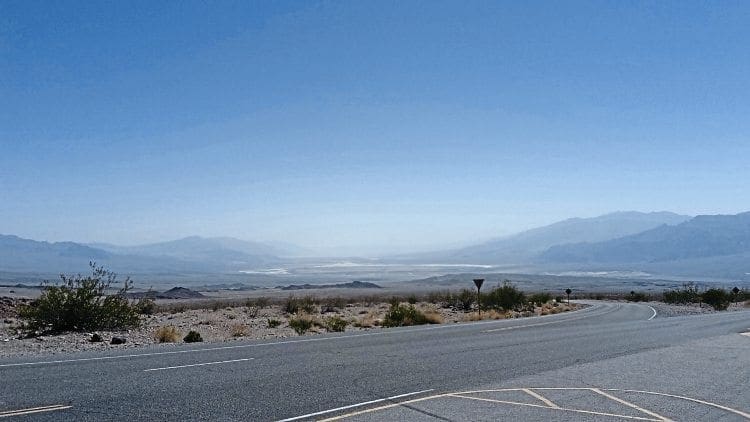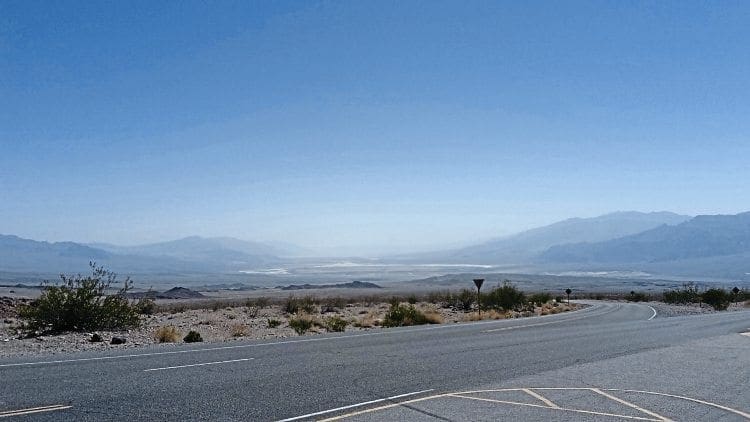 On the map, Beatty to Lone Pine sort of went around the top of Death Valley, but as we drop down a stunningly scenic, twisty road I'm not the only one thinking 'It's getting a hit warm, thank goodness my head is encased in thermo-insulating polystyrene!.' A sign at the entrance to Death Valley National Park confirms it. This isn't funny, it's foolish. The temperature is 105°F, or about 40°C. We stop at Stovepipe Wells and break out the cooling vests. Made by Rev-It they are thin enough to fit under a jacket and all you do is soak them in cold water, wring out the excess and put them on. Rev-It claims they'll keep you cool for up to six hours before they dry out. The cold water in Stovepipe Wells' washrooms is warm, but once soaked we chuck them in the machine selling ice at the camp site(!) to cool them down. And then ride off in wonder at how it can be that we're riding in the same heat I would cook a casserole in my oven and somehow feeling chilled.
Forty minutes later we stop again at Panamint Springs for a drink. The intense heat has half dried the vests already so we recharge them and have an impromptu water fight too to cool down.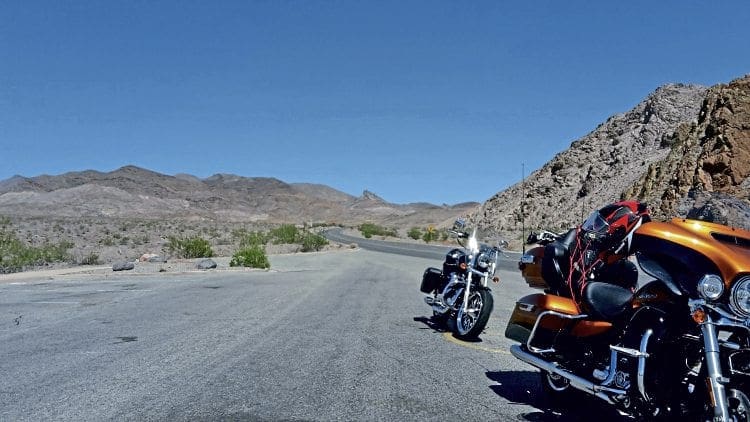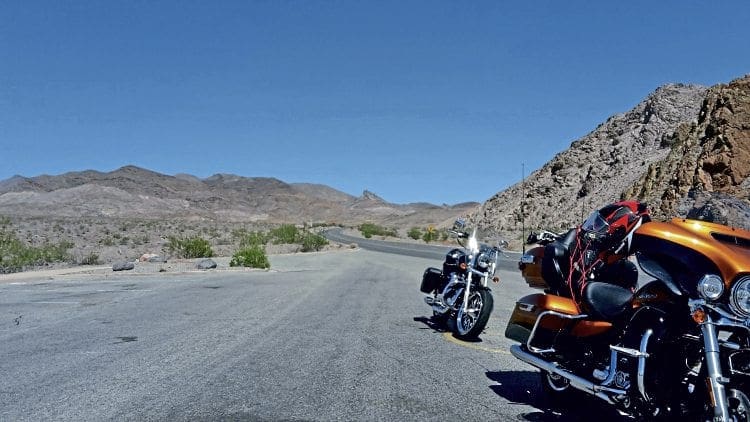 Panamint is a former silver mining town – just outside is a sign saying 'twisties, 11 miles' and it isn't kidding. Perfectly surfaced corners climb up and up, from 190ft below sea level in the valley to 4000ft above. The views are jaw-dropping, the light is stunning, the rock formations and colours of the landscape are just beautiful. We see F-22 fighter jets training, coming right at us at zero altitude and crazy speeds before climbing almost vertically, putting on a show for the tourists. All American driving is here. The longest of long straight roads, corners to kill for, squashed snakes and views you will never forget. Complete sensory overload and this is just day one.
Out of Death Valley and onto i395. Eric Schat's world famous bakery in Bishop (everything in California is world famous) is a welcome coffee and cake break and then comes the climb for Mammoth Lakes. Normally, when people build a road up a mountain, they do the whole 'twists and turns' thing. Not here. One straight road just climbs and climbs; 7000ft in an eight mile slog. There are water bowsers along the route in case your car overheats with the effort. By the time we reach the top it's actually cold. The last five miles from Mammoth town to the hotel on Mammoth Mountain are more twisting, turning, perfectly surfaced roads. Our hotel is a ski lodge in the winter, rammed full of mountain bikers in the summer. The facilities are superb, but all we want to do is sleep. My eyes are burning from so much amazing scenery. It's hard to believe, but tomorrow is when the really good stuff begins.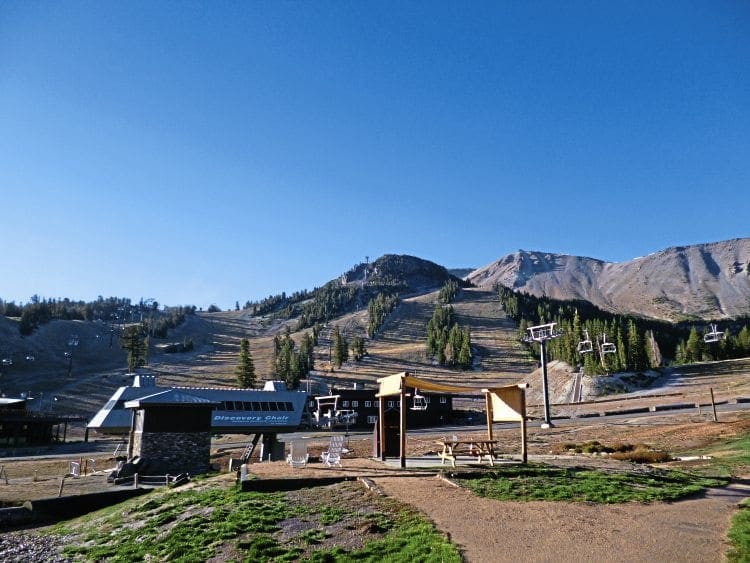 In 2000 years of civilisation, man has come to agree on most things. There are billions of houses in the world and most of their doors, light switches and kitchen implements operate the same way. Our TVs have pretty much the same controls the world over, likewise our cars and motorcycles. Even our new stuff, the electronic miracles have controls that almost anyone can operate in seconds.
So how come every single bathroom you ever go in has a different way of controlling the shower. Not one, ever, has the same controls as another. Is there some kind of secret society? The Masonic shower controllers who take the world's finest engineering brains and force them to come up with ever more complicated methods to get water through a spray. All I want right now is to cool down and freshen up. This is not the flipping Krypton Factor. Goodnight.
MAMMOTH LAKES TO OAKHURST VIA YOSEMITE; 131 MILES
There's a cliche about American roads, you might have heard it. Apparently they are all dead straight and very boring. A bit like the one that says Harleys don't handle.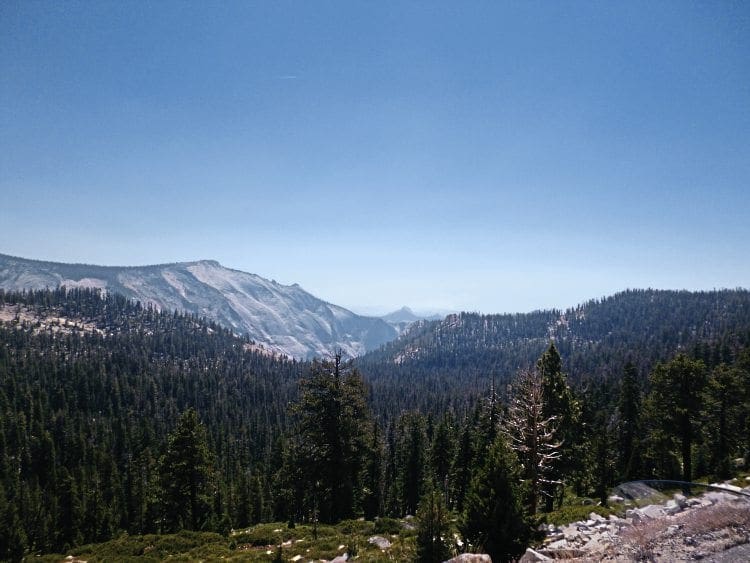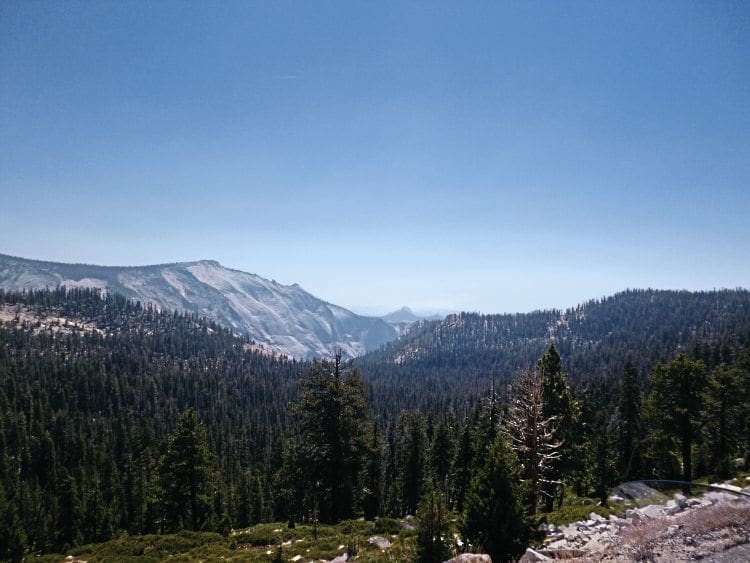 Yosemite is a national park, which means you have to pay $20 to ride it. The access road is a little treat called the Tioga Pass; 10 miles of sun-drenched curves climbing to 10,000ft – twice as high as most French ski resorts. From Tioga there are 100 miles of perfectly surfaced, seemingly never ending corners and probably the most stunning scenery you can drive through anywhere. Imagine the Alps on Lance Armstrong-spec steroids, with blazing sunshine, none of the terrifying, gravel-strewn hairpins and fewer Germans and you're still only about halfway there. I know people who pay hundreds of pounds to do track days and ride the same 11 corners again and again, with the only scenery being Snetterton's cabbage fields. Compared to that, this is a bargain.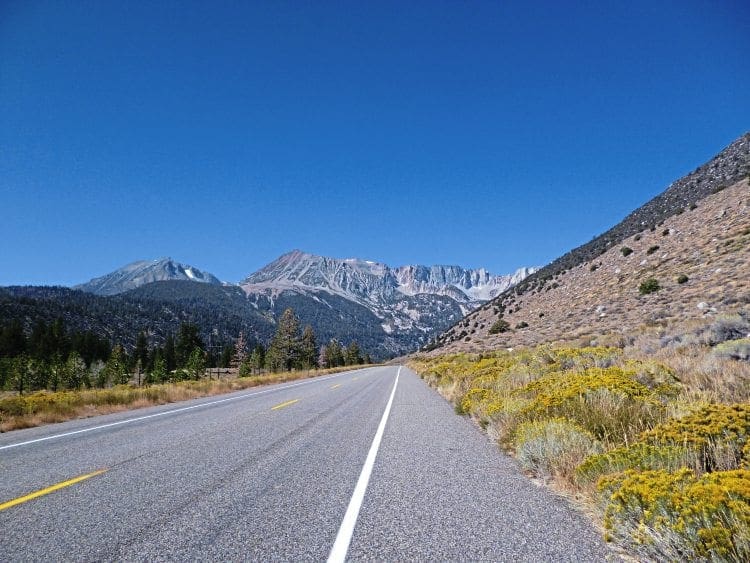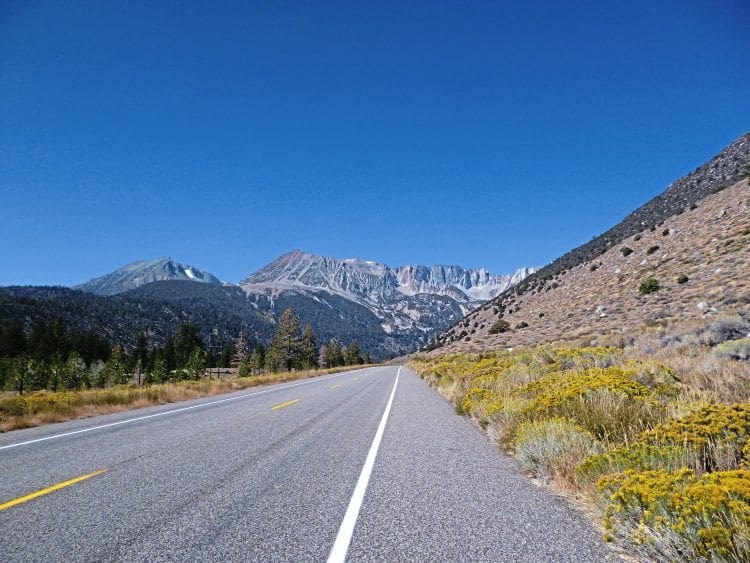 Yosemite is something else. It's 210 million years old and shaped by volcanoes and glaciers. The landscape and light are a world away from yesterday's deserts. This is Jurassic Park with the brightness turned up to 11. There are speed limits for safety, but you don't want or need to ride this place fast, or you'd miss the view. Far better to just roll through the turns, practicing your precision riding and admiring the engineering, because whoever built this road knew how to do cambers, entries and apexes. It never gets tricky, it just gets better.
And bizarrely, the biggest of big Harleys just laps it up. My heavily laden Ultra-Glide does every corner with confidence. And when you get bored, just look to the side at mountains, valleys and the most stunning vistas that would make even the most devout religionist doubt that any one being, no matter how superior, could create this complex, varied environment, and the Fens, in just seven days.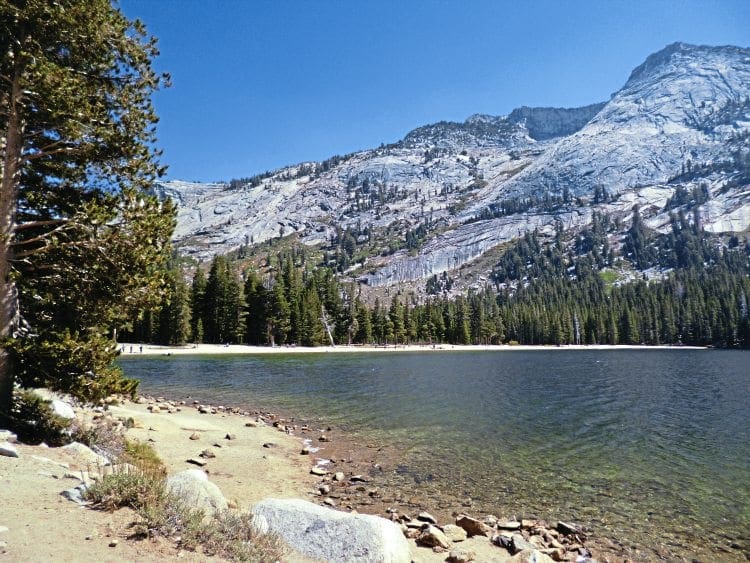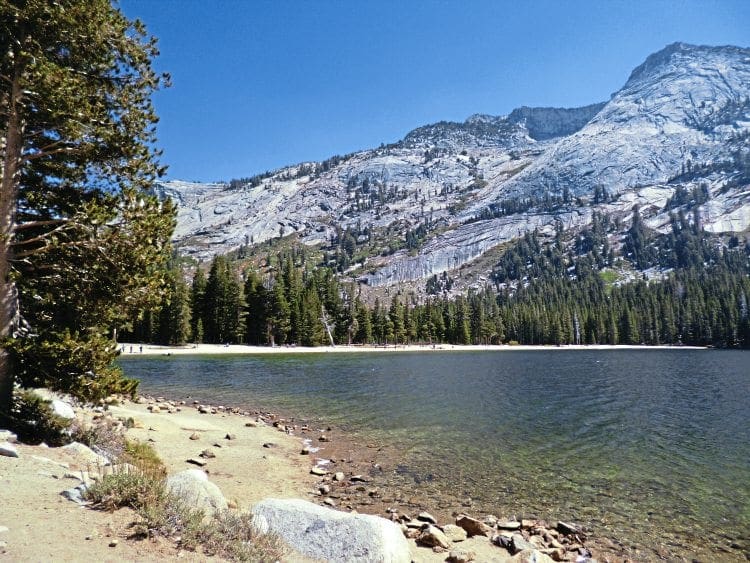 There's a lot of talk about bears in Yosemite, but it's unlikely you'll see one next to the road in daylight. Doesn't stop you looking though, left-right all the time, just in case. Maybe the authorities should pay students to dress up in pantomime bear costumes and roam around just on the horizon, although, this being America, they'd probably end up as a rug in front of some redneck fireplace.
Mid-point is Yosemite village on the valley floor and then the run out of Yosemite is 48 miles of more perfect, twisting Tarmac, up and then down again.
Even when the park runs out and the road becomes plain old Highway 41, the turns keep on coming. Oakhurst is home for the night. The Comfort Inn is comfy and the only bar in town, the Dirty Donkey, is right next door. What happens in the Dirty Donkey, stays in the Dirty Donkey. We get to bed sometime after, er, 8pm.
OAKHURST TO SAN FRANCISCO; 240 MILES
Sat-nav. So far it's been good and bad. This morning, after 26 miles of gentle, winding, sun-kissed back roads to former gold rush town, Mariposa, sat-nav throws us a curve ball. I was expecting to take i140 to the freeway and then a brisk but boring blast to Sausalito and San Francisco. Instead were directed north on i49 and then turn left onto a dirt track called the 'old toll road' around Bullion Mountain. The surface resembles tapioca. Pocked, potholed, not a smooth line anywhere to be seen. And it's twisty. Make that very twisty. And narrow. And it goes on for 7.1 miles. Average speed, 15mph.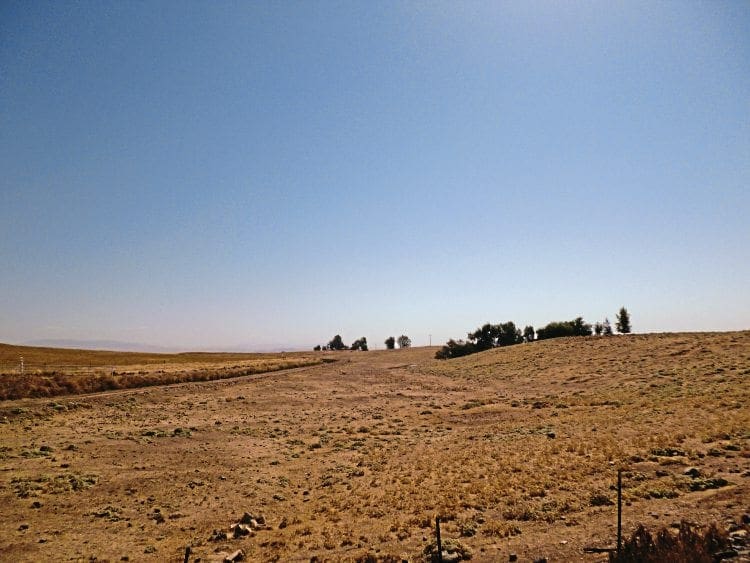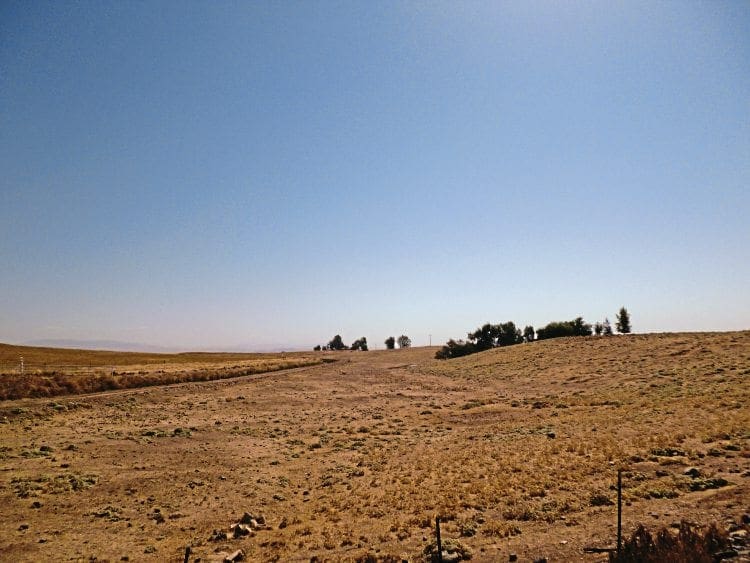 At this point we know it's wrong, but we have no alternative route so follow the algorithm with fingers crossed. A right turn onto the Hornitos road brings smooth Tarmac, slightly less severe turns, some unbelievable views of backyard Californian agriculture, but no sign of civilisation or a freeway. I pull over at Hornitos, another gold rush ghost town. In its heyday, mid-19th century, Hornitos was producing $40,000 of gold per day! The town's population was made up of undesirables who'd been kicked out of the more respectable towns and it had a reputation for being one of the wildest of the wild-west communities. Gunfights were an hourly occurrence and corpses were apparently piled up in the street. Hornitos has a reputation for multiple hauntings today. I'm not a believer, but bizarrely none of the three pictures of deserted, supposedly haunted buildings I take there will be on my phone when I check it this evening and I can't explain that.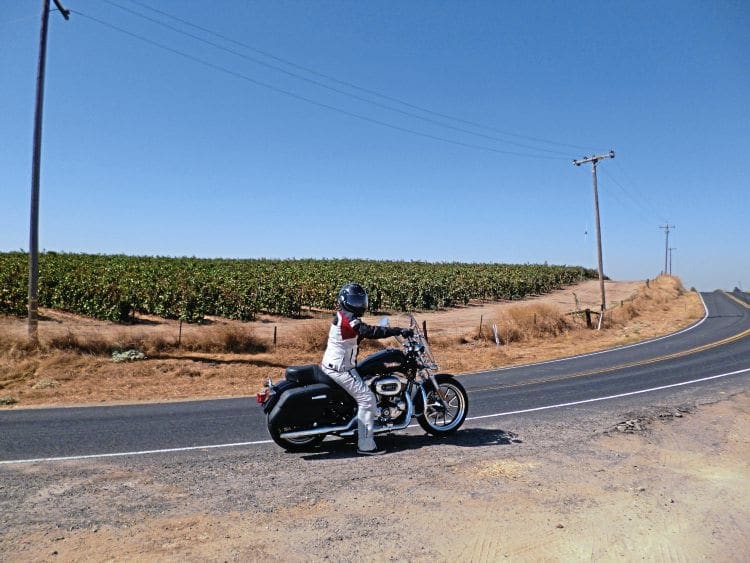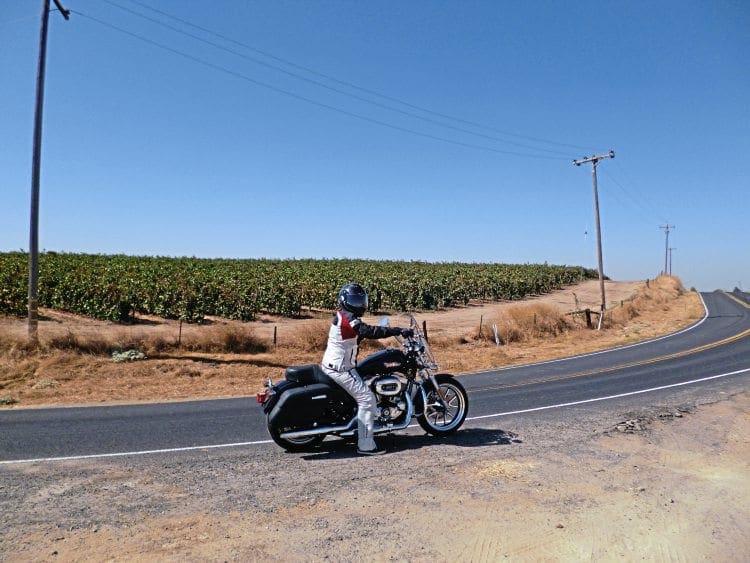 Thirteen miles later we stop again. This isn't right. I scroll through the sat-nav menus. Two days ago I set the preferences to 'shortest' route as opposed to fastest or twisty. Hasn't been a problem so far because I've been setting short waypoints on previous days, but today I just put in the final destination and we are going the shortest route to Sausalito, even if that involves the odd ploughed field.
While Julie meets a family of black widow spiders in a bush (don't ask, she's a lady), a quick look at the map shows we aren't actually that far away from the freeway and we'd never have experienced Hornitos on the planned route, so we settle down, enjoy the solitude and see what the road throws up. We stop for fuel — two and a half hours to do 80 miles, but they've been good ones.
American freeways are a shock to the senses until you get your eye in. Busy and fast, with legal overtaking on both sides. People leave it until the very last minute before cutting across four lanes to the exit. It's Friday afternoon and everyone is heading for the coast. And it's hot; stifling, inescapable hot. And then it's not. Climbing a hill out of Dublin, the sea breeze hits hard. Welcome, fresh, a lifesaver.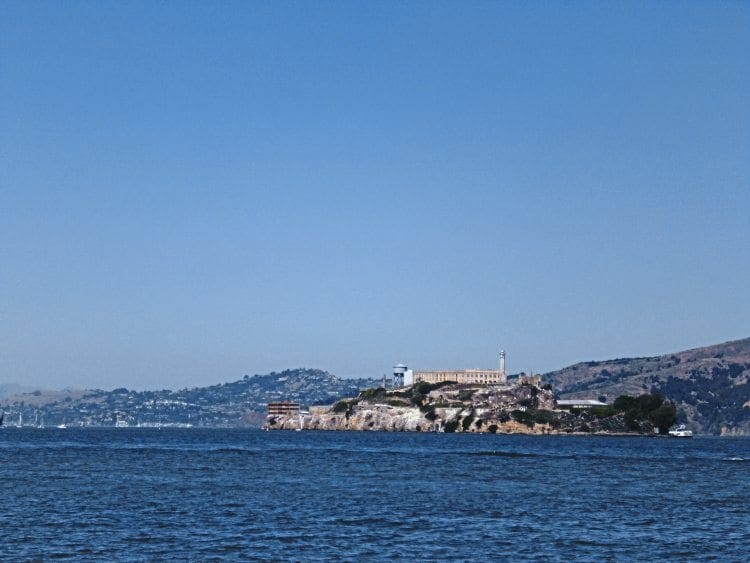 Famous names; Berkeley, Oakland — home to the original outlaw bike gangs — Sacramento and then the Bay. The water is 50ft to the left, seemingly a few feet above us. Sausalito is busy, affluent and not quite sure what a seaside resort should be. It's like Eastbourne meets the Cotswolds.
Oh. My. Word. This is the Golden Gate Bridge. This is spectacular. So high up, such a view, well worth the honks from behind as we dawdle at 20mph, hacking off the thousands of commuters just trying to get back home. In the end it's just a bridge, but right now it's a bucket list moment, on a Harley, in the sunshine, watching pelicans flying below.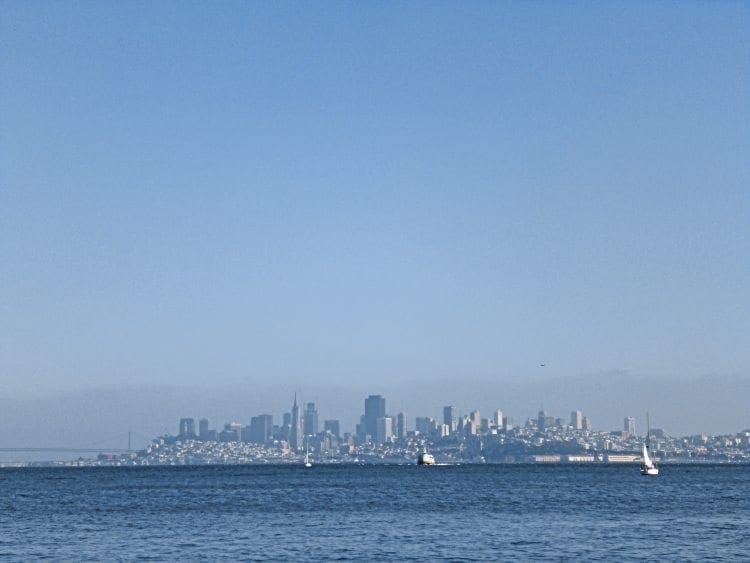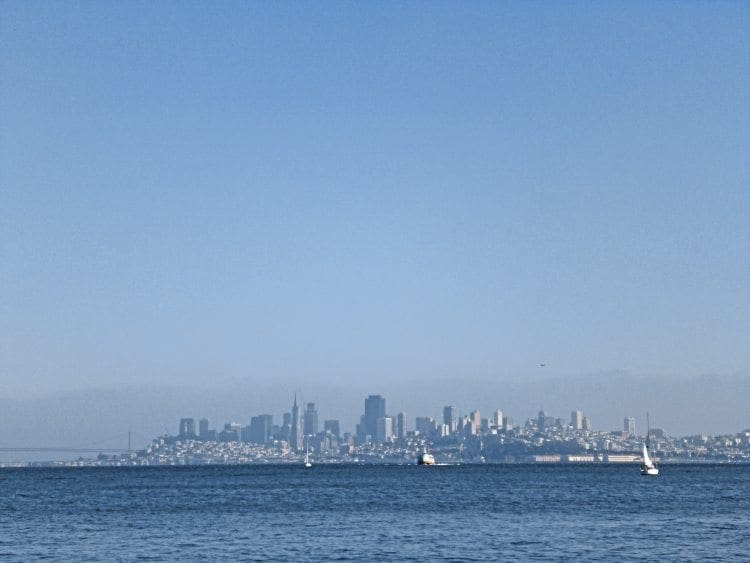 The last two miles are distilled San Francisco, and this time sat-nav is the saviour. Turn right onto Gough Street and look up. And up. Think Bullitt — the roller coaster ride. Twelve sets of lights, twelve of the most taxing hill starts. If Carlsberg did driving tests…
Thankfully, the Ultra only weighs as much as a 1975 Mini and I've only been riding for six hours in 90 degree heat. Once at the top, there's only one way to go — equally spectacular, equally mind-blowing. San Francisco is my new favourite city to ride in.
And then we arrive. 'You have reached your destination right in the middle of San Fran with no metaphorical sweat. The hotel is terrific, there's proper, secure parking and a friendly welcome. Sat-nav… brilliant.
SAN FRANCISCO
There are two ways to see a new major city; do all the tourist stuff that everyone asks about when you get home or just go for a walk and see what happens. We've got two days in town and so the plan is to try both. Last night we simply walked round the corner and came across one of the best vegetarian cafes I've ever been in. Maybe not important for you, but for weary, herbivore outcasts like us, that's a find.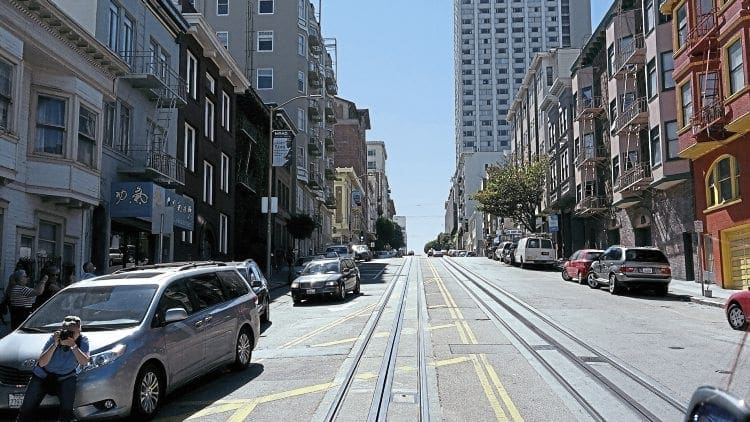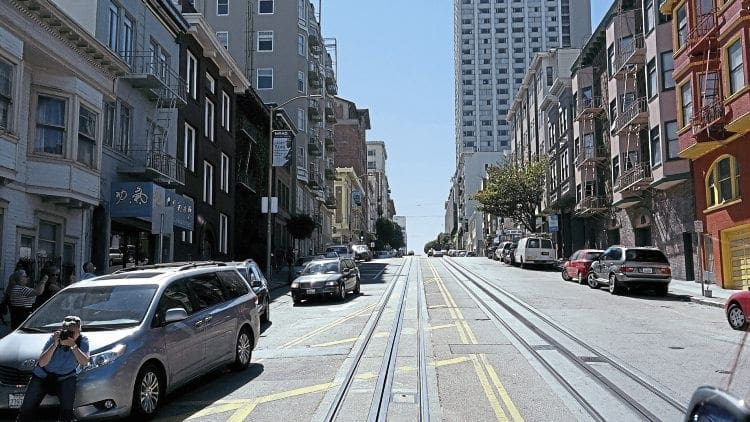 The walk back was interesting; like most big cities, San Fran has a homeless problem and many of the afflicted also have mental health issues. It's a bit like being part of a zombie movie – dozens of spaced-out casualties, shouting at the moon, oblivious to our presence. California has a 'legalised medical marijuana' programme, which in practice means that some of those who qualify on prescription become suppliers for those who don't. So any late night walk in this town is a navigation through the strong stench of wee and weed. Saturday morning we walk south to Valencia district; allegedly boho and on the way to the equally trashy-but-hippy Haight Ashbury. Valencia is where the hipster European motorcycle dealers are based. Turns out that a Ducati/Triumph/KTM dealer in California is much like one in the UK. Fewer pot plants (no pun intended), more bubble visors and cool T-shirts and where we have signed posters of Shakey and Stalker, they have vintage Gary Nixon and Gene Romero items.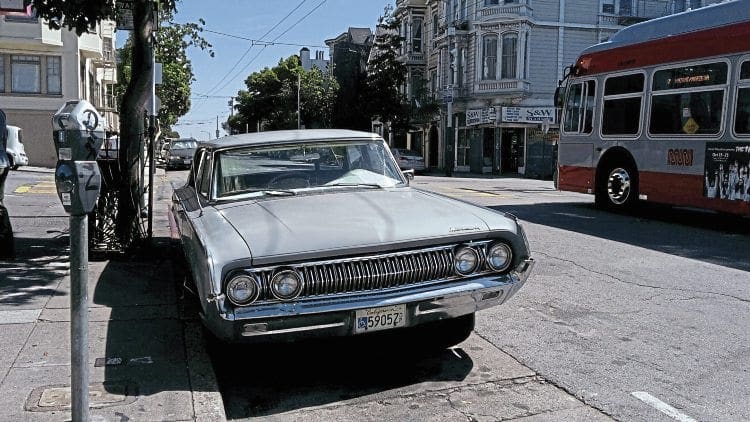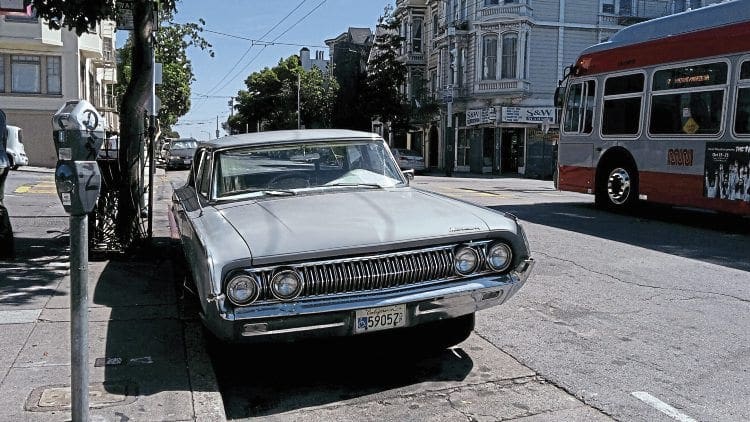 Haight is hip. Slightly cartoonish, a bit too much tat and dubious vintage clothing, but a genuine good vibe and genuine goodwill too. I like the honesty of the homeless guys' cardboard signs asking for money: "Why lie… we both know it's for weed:'
Day one ends in a couple of Irish pubs. One for serious drinking (at serious prices; $10 for a pint of Guinness), the other fors ome great food in a very lively atmosphere – the complete opposite of yesterday's Buddhist-inspired veggie experience.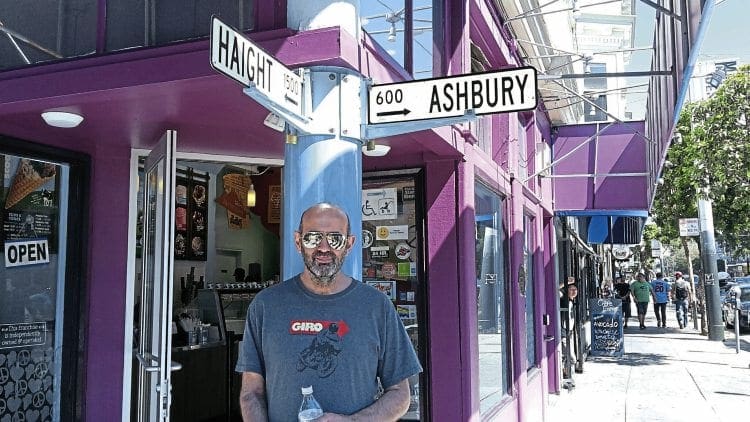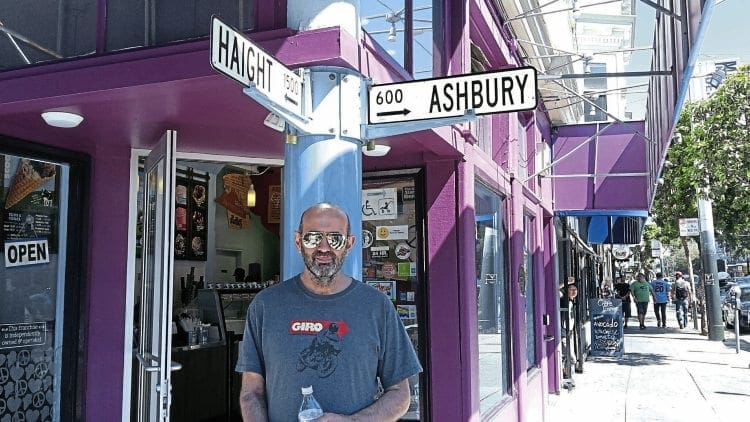 Is it bad to admit that we are in bed for 9:25? The last few days have caught up.
Sitting on a bike might seem un-taxing, but we've been averaging six corners a minute and that takes muscle on these things and concentration too. Tomorrow we have another day off and the plan is to go tourist.
Fuel station etiquette
Credit card is easiest. Most pumps have a card reader but UK cards rarely work. Go inside, ask for more than you think you'll need and the attendant will authorise your card. Fill up your bike and if you are due some change, the card machine automatically credits it to your card as a refund.
Two other essentials; the black pump is unleaded – this is important. Green is for diesel in the US. And the pumps have a safety catch ¬usually a spring on the nozzle – designed for car fillers that you have to pull back manually on a bike to make the pump work. The uncircumcised among us will find it natural, those with more streamlined glands might find it a little odd at first.
Insurance
The bikes are covered for every eventuality, but anyone riding in a foreign country needs proper holiday cover. It's easy to get cover for winter sports, which are far more likely to end in disaster, but motorcycle touring was tricky. In America you need a significant chunk of money to pay for any medical cover and, even if we don't like to think about it, people do get hurt on bikes, especially big touring bikes in a foreign country.
I was surprised how difficult it was to find cover for a motorcycle holiday that includes proper attention to detail, from someone I'd heard of for a competitive price. Some of the companies on the comparison sites appeared to do it, but once I checked the small print I wasn't convinced we'd be properly covered.
In the end I called Carole Nash because last time I had an unusual motorcycle insurance request (when I bought my mid-life hardtail chopper) and no other insurer would talk about it, Carole Nash not only gave me a quote, but a good one at that. And this time they  delivered again. A proper holiday insurance policy including motorcycle touring from someone I'd heard of for reasonable money.
Self-guided or guided touring?
This is our third time riding in America. Previously we've done guided tours, which are brilliant because you get a guide who knows the best roads, a back-up van that carries your luggage, a spare bike, tools and beer plus you have a group of people riding with you (typically 10-15 bikes) to share the adventure and socialise with in the evenings.
This time we went self-guided with Orange and Black. They advise you on the route, build an itinerary, take care of the hassles like bike rental, hotel booking and flights, but then leave you to get on with it and enjoy the experience at your own pace.
Guided is best for novices because there is nothing to worry about, but once you've got the hang of riding and navigating in The States, self-guided makes a lot of sense. You can pick your dates for one thing, plus you can decide where to stop for fuel or for lunch or whether to just go the most direct route one day and enjoy the destination (or take the longest, twistiest route instead).
The biggest difference though is the price. Self-guided costs a lot less money.
We were apprehensive about route planning, our ability to not get lost and the inevitable 'what-if questions. But everything was fine. Pick yourself a reputable tour operator and there shouldn't be any problems. We might have been heading for the middle of the hottest nowhere, but we had phone numbers and a back-up plan, plus with a bike each, if anything major had gone wrong with one machine, we could still get to wherever we were heading.
We've used Orange and Black for all three of our tours. In the interests of independent journalistic integrity we know we should probably try somebody else, but this is our big, bucket list holiday that we save for two or three years to afford and, truth is, I trust them. When it's my money, spend it with someone I trust.
Going self-guided means that we might be able to afford this more often though, and that is exciting.
For more details on Orange and Black visit www.orange-and-black.co.uk, or call 01256 771770.
Words: Steve Rose
Photography: Steve Rose & Julie Brown
To download the maps for this trip, click on:
www.mslmagazine.co.uk/self-guided-touring-of-america-part-1-free-route-downloads/