Fred Holmes and friends head into the Welsh bible belt
WORDS & PHOTOGRAPHY: Fred Holmes
The Tiger had been tamed and it was time for its release. I'd been on the Triumph Tiger 800 for seven years and enjoyed every minute of it, but after 24k it was time for a change. Enter the BMW R1200RS with punchier engine, increased torque, firmer ride and Brembo brakes.
Due to the pandemic, I had yet to take it for a proper trial and Wales seemed as good a place as any to start, so I set out from Hereford to Llandrindod Wells to meet up with a couple of pals on inferior bikes. The A438 opens up into some very pleasing scenery and a good surface within five minutes of exiting the city and suddenly all is well with the world. That, and the following A44 towards Llandrindod Wells, with its gentle, sweeping bends and reasonably light traffic, proved to be a good testing ground for the BMW's lazier but predictable and planted steering. It did everything well but with a more ponderous style than the Tiger.
Dave (Tiger 1050) and Trevor (champagne Aprilia Caponord Rally) were waiting outside their cheap hotel and were very pleased to see me, if only to escape the food. We immediately set off down the A470 through Builth Wells before sneaking across country down through Painscastle and Clyro on our way to Hay on Wye. I'm no speed king and this gentle road with plentiful views and little traffic did wonders for the tourist in me, a salutary lesson to my mates on why you don't always take the high road.
Hay was very quiet as we trundled through and I only managed to count about 4000 people. Fortunately, none of us had been educated to book reading standard so we didn't feel the need to stop. From Hay we took a left on to Forest Road and followed the narrow lane signposted to Capel-y-Ffin which features the most impressive Gospel Pass en route. You always know you are in for some good scenery and wildlife when you cross a cattle grid, and this pass was no different. The resident animals had organised a festival of poo and laid most of it in the middle of the road just to keep us on our mettle, so thoughtful! As we climbed higher, the view opened up across Wales and on a sunny day made for a magnificent sight (it's even good on some cloudy ones). This was, incidentally, one of William Wordsworth's favourite walks! Still, thanks to the sheep and ponies it was always good to be alert and keep to a sensible speed.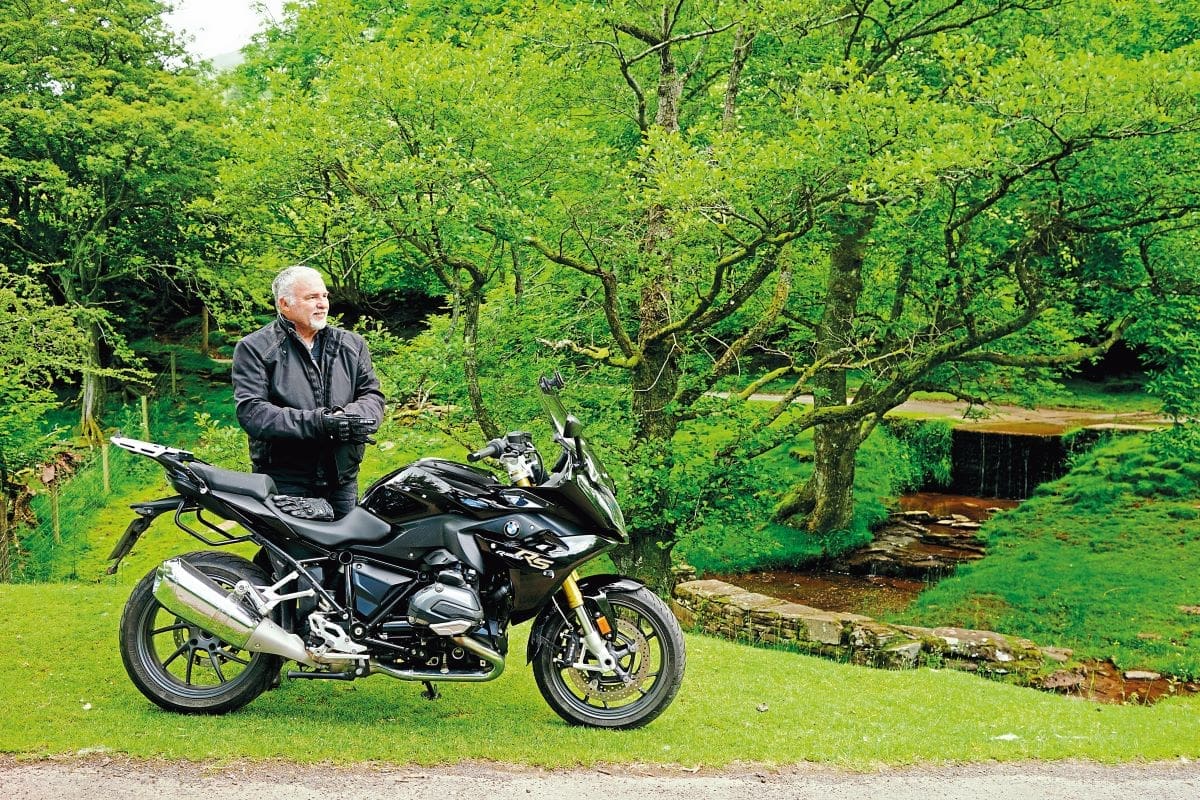 Once the summit had been reached and the mountain scenery suitably absorbed, we began our descent to Capel-y-Ffin as the trees started to box us in from either side. At this point the pass becomes very uneven and at times I found my sports tourer's front wheel getting tracked into some deep grooves and had to assert a little macho authority in order to keep it shiny side up. It was on these slower, more uneven roads that the RS showed its lack of slow speed finesse and general heft, behaving like a heavyweight boxer trying to perform a ballet and clearly lacking the grace! The boys on their adventure bikes were certainly having more fun here.
At the bottom of the pass we were greeted by the sight of one of the quaintest (and smallest) churches in Wales. Replete with wonky spire, St Mary the Virgin comes with an excellent backdrop view and proved a wonderful spot for a break and time of reflection as we wandered the grounds surrounded by no less than seven ancient yew trees. We even dared to venture inside and were rewarded with a wonderful window view out on to the mountains beyond, etched into the glass the words of Psalm 121, 'I shall lift up mine eyes to the hills whence cometh my salvation'. Very apt.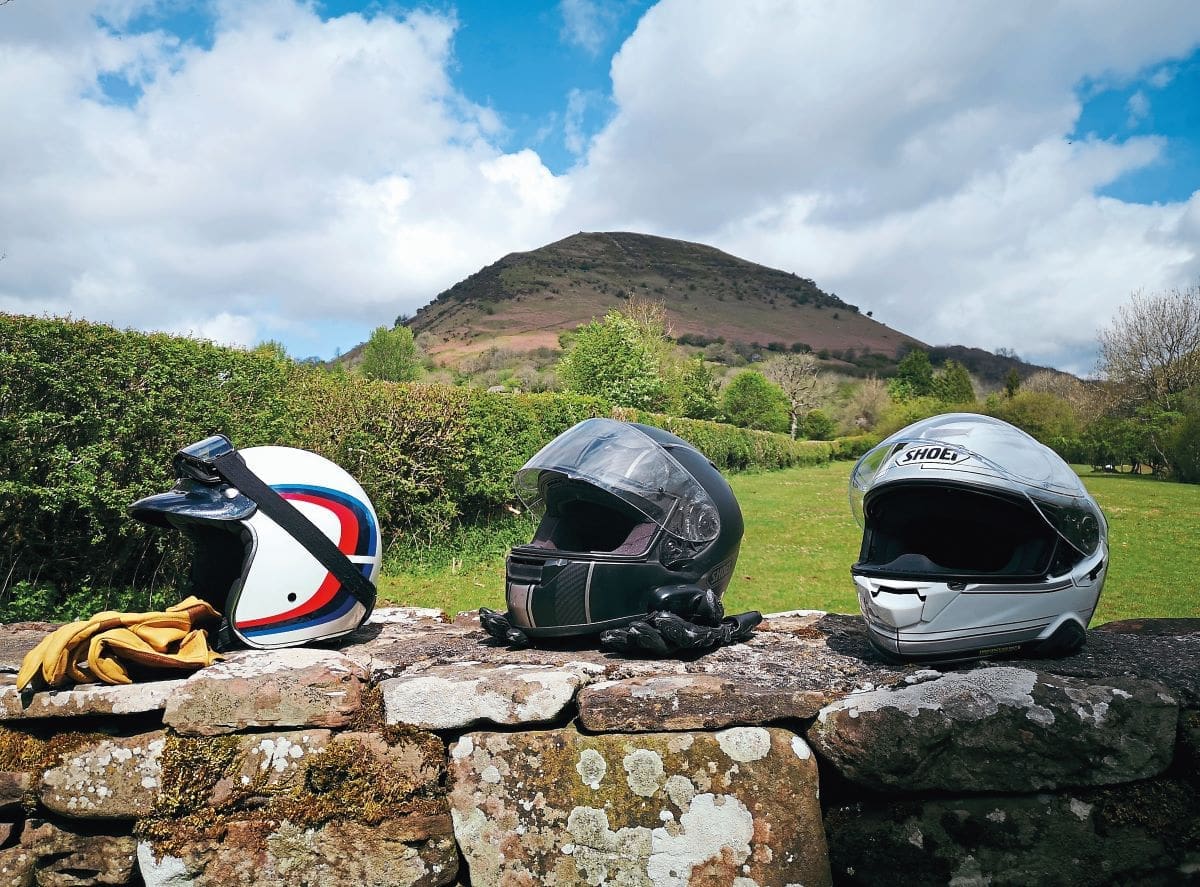 After our time of reflection, the road opened up once again and we continued on through lush fields and mountain views on a very smooth and relaxing ride past Llanthony Priory. It was here that the RS showed itself to be more than comfortable and I got a wonderful sense of isolation and general wellbeing, blanketed by sumptious verdant greenery and open spaces.
We then took a left to Cwmyoy and diverted to another quirky and interesting church, just for the craic. It proved to be even more wonky than the last and we had to go inside to fully appreciate just how eccentric the walls actually were. One of the nice things about churches is the coolness they offer bikers on hot days, and we were grateful for the change of climate on this particularly sunny jaunt.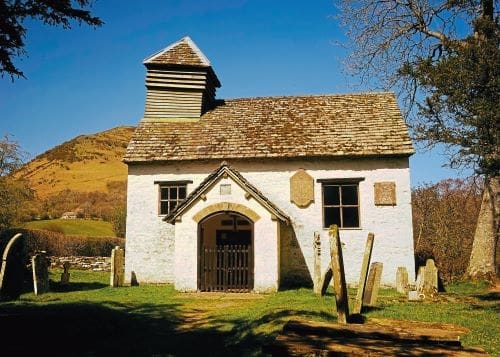 After the soothing B roads of the Wye Valley, we exited near Abergavenny and pushed down to the A40 to Monmouth. It was here that I broke off back up the windy A466 to Hereford, relishing a very quiet, traffic-free route. Now, I'm more swift than psycho in my riding style and these gentle, undulating roads with long, sweeping bends and a few challenging curves for good measure suit me just fine, making a suitable end to a nice day's riding. The A466 is a quiet 50mph road where you can make your exhaust bark and snarl a little bit and enjoy the engaging burble of the overrun whilst you do battle with an agricultural gearbox (that BMW must have patented from John Deere) – and yet still be able to soak in the view.
Gospel Pass had preached to me with all the blues, greens and greys I could absorb and I was more than happy to watch, listen and take it all in.
We will doubtless return for more on another fine day. Message received!