Jessica Leyne rode a Ducati Multistrada 2400 miles through Japan (and a typhoon), as part of the round-the-world 18,000-mile Globetrotter project
So I've made it! From the bootcamp in 2016, when riders for the Globetrotter project were tested and chosen, to now taking over the Multistrada Enduro from Laurent (who rode the Ducati across Siberia, see MSL February 2017). Back at that original meeting, I remember the Multistrada as a massive machine and now, when I start filling the panniers and mounting my luggage and camping gear, it looks even more impressive.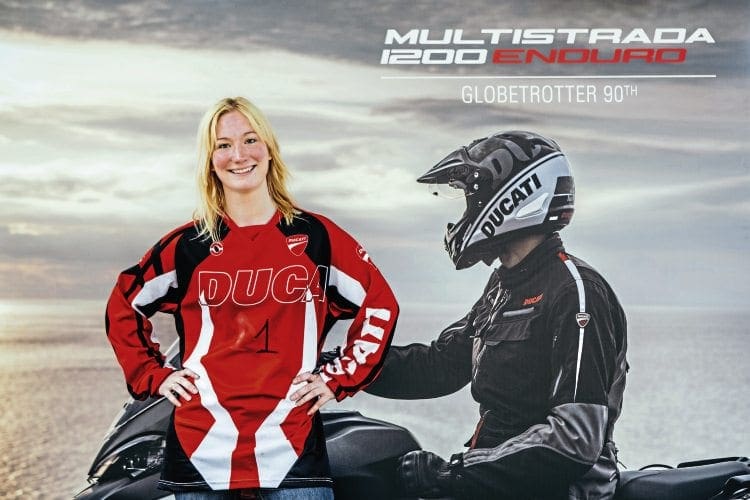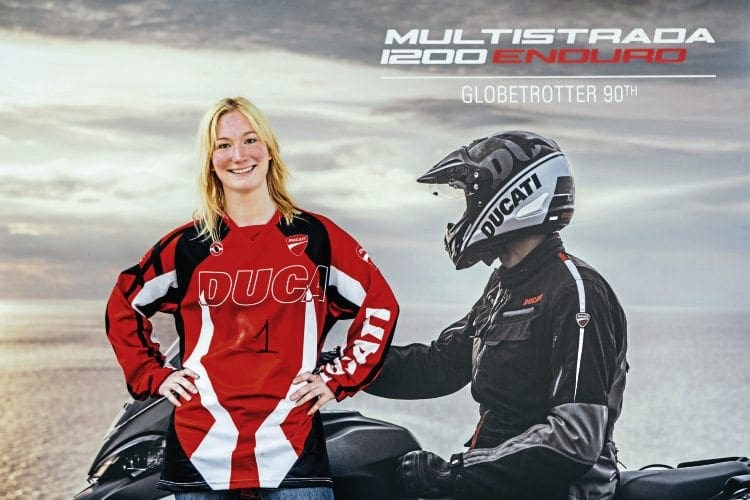 The handover at Ducati Matsuda is friendly and efficient (the Japanese way of doing things) and soon I'm off. I had read a lot about Japan in the previous months and the gist was 'cities highly dense in population with rural areas quiet and calm'. They were certainly right about Tokyo, with its 35 million people, and the road out is the biggest and hottest traffic jam of my life – it takes two hours to get out of the suburbs, but there is absolutely no road rage or aggression to be found. What a place!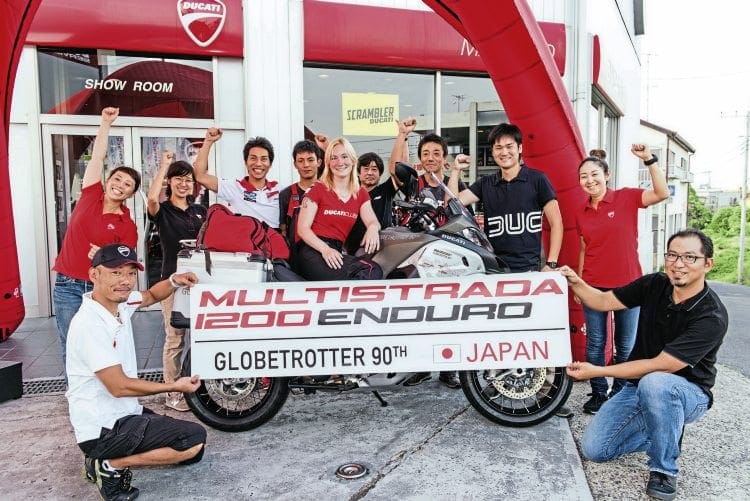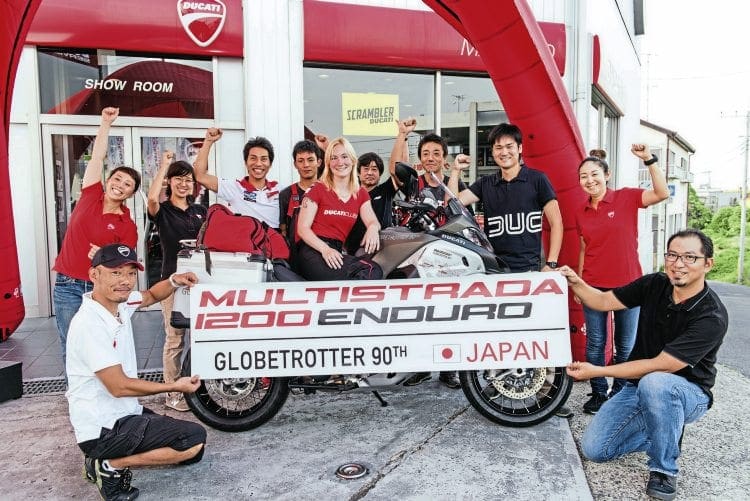 Mount Fuji and Lake Motosuko is my first stop, a 120-mile ride away. I lose a lot of time due to traffic, and around 8pm a thick fog comes down, plus rain. It becomes practically impossible to ride over 20mph and I'm glad to find smaller roads for the campsite. It's late to turn up to camp, but I'm told I'm okay if I don't wake the other guests.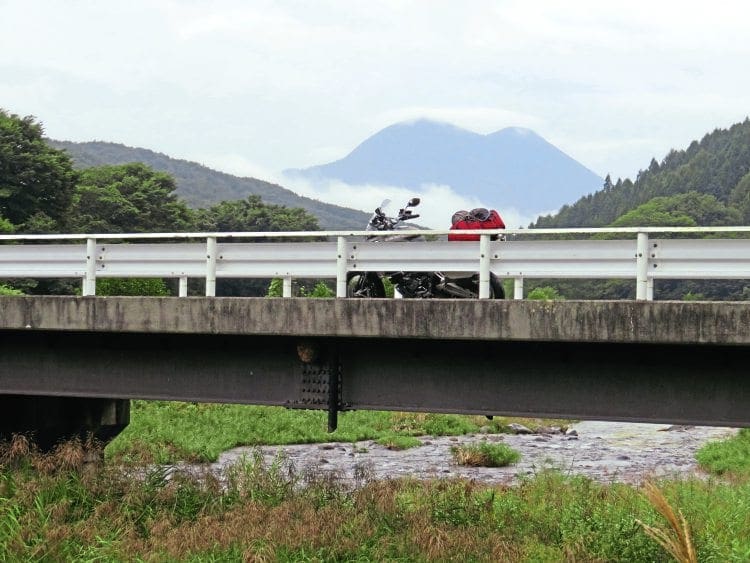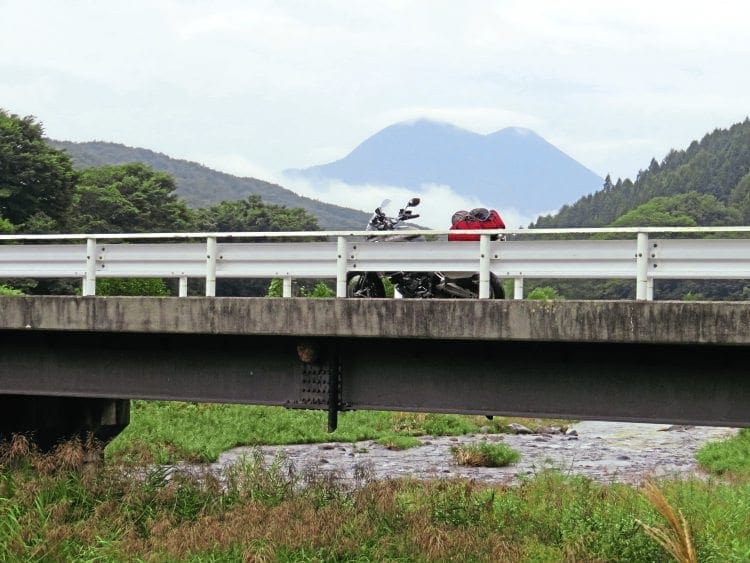 My first full day is about getting to know the bike, how it handles with full luggage and fuel. The bikes at bootcamp were without luggage, and this one is a little top heavy, but the seat is low enough for me to get one foot flat, and once I'm off and riding, I don't even think about it. But there's not Mount Fuji-spotting for me today, which is grey and misty with lots of cloud. So I head for the ferry at Irago, and take a track through the hills, which promises to be a shortcut and avoids some road works. I wasn't planning to ride off-road this early on, but the rewards are worth it, seeing gushing rivers and deer hopping along the track before disappearing into the forest.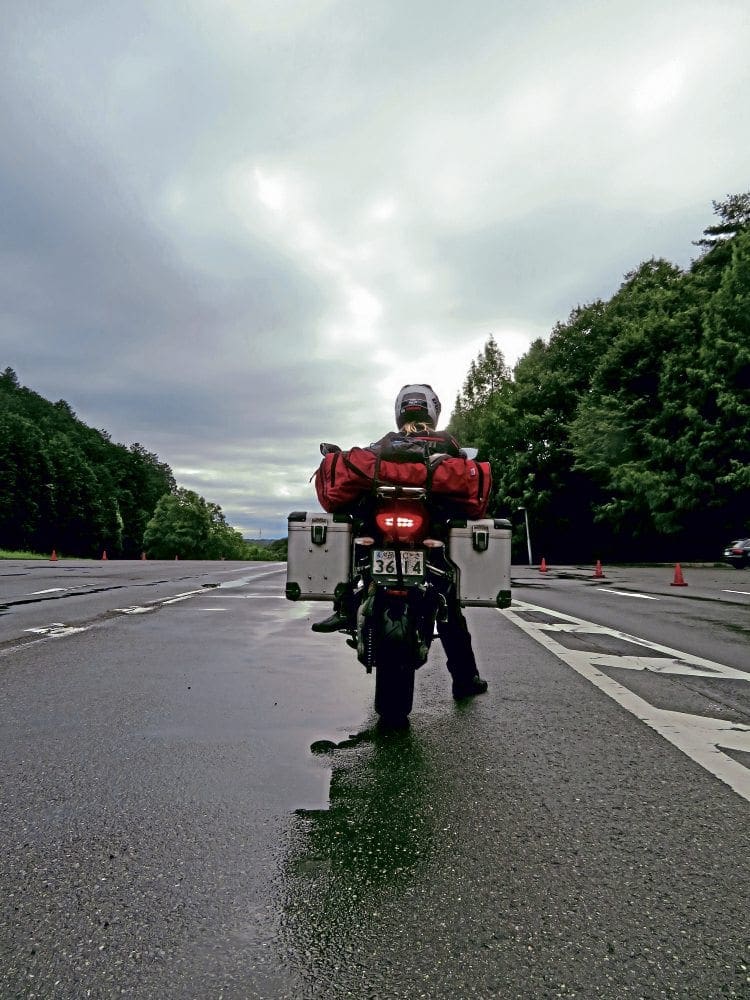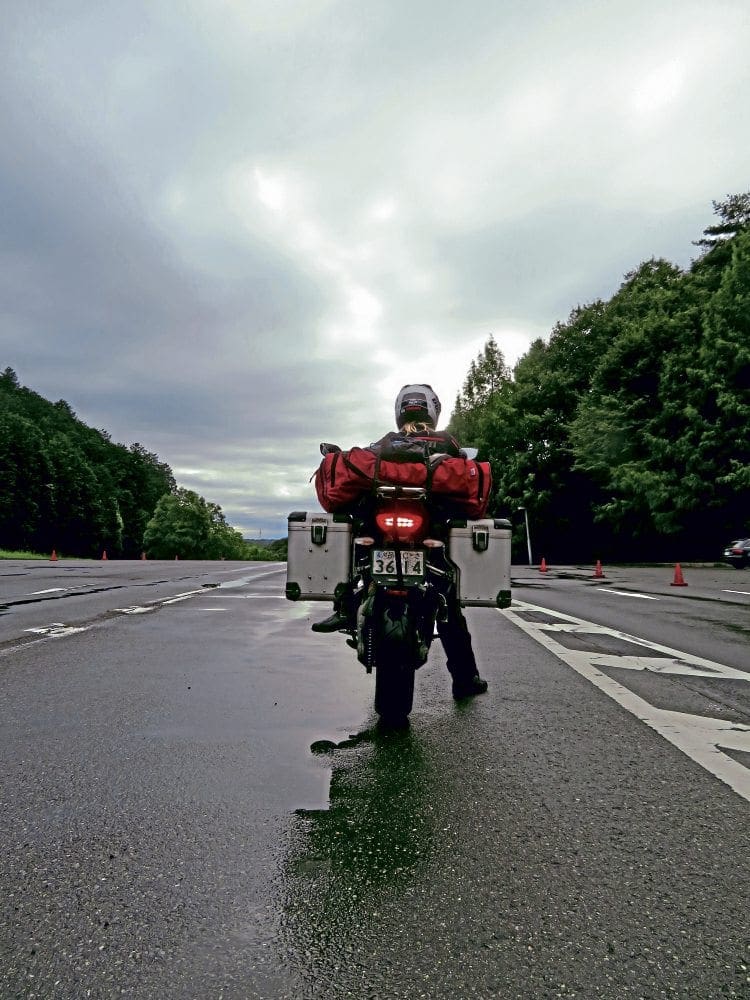 Back on Tarmac, I need to fuel up. I never gave this a thought but when I pull up at the gas station I panic. There's no English translation on the pumps and I have no idea which one to use. Luckily most Japanese gas stations have staff, and one guy is extremely helpful, speaking some English. It turns out he has a Ducati Monster and is very happy when I give him a Ducati Belgium T-shirt – that really makes my day.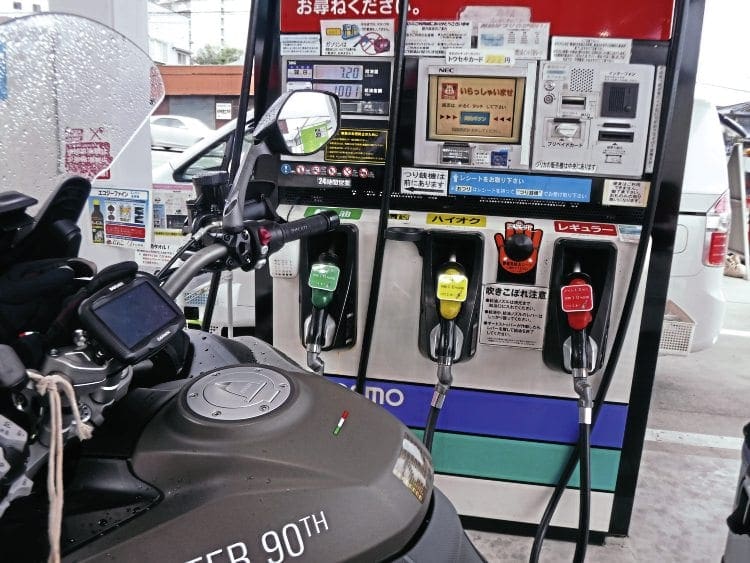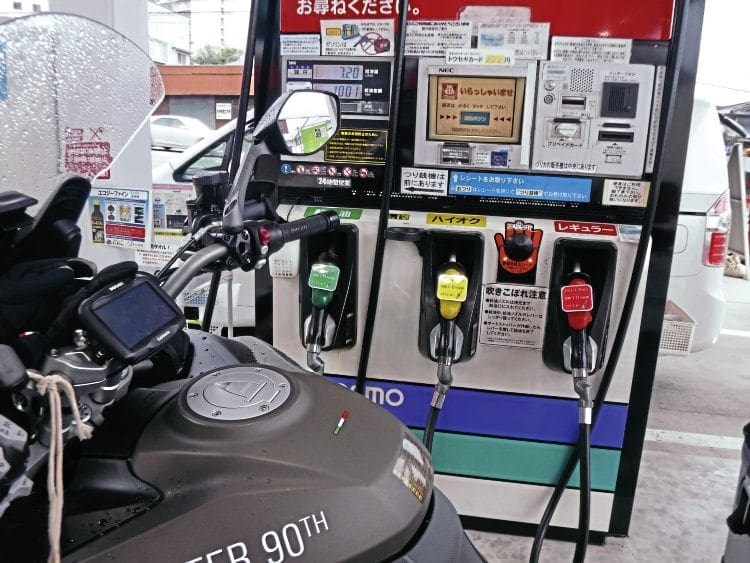 TYPHOON RIDING
Monday starts out fine. I have a sound sleep in a traditional Japanese room with straw mats and a mattress on the floor. I don't order any breakfast so I can take the first ferry to Toba but when I leave, the kind lady of the hostel gives me an iced coffee for on the go.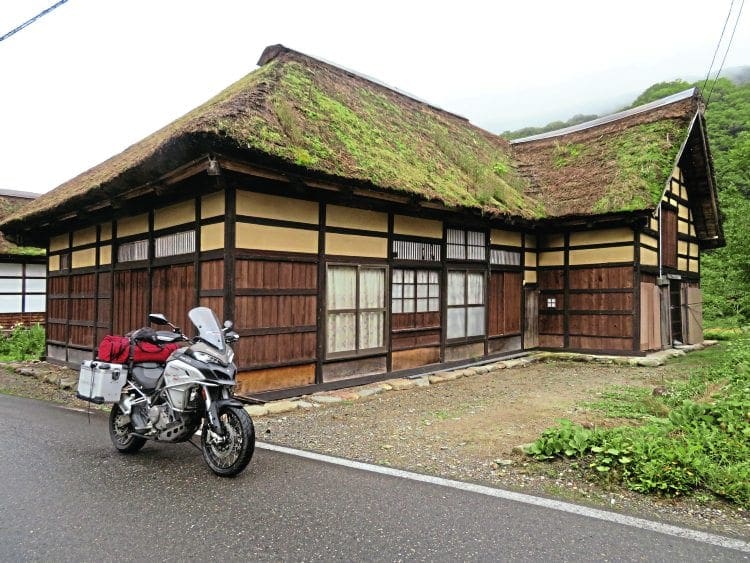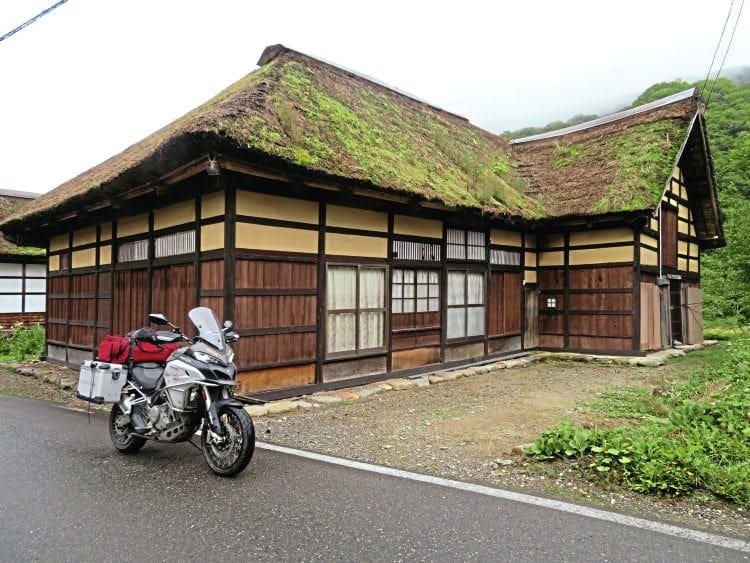 The ferry to Kinki Island (good name!) is very fast, and gets me to Toba, where I'm keen to leave the busy bigger roads and ride up into the mountains. A young man is guiding all the traffic to the right, but I want to go left on the mountain road I've seen on the map.
He is very concerned: "Please madam, it is too dangerous, no guardrail and with motorbike alone, you will fall and hurt yourself." It is only when I show pictures of me and the bike on my cellphone that he believes I can do it, and in the end he lets me go, telling me many times I have to be careful. The road itself isn't that dangerous, just a typical twisty mountain road that isn't used a lot. I could spend my whole day here but alas the clock is ticking and I need to get to Wakayama for the ferry.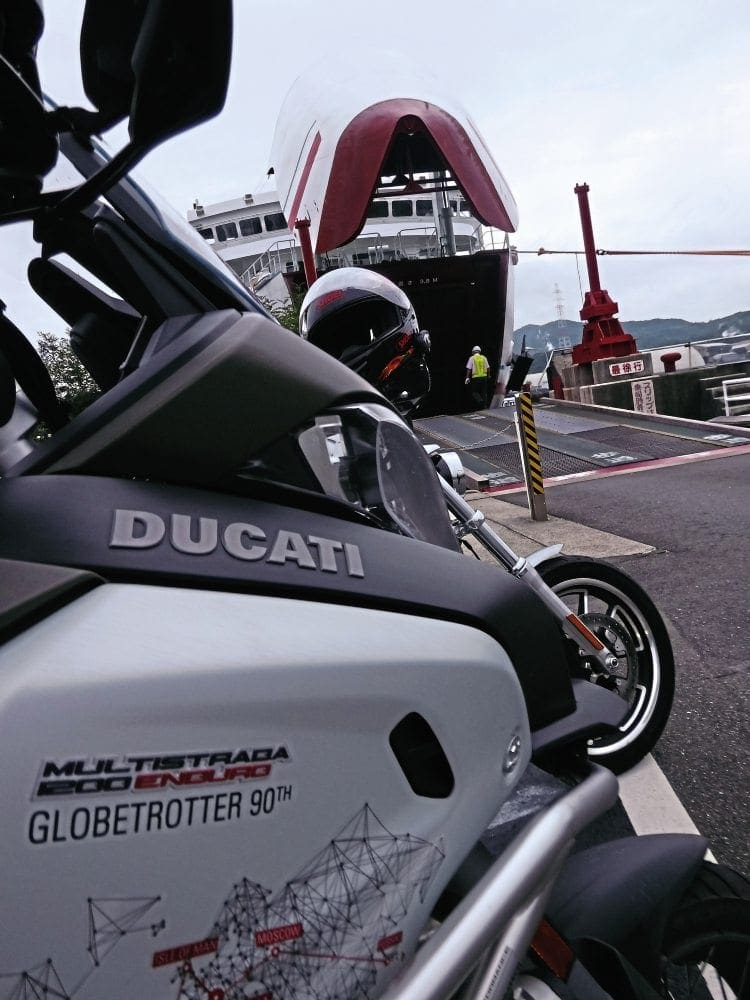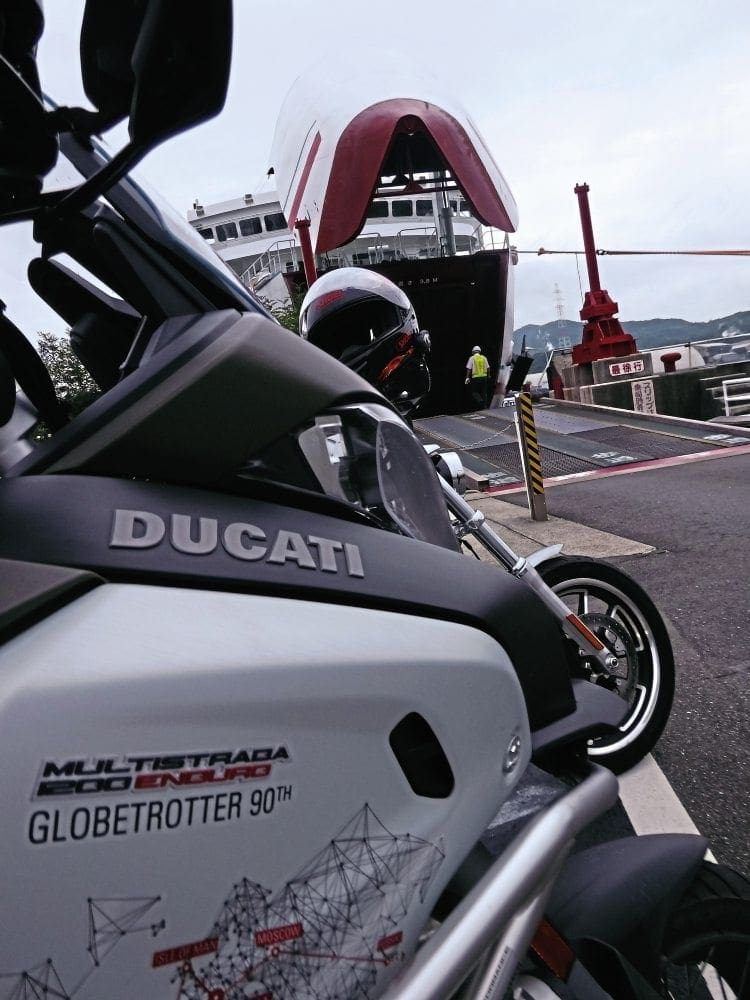 It is well past dark when I arrive and the friendly staff at the ferry office tell me there will not be any ferry tomorrow to go to Shikoku island because of a storm nearing Japan. Typhoon Makalas has already killed 10 people in China, then hit Taiwan and will reach Kyushu tonight. I decide not to camp and think about changing my schedule.
Next morning, Makalas is here, rain is lashing the window and my big problem is that the ferries may be cancelled. I'm told there might be a ferry leaving from Osaka straight to Beppu tonight. It's only 50 miles to Osaka and mostly highway, and in this situation I'm willing to pay the toll. But out in the hotel parking lot, the rain is getting heavier and the wind stronger. I'm not sure about this and go back to my room to consider my options. I find myself lost in hesitation until I decide that I'm just going to do what I always do – ride. Ten minutes later I've checked out, strapped my Nike bag to the Multi and off I go, into Typhoon Malakas.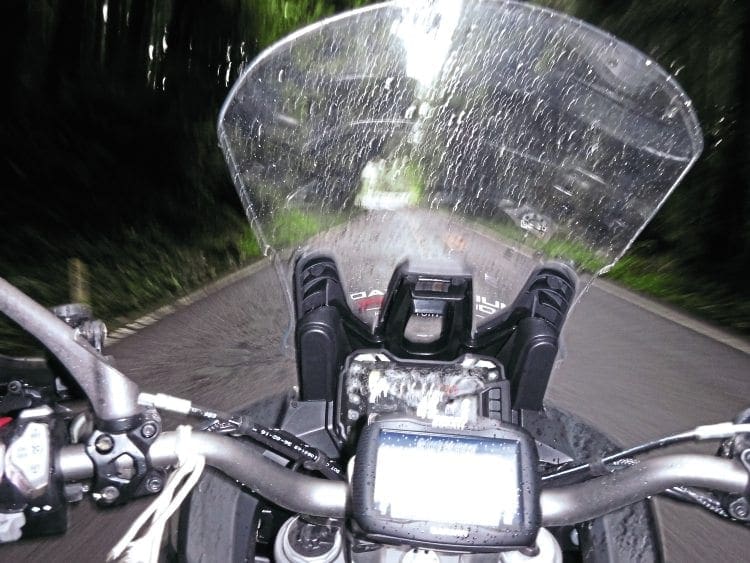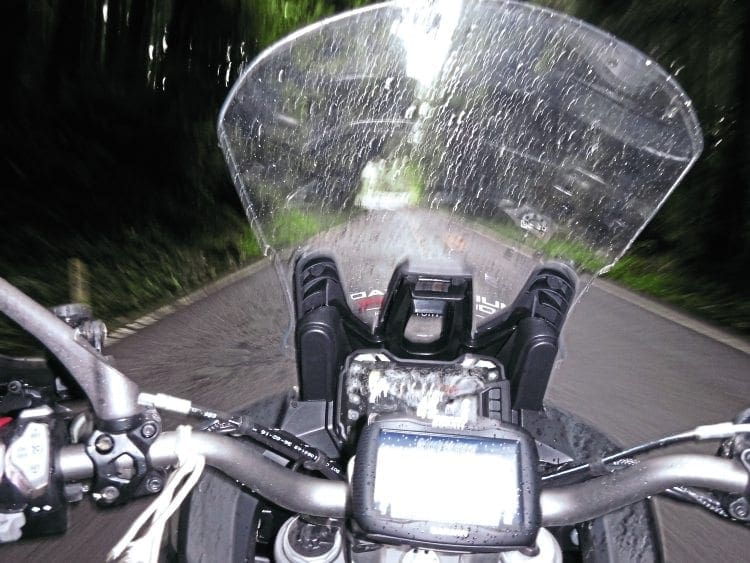 The first 30 miles are just pouring rain and heavy winds, but nothing I haven't ridden in before, so apart from a pounding heart everything is fine. The gusts get heavier as I approach Osaka but the Multi doesn't seem to mind, with weight and power to its advantage. I feel like I'm riding a powerboat through this typhoon, the rain corning down like a shower, the rear tyre shooting up spray, the growl of the engine when I overtake.
Osaka city isn't so much fun. At slow speeds and stops the Ducati becomes difficult to hold upright in the strong gusts. I continuously have to make triangles with the bike and my body – one foot down on the right, left leg clenching to the bike, tilting the handlebar fully left, so that I can push the machine up if the gust is from the left and pull it towards me when it comes from the right. It's my technique with a big bike in stormy conditions when I can't put both feet down, and it works. No ferries sailing tonight, but hey, I've made it!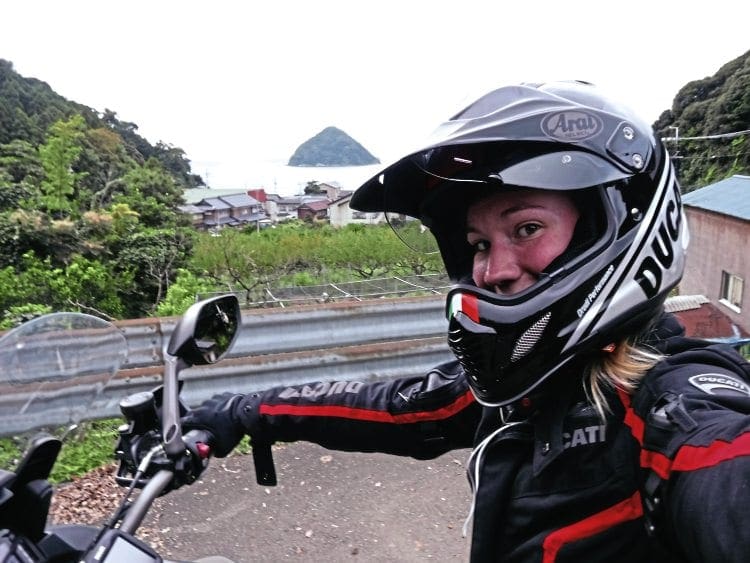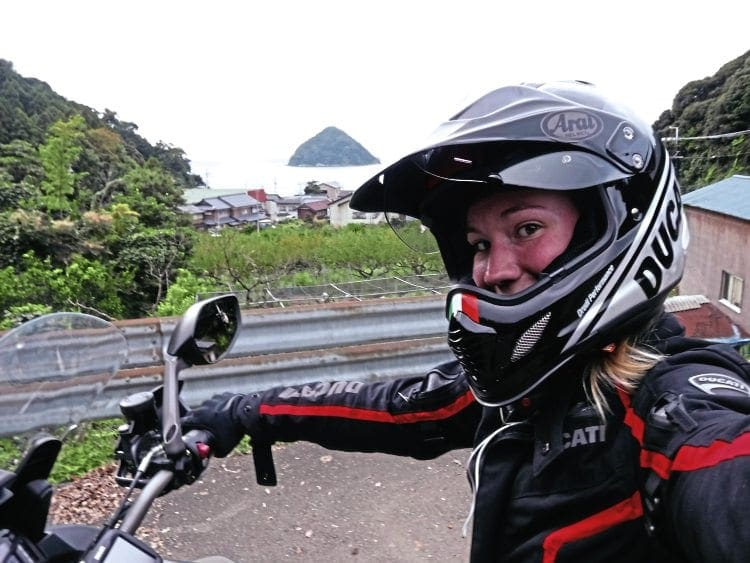 Because of all the lost time (I have to wait another day before the storm passes and the ferries sail), I'm facing a long haul up north, about 700 miles, but I can't miss a scheduled stop at the Iwashita collection. It's an amazing private collection that includes more than 300 motorcycles, the most interesting of which for me was the Ducati Apollo, a 1260cc V4 that Ducati hoped would gain US police business.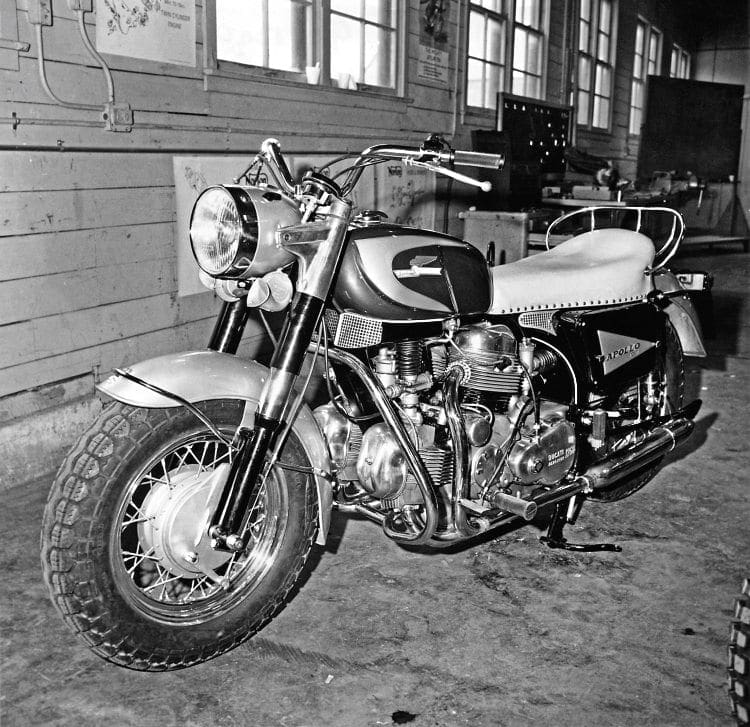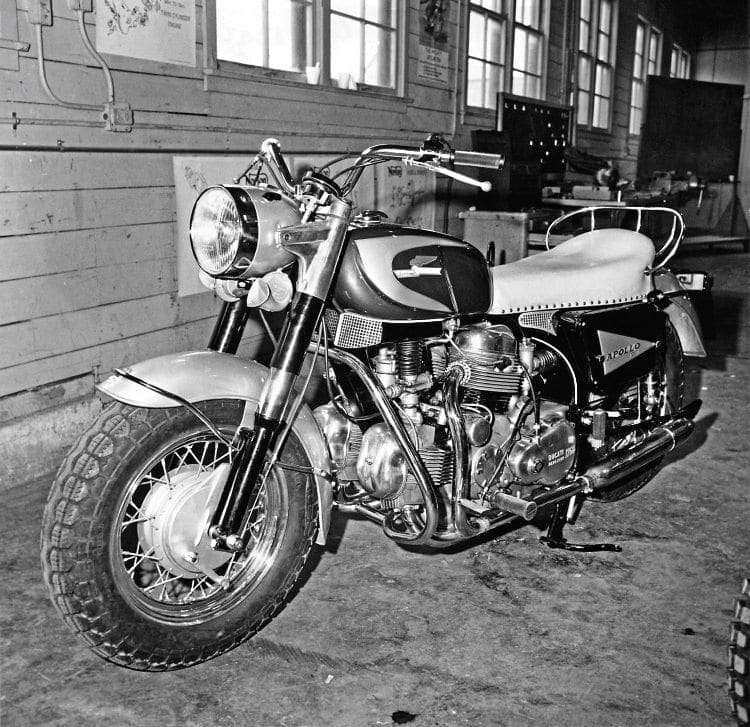 It's already noon when I leave the museum, taking the ferry to Shikoku, and at 4.30pm my challenge begins, trying to cram about four days of riding into 36 hours. But I'm not going to rush things – the highway is ridiculously expensive and boring, and even has a 50mph limit, so I take a smaller, curvier road, which is also shorter. I ride until 11.15pm when I find a hotel, then get up at 5.30am and am back on the road. Despite the schedule, there's another road I can't miss – the Rainbow Road across five lakes.
The Multistrada and I follow twisty roads from town to town, and even with all the luggage weight this thing is fast and handles well. At sunset I get back on to the highway and finally get to my destination just after 10pm.
TRACK DAYS
For twisty roads, Japan is the place to be. I've met up with Mark, a British Ducatisti who lives in Japan (900 Monster) and Patrick (Superduke), Patrick leading the way across Gunma on to the Fukushima prefecture. It's the first dry Sunday for a long time so the streets are packed with motorcycles and speed limits are guidelines' rather than actual rules. One road is a one-way loop, with no oncoming vehicles – let that sink in for a moment. Patrick amazes us with his knowledge of the hidden gems in this part of Japan.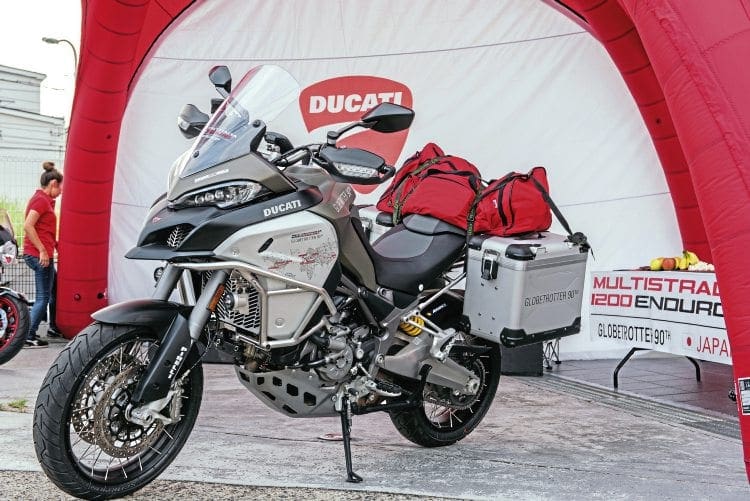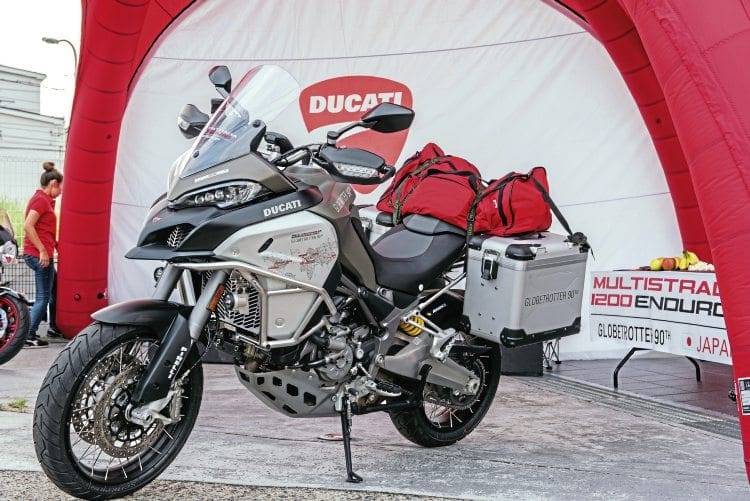 At our last stop Patrick shows me the campsite – it's pretty late, and the site is closed, but maybe I can camp here and leave the Multi on the gravel road entrance? I walk in to take a look and when I look back the bike has fallen over. Great. I know that people are saying: "She's riding a big bike off Tarmac, but when it falls over, she'll ask someone to pick it up for her." But no, I do it myself. It's all about technique, so never let someone else tell you what you can and can't do.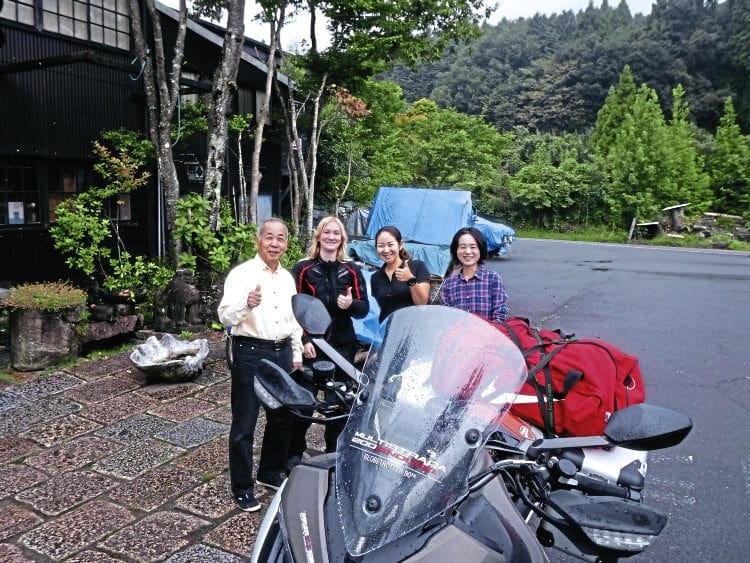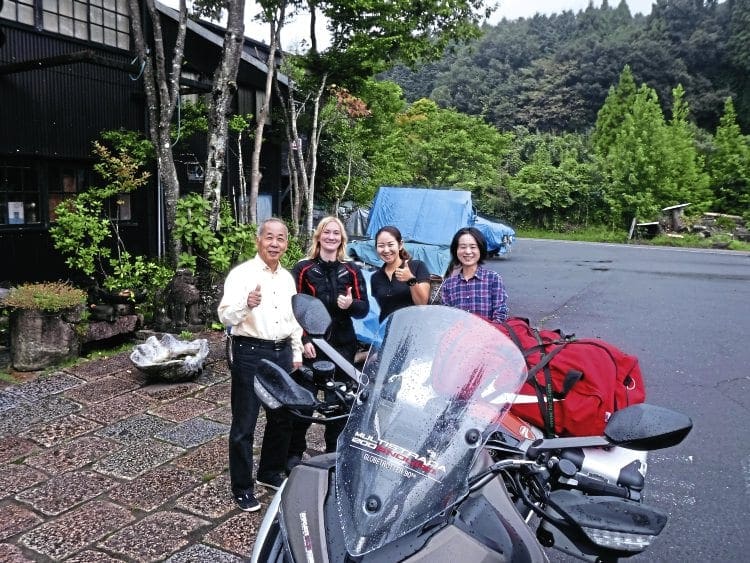 Next day sees perfect Tarmac up to Mount Zao, and the first signs of autumn colours, then up to Sugo race track, the roads reminding me of the Spa-Francorchamps area back at home. I love the tracks, and when I pull up in the parking lot I can already smell the tension. The staff welcome me and let me ride round the track behind a pace car. I thought it would go really slow, making allowances for a motorcycle with luggage, but no way, and I'm loving leaning into the corners. The laps were over way too soon but they energised me like a Duracell bunny.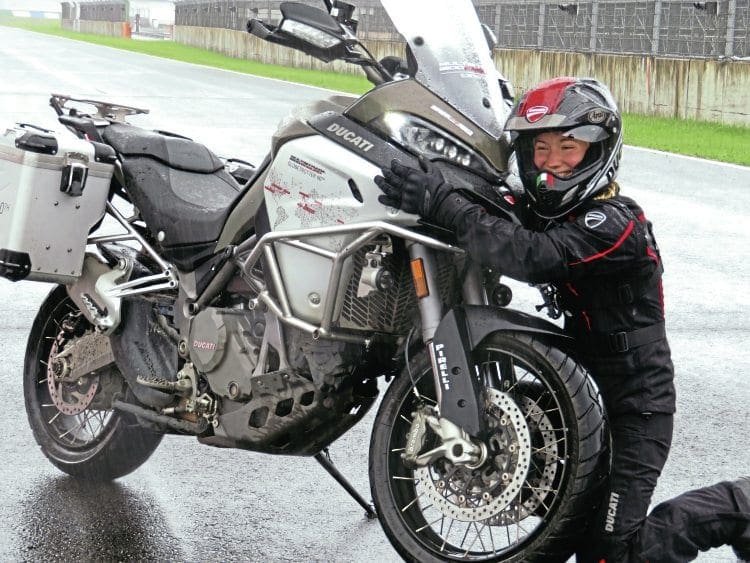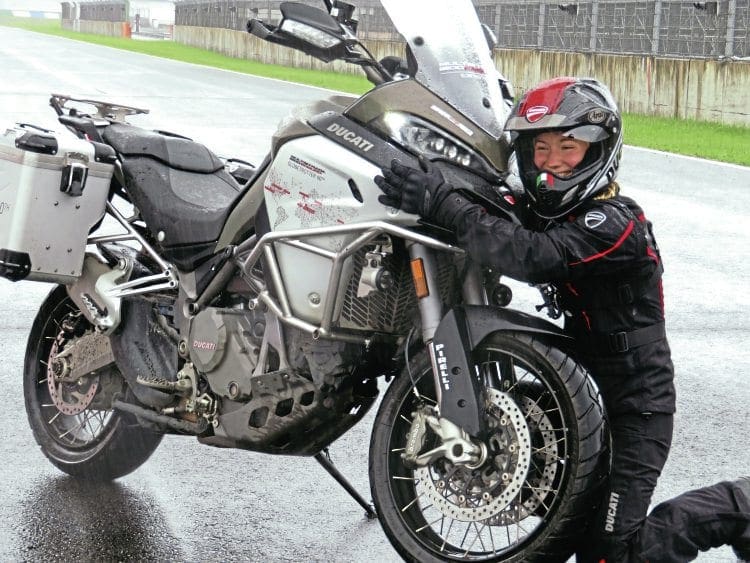 Not one race track but two, because I had a stop at Motegi planned as well. This time they let me into the track on my own – no pace car, ditch the luggage… but it's raining, and I've never seen this track before. I go anyway. I'm searching for the white kerbs through streams of water on my visor and there's an adrenalin rush as we take the long right downhill. The rain doesn't register any more, the whole world stops and there's just the roaring engine and my beating heart. It's the stuff dreams are made of.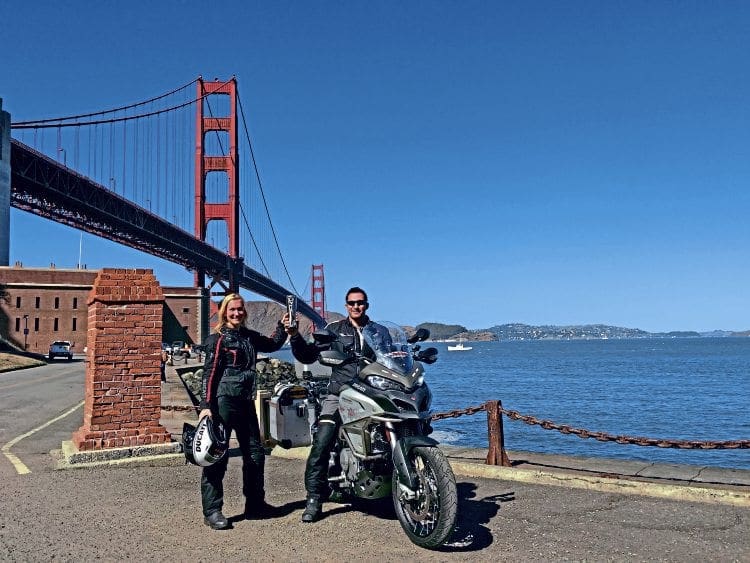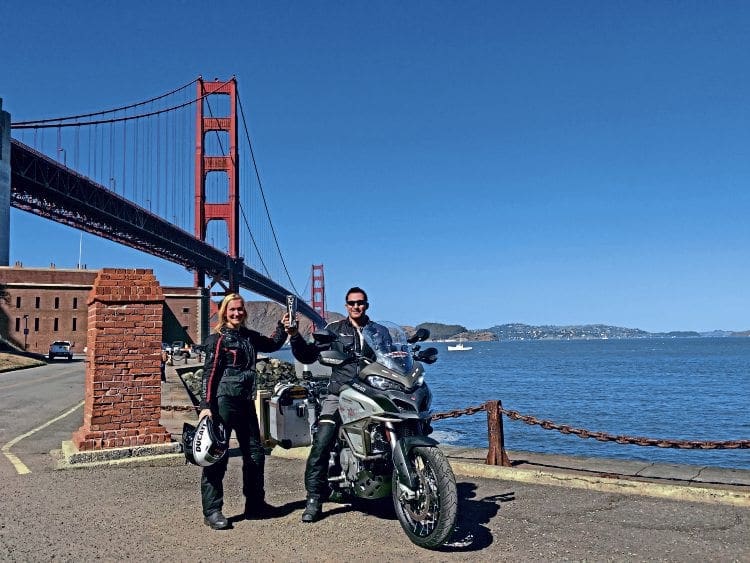 But all good dreams come to an end, and after 2400 miles (a few more than Ducati expected me to ride) in 10 days it's time to hand the bike on to the next rider. It ends well, with sunshine on the road to Tokyo and a stunning ride up Mount Fuji, to above cloud level – little white fluff as far as I can see.
Words & photography: Jessica Leyne
[googlemaps https://www.google.com/maps/d/embed?mid=1oowSN-56UVIEMXKksLoXLKlEXus&hl=en&w=640&h=480]