Mid-winter didn't stop Simon Murphy heading for a mini tour of the south west.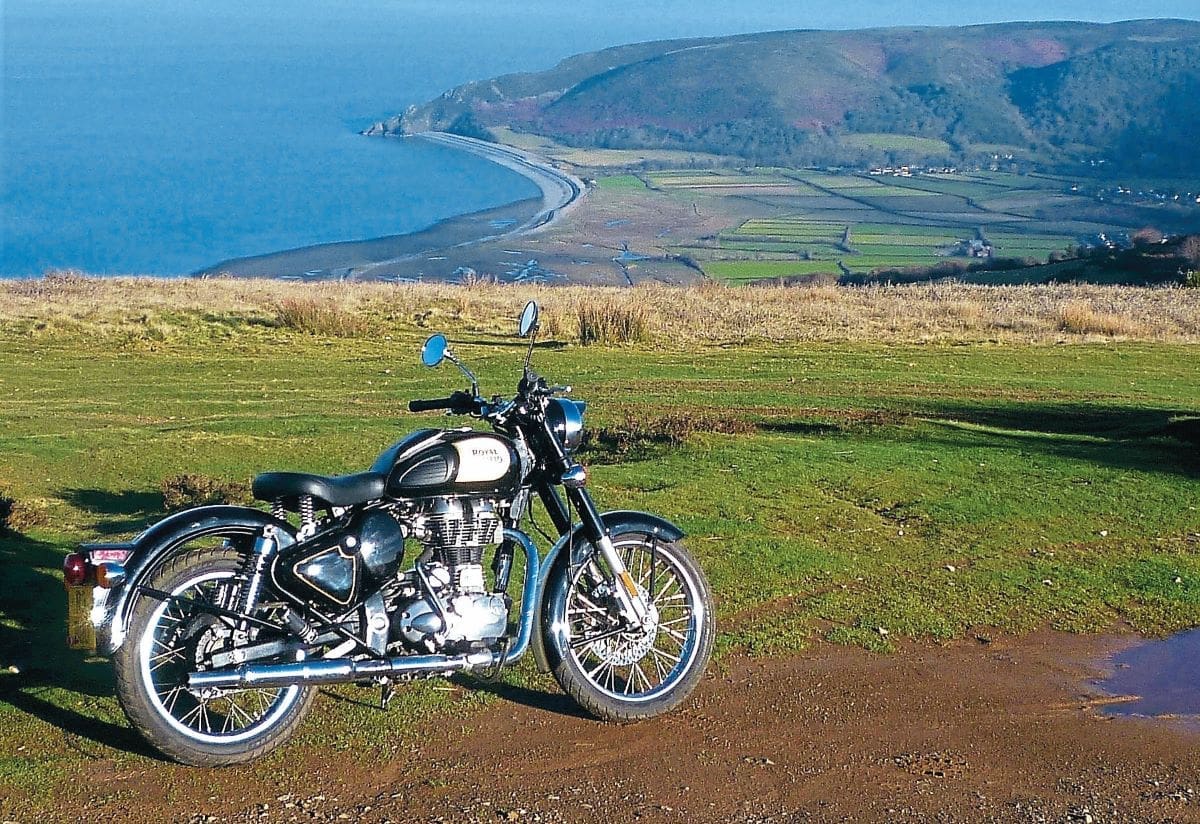 WORDS & PHOTOGRAPHY: Simon Murphy
It was mid-December when I pulled on a rucksack and set off with the Enfield on a three-day circuit of the south west of England. With what are often the mildest winter temperatures in the UK and no shortage of cafes to warm up in, the peninsula lured me from my fireside and out on to the road. I decided to travel anti-clockwise, starting in Dorset before taking in the coasts of Somerset, Devon and Cornwall, riding at least 150 miles per day. Two nights' accommodation booked – Bideford and Falmouth – and I was good to go.
My Classic 500 has no luggage for gear, hence a rucksack filled to the brim with extra warm layers. I use a Kriega R30 and really like the cross-belt harness because it doesn't pull on my shoulders, making it comfortable both on and off the bike. Heading north from Lyme Regis for Watchet in Somerset, the A358 was the obvious choice, and it was an easy ride to Watchet's pedestrianised harbour area. Parking just beyond some black posts and popping into the nearest tearoom seemed to be the thing to do, as there were a few other bikes already there.
By Watchet's harbour there's a sculpture of the Ancient Mariner and the town is said to have been the inspiration for Samuel Coleridge's poem of seafaring woe. In fact, he was a regular visitor and probably his most famous work, Kubla Khan, was written after apparently being awoken from an opium-influenced dream by 'a person from Porlock'. And that's where I was heading next, riding Cleeve Hill to Blue Anchor before joining the A39 on its journey westward.
However, little progress would be made if I dropped into every small town along the coast and with short days (it was dark by 5pm) I needed to cover some miles. I ended up sticking with the A39, a nice winding main road that climbs and falls along the North Devon coast. It was wonderfully quiet and all I had to do was keep an eye on the white direction signs. I bypassed Minehead but did take the lane to Porlock Wier, dipping down to the sea with the intention of continuing close to the cliffs and on to Lynton and Lynmouth.
But it wasn't to be. A stone-built arch and closed picket gate stood across the way just west of the village, with a toll sign. There was no one about to take money, so I cut back up to the A39 and climbed the infamous Porlock Hill instead.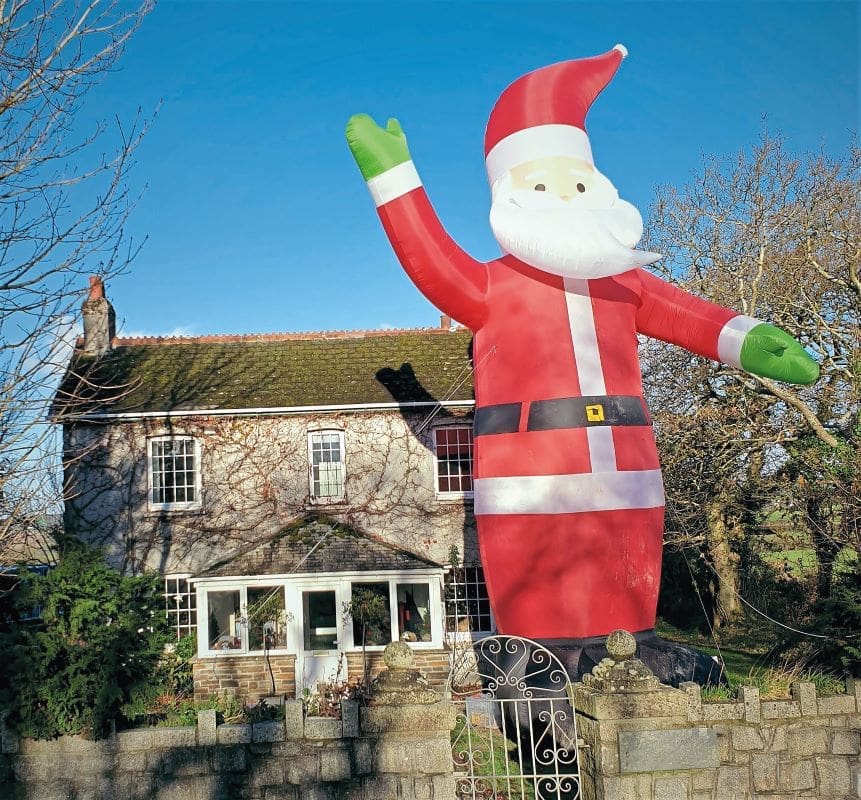 The Enfield took the steep gradients and switchbacks in its stride, but I was happy to be riding on my own. The tight turns and inclines had us down to second gear at one point, with the engine thumping away and me laidback in the knowledge that nothing was breathing down my neck.
Big climbs lead to big vistas and the top gave a magnificent view behind to the bay below Porlock, the hills beyond and an ice-blue sea that stretched to the horizon under a cold, clear sky. Over the other side, and the A39 dropped into Lynmouth on Countisbury Hill, with views down to the village all the way in.
Valley of the Rocks
Lynton and Lynmouth are typical West Country tourist spots, but they weren't for me, not today, as I had miles to do and there were other places to see. Riding was the thing, especially with such limited time. I left the A road and made my way through Lynton to the Valley of the Rocks. This runs parallel with the coast and is not only a place of giant rock formations, as impressive as they are distracting, but also of feral goats, which taken together made for a slow run through. Eventually, another small toll gate greeted me, so once again I turned back and rejoined the A39.
Next on my list of places to visit was Ilfracombe. I turned off on to the A399 and rode down towards Combe Martin, famous for having one of the longest village streets in Britain and the Pack o' Cards Inn. If you were wondering how the pub got its name, it has four floors (one for each suit), 13 doors on each floor and sits on a plot measuring 52 by 53 feet.
I had a short leg stretch in Ilfracombe to see Verity, Damien Hirst's 20-metre tall statue of a pregnant woman holding a sword aloft. Hirst describes his work as 'a modern allegory of truth and justice'. Others use different words. It has got to be seen to be fully appreciated and I have to admit that I left trying not to think whether it had any meaning – riding in winter was hard enough.
The A360 carried me west before I joined the B3341 down to Woolacombe, from where I simply followed signs for Croyde and then Braunton. Looking down on to Saunton Sands, I headed inland in order to get around the vast Tor and Torridge estuaries.
It was starting to get dark and busy, with traffic being funnelled over one river and then the other. I pushed on, the Enfield hammering along the A39 at 60mph, but I think we were both pleased to reach The Hoops Inn at Bucks Mills, just short of Hartland and the Cornish border.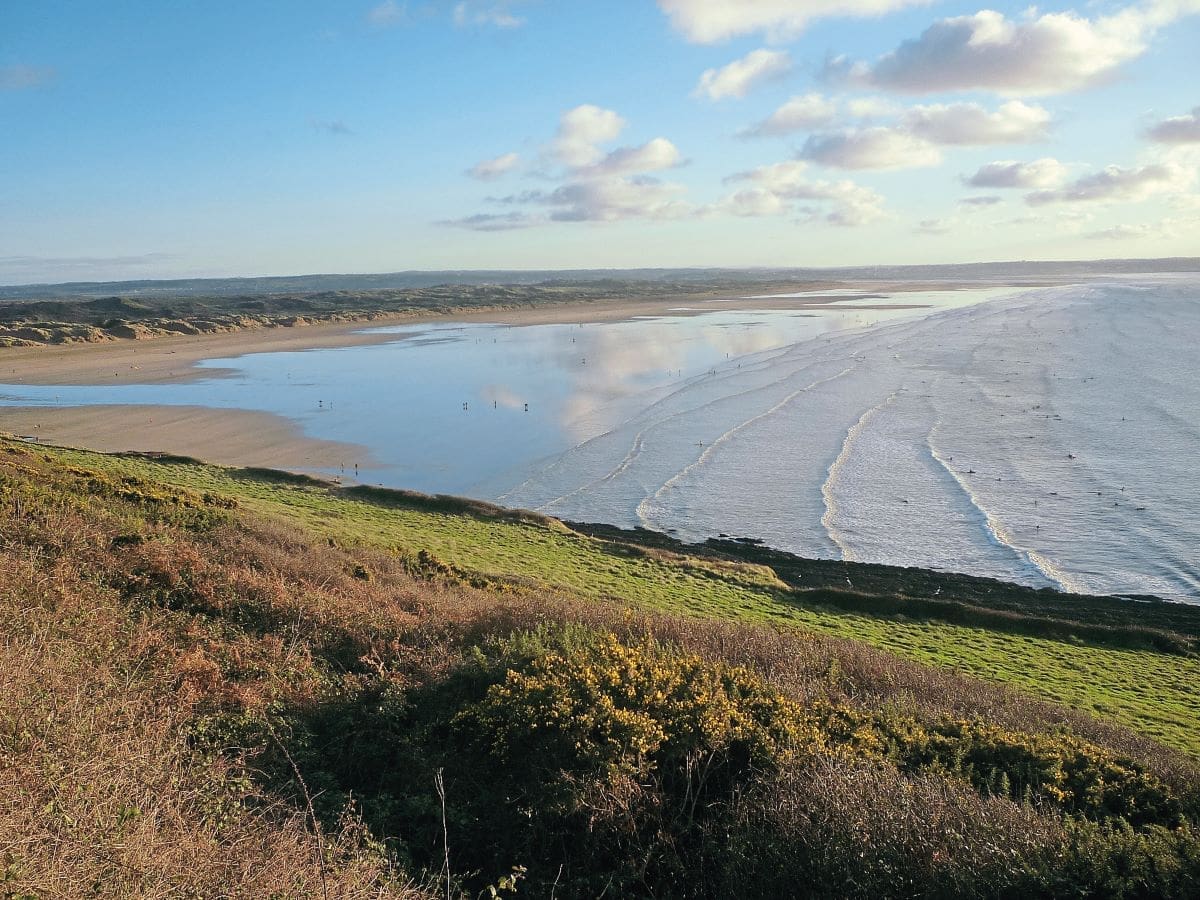 Frosty Start
The bike was white with frost next morning, so I decided to stick to the A39 for a while as the back roads de-iced. This had the added benefit of making progress, and I wanted to ride the coast between Hayle and Land's End, so sacrifices had to be made. I bypassed Bude, Boscastle, Port Isaac and Newquay. Even Morwenstow, where the Reverend Hawker (1803-1875) would bury the bodies of shipwrecked sailors washed up on the shore. Hawker's Hut, his lookout on the clifftops, is now the smallest property owned by the National Trust.
The A39 was still perfect. Perfectly quiet, perfectly winding. If a car came up behind, I simply moved over, but not many did. The Enfield loves 50mph – it smooths out, finds a sweet spot between thump and hammer, and settles down. So that's what we stuck to, all the while gliding along alone, looking at the sea, rolling hills and wind turbines.
Nothing lasts, however, and by late morning we were on the A30 running through Redruth and on to Hayle. I stopped at Hayle's Asda for a warm-up and coffee – with the bike doing about 80mpg on a three-gallon tank (13.5 litres), fuel stops weren't an issue and I filled up in the knowledge that a full tank would carry me well into the following day. Hayle has a great industrial heritage and in the 19th Century the largest steam pumping engine ever built was made at a local foundry before being shipped to Holland. There was plenty to stop and see.
With too few hours of daylight left, I continued to St Ives, doing a round of its narrow streets before heading off on the B3306 towards Zennor. The road climbed and dropped; there were tight bits, straight bits and sharp bends. The land around became moor-like but the sea was always with me. Passing between farm buildings, I noticed slurry on the road and from there on took it easy through corners, where hedgerows shielded any view of the road ahead and where it was obvious farm traffic had passed. This, of course, was tin mining country, and you can still see the ventilation shafts, plus a museum of mining at Pendeen. Time for another nice café, warm-up, coffee, a toastie and cake.
I didn't hang around at Land's End, simply riding around the near-empty car park before turning eastwards for Falmouth and my second overnight. The B3315 took me to Newlyn and Penzance, the A394 to Helston and then some minor roads to Gweek and a nearby B&B. It was dark by the time I arrived and the last few miles of lanes were wet and slippery. Rather than go anywhere else I chilled in my room with an Asda picnic.
Coasting Home
I followed the same strategy the next day, making some miles in the morning while the temperatures crept upwards, and the afternoon enjoying the coast. This suited me fine because I really wanted to ride the A379 through South Devon and knew there wouldn't be enough time to hug the whole coast back to Dorset. The A390 and A38 took me to Plymouth and the Tamar toll bridge (free for motorcycles, just stop at the barrier and wait to be waved through). On the eastern edge of the city on the A374 I picked up signs to Brixton and the road that would take me all the way to Exeter.
This was the A379, simply a road to be enjoyed for itself, but also one that you can dive off into any one of the many small villages that line the coast here. I made my way to Slapton Sands and then Dartmouth, where I stopped for a late coffee, before taking the lower ferry (contactless accepted) to Kingswear. Paignton and Torquay came and went, as did Teignmouth, but not without a stop at the station café (bike friendly and with toilets on the platform). Soon I was in Exeter, out the other side and heading east on the A3052 back to Lyme Regis and home. I'd ridden 491 miles and the Enfield needed a chain adjustment, and that was about it. The only part of it not in tune with my laidback mid-winter ride was the side stand cut-out switch. This now resides in my bin – the lanes won't miss it.