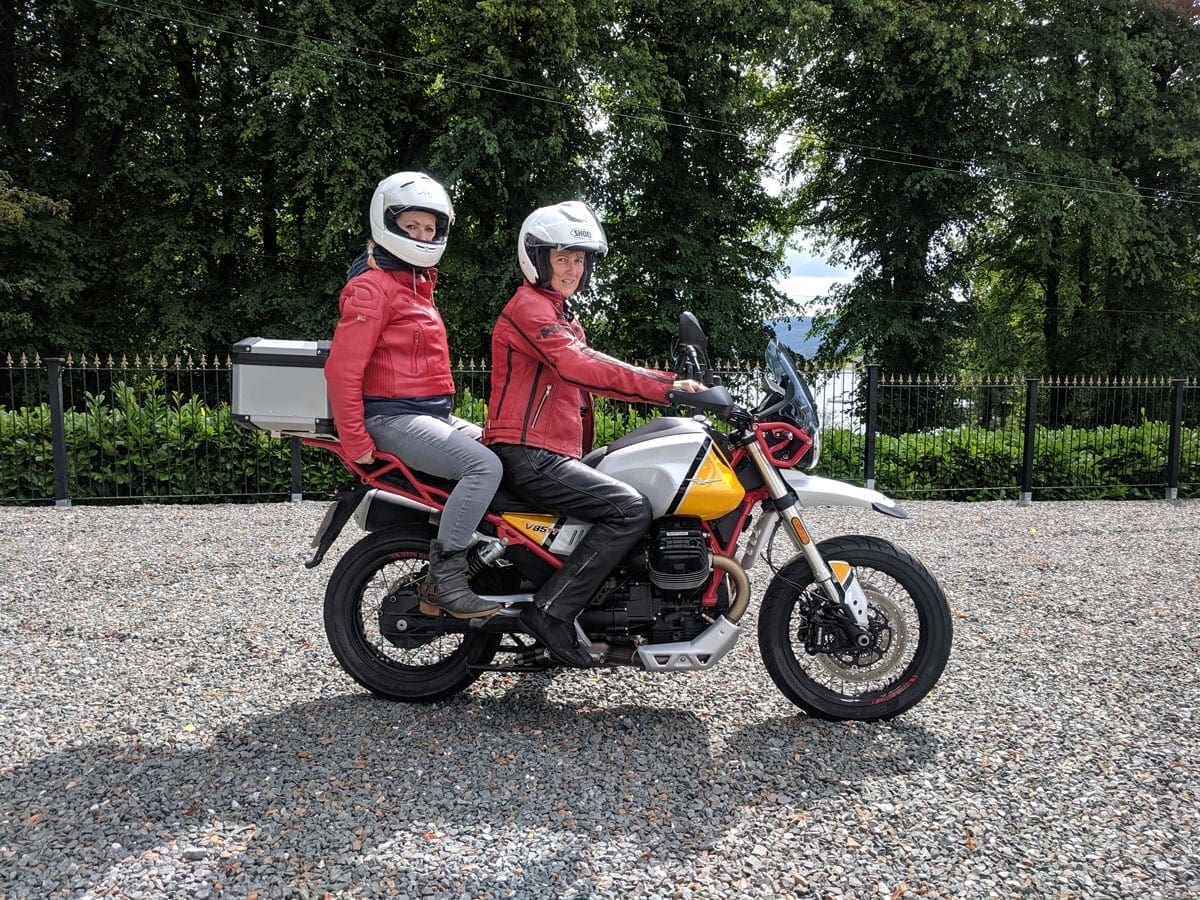 Words & photography: Roger Martin
When you reach certain age motorcycling may start to involve more aches and pains. In this article, we look at how your riding position can help minimise the niggles…
In my last column we considered how our biking requirements change now that we have reached "A Certain Age". In this column I will be looking at finding the best bike possible for you which will enable you to carry on with the glorious passion that is our biking, but with as little discomfort as possible.
Related articles on MoreBikes:
If you use your bike on rare occasions, and perhaps just for an hour or two's ride, then a lot of what I'm going to say may not be as pertinent as if you disappear off into the sunset for a day at a time. Or longer. Here's what I have found speaking from the viewpoint of a reasonably fit seventy-year-old lifelong biker (but with a few aches and pains now), with the proviso that your body will be different from mine, so not all of this may apply to you.
What do I need to watch out for?
Factors that affect the enjoyment of your ride in later life are as follows:
Riding position, which includes the relationship between bars, seat height and foot pegs
The plushness (or otherwise!) of suspension, both forks, springing and saddle
Vibration and lack of wind protection which can lead to fatigue
Heat from large air-cooled engines and under-seat exhausts when riding in hotter countries
Reliability, as breakdowns in remote places with no phone signal cause stress
Weight and ease of manoeuvrability
Your own fitness, or lack of it
Over the next weeks and months, I will be looking at each of the above factors in detail and passing on personal experiences as well as the hints and tips I have picked up from other older riders which have helped them keep on the road. For today, let's start with riding position.
Riding Position
This is absolutely crucial. You have now reached an age and stage where your idea of how cool you think you look when gazing at your reflection in passing shop windows is no longer the most important factor… Get real. I'm sorry about this, but this is reality check time. OK?
Firstly, I have to declare my own interest here. Over a lifetime of biking, apart from retro, adventure and sports bikes, I have owned big cruisers, and have really loved the chilled out relaxed way they make me ride. I love the low down, torquey, big thumping engines and the feel-good factor that comes from wafting around.
I have to admit to fitting aftermarket exhausts too and enjoying the sound, but these days I don't think that it's the way to go without ostracising the non-biking public and perhaps causing future legislation problems. Shame, but there it is.
My first cruiser in the 90's was a Kawasaki VN1500, followed by a Guzzi 1100 California, then a couple of Victorys, a couple of Harleys and an Indian Roadmaster.
As you no doubt see, I'm not a brand loyalist and have gone where ever my heart has led me. BUT. And this is the rub, the riding position where my hands and feet are pushed out well in front of me placing most of my weight on my bottom now results in both lower back muscle pain as well as agonising numb bum. The same applies to feet forward scooters that I have borrowed, such as the Suzuki Burgman 650 and the Honda Integra 750, excellent though these machines are. So. Unless you only ride short distances or your body has survived the ravages of time, let's look at some other options.
So, for most older riders, a cruisers' riding position rules this type of bike out. For similar reasons, the hard suspension and head down, bum up riding position of sports bikes will no longer work for you, other than having your photo taken on one in a showroom. Sorry about that. Ouch!
We are therefore looking at the sort of layout that is offered by either adventure styled, faired touring or naked bikes as these will give you the natural body position that spreads your weight between arms, legs and bum equally.
You will also need to factor in the bikes weight, or preferably, lack of. There is much to be said for the reduced fatigue experienced by riding a faired touring bike as they keep the wind and rain off you as well as keeping you warmer in cold weather… all big plus points when you get older. Unfortunately, unless someone can tell me differently, mainstream medium weight faired tourers don't exist at the moment. The BMW RT 1250, Honda Gold Wing, Yamaha FJR1300 and their like are all too heavy and bulky for all but the fittest of retired bikers.
I reckon that the discontinued Honda Deauville 700 was probably one of the best middleweight faired touring bikes out there. All day comfortable riding position and saddle, built in panniers that don't stick out for beyond the width of handlebars for filtering prowess, good economy, totally reliable and surprisingly good handling in the twisties.
People in the past have said that they are not the sexiest thing on two wheels, but surely, we are at the stage of needing a faithful servant, not a mistress?
I must admit that I owned a Deauville some ten years ago, and only sold it because I toured in Europe quite extensively with friends all of whom rode much faster bikes. I was ok and kept up fine in the curvy bits, but needed to wring the poor bike's neck on the straights to keep up. Eventually, I gave in and bought a Pan European ST1300, but for me, right now, another Deauville would be spot on.
And so, a few weeks ago I found a late model candy red 2013 Deauville 700 with just 21,000 miles on the clock for £4,500 and bought it on the spot. I have added heated grips, a lower fairing which is being colour matched, and have taken it to a Honda main dealer to have them give it the once over and full service. If looked after, this bike will last forever. It is absolutely spot on… for me to tour on right now. Maybe you too…?
My next column will continue exploring other bikes which I think that you need to consider in your quest for the ideal bike to keep you on the road and enjoying your retirement biking. Other left-field choices may well be included and there will be surprises! See you soon.
Keep your eyes out on MoreBikes.co.uk as we bring you more from Roger's Retirement Biking series.