Tested by: Chris Moss | £389.99 | www.nevis.uk.com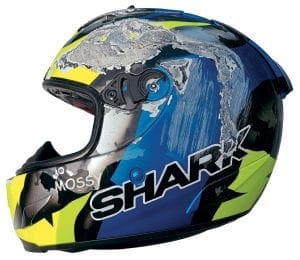 I enjoyed the beautiful fit and feel of this brand new top of the range Shark helmet for just one hour before testing its protective qualities to the max. Slamming it down hard on the road instantly rendered it useless for further use, and given it had been made all the prettier from an expensive custom paint job, I could have easily felt depression and sadness at how soon it had been wrecked.
Yet I couldn't have been more relieved at how well it had absorbed the heavy impact and saved me from any head injury. Having suffered one of those in days gone by I was thankful to avoid a repeat. Serious damage to the helmet's shell indicates just how much force it's endured. Not having even the slightest headache underlines howwell it's protected me. I've immediately ordered another. Hopefully I'll be able to restrict my opinions to the Shark's numerous virtues such as light weight, comfort, ventilation and unrivalled visor retention system from now on!
Article continues below…
Advert
---
Enjoy everything MSL by reading the monthly magazine, Subscribe here.
---