Does shipping bikes to New Zealand really make sense?
In 2019 my partner Meg and I decided to call a halt to long-haul flights. We are both in our eighties and it takes us a while to recover from flying through a range of time zones. That was it, decision made.
All this fine, mature reasoning went out the window when I received a flyer from Woods Motorcycles of Abergele. They'd be running a tour of New Zealand in January 2020, with a range of Triumphs and Ducatis shipped over for the occasion, along with a backup van to carry the luggage. For me it was a no brainer, and I signed up. There were 14 of us, plus Andrew Wood leading with Alan and David sharing the van driving, bike maintenance and luggage haulage. Our bikes were a selection of Triumph twins (I was on a Street Twin), Ducati Scramblers and Andrew's ST4S.
Day 2: To Rotorua
What we wouldn't be doing was riding in a big group. The plan was simply to meet up at the hotel each night, though we had a contact number for the van in case anything went wrong. On this first day a group of us decide to follow Neil Hubberd out towards the east coast of the Coromandel Peninsula, then follow the coast road south down past Whangamata before turning inland again to Rotorua, a famous thermal spring resort.
In NZ you quickly come to realise that roads follow the least line of resistance (for the road builder that is). Basically, they follow the contours as best they can around every hill, mountain and coastal headland, or beside the river line through valleys. All very scenic, and the road surfaces are good, but beware of road works! They use a surfacing system that was common in the UK 50 years ago – first spray the road with liquid tar then spread a thick layer of stone chippings on top, not all of which stick. So, if you are into riding on ball bearings, this is for you.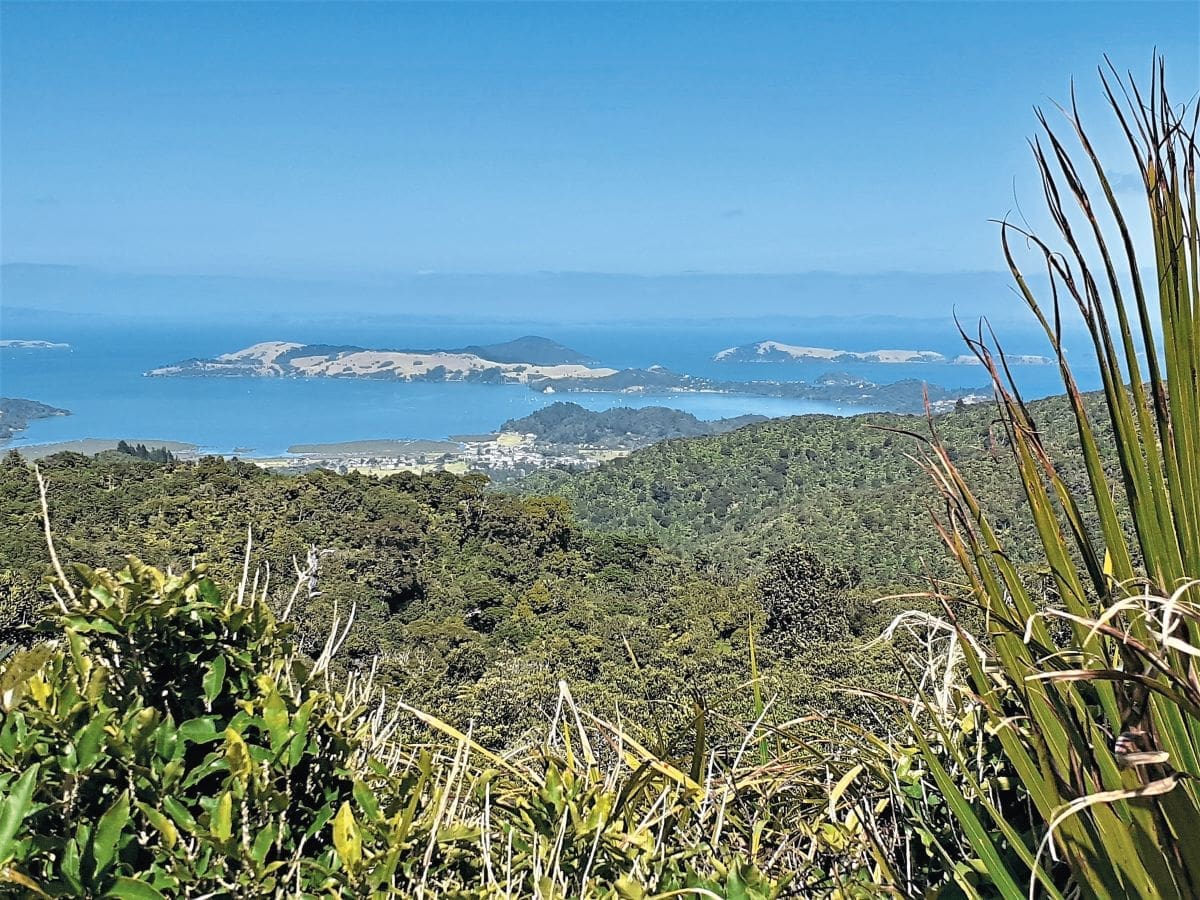 Day 3 – 4: To Napier & Nelson
I ride with my roommate Keith Fell (who usefully also had a sat-nav). After stopping at various vantage points, coffee shops and smelly, but interesting, thermal mud pools, we pull into Napier, a beautiful Art Deco town. We leave North Island via Wellington, though Keith's technology gets us lost! But we see parts of the Wairarapa we could so easily have missed, especially a really pretty little white wooden church miles from anywhere. The ferry trip across the Cook Strait takes three-and-a-half hours so it's more like a mini cruise. Accompanied by dolphins and the occasional albatross, it gets even better when the ship turns into Marlborough Sound, when the scenery is transformed into a fjord – it's almost a shame to have to get off.
But we do, and set off for Nelson, again choosing the challenging route via Havelock around the headlands and coves, trying to balance admiration of the spectacle with the need to keep the bike on the road with hairpin after hairpin – there's a sheer drop from the road to sea on one side, and an unforgiving rock face on the other.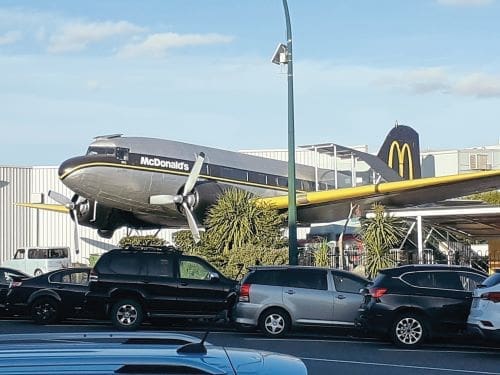 Days 6 – 10: To Lake Tekapo
After dropping down the west coast to Greymouth we have a relatively short run to Fox Glacier, passing through Ross and Franz Josef on the way. It's an easy, relaxing ride with the sea to our right and the Great Divide, which includes Mount Cook, to our left. Unfortunately, the mountains are shrouded in cloud today but at least the roads are dry. That night a local tells me six inches of rain is expected the next day.
He's right. It's hammering down next morning and despite my new boots and good-quality textile suit, within two miles my crown jewels are awash and the water level inside my boots is over the plimsoll line. Two hundred miles to go. The rivers have become raging torrents, and water cascades off the mountainsides, landing on the road as waterfalls which you just have to ride through. We make it to Queenstown where fortunately we are staying in four-bed apartments, each one with a very substantial washing machine and dryer. Everything goes in.
Day nine is a rest day, which is just as well because the rain is still hammering. Neil sets off at the crack of dawn to visit Milford Sound by coach, while others drive to Invercargill for the Burt Munro museum. I'm keen to ride the jet boat on Shotover River, though that has to wait until the afternoon because of poor visibility. Neil's coach trip is abandoned because of land slips… Milford Sound is isolated.
Next day, the good news is that our kit is dry (apart from the boots), and the bad… it's still raining hard for our 150-plus mile ride to Lake Tekapo. Cold too, and hypothermia seems not far off. Still, our destination apartment is beautifully situated overlooking the lake, with another good restaurant nearby, and the standard of food is excellent everywhere.
Days 11 – 12: To Blenheim
What a transformation. The sun is out and the view from the bedroom over the lake is breathtaking; good enough to inspire a pre-breakfast walk. Today's destination is Christchurch and the hilly terrain eventually gives way to the Canterbury plain and cattle country. Christchurch is a university city with wonderful architecture and a meandering river, in many ways similar to our Oxford and Cambridge. But it still shows the scars of the 2011 earthquake, with some of those lovely buildings propped up with steel buttresses, others gone altogether. In spite of this devastation the place still retains its majestic charm.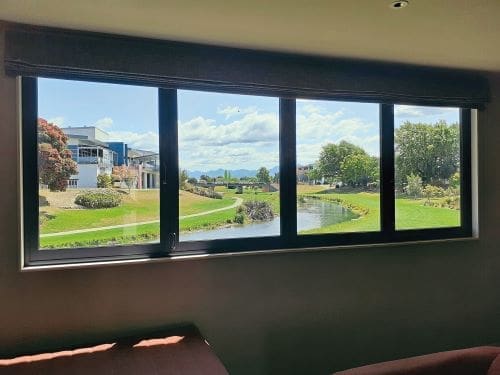 Next day we head north, climbing into the Golden Cheviot region – 'Golden' because the grass has been burned by the sun. This is a top wine-growing area because of its soil and climate, and the scenery is quite different to what we've seen so far. From the Cheviots we drop down to the Pacific coast at Kaikoura where whales are breaching just offshore, a magnificent sight. Seals bask on the shore and Keith and I stop at a beach shack for lunch – freshly boiled crayfish, green lip muscles and fried kingclip. It's my son Nigel's birthday and that night at the bar in Blenheim I manage a few words with him on Neil's phone – what, with my hearing and a noisy bar it doesn't make much sense, but it's the thought that counts.
I am going to have to do something about this smile – it just will not come off my face.
Days 13 – 15: To Taupo
An early start this morning for our ride to Picton, and our return sea crossing to Wellington. Back on North Island, the busy city is a bit of a shock, with its traffic lights and dual carriageways. But soon we are riding through nice countryside again, up the west coast to Wanganui, quite a big town by NZ standards. Tonight we stay at the Grand Hotel, which is an absolute time warp. My bedroom is like Granny's and the car park boasts a genuine London AEC double-decker, a 1920s American Chevrolet bus and a number of vintage/classic cars, including a Bradford/Jowett van.
Since Wellington I have had to find my own way around because Keith has gone visiting friends, and taken his sat-nav with him, but not to worry, there aren't that many roads, and I do have a map (remember them?). The target for day 14 is Lake Taupo, reached after riding through Tongoriro National Park, which is volcano country and yet another stunning panorama. We stay in a lakeside motel and Taupo turns out to be a proper resort town where you can sit on the promenade and watch the seaplanes come in.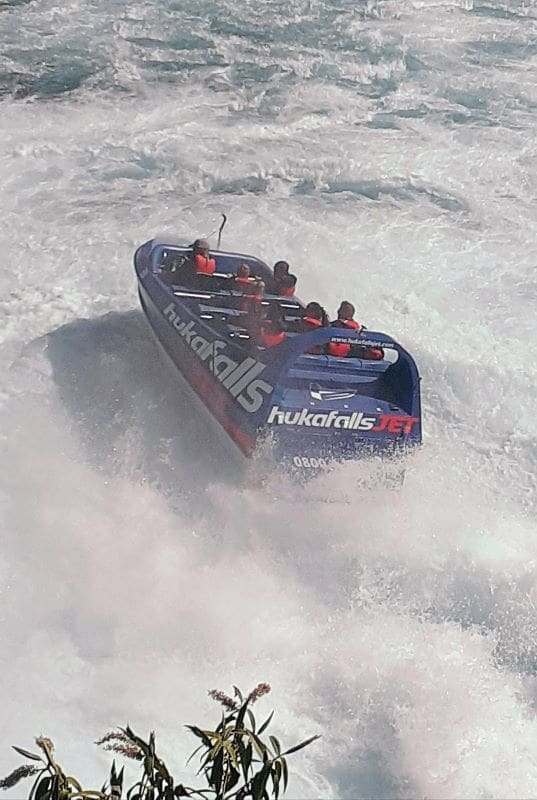 Next day we call in at Huka Falls, formed by a cleft in the rocks which the lake water discharges through at force before becoming a river beyond, all very impressive. Just as memorable was the flock of black swans which flew in while we were there.
Days 16 – 17: Back to Auckland
The wonderful weather continues as we make our way towards the north east of the Coromandel Peninsula, and Whitianga. The route is another typical NZ coast road, taking us around every headland and dent in the coastline, with every view different and every one tempting you to stop for a better look or photograph. I've been enjoying the Street Twin, and on these sorts of roads the features I most appreciate are the light clutch, the handling and reassuring ABS, given the amount of gravel on the road.
We stop that afternoon at Hot Water Beach where the big attraction is hot water – not the sea, but just below the surface of the sand. Dig a hole in the sandy beach and it instantly fills with hot water, probably from a nearby thermal spring. I think it would catch on in Blackpool.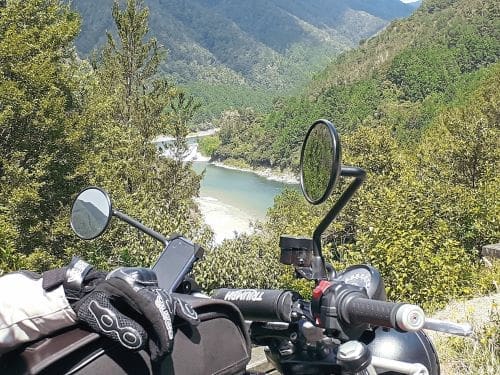 Sadly, next morning heralds our last riding day, across the top of the Coromandel before turning south down its western side to the town of Thames. After joining Highway 2/22 it's an anti-climax, with a motorway-type run back into Auckland.
All good things come to an end, but this was a ride I will never forget and after 2500-plus miles on the Street Twin we were getting to know each other. Time for a last meal together that night, and well done to everyone from Woods, you did us proud. Bring on the Surf and Turf, and oh, more beer please.
Here's the map of Brian's route:
If you enjoyed this article, there are more like it in every issue of Motorcycle Sport & Leisure – explore our subscription offers here!