At the Quail Motorcycle Gathering, an annual display of modern and historic bikes celebrating in California, Curtiss Motorcycle Company unveiled its vision for a new golden age of American motorcycling.
The company, which claims a heritage stretching back to 1902 and motorcycle and aviation pioneer Glenn Curtiss, took the wraps off its all-new, radical-looking Zeus, a striking, and much-anticipated prototype electric E-cruiser at the show.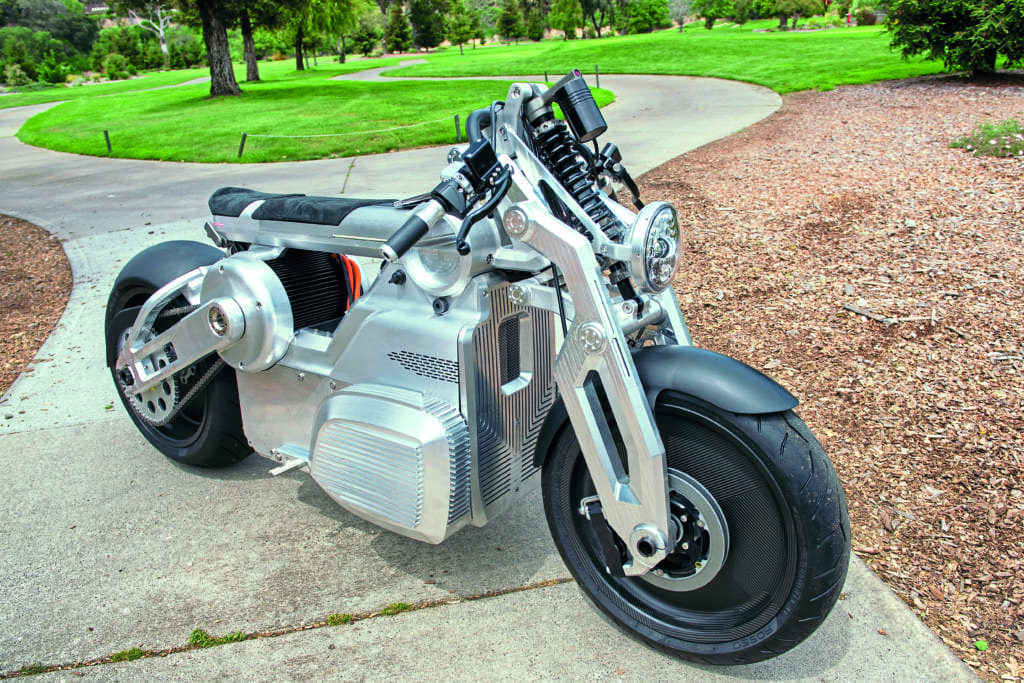 "The Zeus introduces a fresh, all-new design DNA that will define every Curtiss motorcycle moving forward," said Curtiss design director, Jordan Cornille. "Its minimalist, pure, organic brand language has been carefully developed to foreshadow an entire family of Curtiss products to come. Curtiss Motorcycle Company is leading an all-new golden age of sustainable motorcycles."
Article continues below…
Advert
---
Enjoy everything MSL by reading the monthly magazine, Subscribe here.
---
Later that same day, Quail Motorcycle Gathering judges including legendary motorcycle designer Craig Vetter and journalist Paul d'Orleans, selected the Curtiss Zeus as the show's Most Innovative Motorcycle, ahead of several other electric motorcycles on display at the Quail.
The bike from the Birmingham, Alabama-based company formerly known as Confederate Motorcycles stole the show in representing the first of many all-electric American hot rod motorcycles which the company plans to introduce over the coming years.
"This is a big deal," said Quail head judge Paul d'Orleans. "A lot of people have been waiting for this one. It's an exceptional design." Upon receiving the award, Jordan Cornille said: "Zeus is the result of years of hard work, and our team could not be more proud to be recognised for our achievement as we re-imagine what the American motorcycle can be."
Article continues below…
Advert
Because the prototype is still in development, detailed specifications and pricing have not yet been released, but, powered by a 14.4kWh lithium-ion battery pack, the Curtiss Zeus prototype employs the world's first E-Twin dual power unit – a set of two high-output electric motors linked together to deliver rapid acceleration in driving a common output shaft, which transmits its power and torque to the rear Pirelli Diablo Rosso tyre via a chain, rather than the more customary belt employed on other two-wheeled EVs.
"Curtiss Motorcycle Company will focus on producing a range of electric-powered two-wheelers which will fit every pocketbook, with the Zeus as the prototype," said Curtiss CEO Matt Chambers.
"The Curtiss models will deploy a modular architectural system, the design of which we've filed numerous patents on. Our all-new powertrain package is lower, narrower, and with superior weight management to any other two-wheeled EV. The geometry and ergonomics are classic, too, empowering the rider with effortless control, as well as massive acceleration, top speed, handling, and comfort.
Article continues below…
Advert
"Whole new levels of safety have been designed into the Curtiss, which has the goal of being the world leader in this key aspect of riding on the highway. Our mission is to future-proof the all-American hot rod. The almighty Zeus is the first concept prototype in a full range of hot rod gods to come!"