North Devon coast, Exmoor and back to the Somerset Levels – the only problem was the seat…
Settling into an excessively sized latte on Minehead's high street, the urge to keep looking over at Low-Fat across the street is irresistible. Low-Fat is my motorcycle – Bavaria's finest F650, pleasingly devoid of modern fripperies such as ABS, semi-active suspension and cruise-control. Or indeed, comfort of any kind. Accordingly, the arrival at Minehead also brings cramp, sciatica and numbness.
Filling up with super-unleaded on the edge of town is a fraught affair due to Low-Fat's frequently expressed dislike of hot restarts, but today he's on good form. Better still, the sun makes a brief appearance just as we zoom out of town and across the edge of Exmoor via the A39. Reaching for the flip-down sun visor I wonder (and not for the first time) why the visor's notch never lines up with the bridge of my nose. My wife claims its due to my wonky face. I think she's just being nice.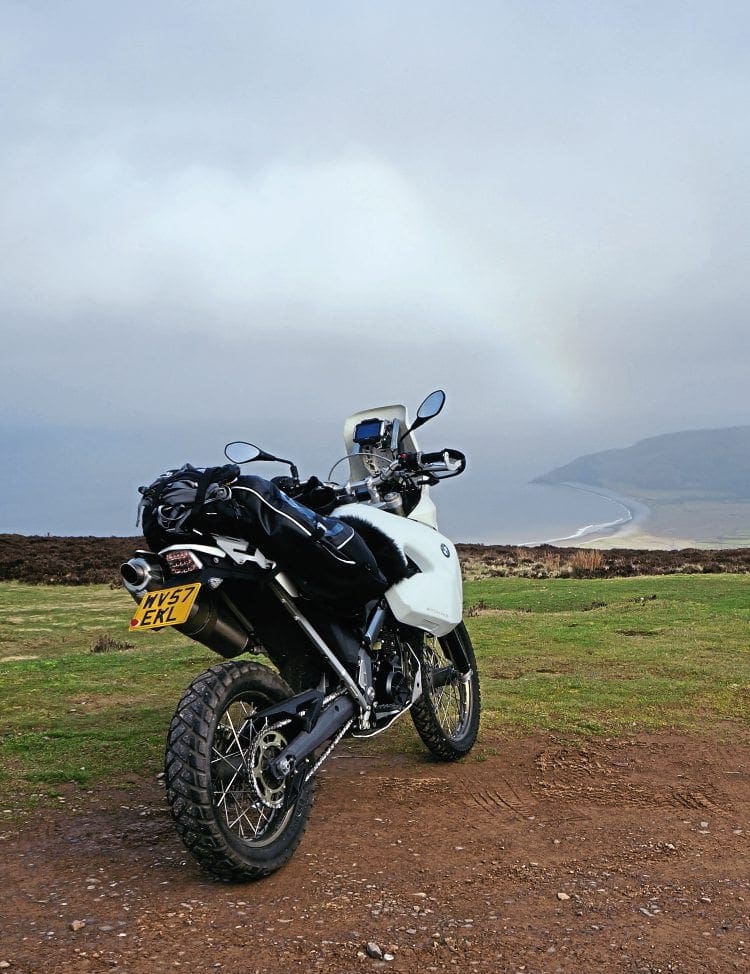 With rain replacing drizzle, Porlock and its surely highway-standard-defying hill is slippery, and I make a mental note to switch from Metzeler Enduro 3s to something more refined at the earliest opportunity. Motorcycling on such a day never fails to remind me of the potential consequences of running out of talent at the wrong moment. But that's probably also a large part of why we all love riding, right?
Passing through symbiotic Lynton/Lynmouth and after a brief chat with a nice guy riding a Fazer, Low-Fat and I look forward to reaching Ilfracombe. Debating, but finally eschewing a stop at the architectural statement of an arts centre (actually, I've always quite liked the building, which looks like a couple of cooling towers), Low-Fat feels drawn to Ilf's harbour, where we find Damien Hirst's Verity, who at 20m high is no stranger to controversy herself.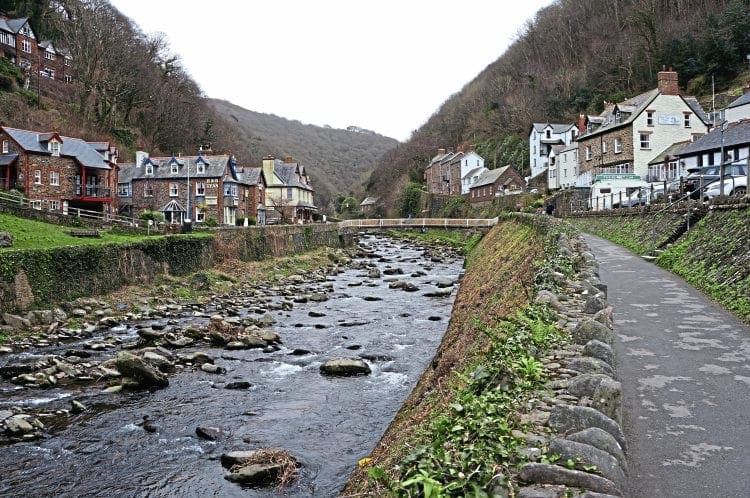 From Braunton, we set off into typical North Devon misty-drizzle. Zooming back through the epicentre of Devonshire's surf community, Croyde, it's up onto Exmoor via the A3123 and B3358. Visibility deteriorates further as we gain higher ground, and the ceiling of my talent is again swiftly reached, resulting in Low-Fat rarely exceeding 40mph or fourth gear for the best part of an hour. This leaves plenty of time for insouciant sheep to glare at us wafting by for disturbing their quality graze time.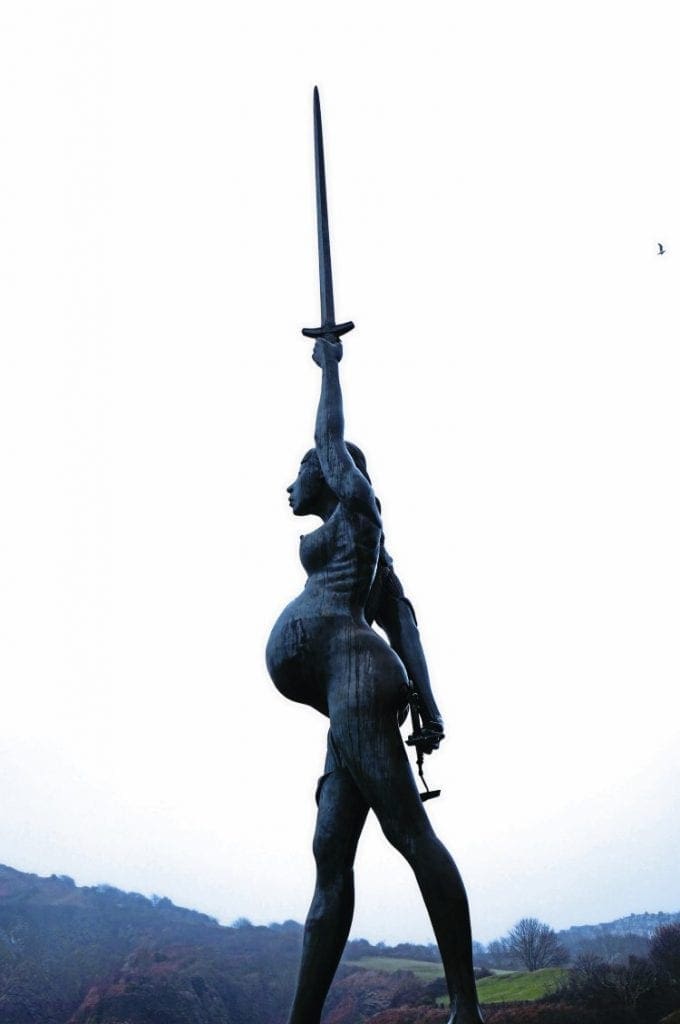 Simonsbath in the middle of Exmoor brings a smile. Ironically so, as I hate taking a bath, regarding it an anachronistic way to clean oneself in an age of power-showers and bidets. Dropping down through historic Dunster, we rejoin the A39, before swiftly turning off again to Blue Anchor and Watchet – the former being a 'blink and you miss it' affair, the latter a charming fishing village within which we contemplate stopping. Both places hold some nostalgia by proxy, being my father's boyhood holiday destination of choice. I speculate that neither have probably changed much since those post-war years, aside from, perhaps, the distant views of Hinkley Point's reactor and turbine halls.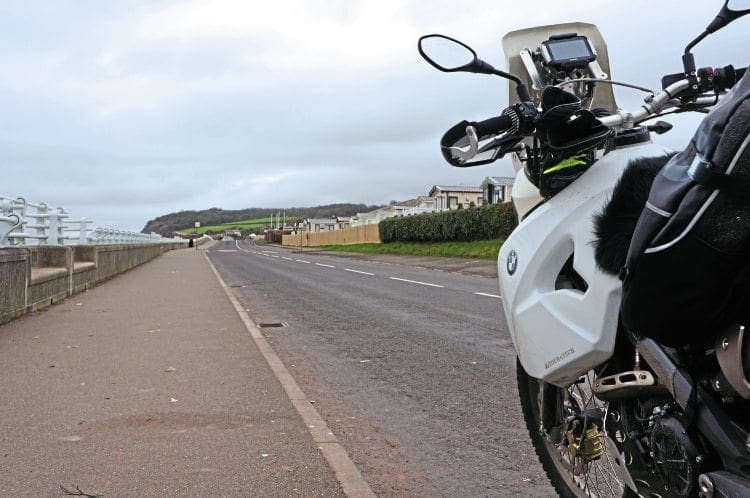 The return leg through Bridgwater is punctuated by stop-start traffic queues and construction sites. I gain the impression that, contrary to my view of the place on the way down (a bit ho-hum) Bridgwater is in fact the Dubai of Somerset, with waves of capital investment, minus the sweltering 40 degree ambient temperatures and the need for outdoor air conditioning. Riders motorcycle dealership catches my eye as I pass through yet another set of temporary traffic lights and I contemplate calling in and literally begging for a part-exchange on a Harley with a soft seat. I may even have a bit of a cry when discussing the lowered seat option on a Road King. However, Low-Fat quickly threatens mutiny, so I swiftly push the thought to the guilty pleasures' part of my mind and move on.
Finally, my behind decides that I need to stop for another hulking great latte and a break from what is clearly the hardest substance known to man – my bike's seat. Weston-super-Mare proves to be a happy hunting ground for such things, and my tender parts get the temporary respite they so desperately need before we head out on the Locking Road towards Blagdon and Priddy.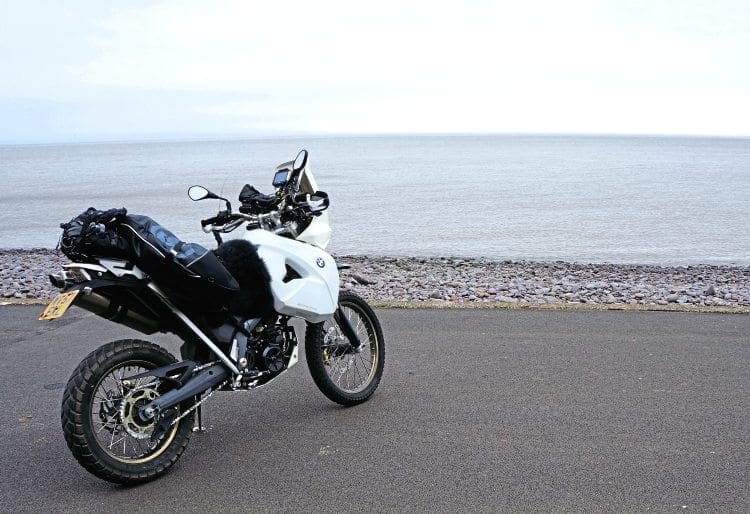 Now, the A368 is rather nice, and we both delight in its sweepy nature. It's nothing particularly crazy you understand, just a nice flowing road with plenty of elevational change. Even the returning drizzle doesn't dampen our enthusiasm, and it's a delight to hear the repeated kerchunk of Low-Fat's oh so Germanic gear change. Low-Fat confides that he loathes straight, fast roads and I wholeheartedly agree. He goes on to suggest that he'd much prefer a properly hardcore off-road route, but that's where we diverge.
We reach Bath Spa in good time, and from that it's only a stone's throw home, weaving through middle-class traffic and tourists. Low-Fat gets parked up and we admire each other, both of us mud splattered and smelly. The bike's got a tarnished chain and some 300 miles added to the clock, and I've got stubble and a sore rear end. Marvellous!
Words & photography: Simon T Smith
[googlemaps https://www.google.com/maps/d/embed?mid=1RhNkKNyo91mJW9loLrcRQ-c77-U&hl=en&w=640&h=480]