One hundred relaxing miles around the west of Ireland, including optional green-laning and Arthur Guinness's old gaff.
The Wild Atlantic Way (www.wildatlanticway.com) is a 1600-mile route that hugs the entire west coast of Ireland from the most northerly tip of Northern Ireland, all the way south to the southern tip near the town of Kinsale, Co. Cork. It's the longest uninterrupted coastal route in the world.
Halfway along its length is Galway, known as the Gateway to Connemara, and for me it's the jumping off point for a terrific day ride inland, which takes you along quiet country roads, through wild landscapes of breath-taking beauty. It's one of my regulars, either on my own, with my bike club (Tribes MCC) or with a few mates. However you do it, it's a great opportunity to take in the world, drink nice coffee or have a sneaky Guinness, eat great seafood and ride like a free spirit on the least threatening roads you can imagine (save for a few wily sheep). So stop lots along the way, be sure to eat plenty, enjoy the pace of life and you will see a relaxed 10am-6pm trip pass no problem.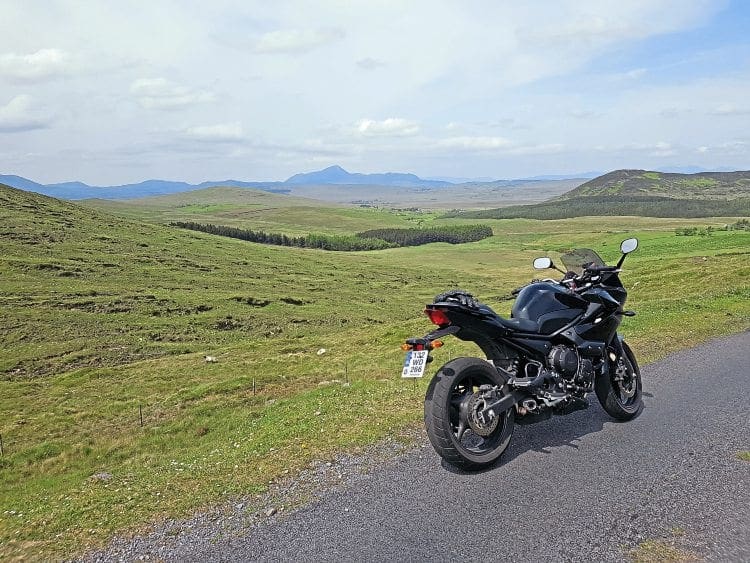 I start in Galway and take the coast road due west along the R336 with Galway Bay and the far western fringes of the coast of Europe unravelling in front of your eyes. Along that road, Salthill, Silverstrand, Bearna quay and Spiddal village and quay are worthy of a stop. In the village of Costello (aka Casla), you will pass the former home of Bruce Ismay, chairman of the White Star Line who survived the Titanic sinking. He reportedly escaped here after the disaster to avoid the negative press intrusion on his life.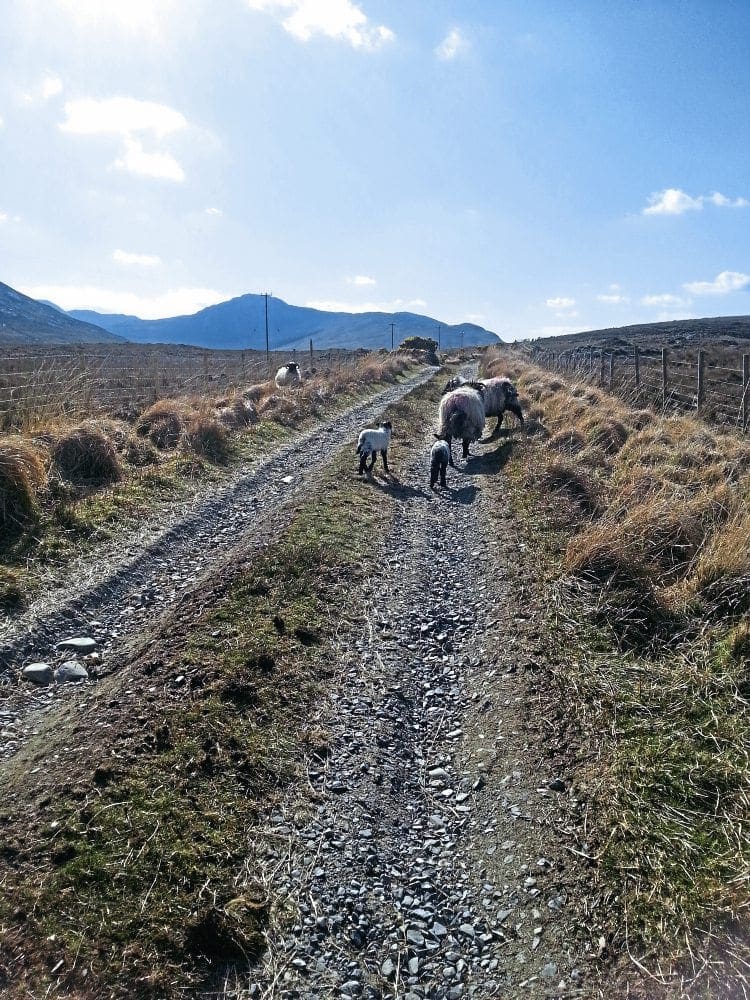 Sixteen miles further along this road, after loads of twisties, lakes and amazing scenery, take a left at Maurn cross towards Clifden onto the N59 for 10 miles and then take a right for Lough Inagh valley, onto the R344 (the roads in Ireland have the letters `M' for motorway, 'N' for National and 'R' for regional routes). This last road in particular delivers all the typical postcard shots of expansive boglands and forestry, with lakes and mountains in the backdrop.
You are now in the middle of two mountain ranges; the Twelve Pins and the Maamturk mountains. I ride a Yamaha XJ6S, which is great for these roads, but any bike will bring hours of enjoyment here. There are also lots of off-road tracks and forest roads, perfect for the adventure biker looking for an additional detour (Ordnance Survey Ireland Map 038 will show you all of these options).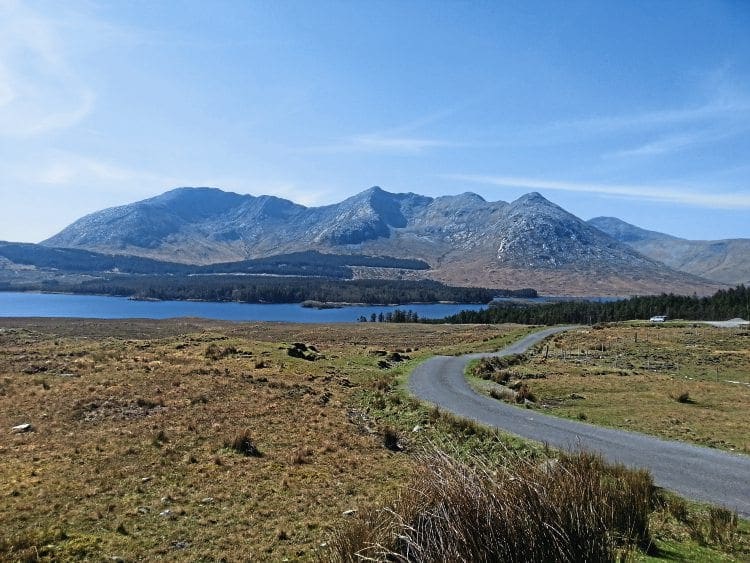 But the Tarmac road is still great fun, winding left and right, swaying and leaning as the road rises and falls, narrowing over little old bridges. But do watch for the sheep – they know the drill with vehicles but take your position early as you are passing so they know your line. Lambs and their mothers can be unpredictable so be wary around them. I don't know anyone who has ever had a collision with a wild Connemara lamb or sheep, but occasionally you will see a dead one at the side of the road.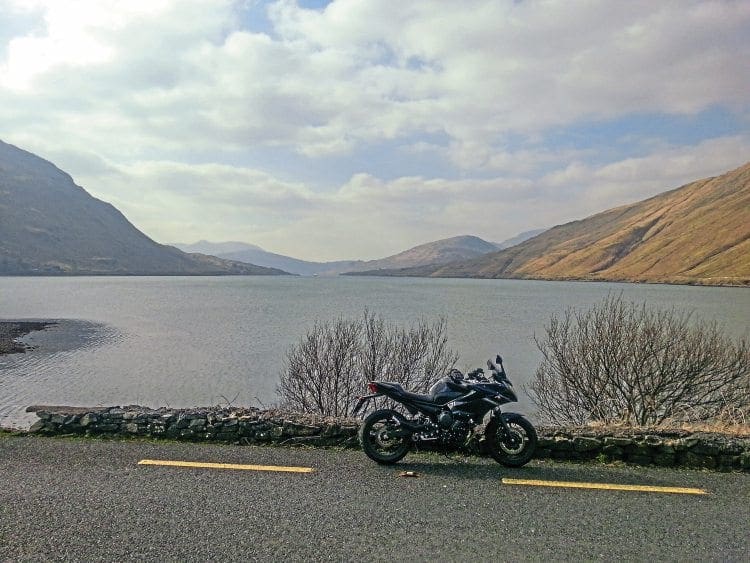 From lnagh valley you can take a short detour to see Connemara National Park, Kylemore Abbey and Castle (former home of the Duke & Duchess of Manchester on 13,000 acres) and the Victorian walled garden, or take a break in the small village of Letterfrack, which has nice pubs and cafés with alfresco dining when the weather permits. Back on the N59 ride due east passing Killary Fjord and into Leenane where there's excellent locally-caught seafood, kayaking and lots of adventure activity type stuff. It was also the setting for the 1990 movie The Field, which starred Richard Harris, John Hurt and Sean Bean.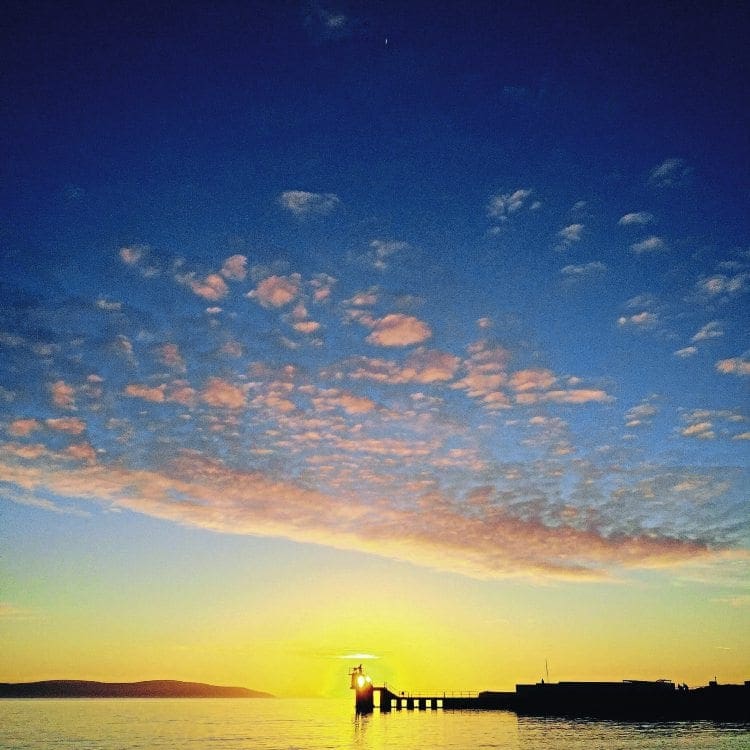 Leaving the N59 in Leenane onto the R336, R345 and R346, head for the village of Cong along the stunning high road that separates Lough Corrib and Lough Mask with extraordinary views. Cong is another movie village, this one the setting for the 1952 film The Quiet Man starring John Wayne. It's also home to Ashford castle, a 350-acre estate that was once the home of the Guinness family, now a fabulous five-star hotel that does an amazing afternoon tea. The final leg is a nice quick run home along the N84 from Cong, back into Galway for a hot shower, a good meal and a few pints of the black stuff as you tell tales of being a guest in the home of Arthur Guinness himself.
Practicalities
Weather: Like anywhere on the fringes of the Northern Atlantic, it can throw up the four seasons in one day. As Ranulph Fiennes once said: "There's no such thing as bad weather, just inappropriate clothing." On a sunny day it's heaven on earth, and on a rainy day (wearing the right clothing) you will never feel more alive.
Roads: Basic but generally have good surfaces – there are some lumpy bits but no nasty surprises.
Fuel: Plenty of petrol stations and convenience stores along the way except in the most scenic parts. But at 110 miles all the way round, a full tank leaving Galway should be enough to get you back.
Security: Outside of urban areas, your bike and gear will be safe. Obviously leaving valuables like unlocked tank bags and GPS etc. unattended can attract the interest of the opportunist.
Variations on the route: It's hard to go wrong in Connemara where interesting roads and routes are concerned; there are so many variations. Just buy a map, plan it out, keep an open mind and hit the road.
Article continues below...
---
---
Words & photography: Ross Geraghty
[googlemaps https://www.google.com/maps/d/embed?mid=1jt0Kc0hzUXIpWTmCtbMGAC3egxs&hl=en&w=640&h=480]

Enjoy more MSL reading in the monthly magazine.
Click here
to subscribe.