New emergency alert technology could save lives across Europe.
German electronics giant Digades is rolling out the world's first eCall system for motorcycles across Europe. If you've not heard of eCall technology before, it's a European initiative that aims to bring rapid assistance to motorists involved in collisions anywhere in the EU.
In the event of an emergency, a quick response can save lives. If a biker is involved in an incident on a lonely stretch of road and is unable to call for help, his only hope is that someone might happen to pass his way – but the dguard eCall system detects an accident and automatically connects the driver with the emergency call centre.
The dguard eCall system utilises sophisticated sensor technology to detect a crash and contact a rescue co-ordination centre within a matter of seconds. The sensor is a sophisticated bit of kit and works a bit like a magnetic field, detecting a rider's presence, or lack of it, on the bike. The centre is then given a spoken message, with the exact GPS co-ordinates of the accident. If connected to a Bluetooth headset and the injured rider is able to speak directly, the dguard will connect directly to the rescue co-ordination centre.
There's a Deutsch Mobile SIM built into the module – but it's on a roaming data contract, and will connect with whichever provider offers the strongest signal (which should all but rule out the risk of being caught out in a dead spot, without a signal). The software is capable of communicating with emergency services in 18 languages, and will automatically detect the region to ensure it's communicating clearly. The dguard functions throughout Europe with the exception of the Netherlands, due to a law that does not permit automated calls to be made to emergency services.
If a rider with a dguard comes across an accident he or she can eCall the emergency services by pressing the handlebar-mounted SOS button. Importantly, an inadvertently placed emergency call can be stopped within 15 seconds by pressing the button twice (or more than twice).
To ensure that the dguard can reliably distinguish between an accident and the extreme dynamics of a moving motorcycle, Digades undertook three years of development and over 50,000 miles of testing in multiple countries. The manufacturer had to ensure that the device would continue to operate even under the most extreme conditions. The vehicle inspection company DEKRA confirmed its faultless functionality during multiple crash scenarios up to speeds of 60mph.
Digades also fitted one to German Enduro champion Paul Roßbach's machine as he trained for his German Championship
and European Championship races. The nature of Enduro riding offered the opportunity to test the unit in extreme situations that would be either impossible or too dangerous to replicate on public roads.
We had a quick chat with Erwin Van-Hoof, head of dguard at Digades – to try and get to the bottom of this innovate new technology.
MSL: Can you explain the eCall initiative?
EV-H: The eCall initiative aims to deploy a device installed in all vehicles that will automatically dial 112 in the event of a serious road accident, and wirelessly send impact sensor information and co-ordinates to local emergency services. Don't worry though; you can select which data will be shared with the emergency services, so the police don't have to know what speed you were travelling.
MSL: Are there any limitations to the sensor?
EV-H: Its only limitation is detecting crashes when the bike ends upright – lodged between a tree or tucked in a hedge – but research suggests that the dguard will recognise 99.2% of motorcycle accidents. In fact, the module is already on the market in Germany – and so far, has a 100% success rate for all incidents detected.
MSL: Does dguard work with any bike?
EV –H: Sadly, the dguard is not suitable for classic machines, as the unit needs to be connected to a 12v battery to function. Battery drain is minimal when compared to conventional alarm systems though – as the unit only consumes energy when on the move.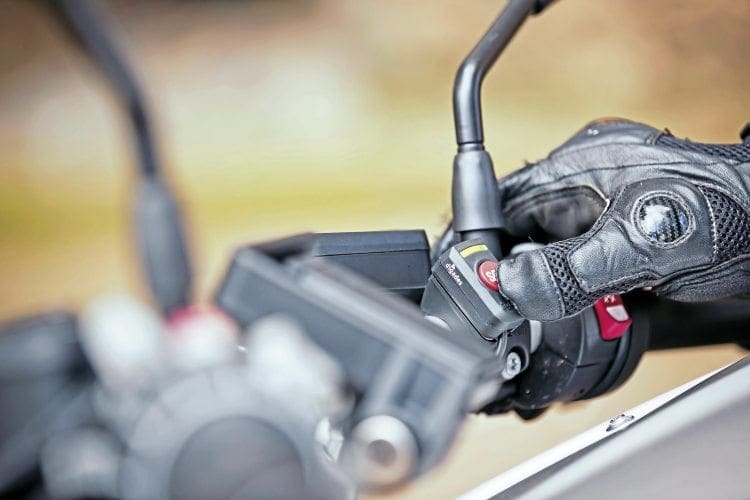 MSL: Is there not a risk of the unit being damaged in an accident?
EV-H: The unit is housed in an aramid case, which is capable of withstanding 300G of impact and will still transmit a signal from one metre underwater – which should reassure you that even in the worst crash, the unit would still be able to transmit.
The dguard is available for £499 plus approximately a £50 installation charge, including two years' SIM subscription. The system comes with a module, a sensor, a button and an app for full configuration of the system.
Bike-It has begun rolling out the dguard automatic eCall system with integrated alarm function across its 2000 dealerships. For more information, visit www.dguard.com or www.bikeittrade.com
KEEPING YOUR BIKE SAFE
The dguard also features a clever theft warning function, which will warn you if your bike is moved without your presence – and you will get a message straight to your smartphone. The app wilt also send you an alert when your bike is moving and provide updated GPS data while it's on the move.
DIGADES
Digades, the company that is behind dguard, manufactures parts for a range of automotive manufacturers, including Audi, BMW, Bentley, Daimler, Maybach, VW and Porsche. It is a pioneer within the electrical industry and is consistently at the forefront of new technologies.
WHAT'S AN Ecall  SYSTEM?
An eCall system will be mandatory on all new European cars and light vans from April 1, 2018, but there is no such legal requirement for motorcycles as yet. And yet, an automatic emergency call system makes more sense for motorcycles than for cars – as a motorcycle accident can easily go undetected, with the motorcycle leaving the road, out of sight.