We all have our essentials that we pack when we go for a ride. But what are the things that tour guides, adventurers and big-mile riders never leave home without? We asked them…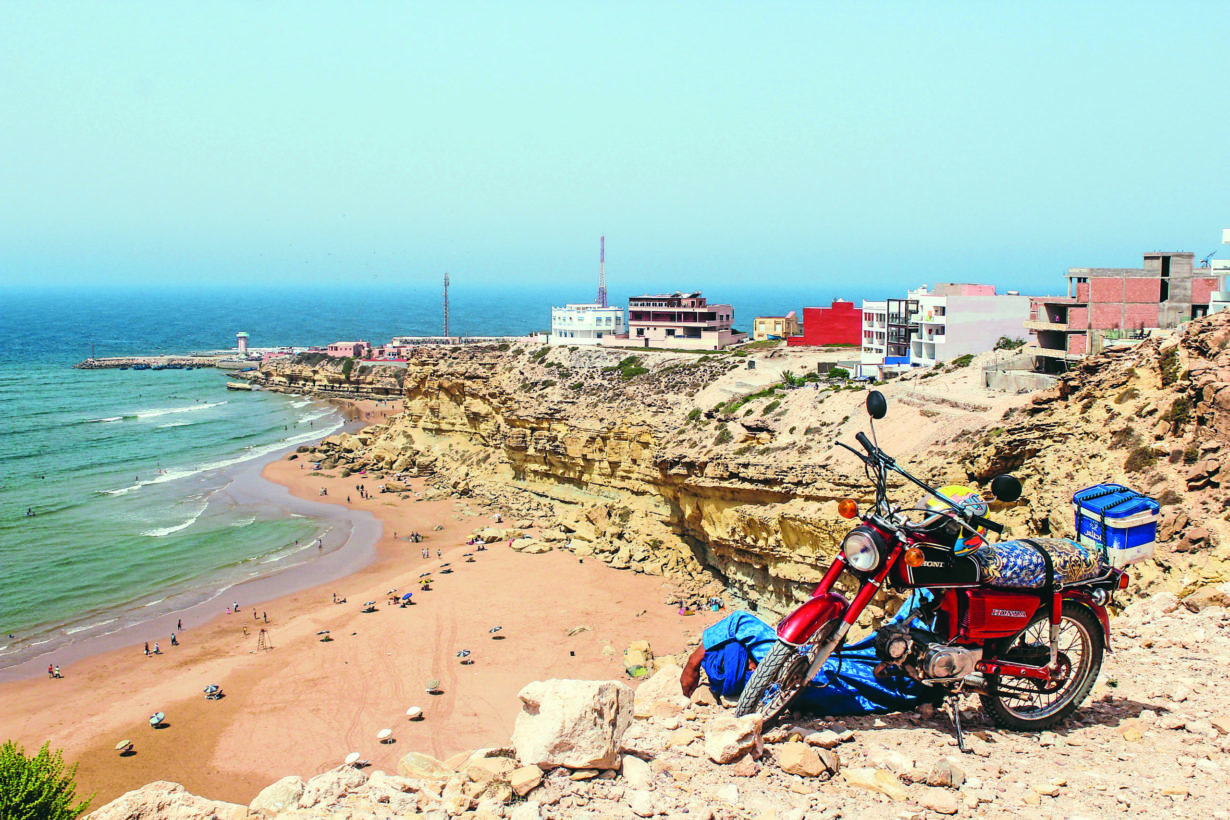 In the world of modern motorcycling, it's easy to assume that your bike will always be 100 per cent reliable; that you'll not have any mechanical issues or kit failures; and that each and every journey will be nothing but sunshine, joy and light.
Article continues below…
Advert
---
Enjoy everything MSL by reading the monthly magazine, Subscribe here.
---
However, even in the 21st century nothing is for certain, and the concept of adventure riding or overlanding is that you have to take absolutely everything to cover every possible eventuality – regardless of the fact that there is very little likelihood of there being any chance of machine reliability problems, poor road conditions or threat to personal safety.
For most of us, the truth, naturally, is somewhere in between the two, especially if you're the sort of rider that considers each ride to be an adventure, or to at least have the potential of an adventure, even if it's only the daily commute. And it is fair to say that modern motorcycles are very reliable, but not without issues, particularly when travelling off-the-beaten-track, most especially that of punctures.
While your daily ride to the office, or the Sunday ride out to get a cup of splosh at your local biker caff, won't necessarily mean that you need to carry all manner of spares and provisions to see you over in the event of a breakdown, you may want to carry a little more for those times that you travel a little further. We might not all be planning a round-the-world trip, or to head away from the beaten track, but it's always good to be prepared for the unexpected. Even if the unexpected is just a broken zip, a mild shower of rain, or a transport café that hasn't got any sugar…
So, we spoke to a number of well-known adventurers, riders, tour operators and writers to find out what they carry on their regular trips out, and whether it makes sense to travel with absolutely all the kit, all of the time, or whether just a credit card and a healthy dose of optimism is the best resort.
Sam Manicom
Ninja-level adventurer and writer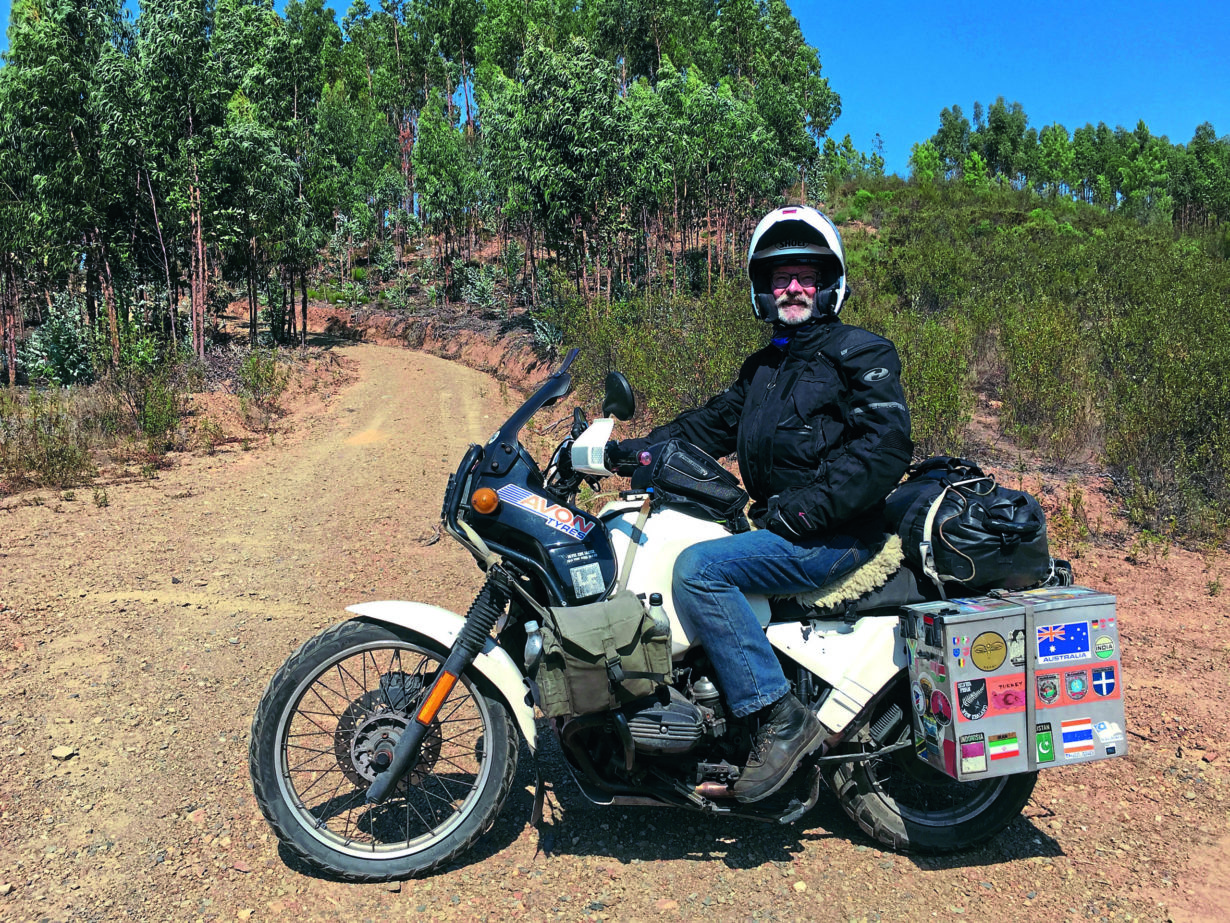 I carry a lot in my bike jacket pockets, to increase my comfort, to make life easier, and to help deal with the unexpected.

These things don't take up much room, so they are always there.
Pair of foam ear plugs – in case I lose the custom moulded plugs.
Hand gel & face mask – in these times, always handy.
Leatherman – An amazingly practical tool.
Phone & charging cable – rather a must.
Wallet – Always contains my Organ Donor Card.
Ball pen and small pad/piece of paper – Old skool!
Sunblock chapstick – Drying and burnt lips can be horribly distracting.
Ultra-thin beanie and thin glove liners – If the weather turns cold.
Fuses – It'd be daft not to!
Glasses lens cleaning cloths – Got four eyes? You need these.
Pack of chewing gum – Never ride without.
Paracetamol and two-day supply of tablets – best be prepared.
Small laminated Emergency Contact, Blood Group and Medication sheet (playing card size).
Toilet paper – multi-purpose.
Four medium length cable ties – You just never know when they will come in handy.
Suspension adjusting spanner – in case I carry a passenger, then a turn or two and the ride is spot on.
Length of string as long as the widest point on my bike – to easily see if I could get my bike through a doorway or down an alleyway.
The other thing I always carry is my wide brim leather hat – sunshade and rain shelter.
There's always a tool kit and puncture repair kit under my saddle, and if I'm on a trip long enough to carry one, i.e., more than a day, I'll use a tank bag, in which I put the following: a back-up charger; intercom charging cable; bottle of water; small bag of peanuts; small bottle of sunblock; paperback book; small roll of electrical tape; a few more cable ties; SLR camera plus spare memory card and spare battery; and a collapsible umbrella – If it's baking hot I have a portable pool of shade to walk around in. If it's binning down with rain and I'm wandering around off the bike, I'm doing so in the dry. If I break down in the rain or sun, I have some dry or shady space to work in.
www.sam-manicom.com
Simon Weir
Ride guide and expert route planner.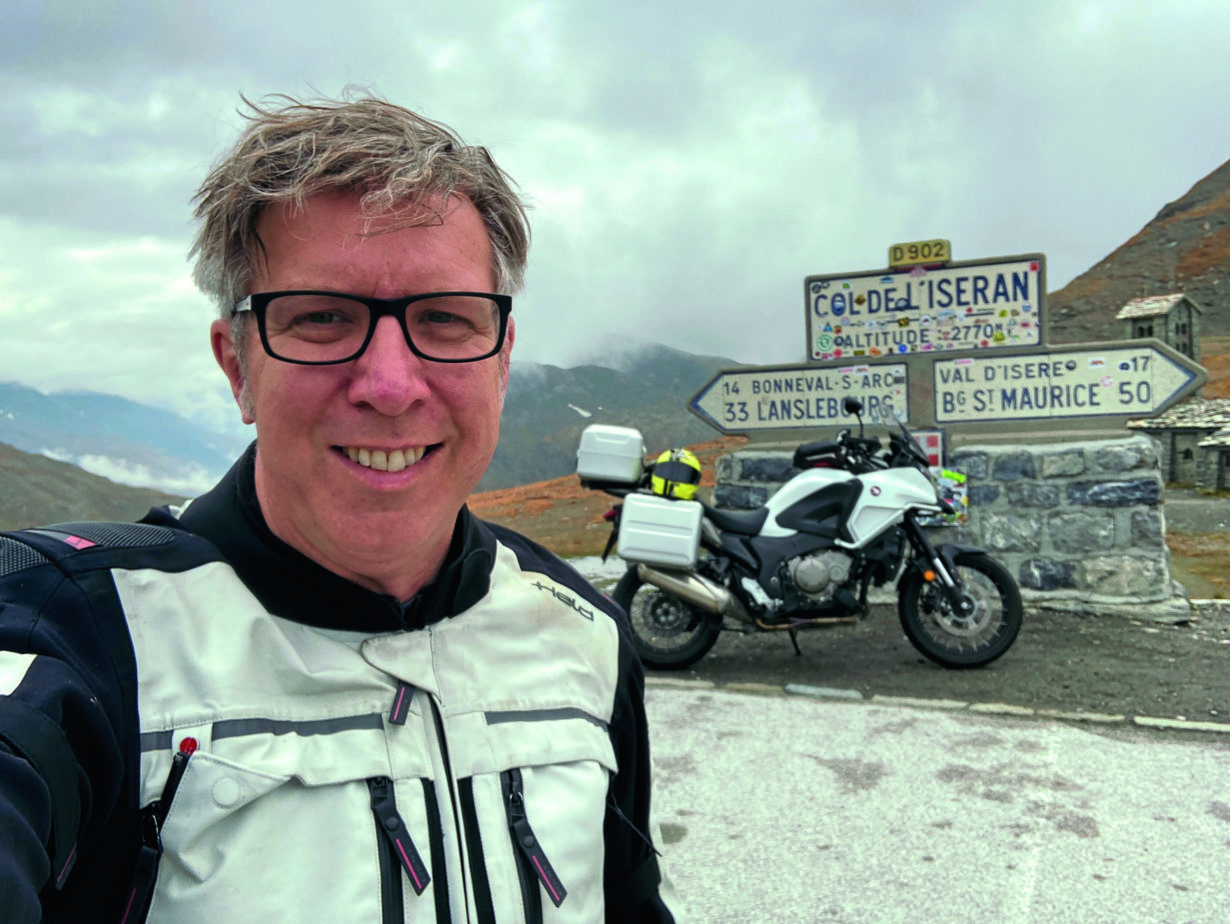 The wallet, mobile phone and ear plugs should go without saying… and sometimes that is all I'll take. But usually I'll take at least the tankbag – a Givi ST611. That has the bare minimum: EDZ Inner Shell, because you never know when you'll need an extra layer; Leatherman Wave multitool with the bit kit, just in case (you know, I need to open a bottle or something); a spare pair of earplugs; and an Oxford MagniMate, which is the finest sidestand puck in the world. In these covidious times, I also have a small bottle of hand sanitiser and a spare face mask. You'll note there are no sunglasses in the tankbag's sunglasses tray. That's because I usually forget them…
If I have luggage on the bike (which I usually do) I'll also take a Stop n Go Tyre Plugger kit, which has got me out of a hole at least once. I'll also take my excellent Kriega tool roll, which contains a small selection of spanners; T-bars; a screwdriver; a mini-ratchet and a handful of sockets; some cable ties; a head torch and the most useful tool of all: a digital tyre pressure gauge. The most I've ever needed from the tool roll was a cable tie, to help a French motorcyclist secure a flapping fairing when I found him broken down in the Alps. But it felt good to be prepared.
www.simonweir.co.uk
Greg Fatrai
Main man at Wheels of Morocco
I thought it best to compile two lists as I ride for work in Morocco where we have a support vehicle with tools and parts, and then in the summer I ride in Europe, mostly alone or with friends.

For both though, I never leave without my Mosko Nomad tank bag. I use it as a backpack off the bike and carry most of my stuff in it. A Walther Multi Tac knife (it is also a multifunction tool); Alpine earplugs; a booster pack to recharge phones and other electronics; my camera; wet wipes and some other bits; and a tyre pressure gauge. I also carry my Sena comms unit with me as all my helmets have a mount so it'seasy to swap and use my Garmin Zumo XT on both bikes. I have a small bottle of Muck Off visor cleaner and a microfibre cloth to clean my goggles/visor. I also have my Klim Zephyr wind breaker which is probably the best piece of gear I carry. I also have a Quadlock mount on the bikes but rarely use it, only when riding in the city.Morocco – besides the above, my tank bag also includes two 14mm spanners to tighten or remove mirrors (BMW standard size). I have a more complex first aid kit as well and in my tail bag I usually have a tyre repair kit with me while the car carries the tools. In case I ride alone, I have a BMW specific toolkit for all GS models that I carry (rather big and heavy, but fits easily on the bike). Hungary – On my Africa Twin, I have a set of cable ties on the frame of the bike. Under the seat I have a motorcycle first aid kit; a compressor; and a tube repair kit. I carry a set of tubes and a bike-specific tool roll I have compiled myself and which includes a Motionpro bead breaker that also acts as tyre levers.

www.wheelsofmorocco.net
Tim Stevens & Steve Erbrick
Co-Founders & Directors of Bikerbnb & The Highland Scramble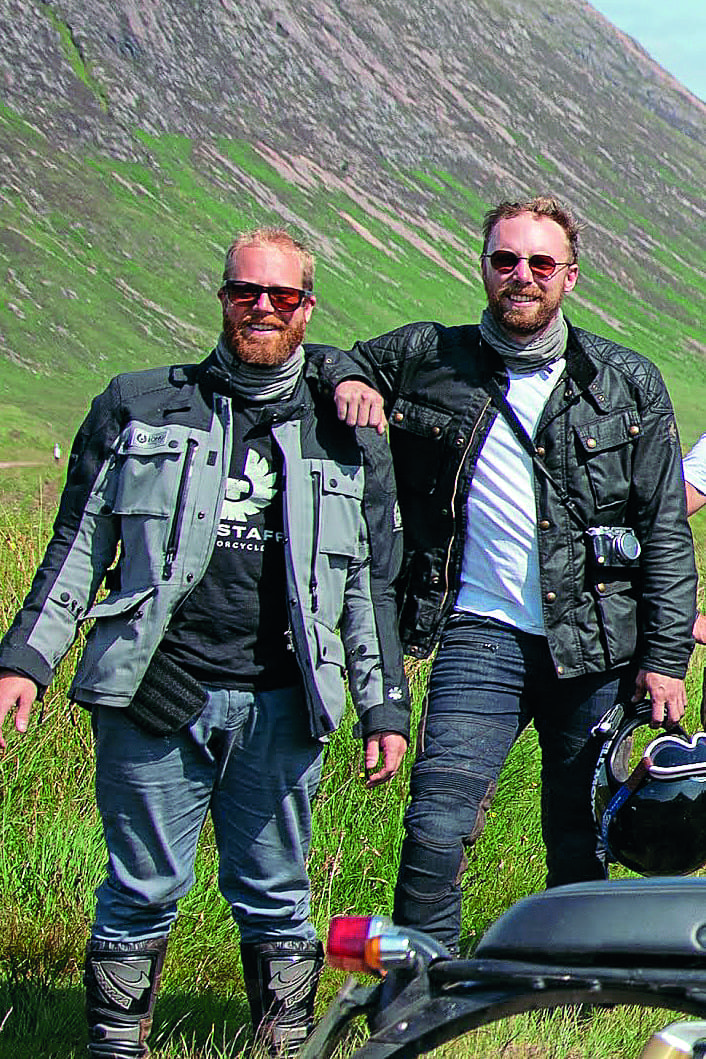 When running group riding experiences across Scotland and riding at our own leisure we like to be prepared for anything, so we pack the following…

For maintenance and repair (of bikes and riders) we carry an advanced first aid kit; electric tyre pump; spare inner tubes; and lots of tools including a puncture repair kit. Route finding is covered with Quadlock phone mounts used for Google maps and keeping our phones charged throughout the day, while a Cardo Packtalk bold headset allows communication. Steve likes the comfort of an extra GPS system, and he also has a Garmin set up. We also pack two 500ml water bottles each, one for cold water and the other holding hot for a roadside coffee.

Clothing amounts to Belstaff waterproofs; Belstaff Trailmaster jacket (Steve); Belstaff McGee (Tim); Belstaff Cannon Motorcycle Gloves; Fuel Sergeant trousers (Tim); and Malle Motorcycle Trousers (Steve).

Non-essential, but handy, additions include a Fuji X100F Camera (Tim), a DJI Spark Drone (Tim), Iphone 12s; and multiple packs of ear plugs!

www.bikerbnb.com
Maynard Hershon
MSL columnist and Moto Guzzi rider
I carry what's called an Epi-pen in a jacket pocket because I'm allergic to bee stings. I have medical information in several places – on a card behind my driver's licence in my wallet because that's where I've been told Emergency Medical Staff look for it; on a pair of dog tags around my neck; and on two rubber bracelets, one on each wrist. One says Eliquis three times around its circumference (my blood thinner), the other carries more complete information. Since I switched to cast wheels, I try to carry a flat-fixing kit with CO2 on every ride, but sometimes I forget it. If my top box is on the bike, I carry a tapered wooden ramp to help me put the bike on the centre stand. In the summer I carry a plastic pad to enlarge the footprint of the sidestand. For years I tucked a lucky small animal, unnamed here, stuffed and sewn by my sweet wife, in my left breast pocket, but I lost it on my last trip… probably in Missouri. She's promised to make me another.
Richard Millington
Top tour man at Motorrad Tours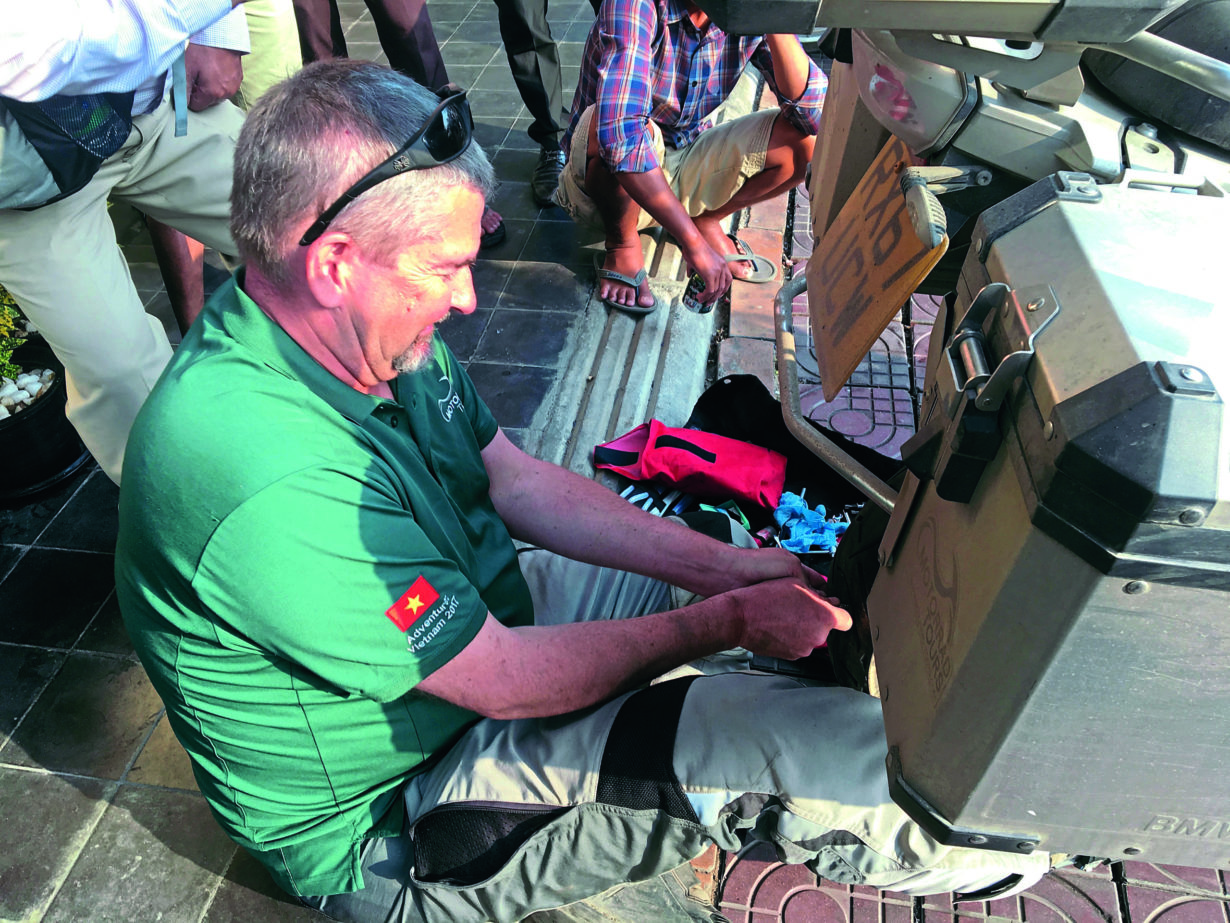 As a tour leader, Richard's essentials consist of:
1) Waterproofs – it sounds odd as we often travel in warmer climates but never, ever, leave home without waterproofs. Almost two decades ago I rode over the Atlas in Morocco with no waterproofs, in sleet with snow alongside the road, and absolutely froze!
2) Puncture repair kit with a compressor. Not the CO2 bottles! A) You can't fly with CO2 bottles B) they are good for about 14psi in a modern adventure bike tyre so C) You will have used two when you realised your repair hadn't held, and then what?
3) Good-quality compact camera with a big lens in the left bike jacket pocket so you can whip it out quickly/on the move.
4) Garmin GPS – Worldwide mapping and routing system means that if we find a new road or café we have a record of it.
5) Paper Map – Because a GPS won't zoom out to three feet wide!
We/I also carry a first aid kit (well stocked and dates checked each year); tool kit (custom designed for the jobs we know are likely and we can do on the roadside); jump pack (easier than leads); these days masks; alcohol wipes; always a pack of 10xdisposal gloves – some for first aid, some for mechanic-ing; water.
One thing I never take is a chain or disc lock. Find hotels with secure parking or in remote locations – it is a better alternative. Then again, I never ride into cities like London or Liverpool! On big adventure tours, big BMW GSs are not desirable bikes to steal anyway – scooters are, but not GSs!
www.motorrad-tours.com