Ducati is embarking on a new and meaningful journey as the iconic red of Borgo Panigale makes its debut in the world of motocross.
Ducati has enlisted the expertise of nine-time MX World Champion Antonio Cairoli to serve as their high-performance test rider for the upcoming racing program.
24 October 2023 marks the debut of a new prototype from the Bologna-based manufacturer after two years of development. The upcoming Italian Motocross Championship will serve as a platform for testing the bikes. This approach aligns with Ducati's well-known strategy of using racing competition to inform and enhance its high-performance models, resulting in products that enthusiasts eagerly embrace.
This multi-year endeavour aims to produce an entire line of off-road engines and motorcycles. These models will eventually join the Ducati family of knobby bikes, beginning with motocross. For a closer look at the prototype, check out this video below.
The Bologna-based company has partnered with nine-time Motocross World Champion Antonio Cairoli, who will serve as a high-performance test rider for their new project. With his exceptional talent, speed and expertise, Cairoli's valuable insights will significantly contribute to the development of the new motorcycle.
Claudio Domenicali, CEO of Ducati Motor Holding, commented: "I am proud to announce Ducati's entry into Motocross. A new world for Ducati in which we want to bring our talent in designing lightweight motorcycles with excellent components and high performance and – above all – which can excite more and more motorcyclists. We believe that the track is the best laboratory to develop and test the bikes that will then be available to customers and enthusiasts. This is why we have decided to cooperate with an undisputed champion like Tony Cairoli, who, together with the passion and dedication of many of us here in Borgo Panigale, will contribute to making Ducati in off-road capable of offering very high-performance products to its passionate customers as we have proven on the asphalt. The project is possible thanks to the company's excellent results in recent years. It confirms our desire to extend our presence into new worlds, speak to new motorcyclists and therefore grow the Ducati Community".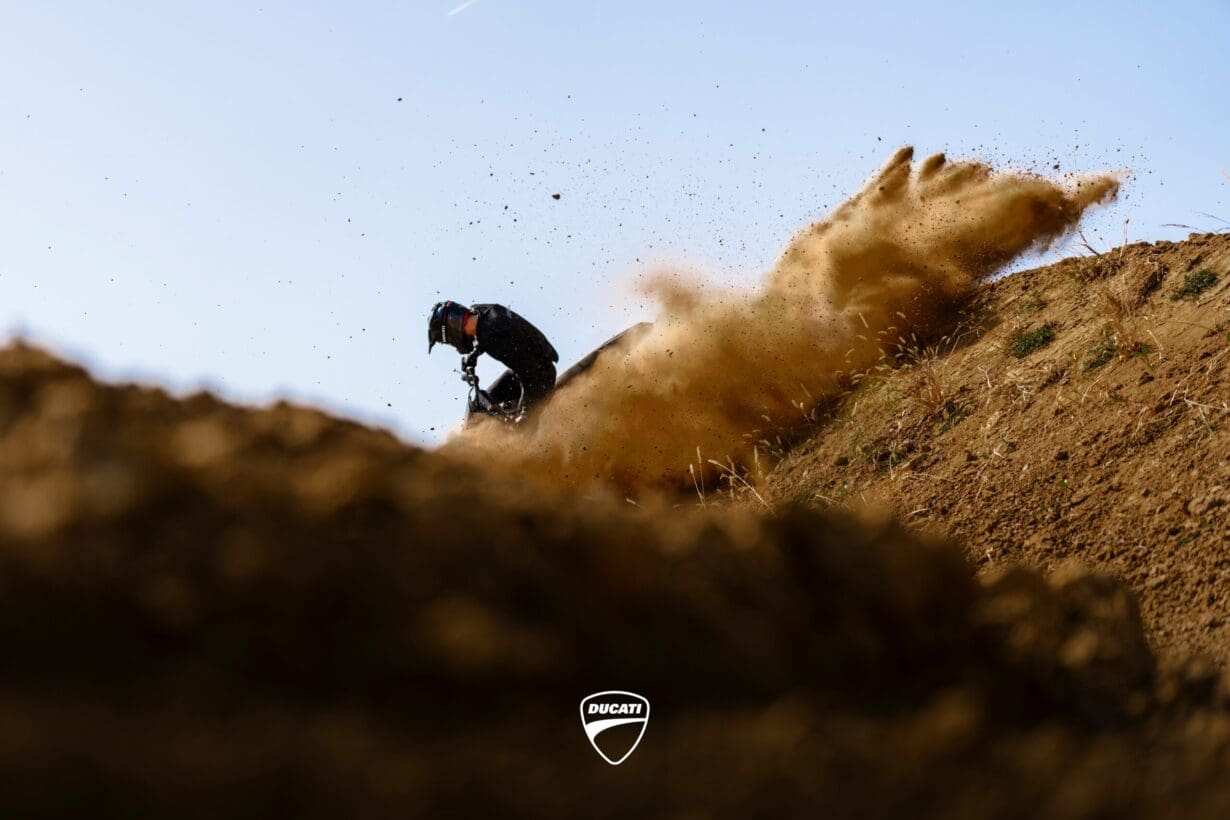 Antonio Cairoli added: "I am thrilled to become part of the universe of Ducati, which has always been a symbol of the Italian spirit throughout the world, and to begin this exciting new adventure in an all-Italian project. Being able to make my contribution to the development of the Borgo Panigale motocross bike is a dream come true and a source of great pride for me."
Ducati has also entered into a multi-year deal with Maddii Racing, a highly experienced team in the motocross paddock. They will serve as the primary structure for MX racing. They will compete in the 2024 Italian Motocross Championship with Alessandro Lupino, who is also contracted to Ducati as a racing and test rider. Lupino is an eight-time Italian Champion and 2021 MXoN winner.
The Ducati off-road project emphasizes the pursuit of highly lightweight, top-quality components and powerful engines with broad power delivery. This is achieved through the implementation of the Desmodromic system, which is utilized in all of Bologna's sports bikes, including their MotoGP models. Ducati stands out as the sole company to use this valve return system on both their high-performance production motorcycles and racing prototypes.
Ducati's foray into the specialist off-road market is a significant and daring strategic decision backed by the brand's successful track record. This move reaffirms Ducati's goal of expanding its reach into uncharted territory. Moreover, it opens doors for young riders to connect with the Borgo Panigale community and become part of the loyal Ducatisti following.
As one of the three fundamental principles of the brand, Performance is accompanied by Style and Sophistication. In Borgo Panigale, there is a strong community of off-road enthusiasts eagerly anticipating the Desmo's full capabilities on non-paved terrain!
#ducati #motocross #morebikesyoulike #motorcycles #readersrides #motorcycle #ukbikers #bikelife #bikers #motorcyclists #morebikes #morenews #motorcyclenews #motorcyclegear