Fancy camping in four feet of snow? Welcome to the Elephant Rally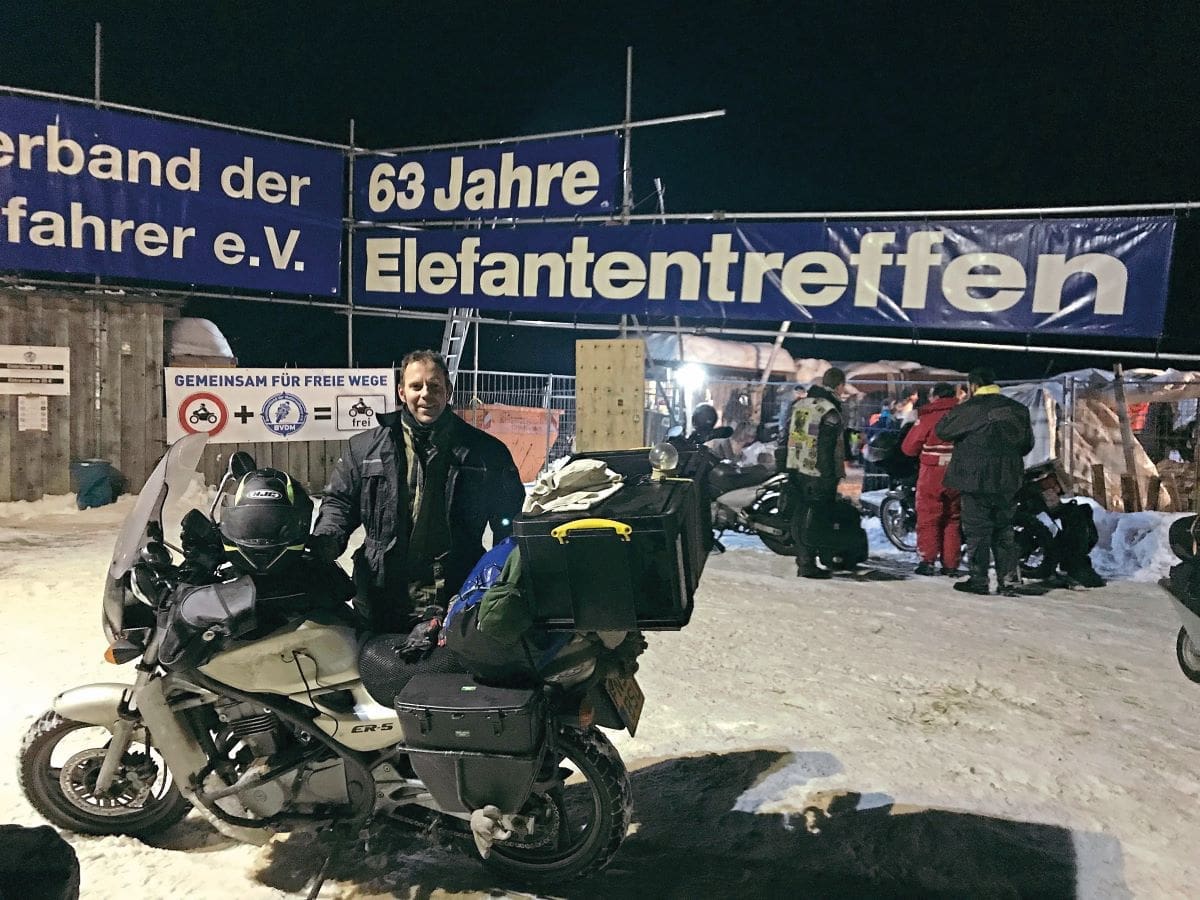 WORDS & PHOTOGRAPHY: Colin Ebbs
I love doing the Elephant Rally. In 2019 I was on a modified Kawasaki ER-5. When I say modified, I mean homemade pannier racks with pushbike side bins; a massive box from B&Q; Amazon muffs; perspex leg guards tie-wrapped to the crash bars; extended screen; and, of course, loads of teddy elephants tied everywhere.
I left Peterborough at noon and after a cold, wet ride caught my Chunnel train, using the train time to check the bike over. A bolt helping to hold the top box and side panniers on had gone missing, but tie-wraps provided a temporary replacement. Easy, I love it.
The A16 motorway was comfy despite rain, sleet and cold, thanks to my heated jacket on medium heat, yum. Found my hotel in the middle of Ypres and had time to see the Last Post sounded (so special) then pizza and beer before bed. Tomorrow would be long and cold.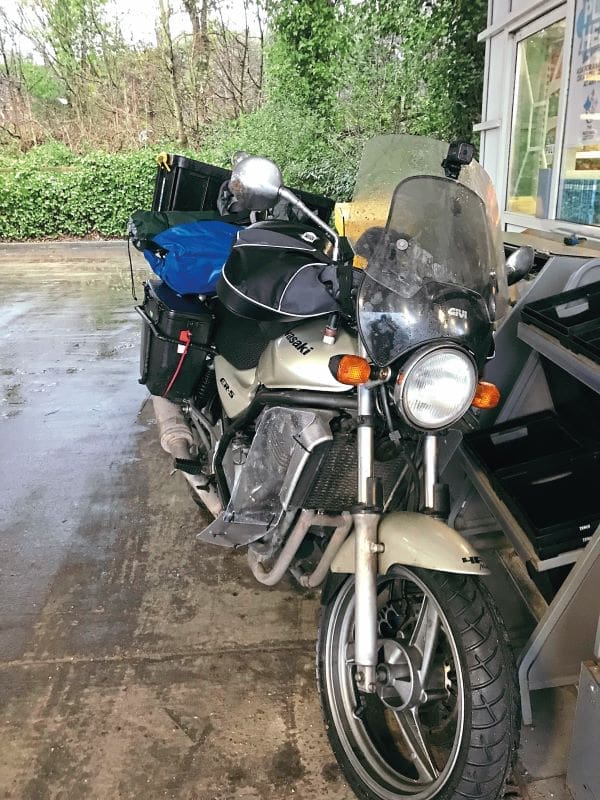 Beautiful Chaos
I woke to snow, which is a shame because I was hoping to make it at least halfway to the rally before hitting the white stuff. Over breakfast I did a Google search for a bike shop for another bolt, then headed out on Ypres' cobbled streets before settling into a motorway of dirty spray, snow and sleet at around one degree C – this would be fun.
Google said a bike shop was open 40 miles away, and I did find it after navigating smaller roads with thicker snow, but guess what? It was closed. Did a U-turn and headed back to the motorway, following the car tracks through the snow, which worked fine until a car headed towards me and I had to move over. BANG, down on my right side, the bike landing on top of me revving its nuts off. I pushed it off with my right leg and turned it off. The car driver and a passer-by helped me up. My indicator lens had gone, leg protection destroyed and my boltless bracket was the worse for wear. A bit shaky at first, I carried on, heading for the home of Alex, a Belgian friend I met at the Elephant last year. One hundred and eighty miles later I pulled up to a bike shop around the corner from Alex's. They found and fitted a bolt for €1 that included some mickey take and a coffee.
I was wet, cold and fed up, but Alex was ready to go so he just saddled up and away we went. This is the only time I remember being really fed up on a bike ride, and we had another 200 miles of snow, sleet and spray!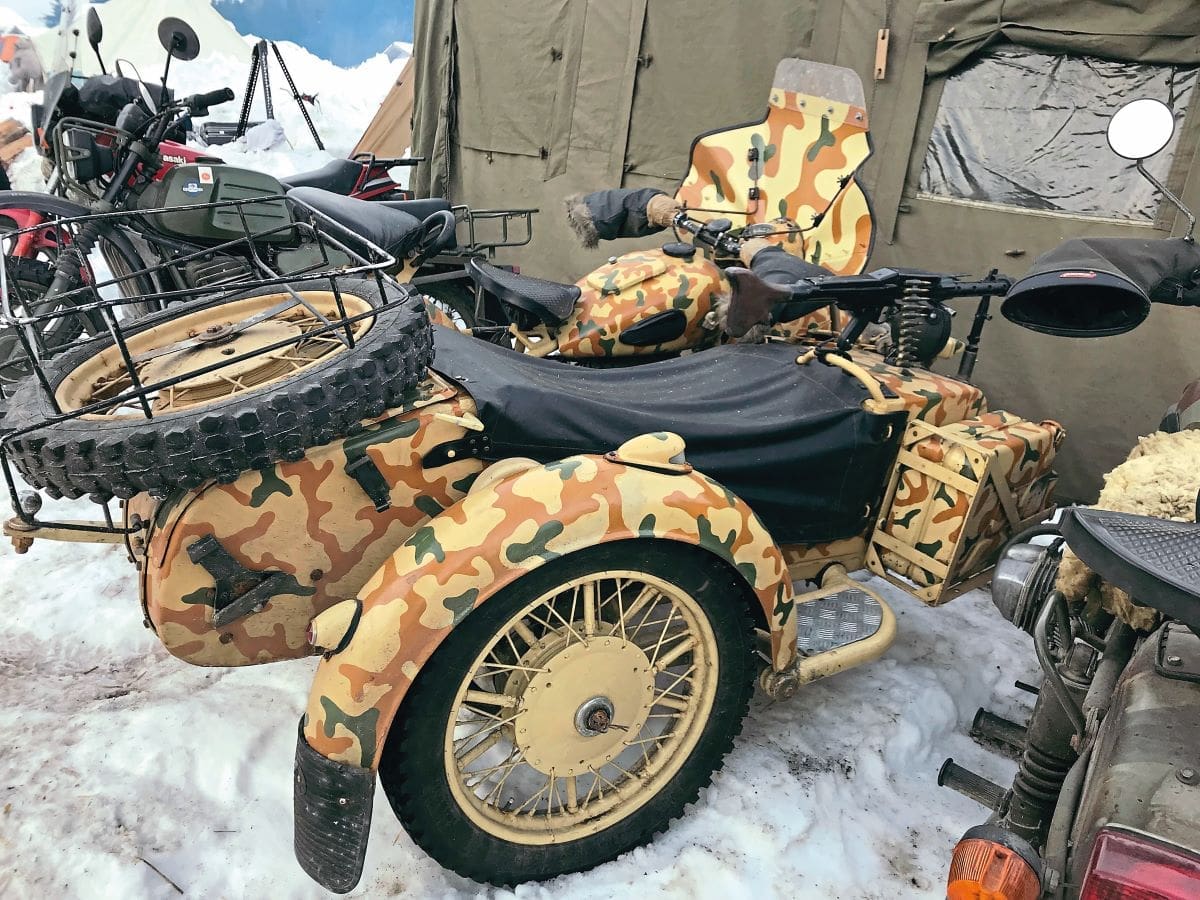 It was still snowing hard as we reached our hotel and as we pulled up the slope to the car park I thought I'd park on the road – otherwise if snow continued I'd never get out again. So, U-turn and down the ramp, using alternate clutch and brake to slow me down… BANG… over again on my left side this time. Who needs indicators anyway?
Next morning it was chaos. We had stayed in a beautiful valley surrounded by tree-lined mountains, but the snow was deep and climbing out of the valley on closed roads was slippy and hard work. It took us an hour-and-a-half to cover 20 miles, but once we were on the autobahn things got easier (relatively), reaching the dizzy heights of 50mph, though the sleet and spray were ridiculous. Everything was wet. We had 320 miles to go.
After two fuel stops and a shopping stop in Solla for beer, we finally arrived at the Rally, paid our money and walked around for 40-odd minutes to find a camping spot. The snow was deep, very deep. We spent two hours digging out a spot for the tents in the pitch black and once it was flat-ish, we bought some wood and hay – hay for insulation to park the tents on and wood to build a fire. In all it took about four hours to get set up, partly because the bikes were parked up back at the entrance – Alex did try to ride in, but got stuck after 100 metres.
Fortunately, just as we finished setting up the Austrian group next to us started shouting: "Soup, you want soup?!" We were cold, wet and tired, but the Austrians fed us soup and pork, and it felt like they had saved us.
We slept in minus 10 (getting outside to pee is hard work, I can tell you), then the following day was mostly passed by keeping warm.
Christian, another friend from last year when we all did the rally on Honda C90s, arrived. We walked the site, looking at the bikes, the creations and the sheer stupidity of people who have ridden hundreds of miles to camp in the snow. As last year, people began to leave Saturday afternoon so we went scavenging – all the people we helped out were offering wood, chairs, food and all the alcohol they didn't want to take home. Christian and I walked to the top of the hill where at 8pm on the Saturday evening every year there's a torchlight visual and a reading of all the rallyists who have lost their lives. It's very moving and sadly there were a fair few names. Then once again, food, beer, fire and laughs before bed.
Long way home
We were up at 6am on Sunday and yes it had snowed, another foot on top of the four feet already there. The good news was that Alex had already got the fire going, so we had heat and some coffee was brewing.
We started to pack. My tent was damaged, sleeping bag soaked and chair snapped and it took two hours to get packed, get the bikes up the hill and on to the road. That was hard work but the trouble really started once we left as the roads were full of sludge and it took us an hour to get 12 miles to the autobahn. Then Christian fell off on the slip road, as did I later on when attempting a one-inch kerb into a garage. When you have to filter past snow ploughs the brain says we shouldn't be riding. Still, nobody was hurt, we all laughed and started again.
At one point Christian's rear brake locked up and caught fire, but we put it out with snow (good job there was plenty about) and freed it off. However, the disc was really damaged, so no rear brake for him.
After seven hours of horrendous riding we decided to find a hotel. We'd ridden 170 miles and really needed 350-odd to keep on track, but we just couldn't do any more. After getting changed and checking the bikes over the three of us shared a room, which stank of wet, smokey clothes. It was still snowing, and Christian was snoring. I looked forward to tomorrow.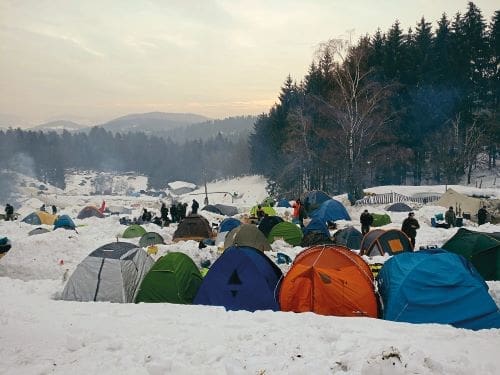 Next morning, wow, the snow had stopped, but boy was it cold. We checked the bikes over and adjusted the chains, which were taking some stick. Once we got going (as always, I was up at the agreed time, ready to go, but the others weren't) and it was an easy day. No snowfall (though very cold) and we settled in to do 450 miles to catch up – fuel, ride, fuel, ride, fuel, food, ride… etc. Christian peeled off to go home to Germany and 180 miles later we arrived back at Alex's. I adjusted my chain again, Alex made me a coffee, and I was back on the road. The heavens opened and soon I was wet everywhere, filtering for 40 miles around the usual mental traffic of Brussels. Filtering for that long takes it out of you.
I wanted to get Calais that day but I just couldn't, so found a hotel in Ypres, emptied the bike, had a shower and headed for the bar… perfect. My final day was straightforward, with clear roads to the tunnel, easy boarding (didn't put a foot down through passport control), filled up at the other side and then a simple ride home to Peterborough. My fridge had been filled with beer, milk and some food (thank you) so time to have a coffee and empty the bike. Then start planning next year's Elephant Rally.