When Doug and Wendy took a big Harley on an organised tour of Europe their co-riders were a little suspicious of the capabilities with such machine. It didn't take long to prove them wrong!
After Wendy said "Let's do another Motorcyde tour," it took me a few moments to pick myself up off the floor before I hastily agreed! Wendy had found a short five-day tour that fitted within the school holidays: 'Vosges Mountains and B500 Motorcycle Tour France' was the title. "Round-topped mountains, lakes and forests make it an idyllic playground for motorcyclists of all ages and all experiences", read the blurb. It went on to describe, "After a couple of days soaking up the hairpin bends, the long sweeping mountain passes and the stunning landscapes, we head for Germany to begin our ascent up the famous B500, which always leaves a giant grin on every biker's face".
Just the job we thought, so we booked it!
It's 200 miles down to the Chunnel from our house so we decided to extend our mini break a day either end to take things easy.
The bike we were to complete the tour on was a Harley-Davidson Ultra Limited, with 2016 plates and the new Milwaukee Eight engine. I was looking forward to comparing this with my own, 10 years older 2006 Ultra CVO.
On our way down to Folkestone the bike was very smooth and comfortable; the type of roads we were on asked nothing much of the bike or rider other than a steady cruising speed so it was quite a good 'getting to know the bike' ride.
DAY ONE: ENGLAND TO NANCY
The next morning we met the rest of the touring gang at the Eurotunnel complex. It was no surprise that we were the only Harley, the other bikes being adventure types; RS and GS BMWs, Honda Africa Twins, Triumph Tiger Sport, Kawasaki sports tourers, Yamaha Fazers, Suzuki GSX1000 and a Ducati Diavel – a mixed bag. We could see the incredulous looks our big tourer got from all. We were even asked if we had ever been round a mountain hairpin on a Harley? "Nope, only got it a week ago," I truthfully answered; though we have done many miles on our own and rented Harleys in the mountains of Arizona, California, Utah and indeed the similar roads on the Route Napoleon in France. But not on this particular bike, so it wasn't an outright fib, I was just being a little mischievous! We could see they were fearing the worst with a newbie holding them all back…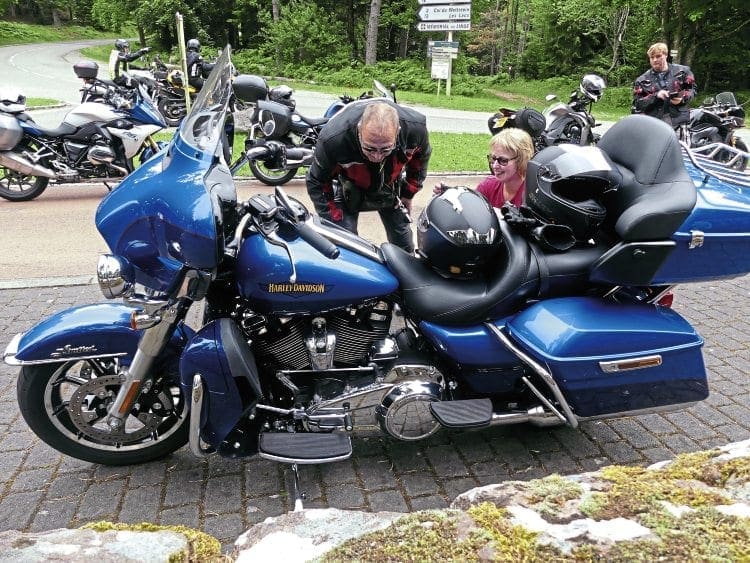 The Eurotunnel is a fantastic way to tackle the Channel. We were all on board getting to know each other and talking about our trip, and before we knew it 35 minutes had passed and we were in France.
After we exited the train, Chris, our tour guide and leader, gave us an overview of the day to come: we were going to avoid the tolls and see a bit more of the scenery on this transition day down to the Vosges. We had breakfast in England, coffee in France, lunch in Belgium, comfort break and more coffee in Luxembourg and finally 386 miles later having our evening dinner together in Nancy, back in France. We rode mainly dual carriageways at high speed, breaking off for a quick diversion down the Ardennes Valley, a nice scenic valley with some beautiful villages, but some poor roads in places.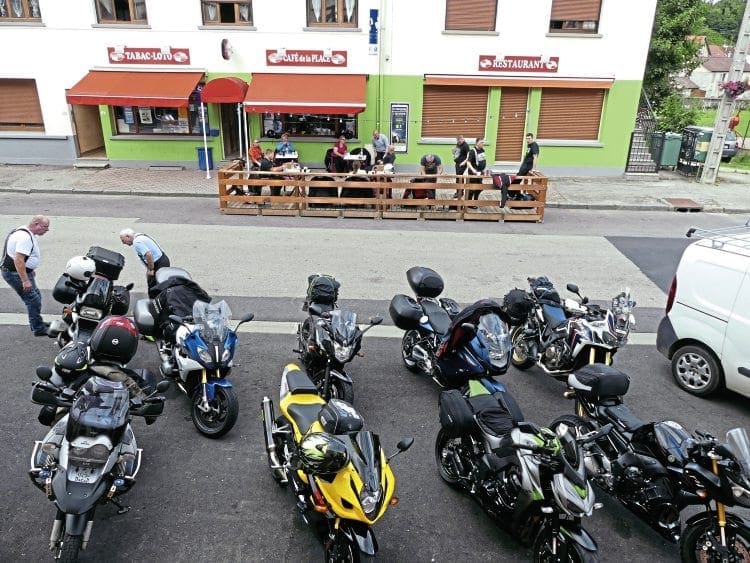 At the evening meal lots of folks were quite surprised how well the Ultra kept pace on the fast ride. Wendy and I thought it performed brilliantly. We were definitely impressed with the comfort level, the handling, the quietness and the absence of wind buffeting all the way down. I did wish I'd removed the heel shifter though, as I don't use them and find the space on the footboard to move my feet more useful on long runs.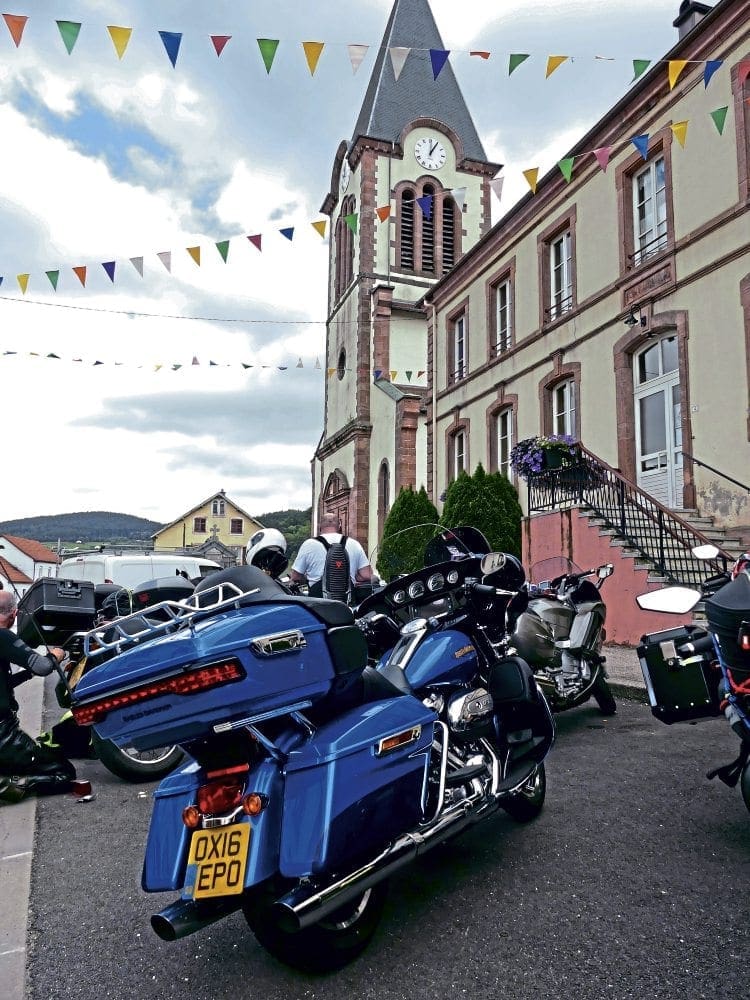 The engine felt really smooth with the usual torque available by the bucket load and high speed cruising and overtaking was effortless. When we arrived at the hotel, even after 386 miles, we were happy to climb off but we weren't at all stiff or exhausted, just ready for a good night's sleep.
DAY TWO: NANCY TO BELFORT
On day two we set off out of Nancy, heading for the mountains and riding about 40 miles through smooth winding roads to reach the north-east corner of the Vosges, Saint-Die-Des-Vosges. As we started to climb the corners got tighter but we were still enjoying good surfaces except for the odd hairpin where the whole of the hairpin was cobbles! Apparently it aids grip for cars in winter! It did the opposite for us, a very strange experience, and one I've not come across before, but the Ultra took it in its stride.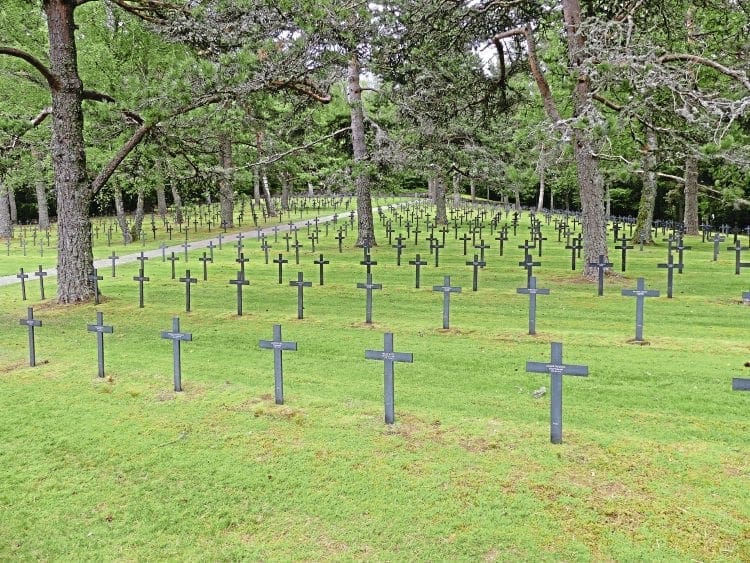 The riding was fast paced, with Chris leading on his Africa Twin, and setting what he calls a "progressive" pace, but with the back marker never changing position and not many junctions, people wanting to ride at a steadier pace were catered for too.
The Ultra performed faultlessly, never missing a beat really. There was just one little moment when a damp patch in a corner made the rear step out a little – only a tad, but enough to make me sit up and take notice. Other than that it was a perfect day.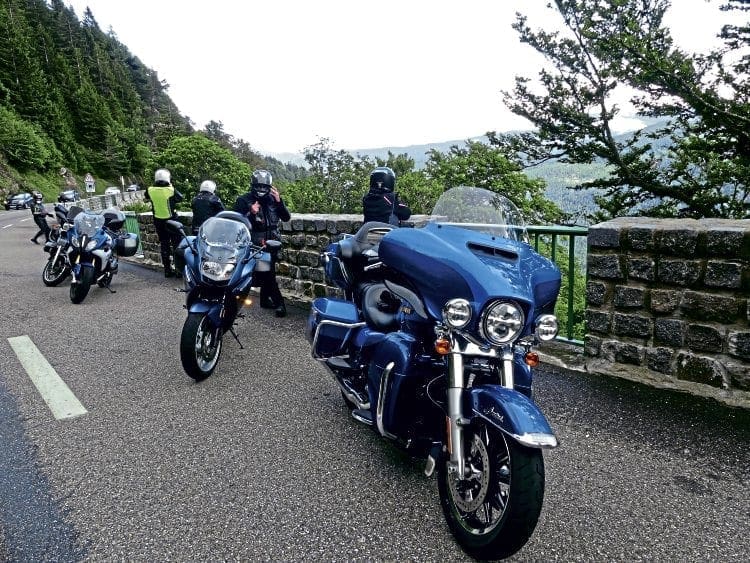 I never grounded the bike in the hairpins, though some of the guys following were expecting sparks any moment. The handling was superb, much better than my old Ultra; the brakes were brilliant and the bike seemed full of feel to me. The way the new Milwaukee Eight accelerated out of the low speed corners impressed us both. We were two up, full of fuel and full luggage yet it leapt out of the bends. I'd read the engine accelerates 11% quicker than the older twin cam power plant, and I can fully believe it.
As we progressed further up the first mountain road I got more confident with the Ultra's handling and began to get the 'rhythm' of the road.
The bike also performed well on fuel economy; at every stop we always had 200 or so miles on the range indicator when others were filling up nearly empty.
After breaking for a lovely lunch in Munster at the 18th century Restaurant La Cigogne, watching the Storks nesting on the rooftops, we carried on over more gorgeous roads with Chris varying the route a little to miss a few localised rain showers. On day two we covered 198 breath-taking miles, including Col De Bonhomme (942m), Grand Balton (1424m), Grosse Pierre (953m), Cols Des Croix (680m), Ballon d'Alsace (1178m).
DAY THREE: BELFORT TO COLMAR
On day three we set off for more of the famous Grand Ballon. We rode the southern side of the mountains – more great twisties, more good road surfaces. We stopped for lunch at the panoramic restaurant on the Grand Ballon. Here I made the mistake of parking the Ultra facing downhill, thinking I could ride off in that direction, only to return to find a row of bikes parked in front of me! Good job we had willing helpers as the push backwards fully laden was a task in itself; a reminder you have to plan ahead riding a bike of this weight.
We were coming down off one of the mountains along a very narrow switchback when Wendy spotted an articulated lorry coming up, and Chris had set off to signal to this guy more bikes were coming down. I was second in the group and when the lorry was one hairpin away I put the hazards on, pulled over and Wendy flagged all the guys down.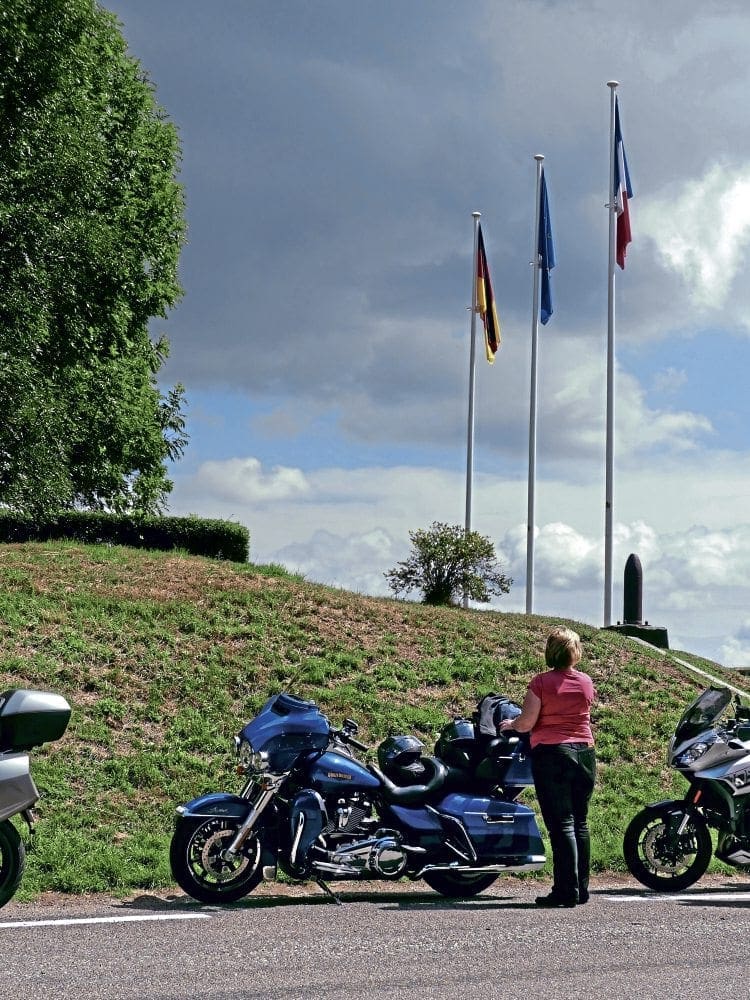 Everyone was wondering what we were stopping for when around the hairpin taking up more than all the road was this hapless lorry driver obviously following a duff sat-nav route. He squeezed past us allowing us to carry on down the mountain.
The bike once again never missed a beat as we rode over Col De Bonhomme (942m), Grand Ballon (1424m) and Ballon d'Alsace (1178m). We did 141 miles, making it the shortest day yet, but still breath-taking roads and scenery.
DAY FOUR: COLMAR TO BITCHE
Day four was the day we rode the B500. We set off early, riding through Freiburg and into the Fedberg Mountains via Schauinsland in Germany (Gletscherkessel Prag). This is where we got on the B500 trying to avoid the first few miles of the lower section which is usually dense with traffic. Having said that the first part of the B500, after riding through some lovely valleys, was still pretty busy.
We had a quick coffee stop at the Schluchsee and Titisee Lakes before heading onto the less busy parts of the B500. I was almost becoming a little disillusioned with the road as it was heavy with traffic, but we turned at one little junction and as if by magic the traffic disappeared leaving us with the next 100 miles of blissful roads, with long sweeping bends, picturesque landscapes and some incredibly beautiful towns.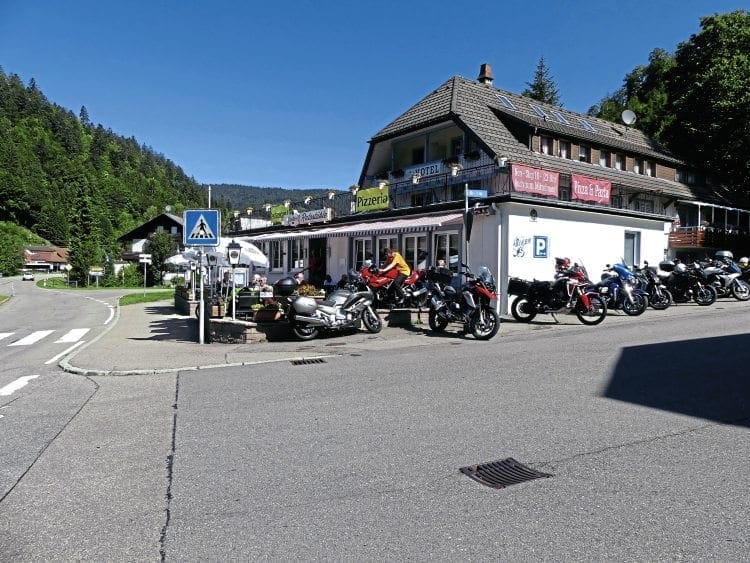 The B500 lived up to its reputation and we were really able to make full use of the lack of traffic. At times I had the Ultra almost flat out round long clear bends. The Ultra was rock solid on these roads at these speeds. It really was exhilarating riding, we just couldn't stop smiling.
At the coffee stop, one of our tour companions, Bill said: "You have totally changed my perception of Harley-Davidsons. I thought they were slow, poor handling machines, and a little boring, but you've really opened my eyes. What exact model is this? There is room for one of these in my garage." That coming from a rider of 53 years' experience really made our trip!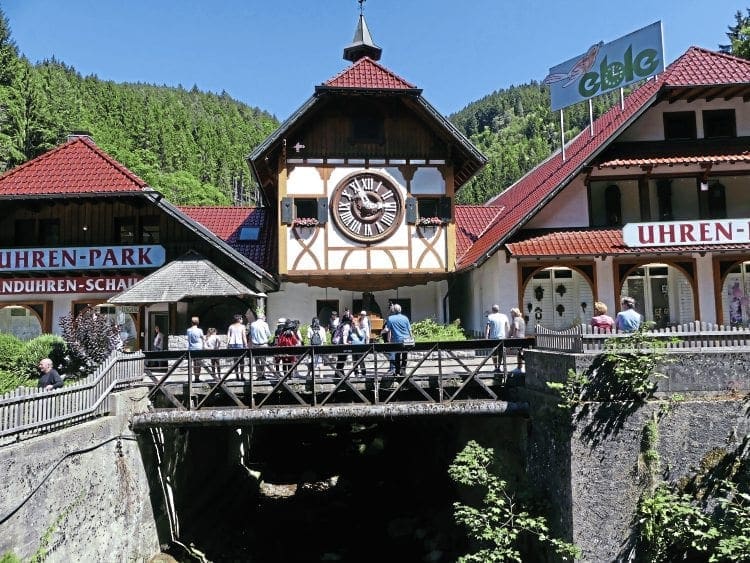 We then had a quick photo stop at the World's Largest Cuckoo Clock before heading off towards the top of the B500. We rode through Baden-Baden, a road carved through the hillside and lined with rock walls. Then a short ride over to the Norde Vosges National Park where we found our hotel in Bitche, overlooking an old citadel.
We covered 230 wonderful miles!
DAY FIVE: BITCHE TO CALAIS AND ENGLAND
A long day in the saddle, on day five we rode the toll roads to save time as we had 360 miles to cover back up to Calais.
Here's where I hoped my little 'Sand Tolling liber-t' would prove itself!
What's he on about? I hear you ask. Well, I have a tag for the toll roads in France, I use it in the car when driving in France, so I attached it to the Ultra screen via a spare self-adhesive clip. This little tag means you do not need to search for change or a card at the toll booths – just approach any non-height restricted booth at walking pace where a device reads your tag/ transponder, the device beeps, the barrier opens and off you jolly well go, no stopping, no fumbling with gloves, getting tickets out trying to keep them dry if it's raining, just waltz on through. You then pay by direct debit at the end of the month and there is a six euro per year management fee plus 10 euros in the month you use it, but honestly to avoid all the messing about at the toll booths, it's well worth it.
The trip back to Calais started off in the rain, then the rain just got harder over the next 250 miles – it was persistently raining as they say! The Ultra was as steady as a rock, and another rider, Richard, following me for most of the 250 miles in the rain told me, "Your bike never wavered; the draught from lorries you were overtaking seemed to have no effect at all and the amount of water the tyres were displacing was enormous." Both Wendy and I were pretty comfortable in the rain, the fairing and leg protection kept the vast majority of it off us. I had the heated grips on a little, we put the Infotainment on and just listened to some of our favourite music.
Not to say that we weren't glad when the last 50 miles or so dried and warmed up.
Before we knew if we'd boarded the train back to England, said our goodbyes and headed off to our Dover hotel.
SO WHAT DID WE THINK?
Well, the Ultra behaved faultlessly; it really never missed a beat. It surprised virtually all our fellow travellers, and that was one of the most pleasing aspects of the tour. The fact that all these Adventure, Sports and Sports Tourer riders were amazed at how the bike never kept anyone waiting was brilliant. They may not have all been converted to rushing straight out and purchasing a Harley but they were all impressed with the way it performed!
I couldn't think of anything I didn't like about the bike, it's a great touring machine!
The tour itself was great and it's a good introduction to touring on the continent. It's a little 'progressive' (read: fast paced), and Chris does do other more scenic paced tours (see: www.guidedmotorbiketours.co.uk), but we enjoyed it immensely.
Pillion's perspective
The Harley was a fabulously comfortable bike – a joy to ride!
The seat was wide and beautifully shaped and sitting behind the 'pilot' you had nearly as much of a field of view as he did. However, we did have to cover the seat when it rained as the seams appeared to let in water leaving the unsuspecting rider with a wet bottom the next day.
The footboards were in exactly the right position for my leg length, which added to my comfort and allowed me to change my seating position and stretch my legs with ease while travelling.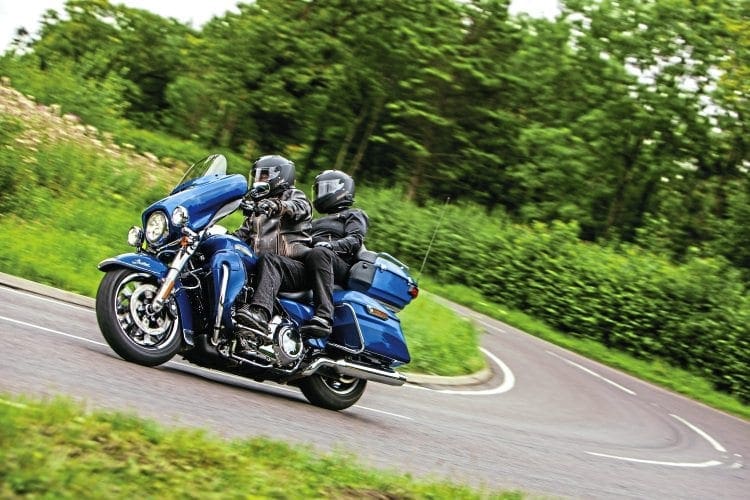 The speakers on either side of my seat were great quality and easily controlled by the switches well within my reach. The top case was large enough to take two full-face helmets, unlike our own 10-year-old Ultra CVO at home, which holds two open but not quite two full-face helmets. This is a big bonus as you can walk around without carrying helmets and have plenty of room for a handbag too. The charging point in the case was great for charging my phone as we travelled.
The panniers were very easy to open and close, a much better design than ours. This all made for a smooth, comfortable trip from my perspective and really highlighted the work that Harley have put in to improve the design of this bike over the last 10 years.
It's a massive thumbs up from me and a realization that perhaps we need to 'chop our old lady in' for a new model for all the above-mentioned reasons!
Specification
HARLEY-DAVIDSON ULTRA LIMITED
Price: From £23,845
Engine: 1745cc Twin-Cooled Milwaukee-Eight 107
Torque: 152Nn @ 3250rpm
Seat height: 740mm
Tyres: (F) 130/80B17 65H; (R) 180/65B16 81H
Fuel capacity: 22.7 litres
Fuel consumption: 47.9mpg
Weight: 413kg (in running order)
Primary drive: Chain
Contact: www.harley-davidson.com
Eurotunnel – it's a doddle!
Eurotunnel has its own junction, 11a, off the M20 in Folkestone. Just follow the plentiful signs to the check-in booths.
You will be presented with your booked train time and an option, if you are early, to choose an earlier train. After you have picked the train you want, take your ticket and keep it safe, then make your way through the barrier. There is a motorcycle parking bay just past the terminal.
All you need to do now is wait and watch the big screens for your letter on your ticket to come up telling you to board.
When you get the go-ahead, proceed through the customs (both British and French). Once through, keep left and follow the motorcycle lane down a ramp onto the boarding platform.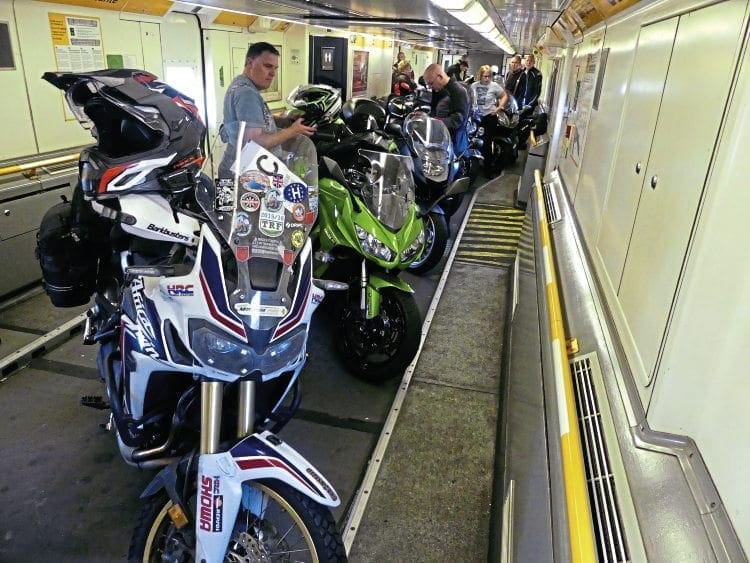 Finally, you'll be asked to board. Follow the instructions, park your bike, put it on the side stand, leave it in first gear, get off and you're done!
Now all you have to do is wait 35 minutes or so while the train crosses over to France.
When you arrive in Calais the dividing doors will open, and the signs above the door will tell you when to start up and ride out.
That's it – you're in France. Just follow the exit signs, and remember to ride on the right.
For further information: www.eurotunnel.com
Words: Doug Shaw
Photography: Doug and Wendy Shaw & Gary Chapman
[googlemaps https://www.google.com/maps/d/embed?mid=1v74eN88f1riPBbmPKhiEgWfl-4o&w=640&h=480]