Thirty years on from his first World Superbike race win, Carl Fogarty remains one of Britain's best-loved bikers. So what made him so good on a bike and so beloved by race fans? And how did he manage to transcend the relatively niche sport of bike racing to become a household name?
WORDS: Stuart Barker PHOTOGRAPHY: Ducati, Mortons Archive
It's incredible how much Carl Fogarty has changed since he retired from racing in 2000. Once the angriest, most aggressive racer in the world, he's now so chilled out and respectful of others that he's barely recognisable. But it was that anger and aggression that took him to four World Superbike titles and more WSB race wins (59) than any man who had gone before him.
Before he turned his hand to WSB in 1992, Fogarty had already enjoyed a successful career as a pure road racer, winning the TT Formula One world championship in 1988 and 1989, then winning the title again in 1990, when it was downgraded to the TT F1 Cup, rather than counting as a full FIM world championship (the TTF1 championship was initially roads-based but by Foggy's time it also took in many short circuits). He also won a Manx Grand Prix and three TT races, including a Formula 1/Senior double in 1990. In 1992 he set an outright TT lap record (123.61mph) that was so fast it stood for seven years. And Foggy was road racing at a time when Joey Dunlop, Steve Hislop, and Phillip McCallen were amongst the opposition, so he didn't exactly have it easy.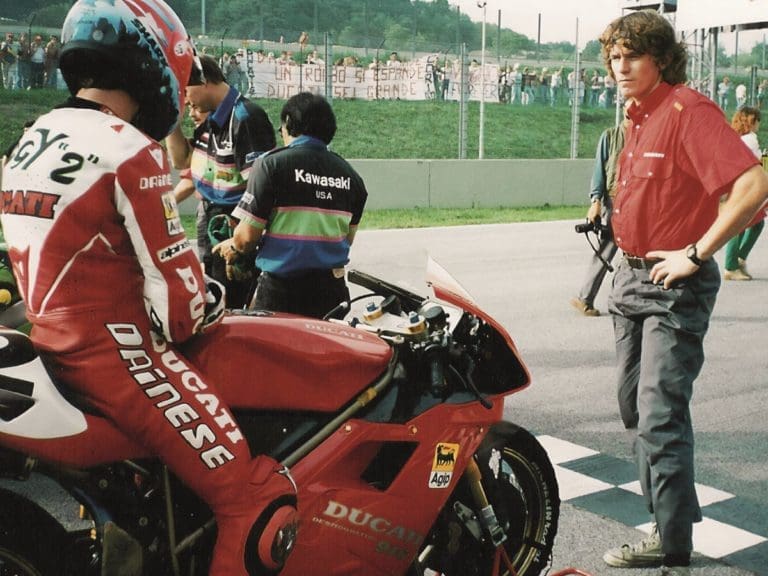 It's easy to forget that Foggy also won the FIM World Endurance title with Terry Rymer on a Kawasaki in 1992 – the year he also won his first WSB race at Donington Park on a Ducati 888. Right from the start, Foggy found WSB to be much tougher than the TTF1 championship. "I won F1 races pretty comfortably in 1989 and 1990, to be honest, but when I raced in WSB I was battling really, really hard just to get in the top seven or eight," he says. "It was a different level altogether. For me, short circuit racing is a lot tougher than racing on the roads. I mean, winning the TT is hard, because of the nature of the circuit and the nature of the challenge, but you're out on your own, racing against the clock. When you're on short circuits at world level you're battling really, really hard against 20 or 30 other guys going into that first corner. It's just really different. But winning the TT is more satisfying. My Senior TT win stands right up there alongside my best WSB wins, if not more so. It's something I'm still proud of to this day."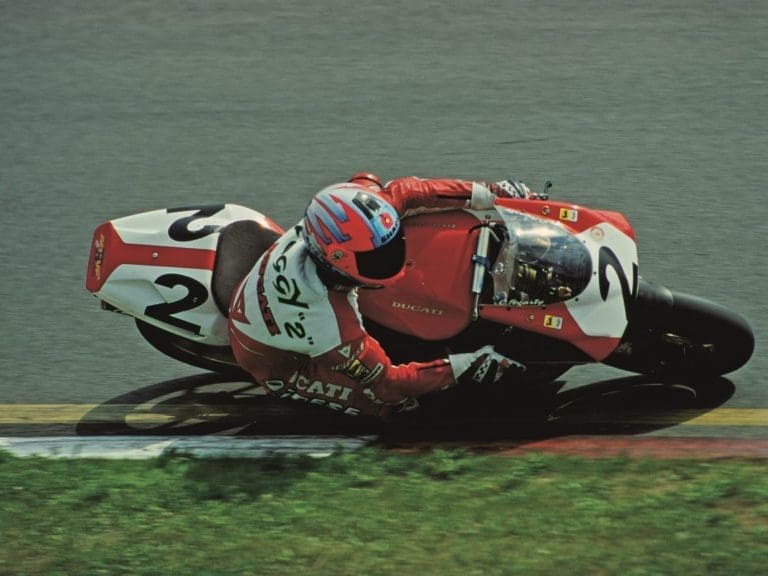 It was Foggy's televised exploits in WSB that really brought him to the attention of the British (and global) public, however, and his timing couldn't have been better, according to his former chief mechanic, Tony 'Slick' Bass. "His success came at the height of the whole Brit Pop and Cool Britannia thing and Foggy was very much part of that," he says. "Even non-race fans got behind him as he was a Brit who was kicking arse on the world scene. People who would never normally watch a motorbike race on TV were tuning into Sky's coverage of every round to cheer him on and, when the championship came to Britain, everything just went mad and Foggy mania really took off."
More than 60,000 people turned up at Brands Hatch in 1995 to watch Foggy destroy the opposition in both WSB races, but by 1999 the crowd had grown to over 160,000 (at a time when the British Grand Prix was only attracting around 40,000 people). It was unprecedented for a WSB race and Slick Bass couldn't believe his eyes. "There seemed to be so many more people at Brands Hatch than I'd ever seen before," he says. "I tried to go out the night before the race for a couple of beers, but you just couldn't get anywhere. Traffic was still queuing to get into the circuit at 9pm and it was manic everywhere. Foggy didn't dare show his face; he just had a meal with the team and stayed in his motorhome."
It wasn't until race day morning that Foggy himself realised just what an impact he was having. "The size of the crowd only surprised me when I woke up on Sunday," he says. "I pulled my curtains open in the motorhome and looked on to the grandstands at Paddock Hill Bend and they were rammed at eight o'clock in the morning. I just thought, 'Whoa, what's this all about?'."
Foggy mania had truly arrived. Here was the man that British bike racing had been waiting for since Barry Sheene in the 1970s – a rider finally capable of winning at world level, and the excitement on that race day at Brands in 1995 was palpable. "On race day the atmosphere was absolutely electric," says Slick Bass. "You could almost taste it. It was un-f*cking believable. It was the biggest meeting I think I've ever been to. The whole crowd started cheering and sounding off air horns every time Carl stepped out of the garage."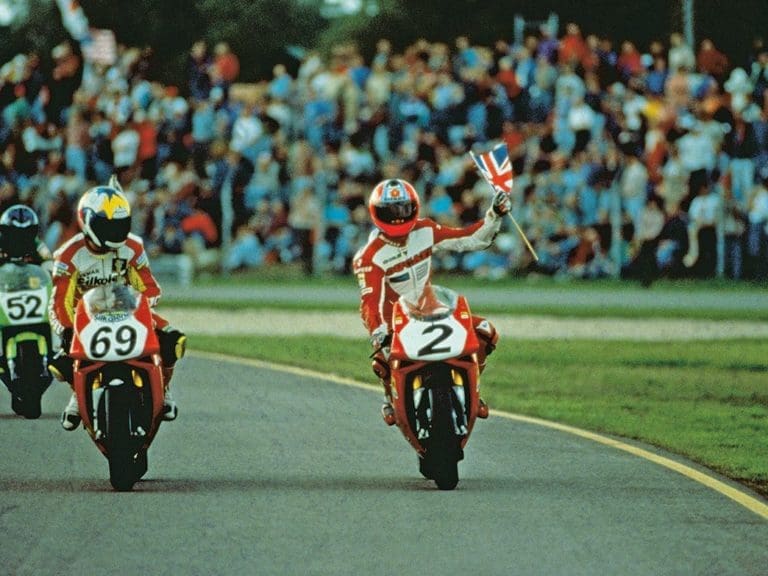 Foggy won both races in 1995 but, win, lose or draw, it was his willingness to give absolutely everything that drew the fans to him. He would ride the wheels off any bike he was given and, if that meant riding the bike to destruction, so be it. Chasing Steve Hislop's Norton on the last lap of the 1992 Senior TT (which has been voted the greatest TT race of all time), Fogarty pushed so intensely that his Yamaha OW01 literally fell to bits. "I was riding so hard that the bike was falling apart around me," he admitted afterwards. "None of the clocks were working; the front fork seal had gone; the rear brake was bent up; the rear shock was broken – the bike was an absolute mess. To make matters worse, the exhaust blew coming over the mountain as I made that final push."
That was why the fans loved him. That, and his cocky arrogance, aggression, and straight-talking Northern manner. "I always believed that no one was better than me," he admits. "I was the best by far, and if I didn't win, it was because we didn't get the bike right that weekend. My mentality was always like that."
Foggy's ferocious attitude even impressed other racers, like former British and World Superbike champion Neil Hodgson. "His never-say-die attitude and his sheer will to win was the backbone of Carl Fogarty," he says. "I mean, every top racer wants to win, but he had it stronger than most people and he had an inner belief that went with it. That was his strength.'
Former double WSB champion James Toseland says of Foggy's glory years: "He was the biggest name in racing, that's for sure, and he was great for the championship. He was arrogant with the other riders, and he had that swagger and was a great showman but, more than anything, he was exciting to watch. He loved to battle, he wasn't scared to fight, and it was always an exciting race when Foggy was involved in it."
Foggy was a rider who needed to hate his rivals in order to beat them, so riders like Scott Russell, Aaron Slight and John Kocinski soon found themselves in the firing line. "I just didn't like not winning, so I wasn't very complimentary about anyone who prevented me from doing that," he says. "I didn't seem to like anybody back then. I look back now and think, 'God, I can't believe what I was like back then', but it was just how I had to be to win races – I had to hate everybody and just believe in myself if I wanted to win. I suppose the thing between me and Scott got worse and worse in the press – we'd both use the press to say things about each other."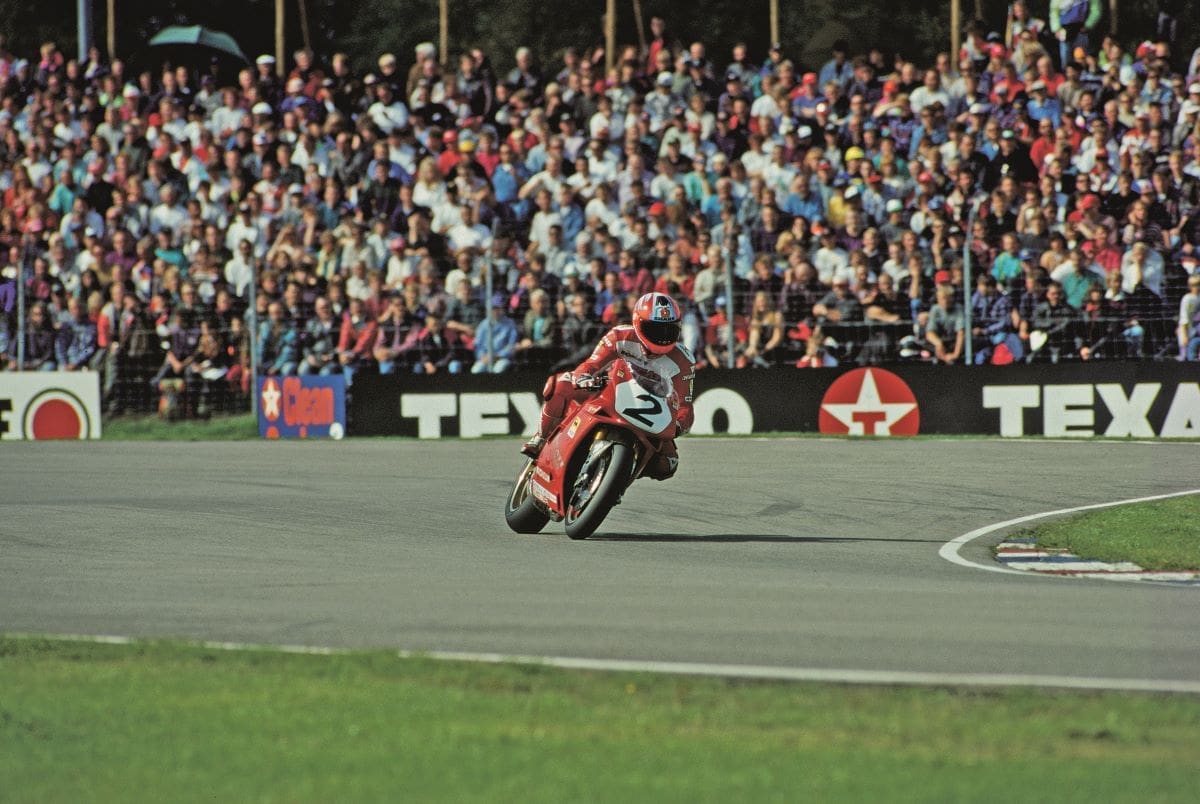 Much of this 'hatred' was blown out of proportion by the press; it was good for the sport, after all. Away from the tracks and the cameras, Foggy and Russell were on fairly decent terms. "Any time I actually saw him and spoke to him he was okay," Foggy admits. "We didn't exactly socialise and go out for drinks together, but if we were having a few beers around one of the motorhomes on the Sunday night after a race, and Scott was there, it was never a problem."
What fans never saw was the more vulnerable side of Fogarty. Despite all his public bluster, he was as insecure as any other rider fighting for a world title and would have moments when all that legendary confidence evaporated, as Slick Bass reveals: "Carl was famous for being incredibly confident and cocky – even arrogant – and he seemed to be able to out-psyche his rivals before he had even turned a wheel in anger. But he wasn't always like that behind the scenes. I remember at Albacete in Spain one year Carl only scored one point and none of the mechanics turned up to help him with the bike after the race. I was the only one there and he kept his visor down and was really upset, just staring at his feet. I gave him a hug and said, 'Well done mate – that must have been the hardest thing for you running round in 15th place, but you got a point, which is a big bonus, and most people in your position would have just pulled in'. That was all he needed to hear. The visor came up, he started smiling, and walked into the garage and said, There you go lads, we got a point'."
Had race fans witnessed scenes like that, they would probably have loved Foggy all the more. But there was certainly no shortage of love for him as things were. When he won his first WSB title in Australia in 1994 and flew back home to England, he encountered a scene reminiscent of Beatlemania. "It was crazy!" he says. "I remember landing back at Manchester airport and there were 2,000 people there to greet me. That probably doesn't happen these days, and it's hard to explain how things were back then. I think because of the Sky TV coverage, and the fact that Britain had not had a road racing world champion for so many years, it just went a bit crazy."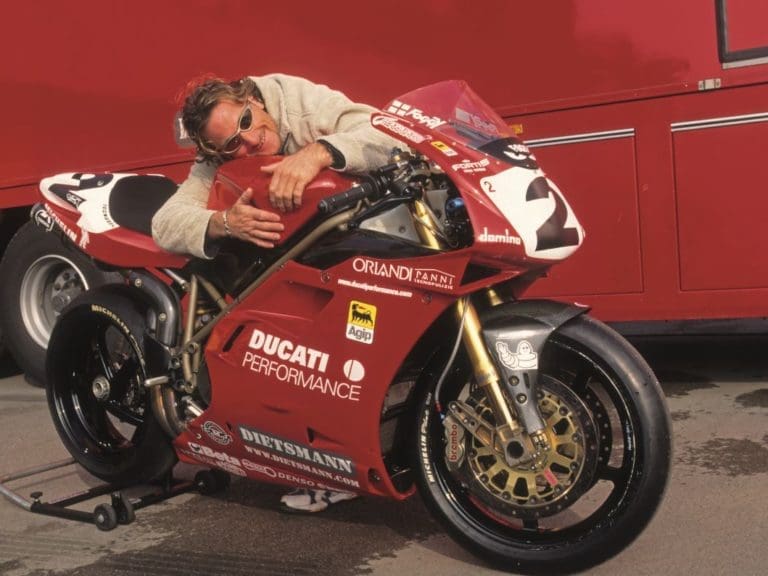 Before his success, Carl Fogarty had been quite shy around people, even awkward, so his fame came as something of a shock. "I wasn't comfortable with it, and I certainly wasn't used to it," he admits. "I was being wheeled out at Manchester United and Blackburn games the following weekend (after winning his first title), and being asked to switch on the Christmas lights at Blackburn, doing adverts for Sky TV, and all that sort of stuff. It was just bizarre really, and I don't think I fully appreciated it or understood it at the time. People forget how big it became. Even now I look back and think, 'What was that all about?'. For me, by the end of the 90s it was just crazy, and I struggled to cope with it all, to be honest. I didn't even have a manager back then, so I was having to do everything by myself, and it wasn't easy. Sky Sports can make a sport seem a lot bigger than it is, and every race was repeated so often that you couldn't avoid seeing them eventually – even if you didn't have Sky! Even down the pub it became the thing to watch the first game of football and then watch the World Superbike race. The Sun newspaper followed me to every round in 1995 and did a big story from each one. It was pretty crazy. It was a golden period for World Superbikes – the combination of the characters of the riders who were involved, the full factory bikes, the new TV coverage – there were so many things that made it what it was."
The main thing was Foggy himself, though. He just struck a chord with the general public – most of whom weren't even interested in motorbikes – and he proved this beyond doubt when he took part in ITV's reality TV show 'I'm a Celebrity… Get Me Out of Here!' in 2014 and won it. Four years on from retirement by that point, Foggy was turning back into his old self again, more relaxed and chilled out; the harshness and aggression all gone. And his best friend, Jamie Whitham, was glad to see it. "His close friends always saw a different side to the spikey, aggressive Carl Fogarty that the public saw," he says. "And it's only been in the last few years that he's become the bloke that I always knew with everyone else. He's more chilled and settled, and not as snappy, and just much easier to deal with."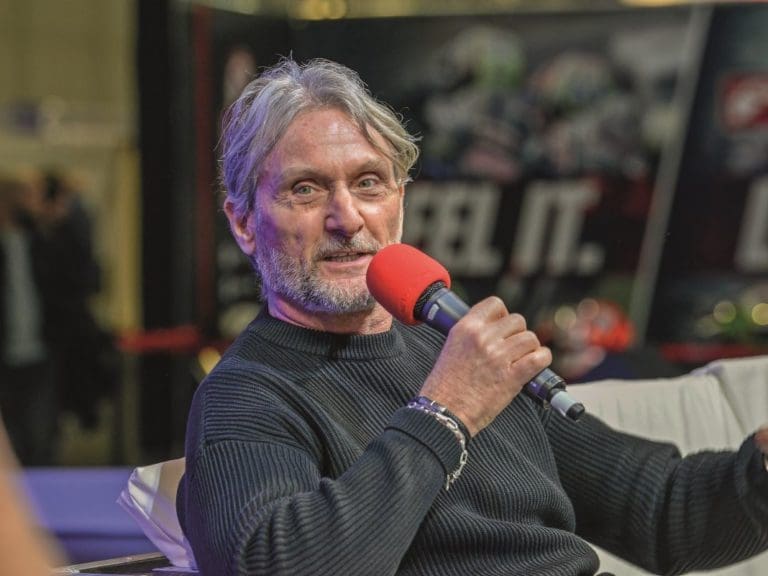 Fogarty was forced to retire in 2000 after a huge crash at Phillip Island in Australia, but his legacy lives on in racing to this day. In 2021 there were six Brits in the top 13 of the WSB final championship standings, and Neil Hodgson believes that would not be the case without Foggy. "Before Carl, there were no British riders doing anything in World Superbikes. We'd had no one in contention for a world championship since Barry Sheene, so he opened the doors into WSB for British riders in a massive way. His success meant that young riders like me started thinking about going down the World Superbike route whereas, before, there was only Grands Prix."
King of the Jungle
Carl Fogarty became the darling of celebrity magazines and the mainstream public in 2014 when he won 'I'm a Celebrity… Get Me Out of Here!' and he's still proud of the fact.
"Winning 'I'm a Celebrity' was a huge deal for me. When I raced, I wanted the public to go home happy because they had paid to come and see me try my very best and that felt like a huge responsibility. So, in some ways, I feel the public repaid me for all that effort by voting for me on 'Celebrity' and making me a winner again. A lot of people recognised me before, but now it's incredible – I get stopped everywhere I go. I didn't really enjoy the fame I got from racing because I was always too angry and selfish, but I'm determined to enjoy it this time around. Now I can enjoy the luxury of being able to choose what I want to do career-wise, but bikes will always come first for me."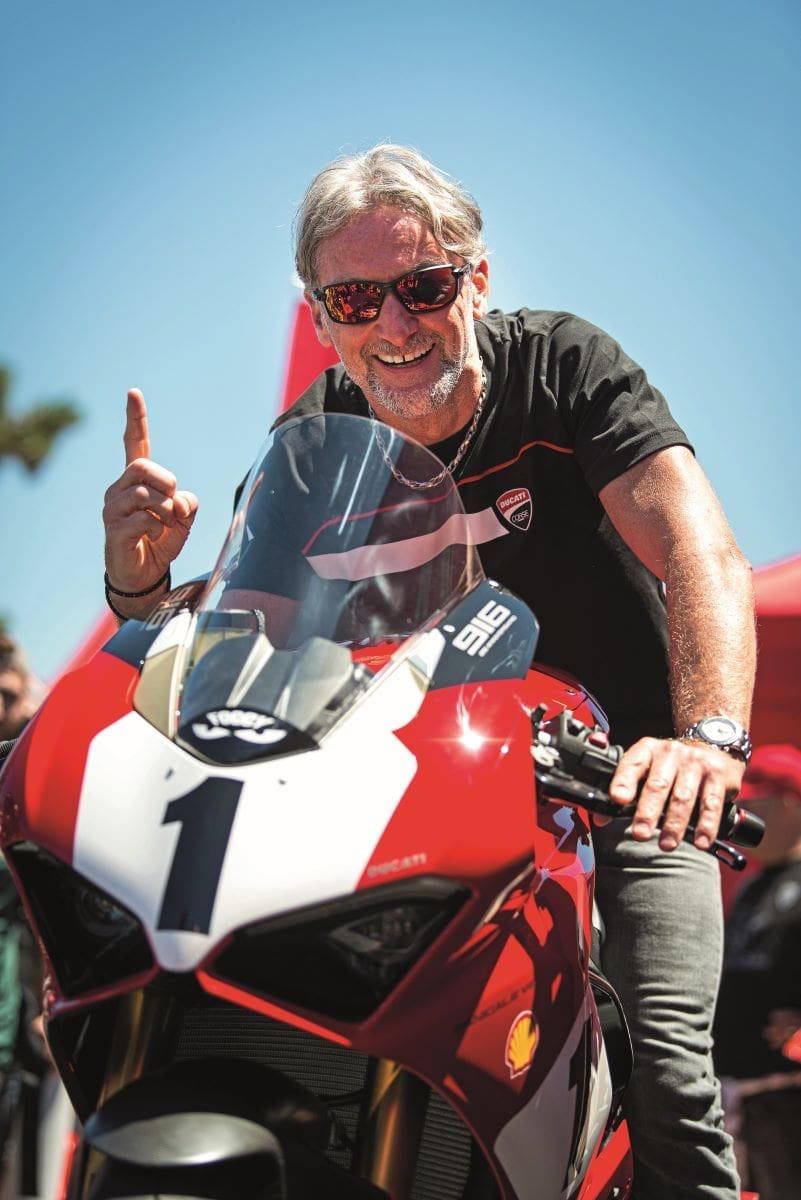 Foggys' Greatest Hits
1985: Manx Grand Prix Newcomers Lightweight winner
1988: TT Formula 1 world champion, Ulster Grand Prix winner
1989: TT Production 750 winner, Ulster Grand Prix winner
1989: TT Formula 1 world champion
1990: TT Formula 1 Cup champion, Formula 1 TT winner, Senior TT winner
1992: FIM World Endurance champion, Isle of Man TT outright lap record holder
1993: Winner of both Superbike races at the North West 200
1994: World Superbike champion1995: World Superbike champion
1998: World Superbike champion
1999: World Superbike champion