After a nearly 40-year hiatus, one of the most important names in British motorcycling kickstarted its revival with a new version of its most celebrated model: the Gold Star. To put it through its paces properly, we took the chance to ride it at the top-secret Millbrook Proving Ground across its extensive cross-section of test tracks. Here's how we got on.
WORDS: Ross Mowbray PHOTOGRAPHY: BSA and Woodcote Events
If you're under the age of 60 and you're not clued up on the ins and outs of classic bikes, it's probably quite difficult to imagine the importance of BSA. But back in the 1950s, when British bikes still reigned supreme, Birmingham Small Arms was one of the biggest and best names in the game.
Despite now being best known for its bikes, BSA (or Birmingham Small Arms) was first founded in 1854 by 14 Birmingham-based gunsmiths, making a name for itself as a producer of firearms and ammunition. It wasn't until 1878 that it first began to make cycle components – and it took another 27 years to build its first prototype motor bicycle in 1905, another five to finally reveal it to the world in 1910, and another nine to establish the BSA Motorcycles name in 1919.
That was the start of a long and turbulent journey which saw the Midlands firm cement its place in the motorcycling history books – and there was one particularly important bike which helped them to do it. The BSA Gold Star.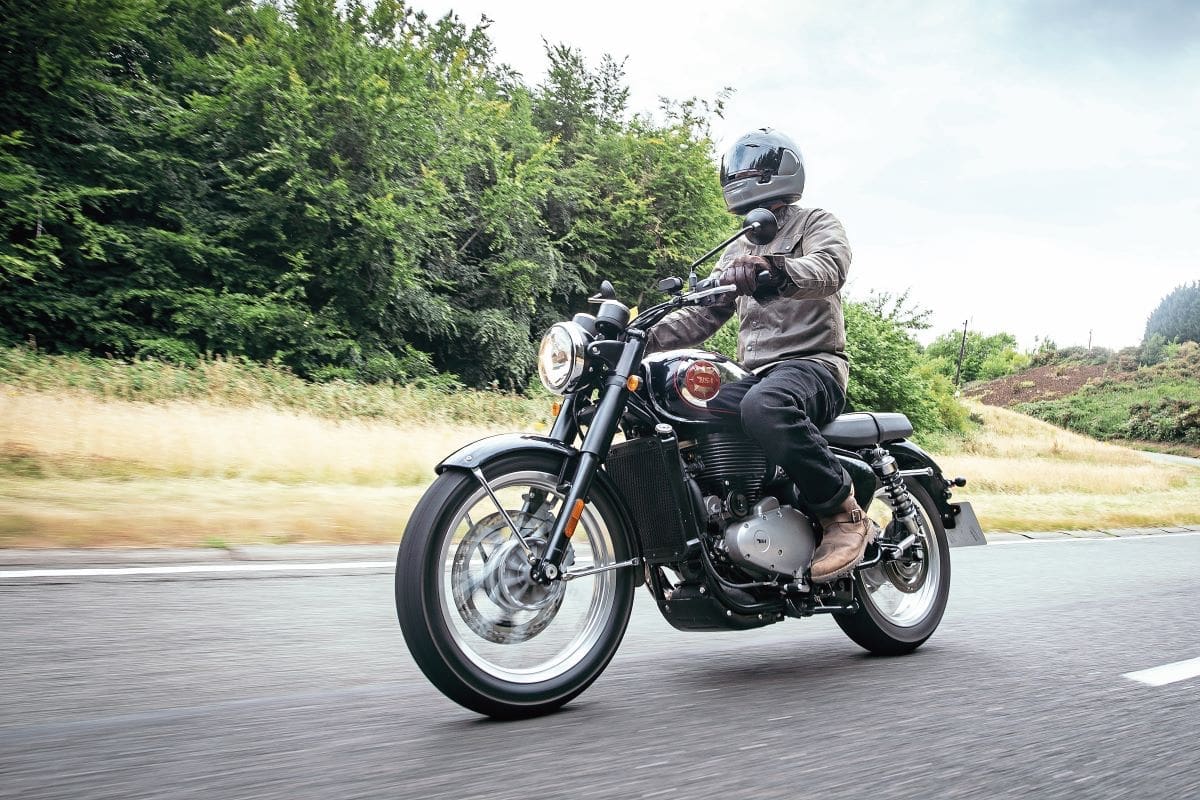 History
Starting life as a development bike, the first 'Goldie' came about after four-times TT winner Wal Handley thrashed the competition at Brooklands in 1937 riding what looked to be a (mostly) standard Empire Star model. But it was actually a tuned factory special which ran on alcohol, had 13:1 compression, and was kitted out with a racing magneto, and blasted round the London track at an average of 102.27mph (and achieved a fastest lap of 107.57mph). That was enough for Handley to claim a Brooklands Gold Star (which was awarded to anyone who completed a lap of Brooklands at over 100mph during a race) and generated a load of attention for BSA's ton-topping single. And in 1938, the Gold Star was born (with road, track and trials models to choose from).
With its alloy head and barrel, Amal TT carburettor, lightweight Elektron gearbox shell and a 7.8:1 compression ratio, plus the fact that each model was assembled and tested at the factory to ensure 28bhp at 5250rpm was guaranteed, you'd probably expect that the Gold Star got off to a flying start. But it didn't… sales were modest, but not so modest that the factory didn't continue production for 1939. However, with the start of the Second World War putting a halt to life as normal and BSA's plans shelved while it supported the war effort, it was another nine years before another Gold Star rolled out of its Birmingham factory.
Thankfully, a healthy post-war appetite for the versatile 350 meant that BSA decided it was time to offer a 500cc version of Gold Star, too. And in 1950, the ZB34 Gold Star 500 was born, featuring an engine based on its existing B33 design (with a new alloy head and barrel like the 350).
The last (and most iconic) version of the Gold Star was released in 1956. The 500cc, 42bhp, 110mph machine came with a 1½in Amal GP carburettor, megaphone silencers, a newly-developed RRT2 gearbox, and an optional 190mm front brake. This model marked the beginning of the end for the 'Goldie'. Although demand was good and it remained in the line-up until 1963, BSA struggled to keep up with advancing technology and production engineering techniques, and while other bikes were moving with the times, the Gold Star stuck to its successful formula.
And it was successful. Gold Stars won road races, short circuit races, scrambler races, trials competitions – and even claimed victories at the notoriously challenging Isle of Man TT and bone-shaking International Six Days Trial (ISDT). And that's without getting into how much it was loved by the general motorcycling public at the time.
But despite such success, BSA fell into financial difficulties due to mismanagement, and in 1973 the once buoyant brand (which was selling one in every four motorcycles around the world at one point) was forced to cease production. And then it was gone. It remained that way for nearly 40 years, until in 2016 the brand was purchased by the Classic Legends arm of Indian automotive giant the Mahindra Group (who also own Peugeot Motorcycles, Jawa Moto and SsangYong Motors). Six years of R&D later and BSA is back for 2022, with a new Gold Star 650.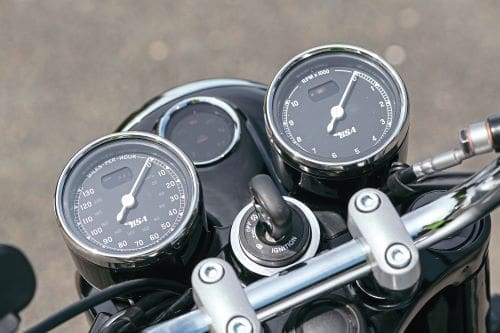 New beginnings
With only a quick glance, you'd be forgiven for thinking the new Gold Star's a bike straight from BSA's heyday, but on closer inspection there's no doubt that the fuel-injected, liquid-cooled, Euro-5 compliant bike, with Brembo brakes, ABS, Pirelli tyres and (most importantly) an electric start, is suitably modern. There's even a small LCD dash, a USB-A and USB-C charger on the bars and a DIN power socket.
As you'd expect, there are period touches, too, with a set of traditional twin-dial clocks, a twist-off fuel cap and even a remote oil tank neatly complementing the overall aesthetic of the bike, with its period twin-shocks, spoked alloy rims, bench seat and carefully designed single-cylinder engine.
The engine's a peach. Making 45bhp at 6,500rpm and 40.5lb-ft at 4,000rpm, the BSA's big 652cc single (which is essentially a redesigned version of an old Rotax design) might not sound all that impressive on paper, but it's actually one of the best bits of what's in essence a bloody good bike. BSA's done some clever work to balance the engine and reduce the vibrations, and it's much smoother than you'd expect it to be. It's still a single so if you'll definitely know about it if you leave it in too high a gear, but in general it pulls smoothly and cleanly right through the revs as you work your way through its five-speed gearbox. With its historical connection to the ton-up club, BSA's done all it can to ensure that the new 'Goldie' is capable of hitting 100mph – and it will (according to the clocks at least)… just. But as you'd expect, it's not at its happiest with the throttle pinned in the search for more speed. By its very nature it's much more content when things are a little more lazy, although I was impressed at how well the bike hustled through the fast-flowing Alpine-style section at Millbrook, with more than enough punch to put smiles on the faces of even the most seasoned of road testers.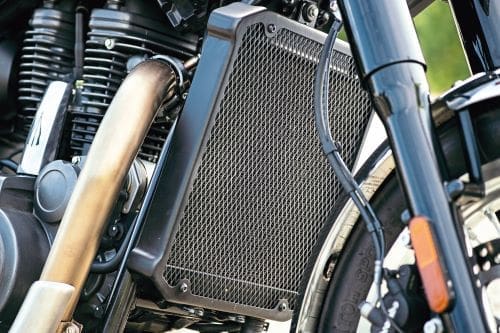 The Brembo brakes and braided lines are a nice touch which definitely add a bit of kudos to the bike, but in practice the single 320mm disc at the front and 255mm disc at the rear offer a little less bite than you might expect, although there's plenty of feel and there's more than enough to pull the bike up quickly enough and safe enough for the situations you're likely to be getting this bike into, particularly when you make full use of the ample engine braking offered from the big single. The ABS is the only disappointment. I had a couple of hairy moments, once when I was a bit heavy-handed with the front when coming to a stop, and once when I was pushing the bike hard and braking aggressively ahead of a sharp turn – while other riders reported having similar problems with the rear when scrubbing off speed. For less experienced riders it should be reassuring to know that the ABS is doing its job, but personally I found it more intrusive than I'd usually like.
The tubular steel chassis has been developed by British firm Ricardo, while the non-adjustable front forks and preload-adjustable rear shocks come from American suspension specialist Gabriel. The suspension's set up pretty soft and has clearly been designed for comfort rather than outright performance, and yet the bike performs well under pressure, offering enough composure to maintain a swift pace through the Moto Gymkhana-style town course and the aforementioned Alpine section of Millbrook. Under particularly hard braking there's a bit of dive from the front, so it's much better to get it done early, settle the bike and roll into the corner before powering out the other side. The Pirelli Phantom tyres offer plenty of grip, and although it was a bone-dry day with near-perfect conditions, I expect they'd be more than capable in less favourable weather, too.
The bike's very easy to get on with. The seat's comfortable, the riding position's neutral and riders of all shapes and sizes seemed to look at home riding it. While it's much more suited to short blasts and bimbles rather than big-mile touring, the 12-litre tank should happily offer you well over 150 miles before you need to take a trip to the petrol station (BSA actually claims it'll do 70.6mpg).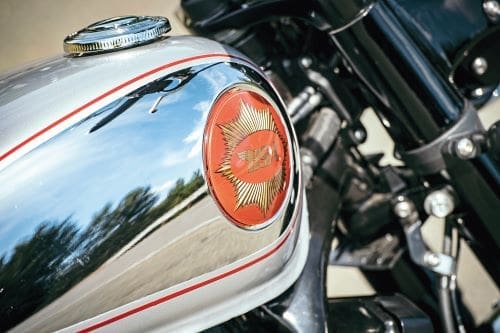 You can get your hands on the base Highland Green model for £6,500; the Insignia Red, Midnight Black or Dawn Silver models for £6,800; or you can opt for the Silver Sheen Legacy with its chrome bars, mirrors and mudguards and polished engine cases for £7,000. It's keenly priced to entice style-conscious youngsters and old-school BSA enthusiasts alike. But there's a lot of choice out there if you're in the market for a retro-styled roadster: there's Triumph's Bonneville T100 (priced at £9,395); Kawasaki's W800 (priced at £8,499); and, of course, Royal Enfield's Interceptor 650 (priced at £6,039). Question marks remain about how it'll stand the test of time and how well you'll be supported if something does go wrong, but with Mahindra's big business know-how, credible build quality, a two-year unlimited mileage warranty, and plans to have a 20-strong dealer network in place by the end of the year, punters should have confidence in the newest BSA.
Going for gold
BSA's been very smart with the launch of its new Gold Star 650, creating a unique single-cylinder machine which proudly replicates one of the most iconic machines in British biking. While some BSA enthusiasts will likely be disappointed that the new 'Goldie' isn't what it used to be, there's no doubt that it's a cracking bike that's easy to ride, great to look at and cheap enough for a whole new generation of riders (and those that always dreamed of owning an original).
I reckon it'll do very well,and I can't wait to see what's next in this latest chapter for BSA.
ENGINE
The Goldstar is powered by a single-cylinder engine, designed to look like an original pre-unit single. The big liquid-cooled 652cc DOHC 4-stroke motor features a 4-valve, dual spark head to meet Euro 5 emissions laws, and kicks out a healthy 45bhp at 6,500rpm and 40.5lb-ft at 4,000rpm.
BRAKES
Quality Brembo callipers grab single discs at the front and rear, offering enough stopping power to pull the 213kg 'Goldie' up without too much trouble. It's not the most aggressive set up, but it suits the bike well, and there's no doubt that it stops better than an original 50s or 60s model.
CHASSIS
The dual cradle, tubular steel frame, conventional 41mm forks and twin preload-adjustable shocks nicely balance comfort with the performance, while the 18- and 17-inch Excel wheels come shod in some quality Pirelli Sportscomp rubber which offer plenty of grip.
TECHNOLOGY
There's no electronic trickery or sophisticated rider aids here (bar the ABS), it's a simple back-to-basics motorcycle and it's all the better for it. One subtle hint that this is a modern machine is the LCD dash up front, which offers a useful range of key information (even if it isn't the easiest to read in direct sunlight). Less subtle is the USB-A and C charger stuck on the left-side of the bars. As undeniably useful as it is, the unit looks like an afterthought and doesn't really fit the overall look of the bike.
STYLE
BSA's done a properly nice job with the styling, and I think there's little argument that the new-for-2022 Gold Star 650 definitely looks the part, with its teardrop-style fuel tank, bench seat, spoked rims, pre-unit style engine and twin-dial clocks combining to create neat, genuine homage to the original.