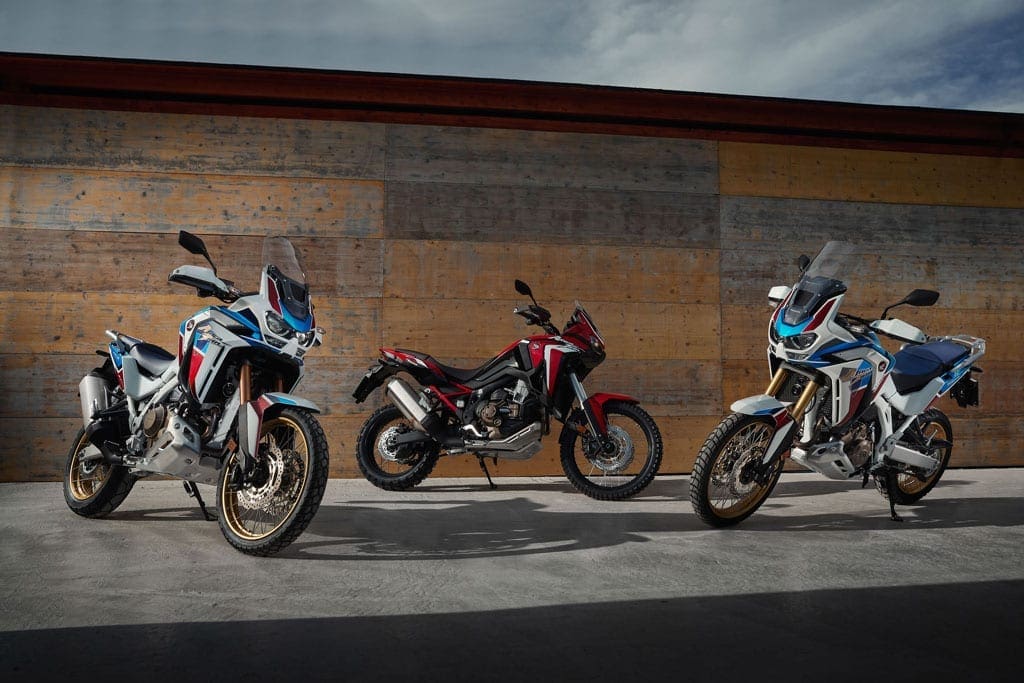 500+ road miles and a day off-roading on Honda's big adventure bike highlight the pros and cons in high definition.
I am heading southbound on the M5, having ridden all day in the rain. It's starting to get dark. My visor is steamed up. I'm sitting in a puddle disguised as a motorcycle seat. There's still another hour to go to a 'challenging to find' hotel in rural Devon, and I don't have a satnav to help me get there.
As I'm trundling on I remind myself that things could be a lot worse. I am actually travelling in relative comfort, perched on the new Honda Africa Twin Adventure Sport. The seat is firm but comfortable, bars wide with effective hand guards, and the riding position is nicely relaxed.
The cherry on the cake is the new cruise control, which makes big motorway miles distinctly less miserable. And heated grips come as standard, thank goodness! Weather protection is actually pretty decent too, with the wide shoulders of the bike protecting the bottom half of me, and the screen doing an impressive job of keeping most of the rain off my face and body.
If truth be told, the reason that I am soaked is all my own fault. I'm wearing what marketers would call 'urban riding kit' – trainers, denim jeans and a light jacket – all of it protective motorcycle gear, but not designed to be worn in the rain for hours on end, but it's stuff that I needed to test.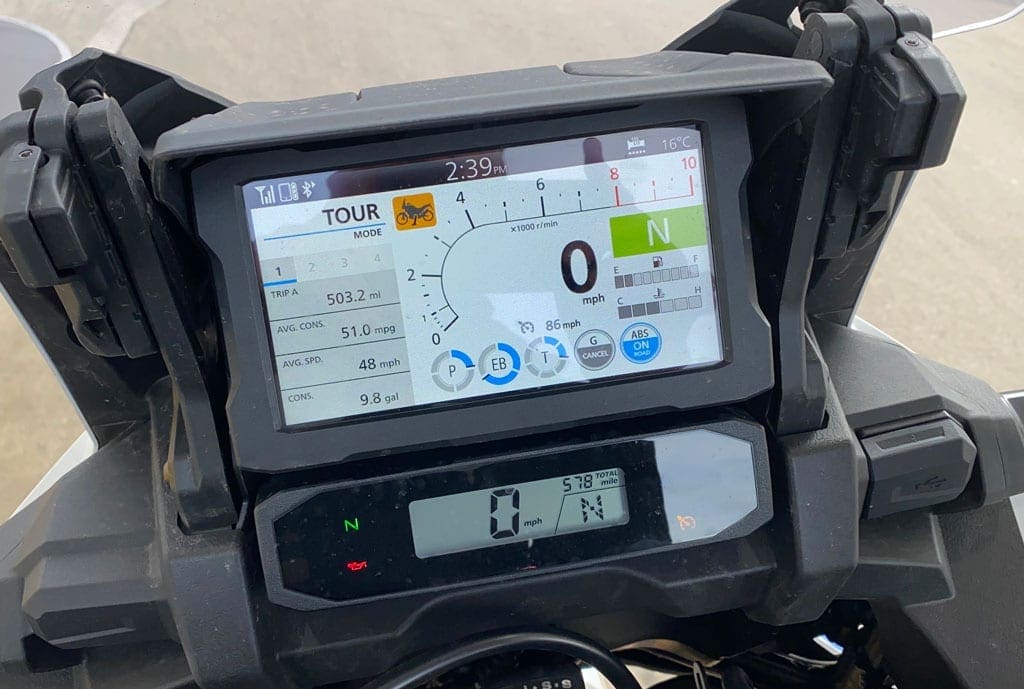 The lack of navigational aid is also a problem of my own making. In my eagerness to jump on the bike I didn't connect my phone before setting off, and I was already miles from home when I realised that there was something I had overlooked.
Although the bike allows you to connect your smartphone to the TFT dash and have your navigation app there on display, you also need a Bluetooth headset connected before the bike lets you do this. Instead, I stopped every few miles to check the route on my phone, did a u-turn and tried again. By the time I arrived, my dinner was in the dog.
In the light of day
The next morning, in the light of day and away from motorways, I get a chance to properly enjoy the bike. Like many big adventure bikes, it impresses me with how easy it is to ride. I am on the DCT version, which means that it's effectively a big twist 'n' go with the ability to change gears manually using the buttons in the left switch cluster if you prefer.
The DCT system lets you choose between a standard 'Drive' setting and three-level 'Sport' mode, depending on whether you want the automatic box shift early or late. In addition, the new electronics package includes traction, wheelie and rear lift control and cornering ABS, all overseen by a six-axis IMU. The big H has certainly taken a big step forward with the electronics.
I can see the appeal of DCT transmission, but it's not entirely faultless. I felt that I needed to dial in the sportiest setting to stop the bike short-shifting too soon for my liking. I also found that riding twisty downhills needed more attention as the gears didn't shift down as early as I would have liked and there wasn't as much engine braking as you would expect from a manual machine.
It's not quite like riding a two-stroke or an electric bike but approaching bends needs similar consideration. However, if you can dig it, it certainly makes life on two wheels easy.
Another instant discovery was just how well-balanced and agile the big bike was. Even though the Adventure Sports is 5kg lighter than the previous model, it still weighs nearly a quarter of a metric tonne (Manual 238kg, DCT 248kg), but you would never believe that if you just rode the bike without having to manoeuvre it around a car park.
As soon as those wheels are turning the bike is light to steer, quick to turn, stable and very manageable. The new lower seat height (850/870mm) also helps to make the bike feel more user-friendly and I could get my 31in legs firmly on the ground.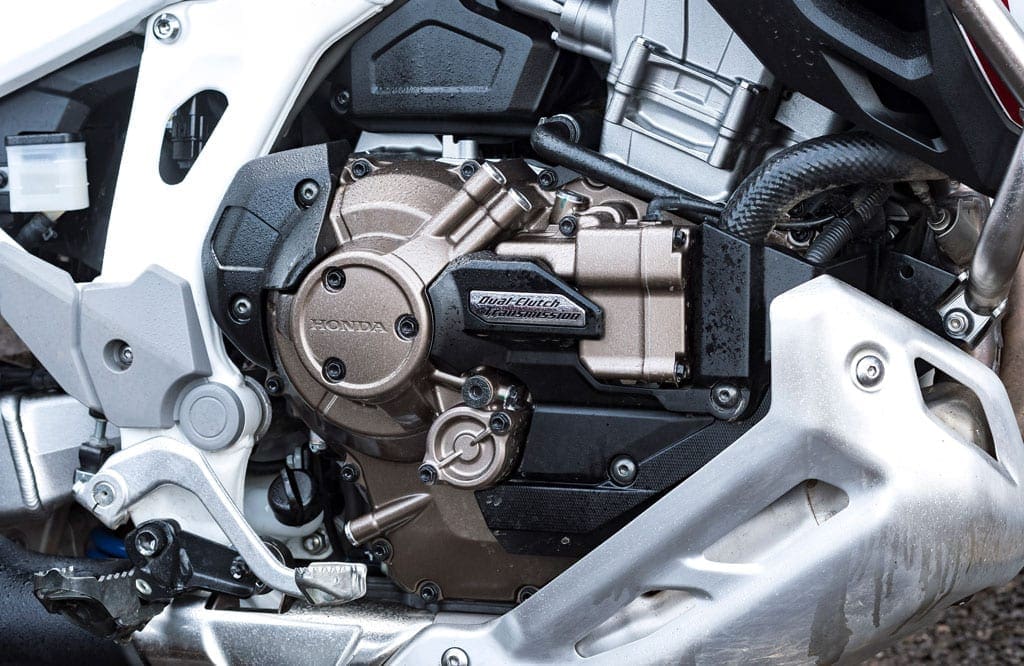 One of the many big changes to this model is the new 1084cc engine, which is not only Euro5 compatible, but also gives the bike bigger muscles – power is up 7% at 100bhp and torque has been increased by 6% to 105Nm.
It's been over two years since I rode the previous incarnation of this machine, so I can't claim to remember exactly how it felt, but the power delivery certainly feels lively now. The figures are still below some of the competition (BMW 1250GS claims 134bhp and Ducati Multistrada 1250 goes even higher with 156bhp) but in the real world you're unlikely to feel like you need more.
The chassis has been thoroughly overhauled too, with the Adventure Sports being the touring-oriented bike in the Africa Twin family while the standard machine gets more of the offroading duties. To make the Adventure Sports a more appealing place to tour the world on there is a new lighter and narrower frame in place that now features a bolt-on subframe.
The seat is narrower and lower. The tank is larger (24.8 litres) to help cover longer distances before refills. The 6.5in full-colour TFT touch screen not only allows access to the myriad of settings available, but it also features Apple Play and Bluetooth connectivity (just remember to bring your headset too!).
In addition to the LED Daytime Running Lights, there are three-stage cornering lights, which work so well that I was tempted to do little turns even on straight roads just to activate them for added illumination.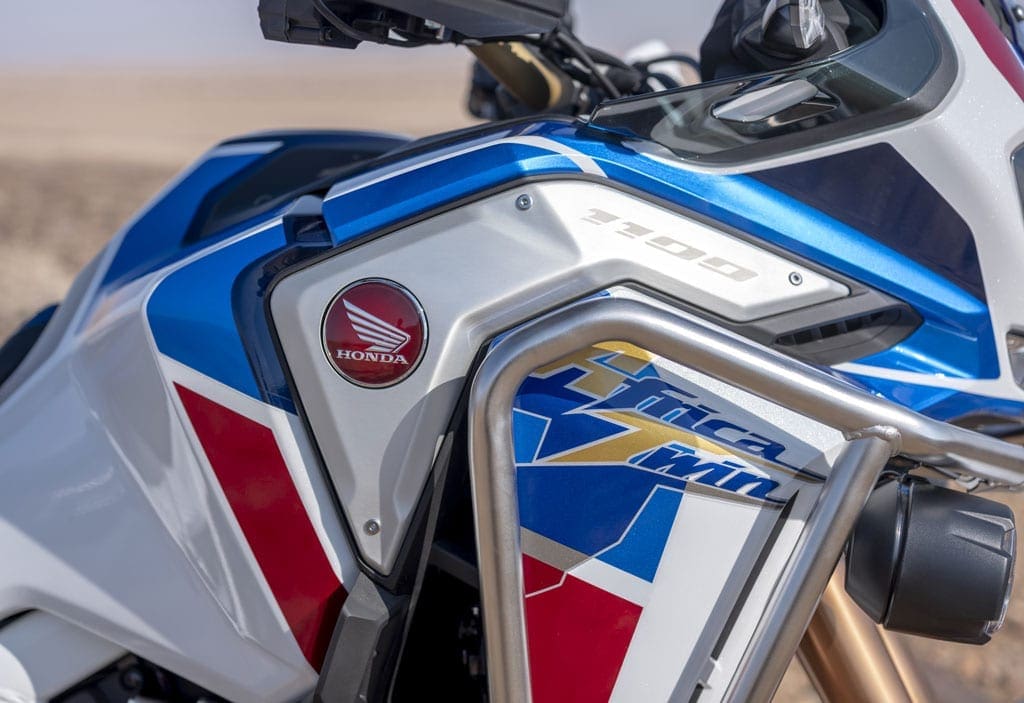 The bike that I tested had the traditional suspension setup, but you can also opt for the Showa EERA electronic suspension with four pre-set modes, plus a customisable one for good measure. To be honest, I didn't miss electronics. When you first get on the bike, it feels like the suspension compresses so much that you're in for a soggy ride, but no.
The big adventurer rounded corners with resolute stability, and the wheels happily skipped and hopped over potholes without sending shockwaves up towards the rider. And that was with no adjustment to the settings. I thought that the forks had been improved too as I remembered how the old model's front dived when you applied front break. Nothing like that on this machine. Definite improvement.
Going offroad
Just as I had got used to riding the Adventure Sports on roads, it was time to head offroad. The reason I was in Devon was that I was spending a day at the Dave Thorpe Honda Adventure Centre to see how the big bikes handled away from the luxury of paved roads.
The Adventure Centre has a fleet of new Africa Twins, both standard and Adventure Sports varieties, with manual and DCT transmission as options. I started the day with a manual version of the standard bike.
First up were some easy drills to get us used to riding on dirt. From riding up and down a gravel road, we soon progressed to experiencing the differences between various traction control levels by pretty much just grabbing a handful and seeing how much the rear spinned. It was educational, and an enormous amount of fun.
After completing a little slalom course with tight turns, changes of gradient and varying surface with a few obstacles in the way, we were ready to hit the trails and do a loop around the woods to see how the bikes handled trail riding.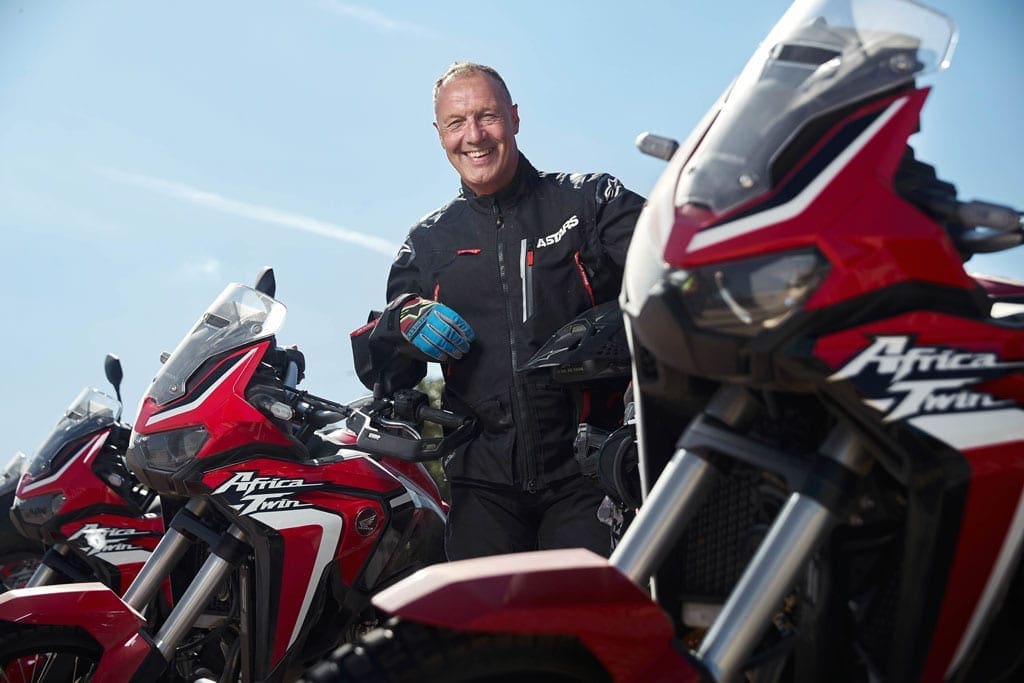 I have ridden Africa Twins offroad before, so the fact that they did it with no problem at all came as no surprise. But it felt like these new models were even better than before – the flexibility with traction and wheelie control is impressive and makes you feel like a better rider than you really are as the bike finds grip where you probably wouldn't without the electronic assistance. It's easy to enjoy trail riding on these bikes, and once again you soon forget about their size and weight as they glide across almost any surface with no complaints.
After lunch I swapped the standard bike to a manual Adventure Sports. I expected it to be a little bit more of a handful on dirt, given that it is bigger and billed as the Tarmac-loving touring option in the range. In reality, there was very little difference in how the bikes handled.
The main consideration with the Adventure Sports was avoiding bashing your face to the higher screen. Other than that, both bikes performed way better than machines of that size and weight have any right to do. Truly impressive.
Dave Thorpe Honda Adventure Centre
If you want to get a taste of adventure on the big Hondas then this is the place for it. The Dave Thorpe Adventure Centre based in Exmoor National Park, Somerset, has a fleet of Africa Twins, and one or two-day courses to get you up to speed with them.
The one-day tour consists of a 133 mile guided route on Exmoor National Park. You can ride some great coastal roads with scenic views, winding through the Moors and the Valley Of The Rocks including one of the steepest roads in the UK and riding off-road for a chunk of the day, too! It is the "ultimate test ride" on the more than capable Africa Twin. Tuition, Africa Twin, bike insurance, pub lunch and even an ice-cream stop included.
The two-day course is a progressive, training course where you'll learn all the skills you need to master riding big bikes off-road. This course is 85% off-road, beginning on relatively easy terrain, building confidence and working on control, before stepping the off-road element up a notch or two!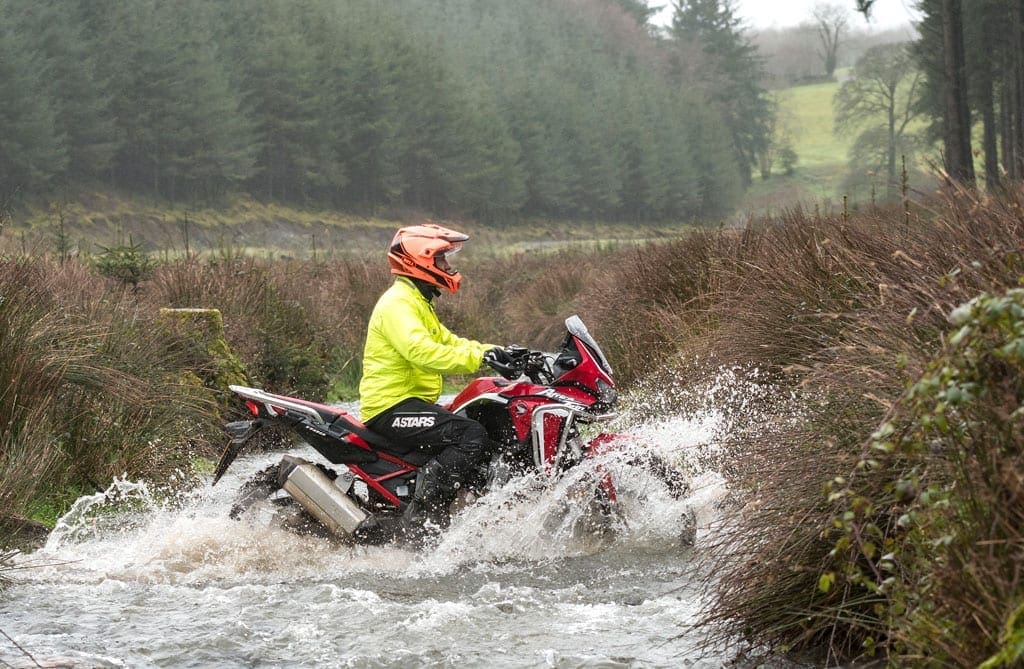 Throughout the course, riders will improve riding position, bike handling, braking techniques, conquering the ruts, mastering throttle and braking coordination on hill climbs and descents and much, much more! Africa Twin, tuition, bike insurance, pub lunch on both days and a two-course
evening meal included.
To top all of this off, the centre is offering an exclusive discount for Motorcycle Sport & Leisure readers on July, August and September dates only. If you book before 5th May 2021 with the checkout code MSL2021, you can get £45 off a one-day tour or £75 off a two-day course. Fantastic!
Heading home
After a day of rolling around in mud, it was time to head back home. This time not only in daylight but glorious sunshine.
Once again the DCT-equipped Adventure Sports made the trip a pleasant one. The combination of an automatic gearbox, cruise control, heated grips and a relaxed riding position make big miles easy. Add to that the eagerness of the new engine and the light and predictable handling, and even busy roads with lots of overtakes are a doddle.
I know I'm starting to sound like a bit of an Africa Twin fan boy, but fear not, over the days that I spent on the bike I did find something to grumble about: the switchgear. How that setup made it to production is beyond me.
On the DCT bike, there are 15 switches in the left-hand cluster, and seven on the right – that's 22 buttons and switches to fiddle with when you're trying to concentrate on riding a motorcycle. Try doing that with heavy winter gloves in the dark and you can guess how that goes.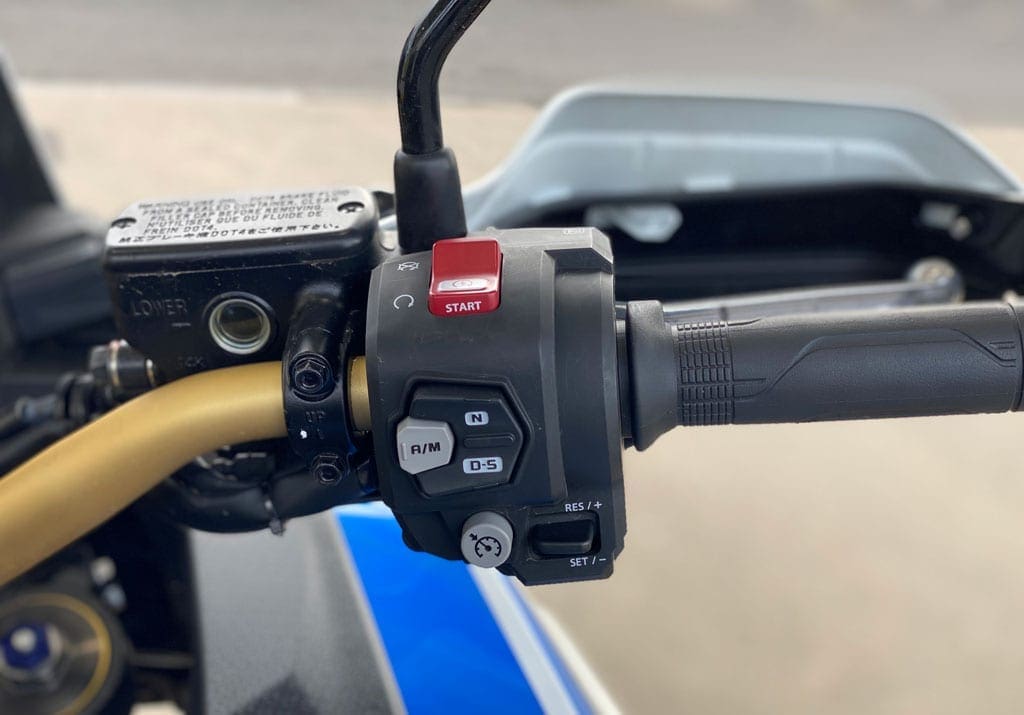 Other than that the new Africa Twin Adventure Sport is a delightful bike to ride. It has been made easier to ride, and more suited for touring with a huge range of updates.
There are not many components that haven't been swapped. In fact, Honda may have scored a bit of an own goal in making the new model look so similar to the old one – you really have to look closely to appreciate how much the machine has changed.
The best way to see if you can feel the changes is to take one for a test ride. Ideally on dirt where you will be able to appreciate the bike's capabilities quicker. And ideally on someone else's bike so you don't have to worry about wrecking it. That's where the Dave Thorpe Adventure Centre comes in. A trip to their Somerset base is very much recommended whether you are thinking of buying one or not – it's the sort of fun that grown-ups don't get to have very often.