The Hornet is back. But Honda's completely reinvented it for the 21st century. Dave Manning explains what you need to know about the hotly anticipated middleweight.
When Honda first launched the Hornet way back in 1996 – as a four-cylinder machine of just 250cc capacity – it was a departure from the normal Japanese domestic market styling of small-capacity machinery, being neither sports bike nor retro machine, and with its 180-section rear tyre was almost a caricature of what a naked bike should look like.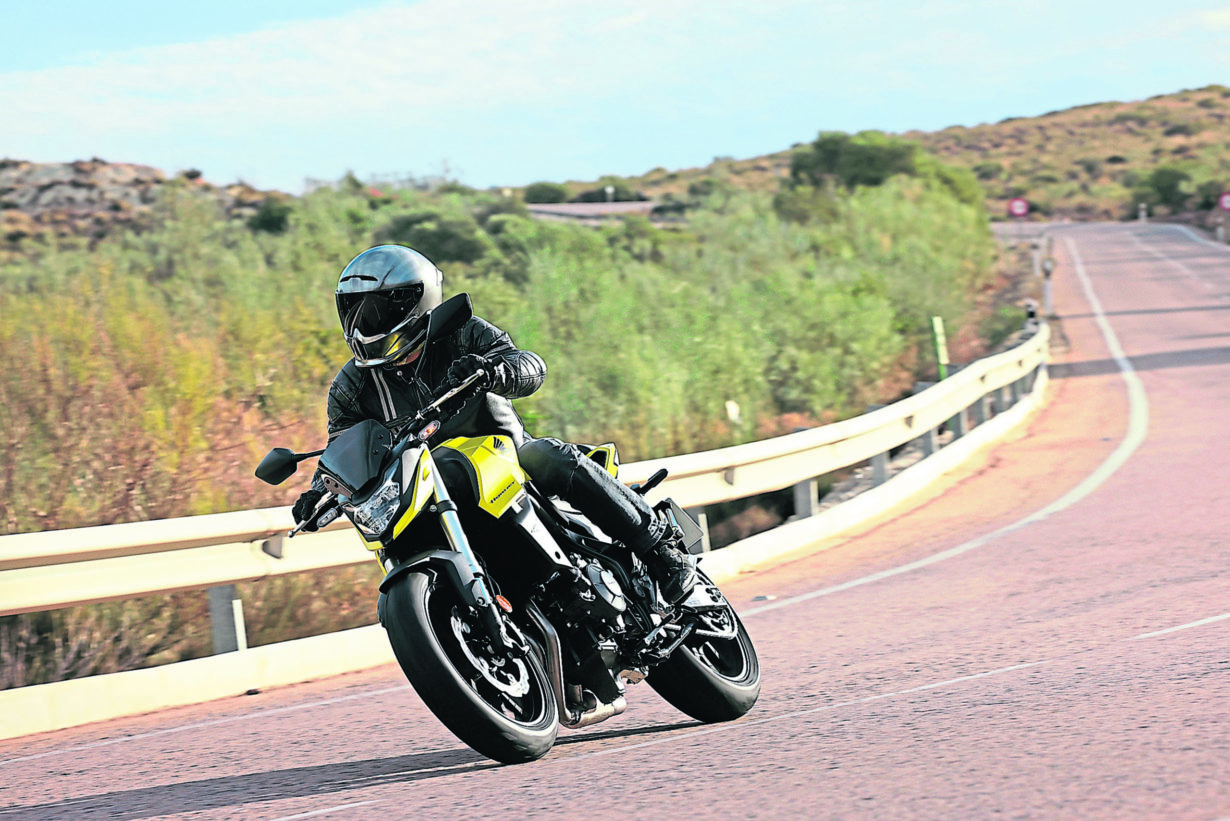 Thanks to the positive feedback from the 250 Hornet, it wasn't long before Honda released a 600 version, using an older CBR600 powerplant, and then a 900 which, in turn, used a detuned FireBlade engine. But while these bikes were bigger, more powerful and higher spec'd, the payback was that the styling became less aggressive and more mainstream.
So, when the factory announced that it would be bringing in a new Hornet of a 750cc capacity, there were some confused thoughts about exactly what engine it would use? After all, the Hornet always used an engine that had been developed for an earlier bike, and what in the recent range was of a ¾-litre capacity?
Simply put, Honda has reinvented the Hornet, using a brand-new, twin-cylinder powerplant of 755cc capacity. As is common with 21st Century parallel twins, the crank configuration is set at 270°, giving a power delivery (and sound) closer to that of a 90° vee twin, but Honda hasn't simply gone down the same road as other manufacturers as the new motor has made some significant steps away from convention, including a very over-square configuration of 87mm bore and 63.5mm stroke.
Regardless of engine design, what really matters is how a bike rides. And the new Hornet is pretty damned impressive, it has to be said.
Although I was surprised at the fact that the new 750 has only got a 160-section rear tyre, which has been justified by Honda as allowing a greater agility and giving 'kibi kibi', a Japanese term for flickability. This is also aided by the fact that the new 750 has a short wheelbase of just 1420mm (although I did notice that all of the bikes on the launch had the chain adjusters very close to the maximum), and quite a steep rake and short trail for a naked bike, too (of 25° and 99mm respectively).
Yet, despite the figures suggesting a bike that might err on the side of instability, not only was the Hornet really easy to fling from side to side through the entertaining switch-back bends west of Mojacar in southern Spain, but also there was never a shake of the head or a flap of the handlebars when running over ripples, divots or white lines when leant right over.
The suspension feels reasonable, certainly for the price point at which the Hornet sits, although it's fairly clear that the forks and rear shock aren't of a standard that might be fitted to a more expensive machine. The brakes are also of a standard that fits the price, in that they are great, but not of an equal to bikes higher up the range. My only complaint was that the non-lean sensitive ABS kicked in a little too early, although that was, to be fair, only through a little experimentation to find out how soon it did operate, and for most road users in everyday use it would never intrude at any point.
Some might also be questioning the choice of colour schemes, especially for the matt finish Goldfinch Yellow, which in some lights does look a little sun-faded… But I must stress that that is only in some lighting conditions, and it really does look a heap better when in bright sunshine (and it does match the colour of my eyes…). The other schemes – Graphite Black, Pearl Glare White and matt Iridium Gray Metallic – will probably prove more popular in the UK, with potential British purchasers being a little more conservative in their choices, but it will be very interesting to see how it fares with sales, especially with the new Suzuki GSX-8 coming soon.
ENGINERather than rehash an inline four powerplant from a previous production model, the new Hornet has a brand-new 'uni-cam' 755cc parallel twin.
WHEELSWho would have predicted that the new-for-23 Hornet would be the one that had the narrowest rear wheel in the model's history?
TECHThe 5in TFT dash can connect to your device to allow interaction with navigation, music and calls.
AIRThe design of the induction channels has been focused on creating a vortex, speeding up the inlet flow and swirling into the combustion chamber to help combustion over the wide piston area.
TYRESThe Honda will arrive in your local dealer with either Dunlop Roadsport 2 or Michelin Road 5 tyres, although you may not actually have the option and it could depend entirely on the availability of each type.
TANKHolding 15.2 litres, the tank should, with the fuel consumption that Honda claims, be good for a very reasonable 210 miles-plus range.
PIPESSurprisingly loud for a production Honda, and surprisingly characterful, too, resulting from some inspirational and focused engineering.
Specification
Honda Hornet 750
Price: £6999
Engine: 755cc, parallel twin, 270° crank, single overhead cam, water-cooling, 8 valves
Power: 91bhp (67.5kW) @ 9,500rpm
Torque: 55lb-ft (75Nm) @ 7,250rpm
Frame: Steel diamond
Wheelbase: 1420mm
Brakes: 296mm discs, 4 piston radial mount Nissin callipers (F), 240mm disc, single piston calliper (R)
Transmission: 6 speed, chain final drive
Suspension: Showa 41mm SFF-BP forks, 130mm travel (F), Pro-Link monoshock, 150mm travel (R)
Wheels/tyres: Cast aluminium wheel, 120/70ZR17" tyre (F), cast aluminium wheel 160/60ZR17" tyre (R)
Seat height: 795mm (31.8")
Fuel capacity: 15.2 litres
MPG: 64.7mpg / 4.3l/100km (claimed)
Weight: 190kg (fully wet)
Warranty: Two years
Contact: www.honda.co.uk
#honda #hornet #2023 #morebikesyoulike #motorcycles #readersrides #motorcycle #ukbikers #bikelife #bikers #motorcyclists #morebikes #morenews #motorcyclenews #motorcyclegear