Off-roading on road bikes is one of the best things on two wheels, as Mossy and Mikko found out…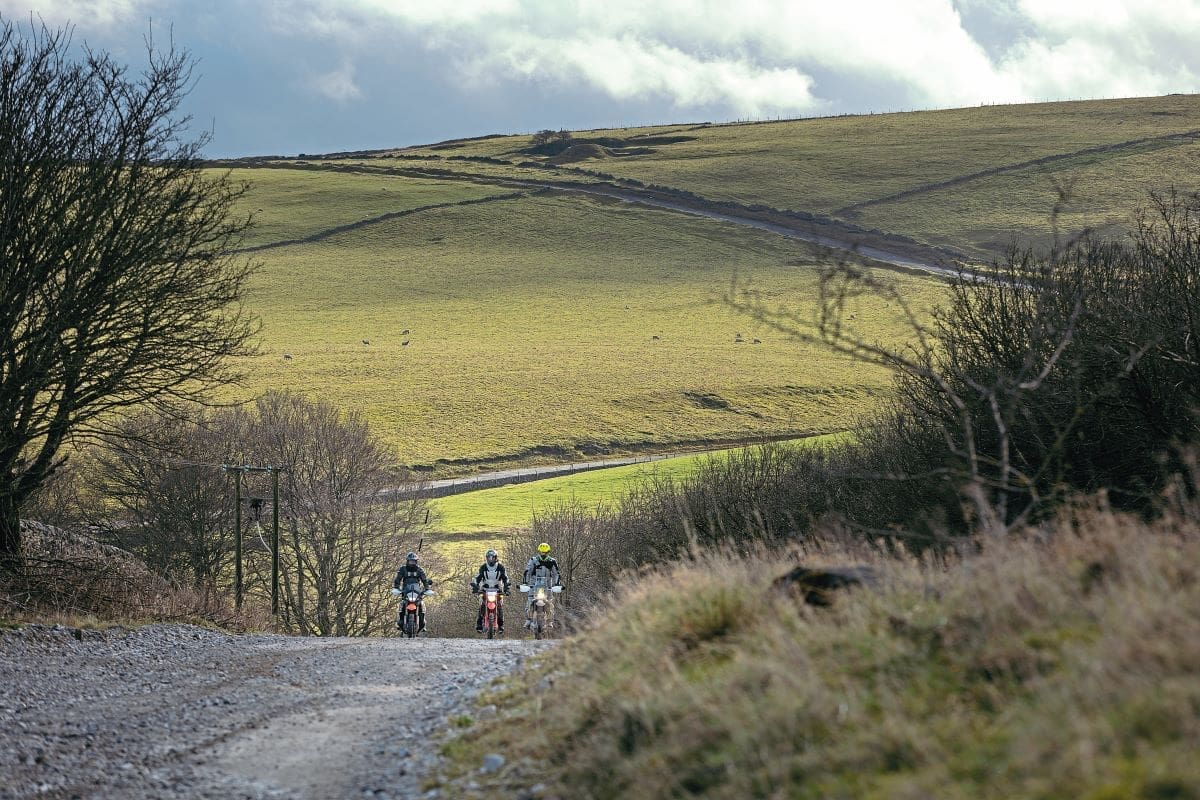 WORDS: Chris Moss PHOTOGRAPHY: Gary Chapman, Mikko Nieminen
This trip had all the makings of a real adventure. A day-and-a-half trail riding in the Peak District was more than likely to provide plenty of fun, challenge and reward. Not to mention a story or two to tell down the pub later. It's a beautifully scenic zone, and thanks to us being assisted by a very knowledgeable local guide, able to take us along the best routes to all the right places, Mikko and I couldn't wait to get our wheels turning. To add further interest, we'd both ride from our homes to the Peaks on the same bikes we'd then use to tackle the trails, the primary aim of the trip being to show how you can use your road bike to go green-laning.
There aren't quite as many of these true dual-purpose bikes on the market as there once were, but we both ended up being happy with our contrasting choice of a Honda CRF300L for Mikko, and KTM 890 Adventure R for myself. Both were appropriately modified by fitting knobbly Dunlop tyres to suit the challenges ahead. Guide Steve would lead us on his more off-road focused Husqvarna 701 Enduro. He'd kindly agreed to take time off from his busy business to help make the experience run as smoothly as possible, and help us deal with anything if it didn't! His assistance would be especially useful for Mikko, as he's quite new to green-laning.
Meeting up at the excellent, bike-friendly Yondermann café in the heart of the Peak District, we discussed our ambitions and abilities to explore the Peaks over lunch. Mikko and I had already had pleasant enough road journeys that morning. The KTM 890 hadn't broken sweat during my 140-mile scenic run from the Cotswolds. I'd deliberately taken things easy to reduce unnecessary wear of the softer, more off-road focused Dunlop tyres. That slower pace was reflected in the superb 73mpg the parallel twin had recorded, with its all-round manageability and comfort also helping to make the trip so enjoyably easy. Mind you, there's no doubting the 890's size and height were enough to make me feel a little apprehensive about how it might behave off-road.
Mikko hadn't travelled quite as far, but reported his modestly powered, but quite peppy Honda had coped well enough, with the 60-mile journey to be considered surprisingly agreeable. Being as light and agile as it is, had helped all the more.
---
Steve Hague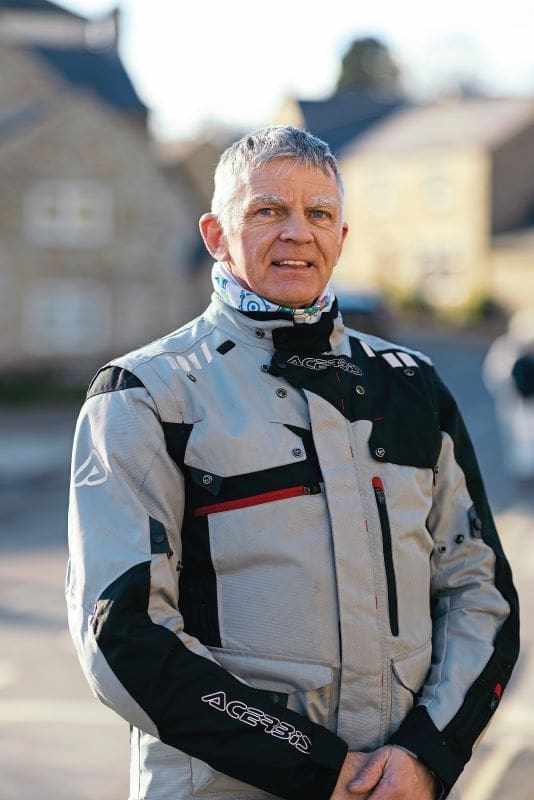 Glossop resident and our guide for the day, Steve Hague, has vast off-road experience, and great knowledge of the Peak District. Riding since the age of 15, in and out of competition on a variety of bikes including British championship sidecar motocross, trials and enduro, he's had lots of race and championship victories. Oh, and he's also a two-time Dakar finisher! Several years at the BMW Off-Road Skills School have given him excellent tutoring abilities. He's still enjoying riding and racing at home and abroad, and is adding more and more road riding to his huge portfolio.
---
Help at hand right from the start
Steve's massive, near 50 years of off-road experience had me worried a little about how bored he might feel from riding on what I'd insisted would need to be very easy trails to suit Mikko's inexperience. I may well have been riding on the dirt for over 10 years now, but I can still vividly remember how daunting it can all feel when you first give trail riding a try. Given Mikko was effectively going to be a bit of a guinea pig for another main consideration of the ride – how to introduce a newcomer to trail riding – I wanted to ease him in gently to the whole experience, allowing him to learn as much as he could in the short time we had, but without too much pressure and intimidation. Doing things that way, it was much more likely Mikko would enjoy things and continue wanting more. Suffering too many mishaps too soon can permanently put people off.
Great guidance helps
Steve's guidance proved invaluable in this regard right from the off, with his choice of less taxing but interesting routes also paying dividends for me on the KTM. Despite having a fair bit of off-road experience, the vast majority of my riding has been done on pukka enduro bikes. Their slimness and very light weight make them a lot more manageable than the likes of much bigger adventure bikes such as the 890. Luckily, my worries were increasingly lessened, and the dry, hard-packed surfaces soon had the KTM feeling more and more controllable. That's not to say there weren't times where progress was trickier to master, but even though the adventure bike is relatively big and bulky, it's also well-balanced and rides on very compliant suspension. It ended up taking a lot less time to believe what it could handle than I'd initially expected. Mikko was also gaining confidence, taking on some slightly muddier rutted sections, as well as several rockier climbs and descents on his 300 with apparent ease. He'd later admit, he didn't always think he'd get through them all, but that all-important commitment and confidence were clearly in place. He thought the very-easy-to-manage Honda had very much played a part in his success.
A great first outing
We'd had a great afternoon, appreciated and learned plenty, and had both stayed on board. Steve had kept the level of challenge about right to deliver a good sense of achievement, without any of the typical downturns that can punctuate trail riding. Then it was off to the pub to review the experience and plan ahead. Post-ride appreciation is often one of the best parts of the day. For sure you feel good when you're riding, especially when you successfully get though more technical sections, but you're often just a little too busy to realise just how much fun you're having until you're free to consider it all afterwards.
---
General tips
Off-road riding is a fantastic form of biking, but getting the best out of it needs the right attitude and approach. It's all too easy to think it's easier than it is, especially if you've been road riding for a long time.
Accepting it can be more exacting and challenging, and at times very much a test of your character, is important. Realising you're occasionally likely to get stressed, mentally and physically tired, and will undoubtedly topple off your bike, are all realistic considerations. Provided you make it easier for yourself to be begin with though, you'll be able to make those sorts of setbacks more infrequent. With greater experience you're likely to sample the highlights far more often. Discipline, determination, patience and humility are all helpful traits.
What to take
As you'll end up riding in more remote zones where help isn't always at hand, packing a few basic items can help you deal with the potential of more serious fun-killing issues is essential. A good selection of tools is a must, as is the means to repair a puncture or replace an inner tube. Tape, lock-wire and zip ties can prove priceless at times, as can a nylon luggage strap to tow you to a better place. Carrying water and snacks make sense. As do a mobile phone and charger, head torch and some spare levers. An OS map or app can be useful.
---
Learning as you go
Steve began the next day with some more basic advice on better bike control, reminding Mikko of the importance of stuff like staying relaxed, body position, standing on the pegs whenever possible, and the benefits of looking well ahead. He also gave us tips on picking up a fallen bike – something I found useful just minutes later! Being as exacting as it is, there's lots to learn if you want to ride a bike competently off-road. Finding grip on loose or slippery surfaces might seem almost impossible in the early days, but just as Mikko was proving hour by hour, the more you ride the more of the 'how to ride off-road' programme your brain successfully downloads.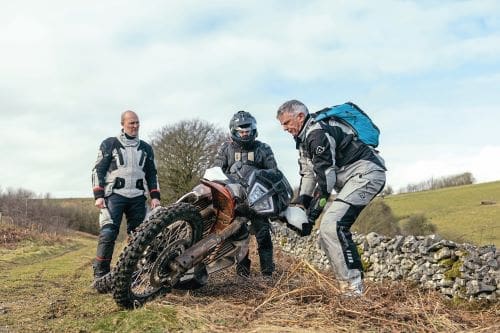 Onward and upward
The overnight break had certainly seemed to allow me to feel more familiar with the 890 on the second day. Tackling steeper gradients was less daunting, and as if by magic, grip appeared to increase round corners. That's not the case of course, but when you feel more at home on a bike, that vital positive perception of how things are going to turn out definitely improves.
Mikko's confidence level continued to grow too, with him looking a lot more at ease on his Honda than he had done when he first started yesterday. Clearly more used to the feeling of his bike moving around on loose terrain, things had clicked with him enough to look and sound distinctly more competent. He might not have been whooping with joy, but over a light lunch in the pretty village of Eyam his increasing ease and enjoyment of off-roading was clear to witness. That level of happiness would rise appreciably more by the end of the day.
---
Tyre choice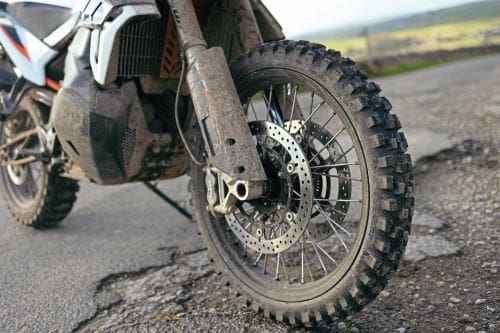 On very gentle, bone-dry and hard-packed trails you can get away with road tyres. However, in order to cope with conditions less perfect than those, boost your enjoyment, accomplish far more, and significantly increase your chances of remaining upright, fitting some more suitable off-road rubber is very much advised. Swapping to Dunlop D606 trail tyres allowed Mikko to get the most from himself and his Honda. The 90/10% off-road focused rubber gives good grip in all conditions. I had a D606 fitted to the front of the KTM, but given its weight and power, a more durable D908RR Rally Raid was fitted on the rear. The KTM's advanced electronics helped to safely manage their reduced road grip.
Like the bikes themselves, it's impossible to have a single tyre that copes perfectly with both road and off-road routes. You have to compromise grip and wear. The majority of major manufacturers have rubber to suit, though the bias of their on-/off-road abilities varies. Generally speaking, the more appropriate they are for each environment, the less suited they'll be for the other.
Clothing
Wearing appropriate kit makes trail riding a lot safer and more enjoyable. Tougher, more supportive off-road boots are an essential starting point. Ankle injuries are more likely without them. Robust, textile clothing helps protect you from branch and rock abrasion – all too easy to experience, even if you don't actually crash. Given that falls are part and parcel of off-road life, wearing knee and elbow armour is wise. Some riders go further and use back, chest and neck protection. It all makes sense, though you can suffer a bit in warmer weather. Opinions on the right helmet vary. Off-road helmets give more breathing space than full-face road, or even adventure-style lids. Their peaks help protect your eyes from flying dirt and debris. Eye protection is essential, with goggles, safety glasses and visors being options. Gloves need to be lighter than road gloves to give better feel and ventilation.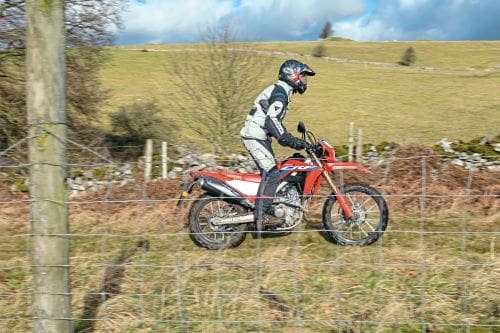 TRF
One of the very best organisations to consult for help and advice is the TRF, Trail Riders Fellowship (trf.org.uk). TRF members can assist with all manner of things from route and riding advice, to helping you find riding companions. There are almost 50 local groups which regularly meet for ride-outs and socialising. The TRF and its members are a fountain of knowledge and collectively have hundreds of thousands of miles of riding experience between them to assist you with your off-roading.
Schools, guides
Gaining off-roading experience at a reputable school where you can use their bike and riding kit makes a lot of sense before you commit to using your own.
Guides are well worth considering, especially in your early days of green-laning, or if the area you plan to ride isn't too familiar. Just like Steve did in our case, they can take away a lot of the potential hassle such as finding and altering routes to suit your ability level. Guides know where to ride legally, where facilities like petrol stations, B&Bs and cafés are, and can give you lots of tips on how to enjoy your riding more. Good ones are priceless.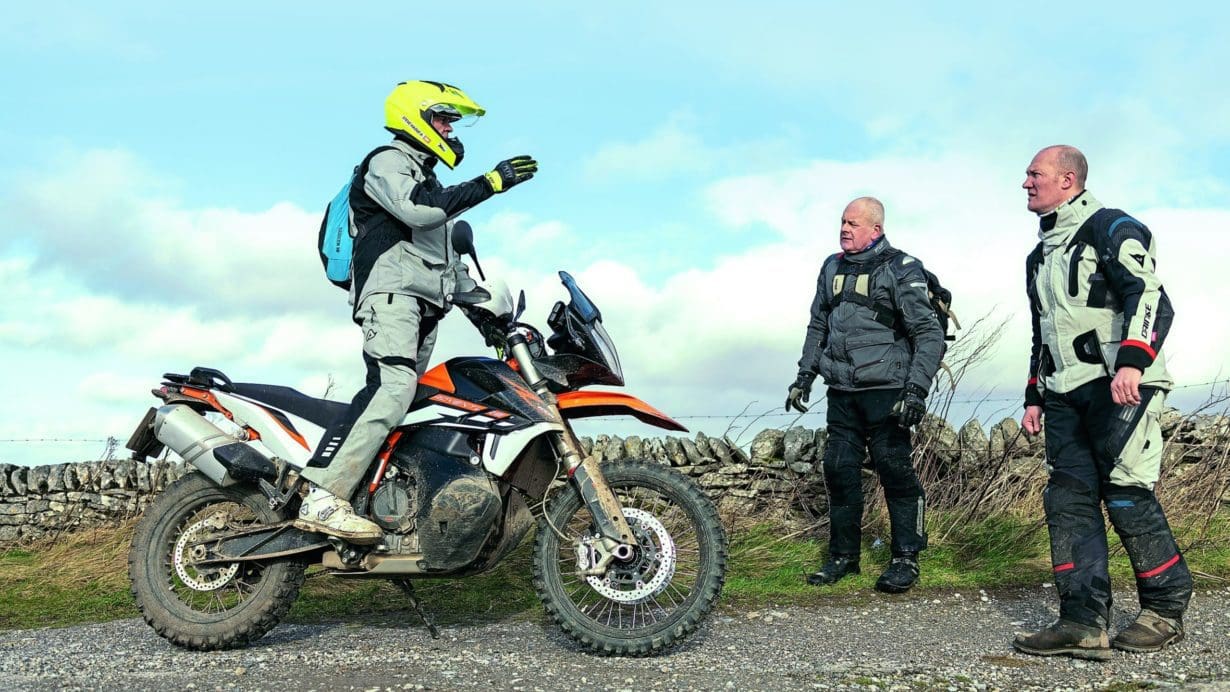 ---
It's a pretty, peaceful part of the world
Taking photos served as a reminder of just how attractive the Peak District scenery really is. Vast, unhindered, spectacular landscapes appear regularly when you're out on the trails. Rolling hills and valleys, with the trademark patchwork of open fields bordered by mile after mile of drystone walls are very appealing to the eye. You might never be very far from civilisation, but at times you feel as though you've escaped from the masses completely, such is the remote feel of many of the locations along the green lanes. Ironically, trail-riding is great socially. Pulling up as often as you do to admire the views, open gates, or debate stuff like the way you're going to tackle a trail, or the fun you've just had getting through the last one, gives you a regular chance to chat to each other. Green-laning is great fun, and it's made all the better by sharing the experience with your riding companions while it all happens.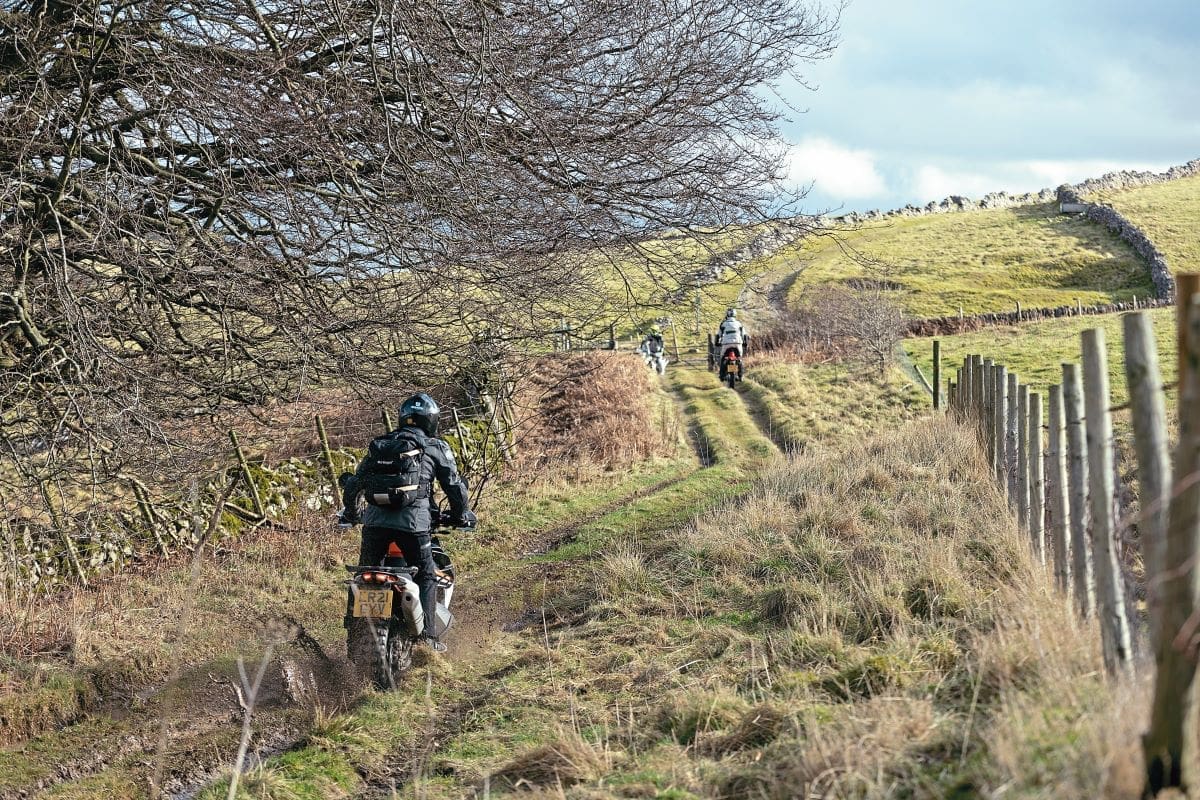 But I want more
As with all great things, the day had to end way sooner than we wanted. But once again, as soon as we got off the bikes and had the chance to look back on our 75-mile-long day, the fun of it all was recalled and relived. Mikko admitted he'd really enjoyed it, especially because he felt so well looked after. Not needing to worry about things like getting lost, riding where he shouldn't, and being able to count on help to sort things if they went wrong really put him at ease and allowed him to concentrate on the ride. He felt some of the climbs and descents were challenging, but had been relieved to find the riding far less daunting and scary as he'd expected overall, and was clearly chuffed with what he'd achieved, as were both Steve and I. Both of us had enjoyed taking things a little easier than normal by avoiding some of the more extreme terrain and getting a better chance to savour the many pleasures of the Peaks. Steve added he'd especially liked seeing Mikko's progress and enjoyment from it all. He thought he'd been a great pupil with the right attitude to learn, charitably stating he'd found it really rewarding to have played a part in making the experience as satisfying as it'd been.
For me, the carefully measured nature of Mikko's learning and experience was the primary reason for the success of his trail riding in the Peaks. Though better still, was later learning he'd been out with some local TRF riders after he'd got home. Clearly converted to the joys of trail riding, he added he'd joined the TRF and was looking forward to doing some more green laning whenever he got the chance. Now if that isn't a positive verdict on the outing, I don't know what is!
---
Preparation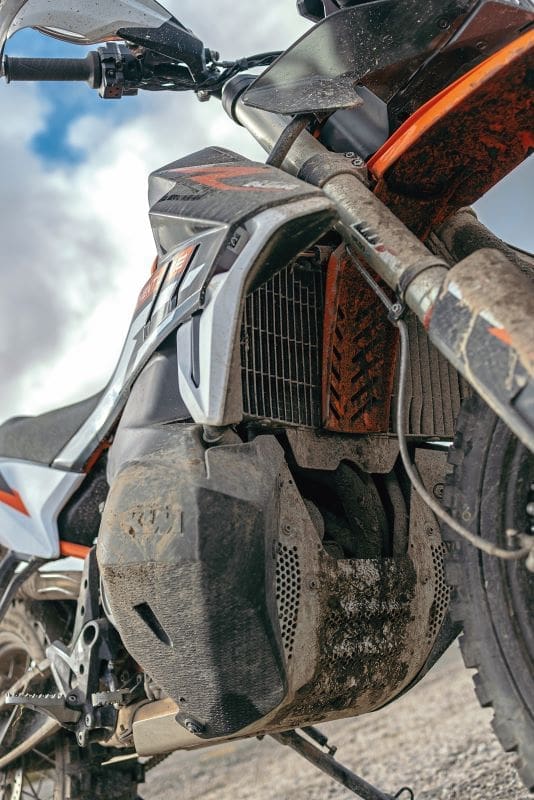 Prep your bike as well as you can. If it's serviced and looked after you're a lot less likely to have troubles or breakdowns in more remote locations. Breakdown services won't come to your assistance until you get back to the road. Fitting handguards, a bash plate and flexy reg plate are good ideas, and likely to help you keep your wheels turning. One last, absolutely crucial thing – never ride alone. Without help, even the smallest injuries and problems can become disproportionately larger.
Where to ride
Don't think you can ride anywhere you fancy off-road. Authorised byways are the only routes you can ride legally. You're not allowed to venture along footpaths, bridleways, or even restricted byways. Finding what's open isn't always easy as restrictions and the status of routes is constantly changing. If in doubt consult a local riding guide or the TRF for the latest advice. And always bear in mind, byways require the same road tax and insurance as normal roads. As walkers, cyclists and horse riders are also entitled to use them, take care.
Bikes to consider
Choosing a bike suitable for both road and off-road use depends on many things, especially your level of ability and type of terrain you wish to tackle. For the newcomer, the Honda CRF300L is just about perfect.
Light, modestly powered, and very easy to manage, it makes the adjustment to off-roading life a lot less of a challenge. KTM's 390 Adventure, and Royal Enfield's Himalayan are other useful considerations when it comes to bikes of this sort.
At the other end of the scale, the weighty and potent KTM 890 Adventure R isn't as user-friendly. It's okay on easier trails, but its real advantage comes when your chosen off-road route is sited further away. They're quite capable of being ridden to Europe to sample some of the distant trails in the Alps or Pyrenees. Yamaha's Ténéré 700 suits this sort of role very well, too. These types of bikes perhaps need to be considered as machines to graduate to, rather than begin with. Older, cheaper used machines like Honda XR250s and 400s, or Suzuki DRZ400s, are also worth a look.