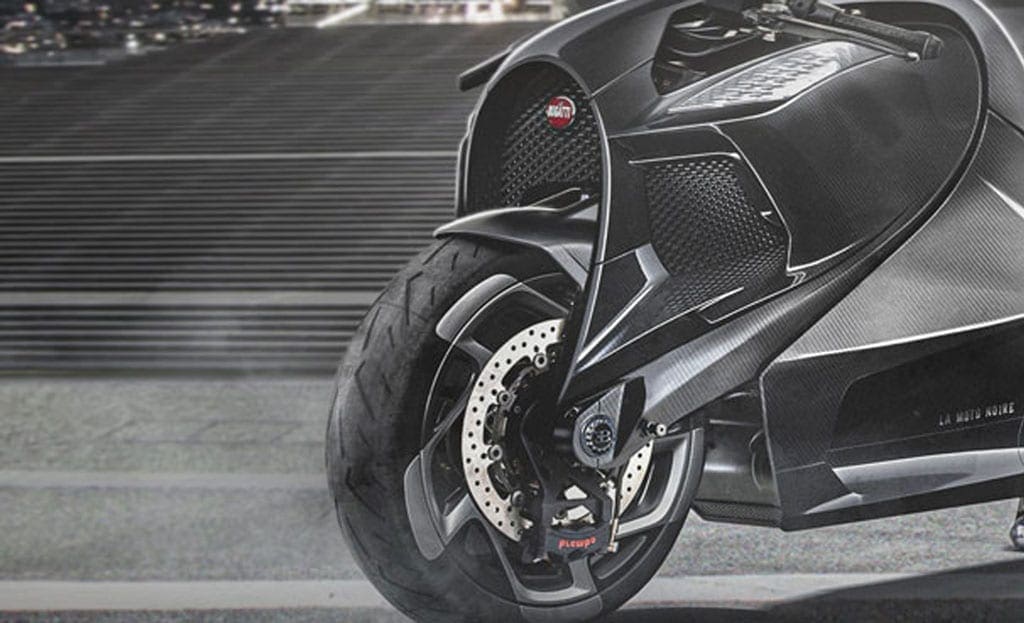 Words & Images: Budget Direct Motorcycle Insurence
Unbeknownst to some, certain car brands started life by making motorcycles. Take Honda, for instance, or BMW. But what if iconic car brands made motorcycles?
Budget Direct Motorcycle Insurance took six automakers consisting of two Brits, a quirky Japanese, two electrified Americans, and a French record-holder and went to work. The team specifically chose brands that you wouldn't normally associate with two wheels, and here's what they came up with.
Aston Martin Café Racer
Aston Martin was established in 1913. The brand is best known for the DB5 grand-touring car from the 1964 James Bond film, Goldfinger. But for die-hard auto enthusiasts, Aston Martin is known for making some of the world's most beautiful cars.
The brand has recently expanded its portfolio with the new DBX SUV. Most recently, it collaborated with the English motorcycle brand Brough Superior in producing the limited-edition AMB 001, a $120,000 superbike.
Instead of creating a megabuck track star, we chose a different route and created an Aston Martin café racer. For inspiration, we fixed our eyes on the magnificent DB4 GT Zagato Continuation model, part of the $7.2-million Aston Martin DBZ Centenary Collection. For the price, you get a vintage-modern DB4 GT Zagato and the new DBS GT Zagato.
In terms of retro appeal, it's hard to deny the DB4 GT Zagato's meticulous coachwork. Our Aston café racer inherited the gorgeous wired wheels and round headlight design of the DB4. It also has a bulbous gas tank, circular side mirrors, and a smallish windshield to complete the retro vibe.
---
Bentley Touring Bike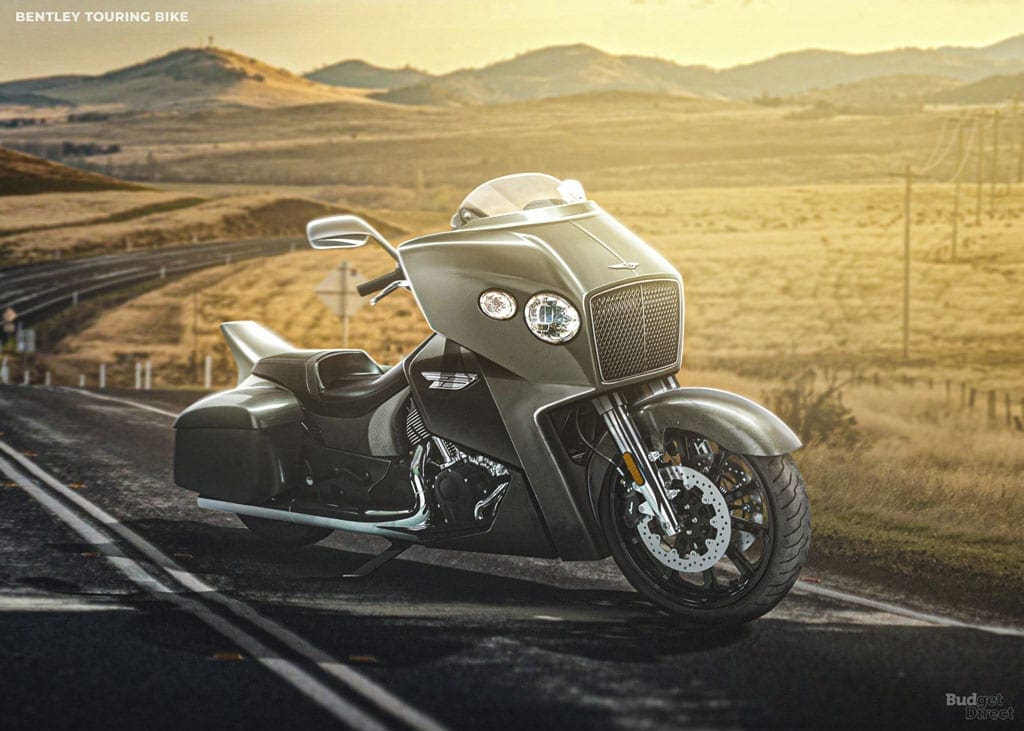 The Honda Gold Wing is the quintessential touring bike, although Honda is not the first name that comes to mind when it comes to 'road luxury.' On the other hand, British carmaker Bentley is known for taking luxury to the next level, hence our rendition of a Bentley touring bike based on its newest Bentayga SUV.
Our Bentley touring bike is longer than a Gold Wing and has limousine-like proportions. It offers generous seating for two, and the pair of large saddlebags offer enough cargo room for a short, weekend getaway. All the familiar Bentley styling cues are present, including twin round headlights and a massive front grille – the latter hides a large radiator to cool the bike's massive V-Twin motor.
---
Bugatti Superbike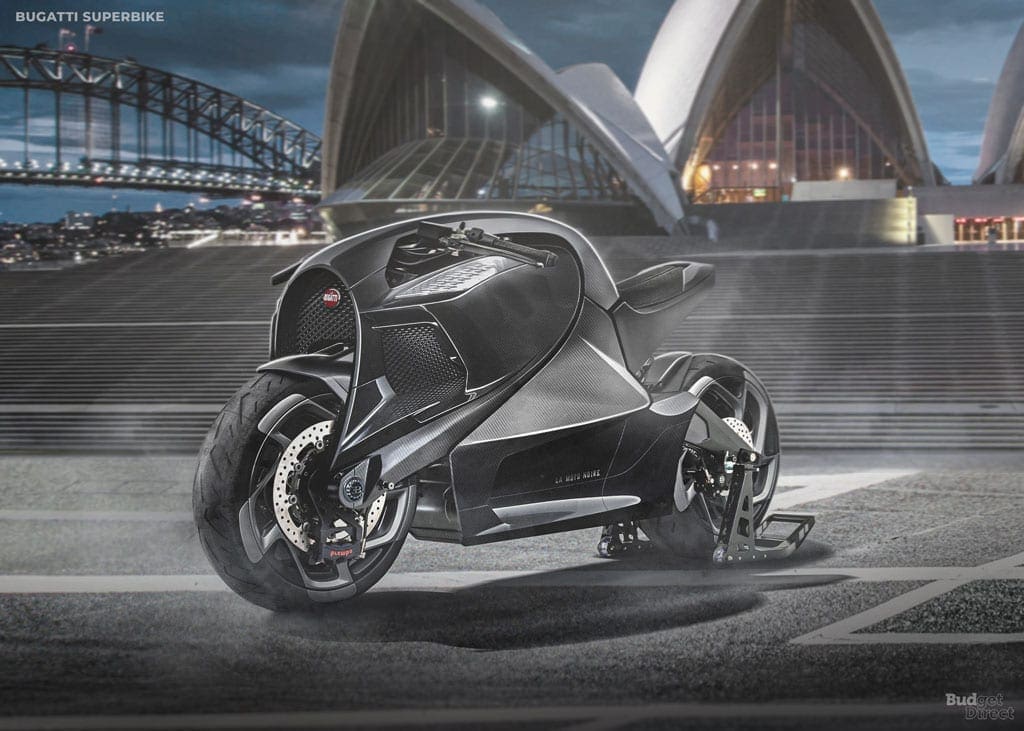 Without question, the Bugatti Chiron – and its predecessor the Veyron – is the ultimate record-breaking hypercar. The Chiron remains the fastest production vehicle in the world, and it's also one of the most expensive cars on sale today. It's only fitting to create a superbike based on the Chiron, but we didn't settle for the standard model.
No, we went full Monty and sought the $19-million Bugatti La Voiture Noire for our superbike. The result is 'La Moto Noire,' our vision of the fastest (and most expensive) superbike ever made. Bugatti's iconic C-line forms part of the front assembly and forks of the bike, while the wheels, headlights, and exposed carbon-fiber body panels are lifted directly from La Voiture Noire.
---
Mitsubishi Scooter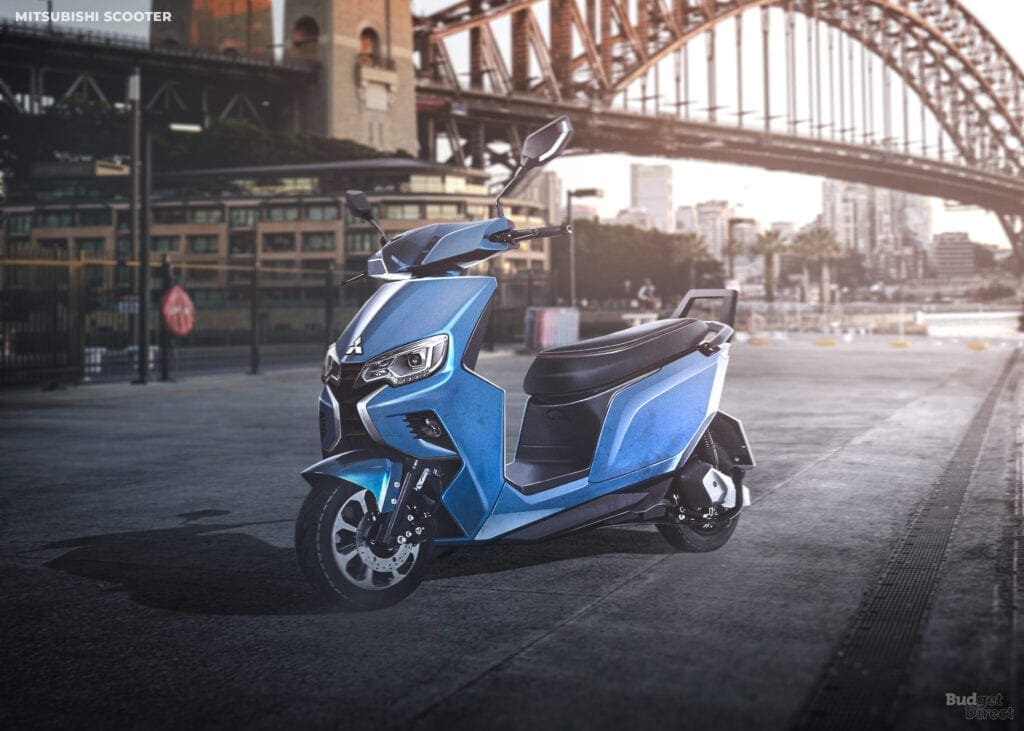 Japanese car brand Mitsubishi is best known for the mythical Lancer Evolution series, but that was back in the early to mid-nineties. Now, Mitsubishi is part of the Nissan-Renault alliance and has ditched making rally-bred, fire-breathing sedans for practical subcompacts and SUVs.
Among the brand's offerings is the Mitsubishi Mirage, one of the most fuel-efficient, non-hybrid vehicles in the market, capable of achieving 38-43 mpg even with a heavy lead foot.
As such, the Mirage reminds us of a basic scooter. Small in size yet packing a large seat, our Mitsubishi scooter has rugged tires, comfortable suspension, and a familiar Dynamic Shield face. And like the Mirage, it gets the job done with minimal fuss.
It doesn't have a dinky three-cylinder motor like the Mirage, but it does have a dinkier 1.0-liter, single-cylinder EFI engine, and a large gas tank to deliver exceptional mileage.
---
Rivian Dirt Bike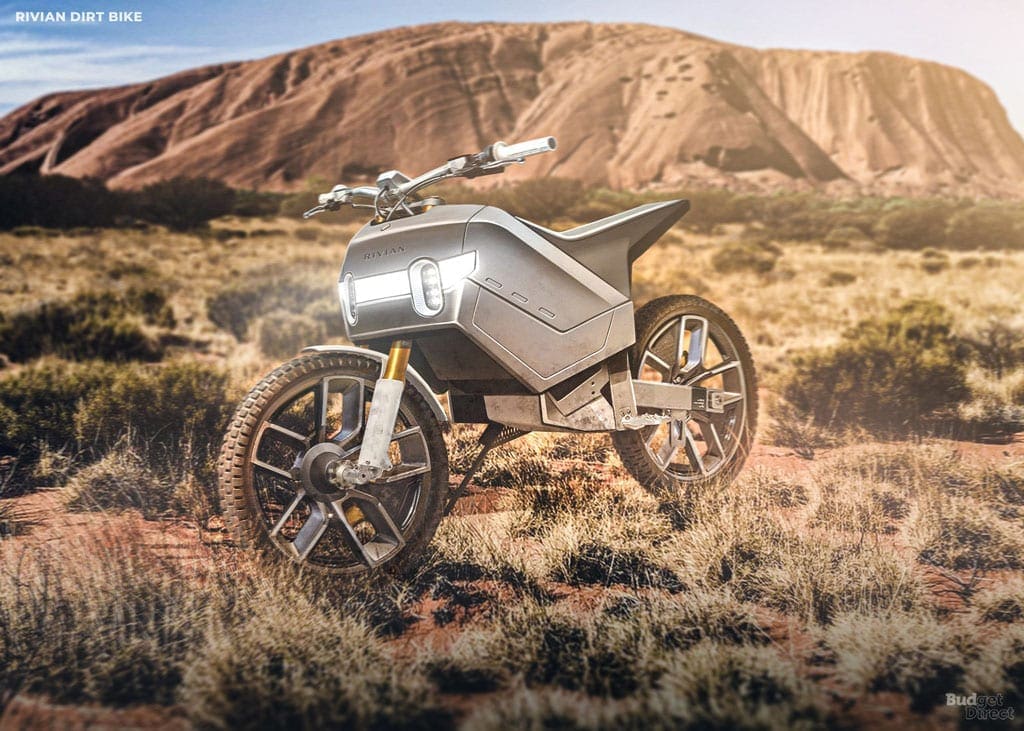 Rivian is making 'noise' with its R1T electric pickup truck and R1S SUV. Both vehicles are destined to become the first all-electric off-roaders with genuinely rugged, go-anywhere capabilities. This led us to render the future of dirt bikes or eMotorcross.
Like the Rivian R1T, our dirt bike is all-electric with twin hub-mounted electric motors, a modest battery pack, off-road suspension, and regenerative charging technology.
The simple, no-frills design is a definitive nod to the Rivian R1T's utilitarian roots. And like the R1T, our Rivian dirt bike has oval stadium lights with LED headlamps and a smallish light bar.
With only two wheels, our Rivian dirt bike is incapable of making a stationary 'tank turn' like the R1T pickup, but it still offers massive grip and tons of torque to conquer the wild outdoors.
---
Tesla Sports Bike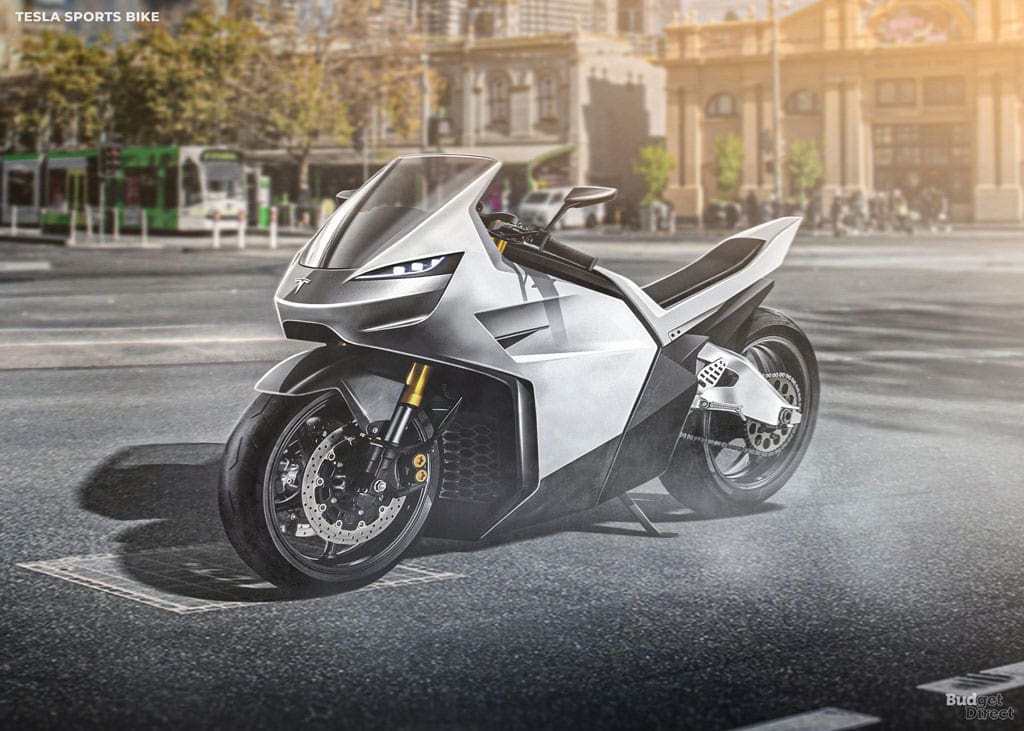 Our Tesla sports bike is seriously threatening Bugatti's superbike for the 'fastest motorcycle in the world' title.
Based on the much-anticipated Tesla Roadster v2.0, our electric superbike goes as fast as it looks. But unlike the incoming Tesla Roadster with its curvy body, our Tesla sports bike has sharper lines akin to a Nighthawk stealth fighter.
The new Tesla Roadster is a quick car with three electric motors, an extended-range battery pack, and cold gas thrusters courtesy of SpaceX.
Meanwhile, our Tesla sports bike has twin hub-mounted electric motors, air suspension, massive brakes, and a lower center of gravity. It's not about how fast this bike can go, but how long you can hold on for dear life.
---
Budget Direct Insurance
Budget Direct has been offering Simply Smarter insurance since 2000. They have insured over 1.5 million Australians since then.
Their policies are underwritten by Auto & General Insurance Company Limited, an Australian insurance company regulated by APRA and a member of the Insurance Council of Australia.
Budget Direct has won Money magazine's Insurer of the Year award again in 2018 (they also won this prestigious award in 2017, 2015 & 2010).
Also, Budget Direct is the only provider to have won the coveted CANSTAR award for 'Outstanding Value Car Insurance' every year since 2007. Recently adding the 2019 CANSTAR national award to its long list, that's 13 years in a row! Visit Budget Direct at www.budgetdirect.com.au