168bhp Multistrada V4 mixes superbike power with real-world performance and latest electronic riders aids. This is high speed adventure touring on a new, advanced scale.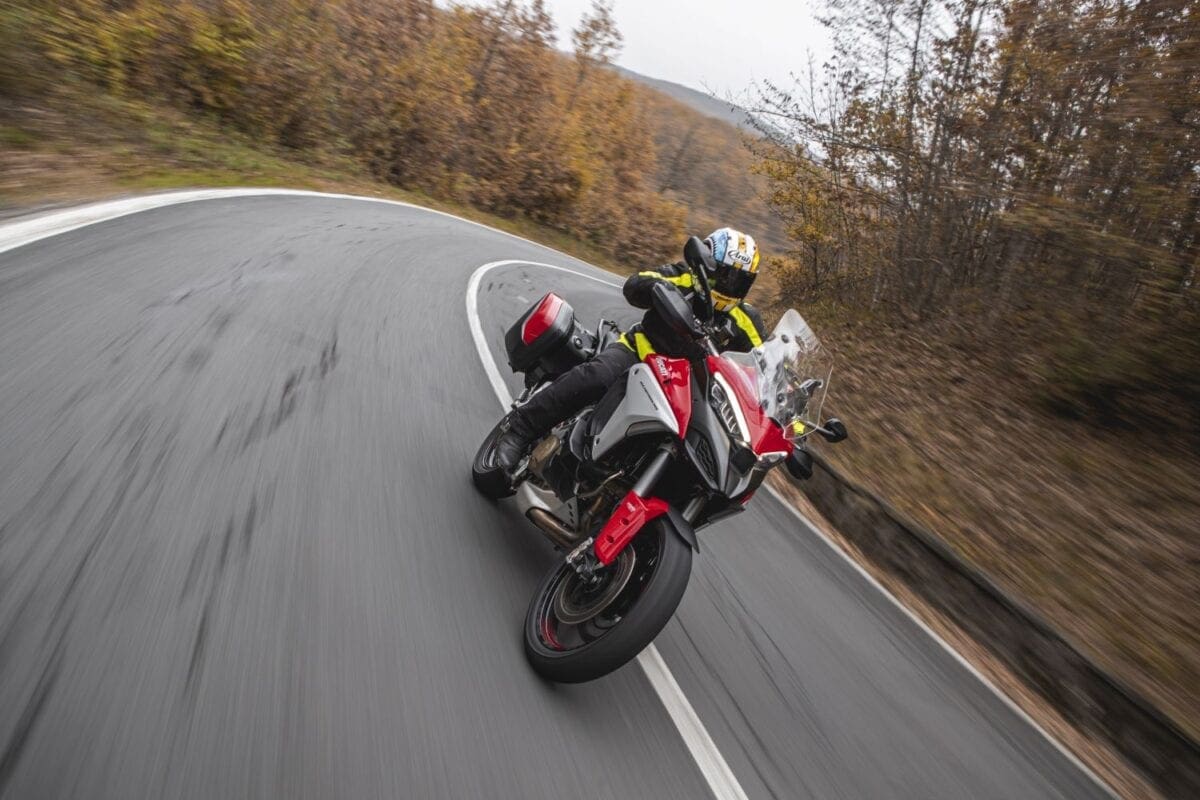 Ducati's new Multistrada V4 for 2021 is completely different from the now discontinued V-twin Multistrada 1260 – it's a huge makeover and a big step forward over the previous model, itself an excellent bike.
Virtually nothing remains of the old bike. There's a completely new V4 engine, a new, lighter chassis, new wheels, including a more off-road oriented 19in front. There is also class-leading technology never before seen in the motorcycle market, like rear and forward-facing radars, and a new stunning look and style.
This V4 represents a dramatic attempt to move away from the Multistrada 1290 V-twin, a class-leading adventure bike in its own right. Can you imagine Claudio Domenicali, Ducati MD, at the bike's original briefing? "Okay, we already produce a world class, market leading adventure bike, but I want a new and vastly improved one, with a new chassis, new engine, new tech, new look – and I want more off-road ability with a 19in front wheel'. A huge ask.
Is it powered by a superbike engine?
So where do we start? The new V4 is derived from the Panigale superbike with a counter-rotating crank, but very little of that 214bhp motor remains. The big talking point is the switch to conventional spring-operated valves, rather than desmodromic actuation, which has been used on virtually every Ducati since the '70s. The main reason for this is to extend the service intervals to an industry-leading 36,000 miles (60,000km), before the clearances need checking, as opposed to 18,000miles (30,000km) on the desmo V-twin.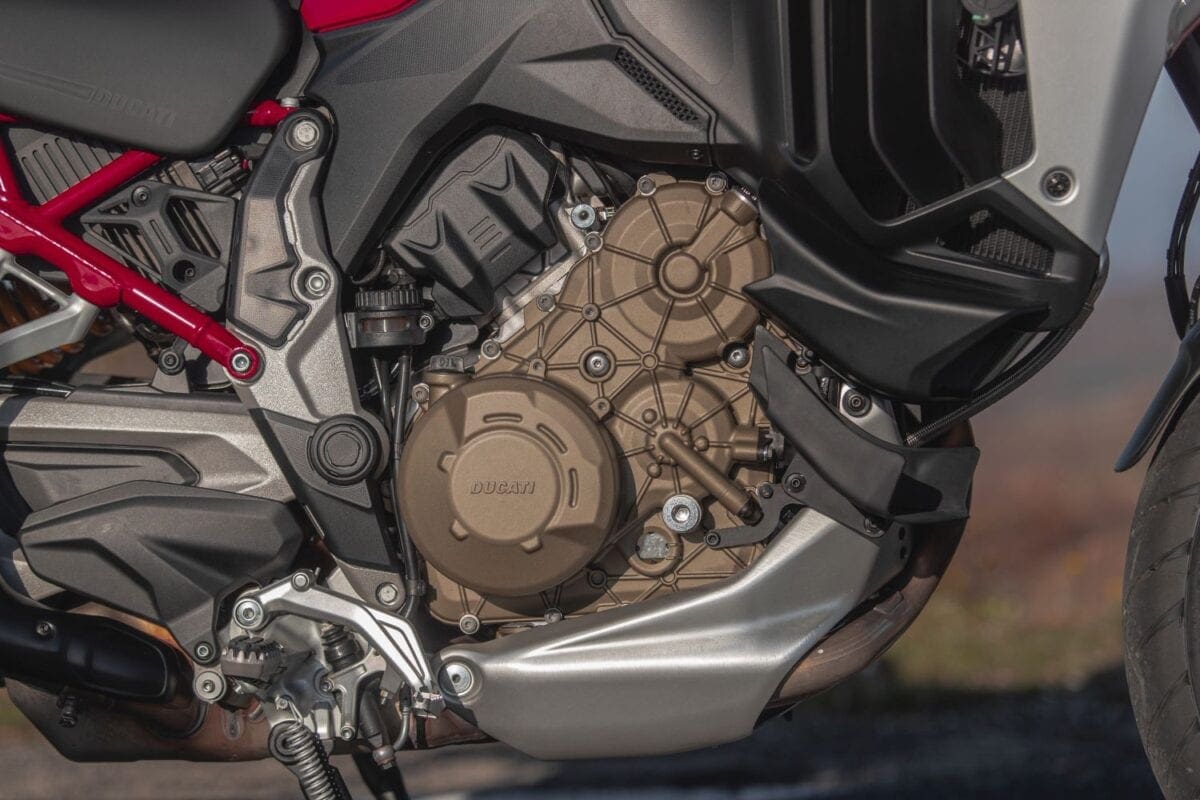 Compared to the V4 Panigale engine, capacity is up by 55cc from 1103cc to 1158cc, with a larger bore of 83mm, out from 81mm. Peak power of the conventionally valve operated engine is an impressive 168bhp/125kw @10,500rpm, and 92lb-ft/125Nm of torque @ 8750rpm. Compared to the old V-twin, that peak power figure is up by10bhp and, like the torque, higher up in the rev range while peak torque is down from 95.5lb-ft to 92.2lb-ft.
What about its muscles and brain?
Now, like me, you might be thinking the V4 must be heavier and larger than the twin, but it isn't. In fact, the new V4 is 1.2 kg lighter than the previous model, 8.5cm shorter, 9.5cm lower and only 2cm wider. The V4 now sits higher in the chassis, which gives the new Multi 220mm of ground clearance, 46mm more than before.
But it's not just an adapted, conventional V4 engine, because the Multi has the very latest cutting-edge technology. For the first time in the motorcycle market a bike is equipped with Adaptive Cruise Control ACC as an optional extra, and Blind Spot Detection BSD, which is also an optional extra, with front and rear radar detection.
This very clever and simple-to-use system has been designed in partnership with Bosch. If you're afraid of new tech, don't worry, it is intended only as an aid – you remain in control of the bike. In basic terms, you set the cruise control at any speed between 30km and 160km, and the adaptive system will control your speed, gently accelerating or decelerating dependant on the information gathered via the radar's detection.
The blind spot detection uses the rear radar, and monitors vehicles approaching from the rear, and illuminates an LED in the rear-view mirror as a warning. Both systems are similar to what you'll find in a modern-day car, but this is a first for a motorcycle.
Article continues below...
---
---
As you'd expect, the new Multi V4 is laden with other advanced rider aids, including corning ABS, lean-sensitive traction control, wheelie control, cornering headlights and hold control (the last two are standard on the V4S or optional on the V4) plus multiple rider modes, Sport, Touring, Urban, and Enduro. Each mode changes the power, power characteristics, the eight-level traction control, cornering ABS and on the S model changes the base setting of the electronic Skyhook Marzocchi suspension. Relaying all this information are all-new full-colour clocks, 5in on standard model and 6.5in on the S model. Interestingly, Ducati has also added stability control while the adaptive cruise control is activated. If the bike should encounter a weave, the IMU will detect this and automatically reduce the power to reduce the weave.
New and improved in so many ways
The chassis and dimensions are completely new. For the first time, the new Multi comes equipped with a 19in front-wheel, as opposed to the conventional 17-incher on the previous model. The rear wheel also reduces in width. This is a major step for Ducati and a clear indication of the new bike's ability on off-road. The second big change is the introduction of a new aluminium monocoque frame (like the Panigale) with a new trellis sub-frame bolted to it. The chassis is also 4kg lighter than previously. Wheelbase is shorter and there's a more aggressive, sporty rake and trail – which I'm presuming have been introduced to compensate for the larger front wheel.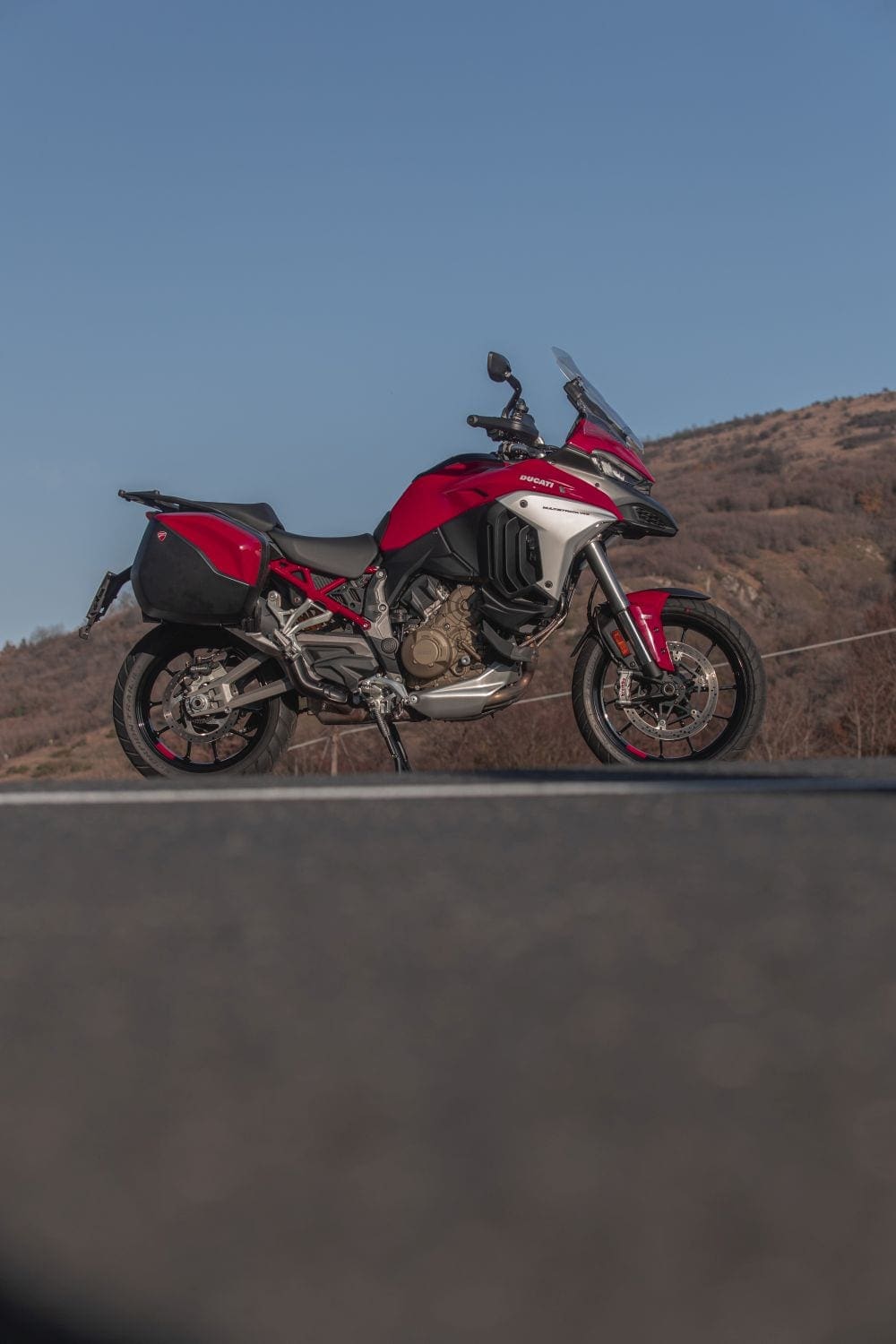 I told you this was a dramatic change for Ducati; so much more than just a Ducati Multistrada with a V4 bolted in. For me, extra touches really set a new benchmark and justify the price – every component has been cleverly re-designed or introduced. There is a neat little cubbyhole just behind the fuel cap, which comes with a USB charger and easily accommodates an iPhone. There are further 12v sockets upfront and under the seat plus new switchgear, which is backlit. The screen is 'one finger' adjustable – ever so easy. And the large 6.5-inch full colour dash can be repositioned on the move to stop glare and have Bluetooth connectivity.
Ducati has thought about the heat generated by the V4, meaning the back two cylinders are switched off at tickover to stop heat build-up, and there are additional, neat little wings on either side of the engine to deflect the heat from the rider. The seat's height range is slightly taller (up from 825mm-845mm on the old model to 840mm-860mm) but the seat is thinner towards the 22-litre fuel tank, and easily adjustable. The pillion gets increased comfort and even the option of a heated seat. The optional pannier system is 'floating' to allow slight lateral movement, which increases stability.
Off-road fans won't be disappointed either. The mirrors are deliberately curved, which means they don't hit your forearms when you're standing up, while the pegs have been designed to allow you to wear bulky off-road boots and have an easy to remove rubber, which requires no tools, giving you plentiful grip off-road.
The detail is outstanding. The Ducati team have certainly been busy. Normally when I arrive to ride a new bike, I can immediately start to find fault, picking away at the details like a vulture on a carcass, but I'm struggling with the new Multi. Just when I think they haven't thought of this or that, it turns out they have.
Even the intake and exhaust are high up so you can ride through deep water, the standard bars have multiple-positions better equipped for off-road riding, there are even optional lower and higher seats and, obviously a huge list of accessories which includes carbon accessories, luggage options and an Akrapovic end can – Euro 5 compliant, of course.
Enough talking. Time to ride!
I could talk about design and build of this bike for pages to come, for the rest of the magazine in fact, but the proof is in the riding. Due to Covid restrictions, the exclusive V4S test ride was out from the Ducati factory in Bologna, which suited the bike perfectly given the excellent roads not too far away from the factory in Northern Italy.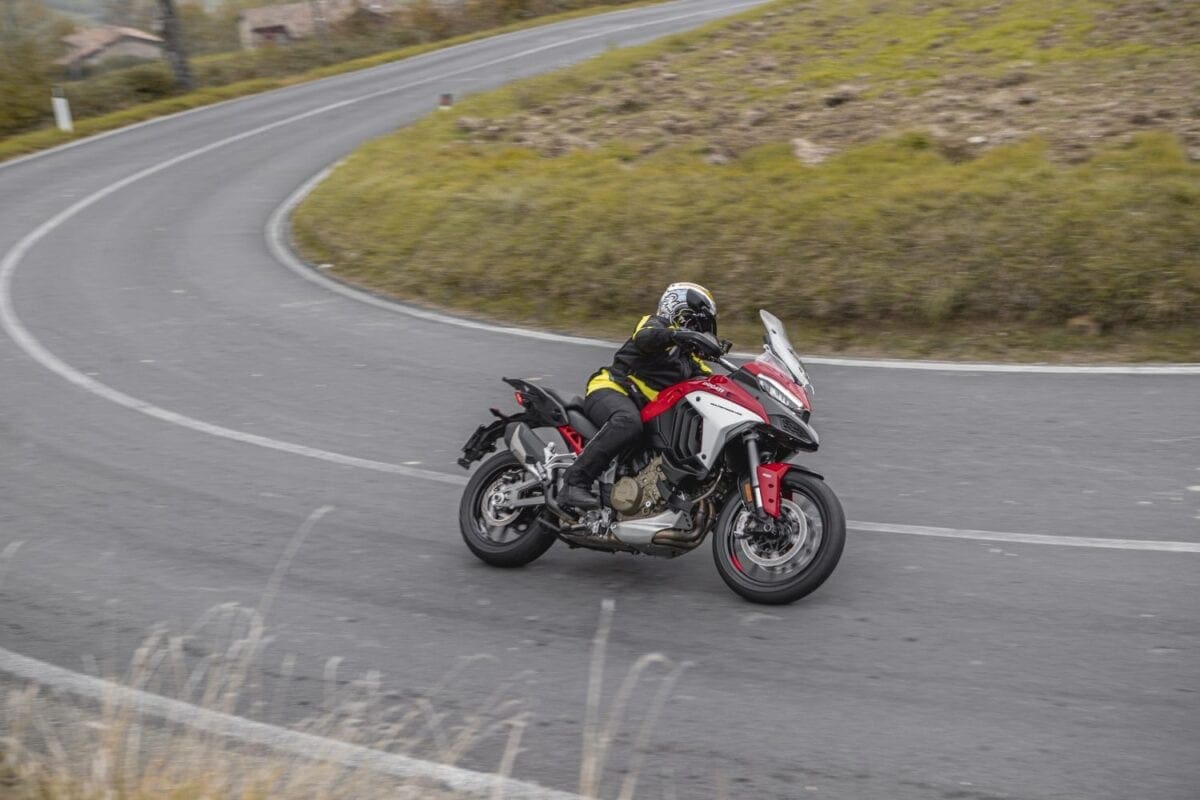 I'm only 5ft 7in, therefore I decided to convert the standard seat to the lowest setting, 840mm, which is done in less than a minute. Then, with the key fob in my pocket, on with the keyless ignition and that full colour TFT dash comes alive. A new back-lit toggle switch on the left bars enables me to scroll through the informative clocks with ease and choose my specific riding mode. I've not had the usual half-hour rider briefing and I've not read the manual – but already the clocks feel familiar and intuitive.
Leg over the plush but thoughtfully narrow seat, and I'm almost flat-footed on both sides. With blips of the throttle, the counter-rotating V4 comes alive and has a nice little bark to it. When the revs drop to tickover the rear cylinders are deactivated to reduce heat to the rider, but it's only just noticeable with a clinical ear. A light clutch, into first and we're away, and the clutch is now redundant as it's smooth, clutchless changes with the up and down quick shifter from here.
The fuelling is perfect, the engine is smooth, this angry V4 Panigale-derived engine has clearly been living in India for six months studying Yoga and chilling out – there's no angriness about it. At low revs around the city streets of Bologna in the dedicated Urban mode, it's easy, simple, and user friendly. It doesn't have the top-heavy, intimidating feeling of some adventure bikes, either. Again, I'm only a small rider, but around town this feels more like a Ducati Multi 950, not an adventure bike with a 19in front wheel and a superbike engine. It's about as intimidating as a disgruntled kitten armed with a cotton bud.
Getting a move on
Leaving Bologna behind, onto the freeway, and a quick flick into the Touring mode. The acceleration onto the freeway is impressive, those 168 Italian horses want to run. Up to cruising speed and this is bliss. With the screen fully upright there is very little wind noise. Even at 160kph I'm visor-up, no problem. The clocks are clear and easy to navigate, and as we enter the countless tunnels I notice the backlit switchgear, which is a nice touch.
My first realisation of the radar technology is when I'm riding in the middle lane and the left LED light above the mirror illuminates to warn me a vehicle is approaching from the left. Sure enough, a quick glance in the mirror and over my left shoulder reveals an aggressively driven Alfa Romeo. Wow. The Blind Spot Detection is spotting vehicles approaching from the rear, which I may have missed. Why hasn't this been done before? Those who distrust technology will be pleased to know you can deactivate the system and even change how far the radar projects backward – but I can't think why you would ever want to switch off this excellent safety aid.
Next up: time to try the Adaptative Cruise Control; I set it to 140kph, release the throttle and we're set. A digital graphic on the bottom right of the huge TFT clocks shows the ACC is working, and I can increase or reduce the range of the radar. I'm slowly getting closer to a car in the middle lane, and the radar has detected this, reducing power to match the speed of the car in front. I now check my mirror, indicate left, pull out into the outside lane, and we accelerate back up to 140kph, and I've not touched the throttle or brake in the process.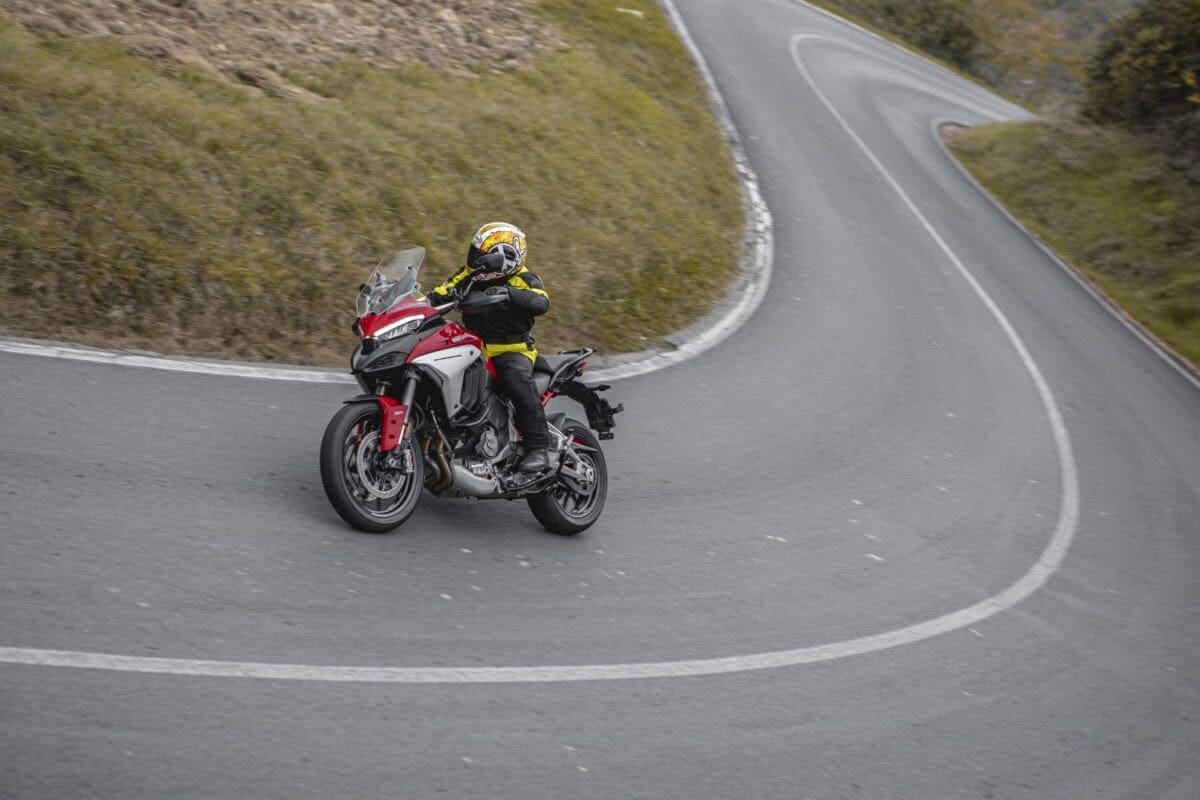 I try to trick the system by riding in the inside lane at 150kph, approaching slow-moving trucks at speed. But, again, the radar detects the vehicle and the difference in vehicle speed, reduces the power and applies some gentle braking. I can then choose to follow the truck at a safe radar-controlled distance or switch lanes and automatically accelerate. It's worth noting that the system is only working when you've selected the cruise control; touch either brake or the throttle and it's automatically cancelled. The system is similar to those found on many cars but is very well adapted for two wheels, and the only slight downside is that it struggles to pick up other motorbikes, which are much narrower than cars/vans/trucks.
Away from the gadgetry, comfort is excellent. The Skyhook ride is forgiving, and there is little vibration despite the V4 cruising along at 100mph with ease. Sixth gear is tall, but at 100mph I thought the revs would be a little lower, and in this respect, it will be interesting to see how it compares to the competition. Ducati has upped the fuel tank capacity to 22 litres to presumably compensate for the thirstier V4. Ducati claim 43mpg and on the test I averaged a little less than 39mpg, though the pace was brisk. Thankfully the Multi V4 isn't going to be as thirsty as Ducati's other V4 models, as they drink faster than a drunk in happy hour after a two-month lockdown. The quoted tank range should be 208 miles, with 188 a more realistic estimate, meaning you are going to start needing to look for fuel around 160miles. Is that enough for a big adventure tourer?
Heading for the mountains
The mountain passes in northern Italy were calling, and despite excellent comfort and wind protection, I couldn't wait to flick into Sports mode and test the handling. Fitting a large 19in front tyre should noticeably slow the steering, but the rear is now smaller, a 170 not 190 section, the wheelbase is shorter and the rake and trail more aggressive, not forgetting a lighter chassis and engine. Overall weight is a little more than the V-twin depending on the model and spec, and the exhaust is now heavier, throttle bodies have doubled in number, there is more wiring and technology… But even so the best compliment I can bestow is that the new Multi handles and feels like a bike with a 17in front wheel.
The steering is excellent. It does not steer like a 243kg (kerb weight) adventure bike with a 19in front tyre. Instead it is accurate and relatively easy to throw around and change direction at speed. Excellent cornering ABS and Brembo Stylema brakes are always on hand if you should dive in a little too hot. Ground clearance is impressive, even in fast cornering I didn't have any issues and the feedback and grip from the Pirelli Scorpion Trail 2 rubber, which has been designed in partnership with Ducati for this model, are spot on.
You can really have some fun with the V4 Multi, throwing it on its side at any given opportunity. I personalised the Sport mode, reduced the TC and turned off the wheelie control. Grip in the dry is excellent and there's enough power for the odd effortless wheelie over crests and tight corners. Let's not forget there is a 168bhp V4 that wants to run.
In Sport mode, the Marzocchi Skyhook electronic suspension really comes into its own. I deliberately pushed hard on uneven roads, and the new Multi delivered. The 50mm-diameter forks' control is impressive, but possibly more so is the rear, which stays planted and under control. You hit an undulation hard on the power and you can feel the rear compress, the tyre grip, but then it controls the rebound, and importantly doesn't recoil too quickly reducing the push/grip to the rear Pirelli. There is 180mm of travel on the rear (10mm more than before), but it's superbly controlled. A well-ridden Multi could give a sportier bike a run for its money on the right road, and that larger front wheel hasn't hindered the steering or fun. It will be interesting when we test both the new and old bike back to back.
As the temperature dropped, it was heated grips on (optional) and time to head back to the factory down the freeway. Even after a full day in the saddle, comfort was still excellent and I had no complaints. The wind protection and lack of wind noise meant I didn't even bother with earplugs. Into Touring mode, the suspension becomes more compliant compared to Sport, and again the rear radar detection was spotting fast Italian drivers whizzing down the outside lane at speed, despite the fact I was cruising at 90mph. Back into Bologna, now careful of the fitted panniers, and into Urban mode, which noticeably softens the suspension, gives more fluidity, and reduces the power. This really is a bike for all occasions.
 Verdict
For 2021 the Multistrada is now more versatile than ever, it truly is four bikes in one: capable off-road, comfortable for touring, it can make you smile in the mountains, and is relatively easy to live with and use around town. Adding a larger front wheel hasn't hindered the fun and has vastly improved its off-road capabilities. As with all Ducatis, it's desirable and good looking and there's a huge list of trim and accessory packs, which means you can personalise the bike to fit the way and where you ride direct from the factory. Fuel consumption is higher than the competition, and for some tank range may not be enough. It's not cheap, either, but service costs are low, there is a market leading four-year warranty in Europe, and the price is, in the main, justified by the quality and market-leading safety and rider aids. I can't wait to get more miles on the new Multi V4, and really push the boundaries off-road, but as a starter, a first taste – it's hugely impressive.
WORDS: Adam 'Chad' Child PHOTOGRAPHY: Ducati
Specification
Make and model: Multistrada V4S
Price:                    £18,395 (£20,345 as tested)
Engine:                 1158cc, V4 90-degree, water cooled 16-valves, counter-rotating crank
Power:                  168bhp (125kW) @10,500rpm
Torque:                 92lb-ft (125Nm) @ 8750rpm
Frame:                  Aluminium monocoque frame
Brakes:                 (F) 2 x 330mm semi-floating discs, radially mounted Brembo M50 Stylema monobloc 4-piston. (R) 265mm disc, Brembo 2-piston floating calliper, Cornering ABS
Transmission:      6-speed, chain drive
Suspension:         (F) 50mm fully adjustable USD fork, electronic compression and rebound damping adjustment. (R) Fully adjustable monoshock, electronic adjustment with Ducati Skyhook Suspension, aluminium double-sided swingarm
Wheels:                Light alloy cast, (F) 3″ x 19″ (R) 4.5″ x 17″
Tyres:                   Pirelli Scorpion Trail II (F) 120/70 ZR 19 (R) 170/60 ZR 17
Seat height:          840mm – 860mm (33.1 – 33.9in)
Fuel capacity:      22 litres (4.8 gallons)
Fuel consumption:         Claimed 43.5mpg (15.4km/l). Tested 39mpg (13.8km/l)
Weight:                 218kg dry/243kg kerb
Warranty:             24-months, unlimited mileage
Service intervals:           9000 miles, 36,000 miles (valve)
Contact:                          Ducati.com

Enjoy more MSL reading in the monthly magazine.
Click here
to subscribe.