Adventure doesn't have to mean gruelling off-road exploits – there's an easier way to tour South Africa…
It had been a frustrating day. I was camping in the rhino reserve near Serowe in eastern Botswana, and despite seeing lots of everything else – impala, springbok, zebra, a giraffe and all sorts of birdlife – there was no sign of rhinos. Back at the campsite, I dug out my binoculars and consoled myself by identifying birds. Then I noticed someone on the other side of the site waving and pointing. I turned round to find a black rhino emerge from the bush – it sauntered past within feet of me, giving a disinterested look.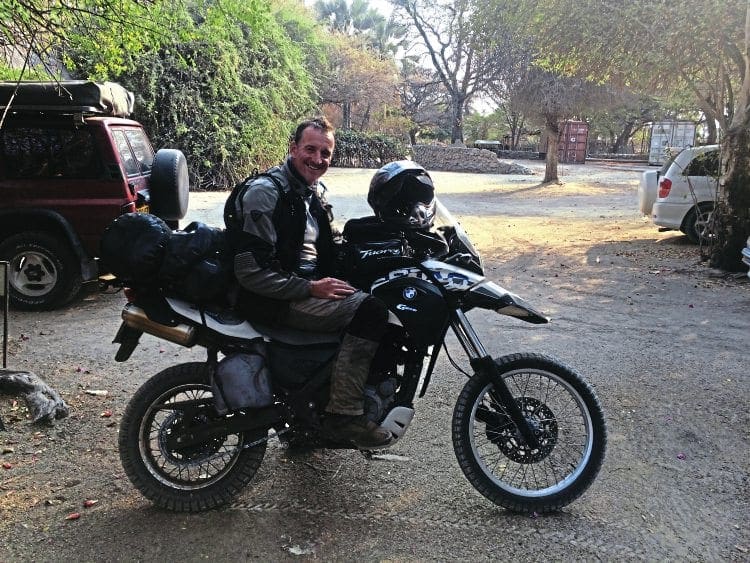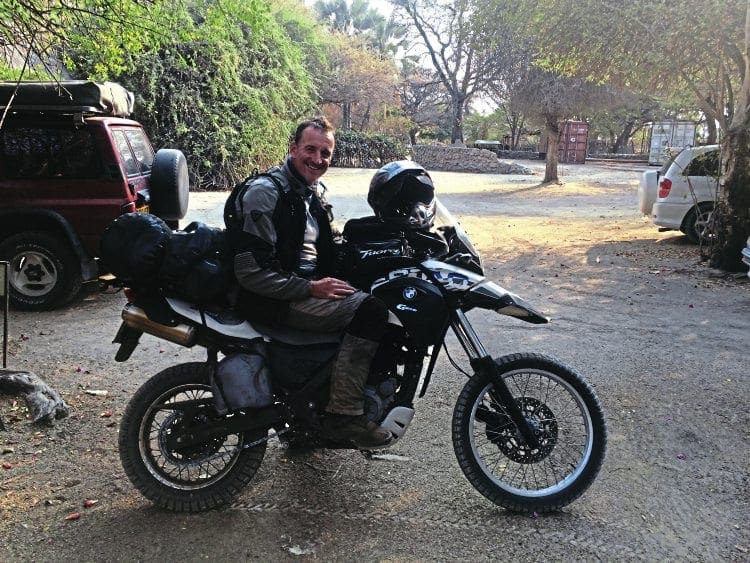 It was September and I was on a six-week round-trip of southern Africa. The plan was to travel clockwise from Cape Town, following the coast north to the border of Namibia then across Botswana, skirting the Kalahari to the Okavango delta. From there I would cross the Zambezi to Livingstone and Lake Kariba in Zambia before retracing my steps to Zimbabwe at Victoria Falls. Then the plan became a bit looser but I wanted to include the Mozambique coastline, time to explore the Drakensberg range before following the wild coast and garden routes back to Cape Town. I was renting a BMW Sertao, for two reasons – I had owned an F650 Dakar and knew it would do the job, and the rental rate was half that of the ubiquitous 1200GS.
INTO OKAVANGO
Day one of any trip feels great, and Cape Town is a perfect start point. The roads are good and it's easy to find your way around, while the coast road to the Cape of Good Hope is a fantastic introduction to riding in South Africa.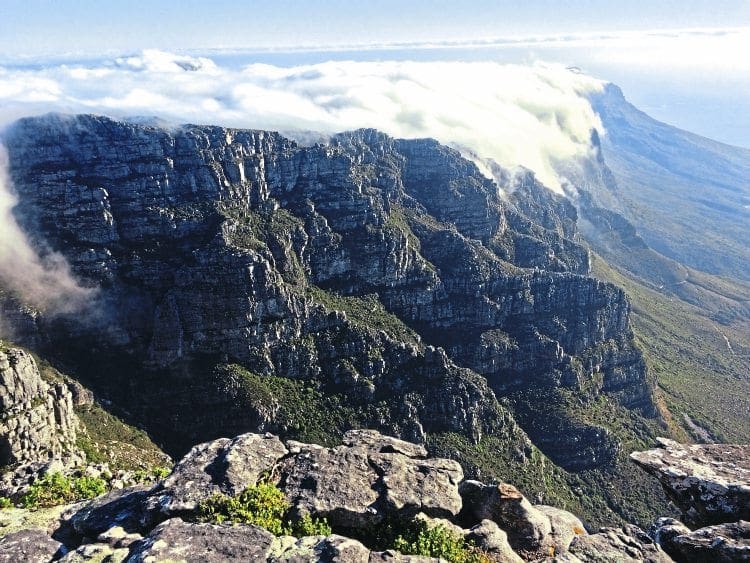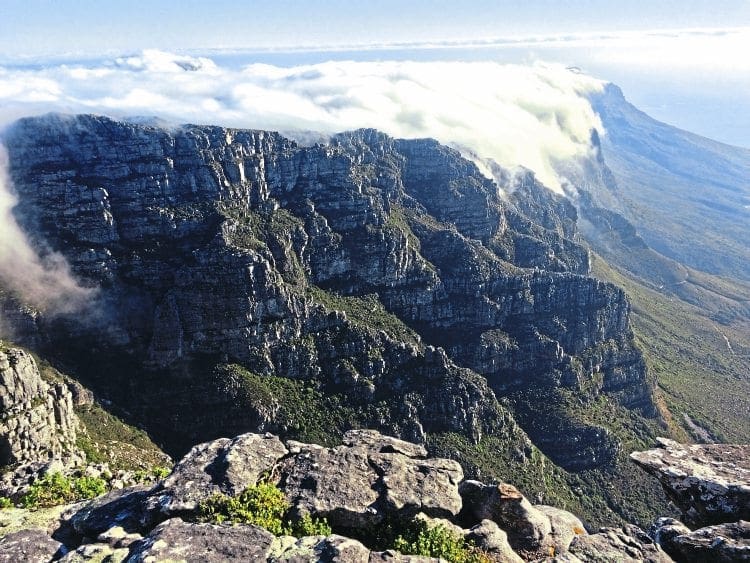 As I headed north out of the city, the traffic dwindled. I passed a lagoon with flamingos and egrets standing under the watchful eye of a fish eagle in a nearby tree. It was good to be under way with everything on board. I had brought two roll bags, a GPS and a tank bag. Stopping for fuel, all the luggage fitted fine although something didn't feel quite right. I realised I'd left all my valuables (laptop, spare money, paperwork) in the hotel safe in Cape Town. Kicking myself, I turned back. A mere 100km later I was back again. So much for day one planning.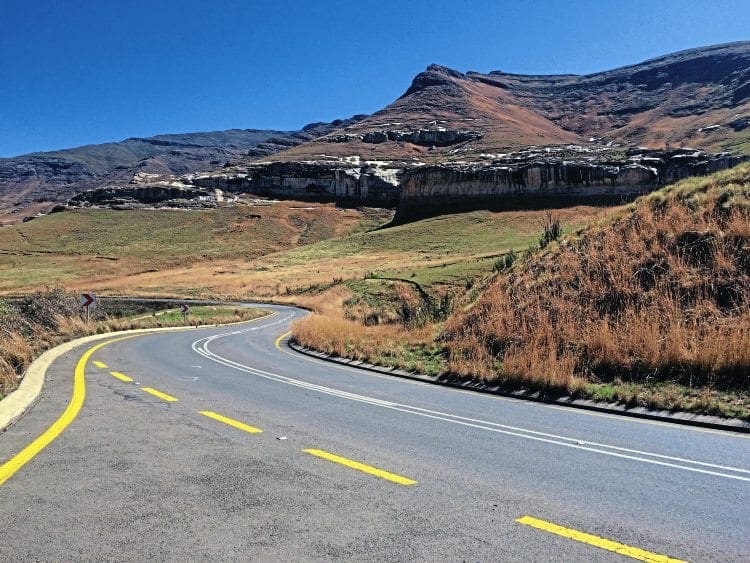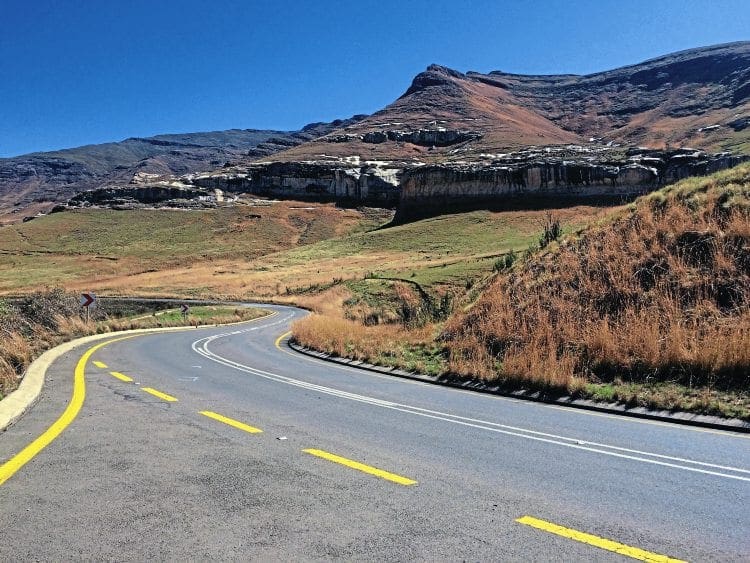 I had a gentle introduction to African roads those first few days. The main highway is good Tarmac all the way. Some of the coastal roads are gravel but well graded so easy to ride standing. Heading inland from Springbok, the road gets straighter, the scenery drier and more arid. I later learned that there had been little or no rain in southern Africa this year, with river and reservoir reserves at all-time lows.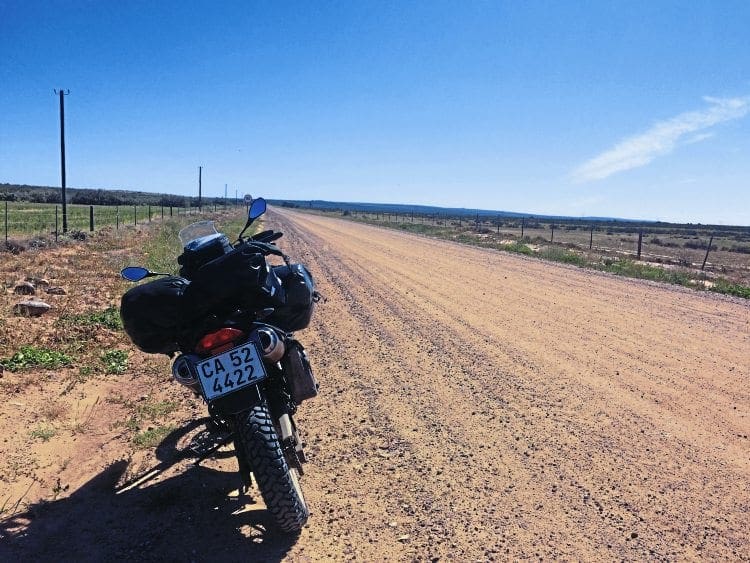 As I reached Botswana and the Kalahari, the scrubland started to change to desert, while the temperature rose. North of Serowe, near Orapa, I stopped the bike under a solitary bush. With the exception of a couple of primitive-looking bush huts in the distance, there was nothing. No sound, bar an occasional truck. I sat in the shade to escape a temperature in the mid-thirties, and out of nowhere two boys wandered over and sat down with me.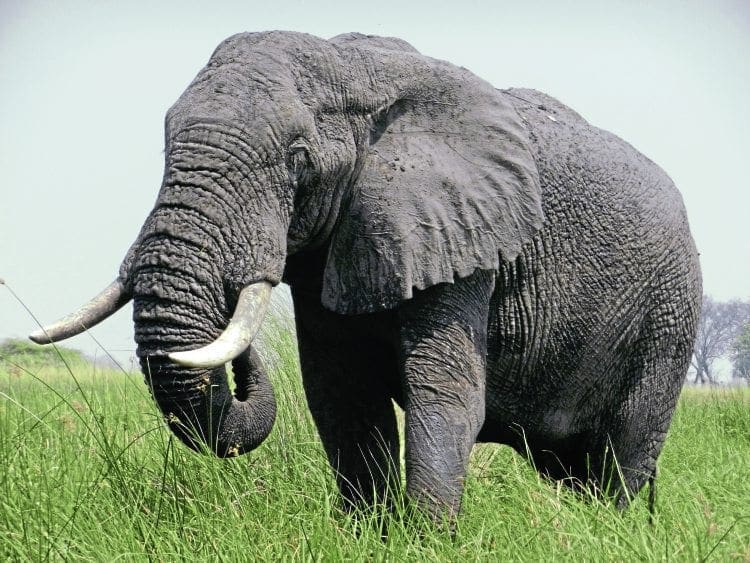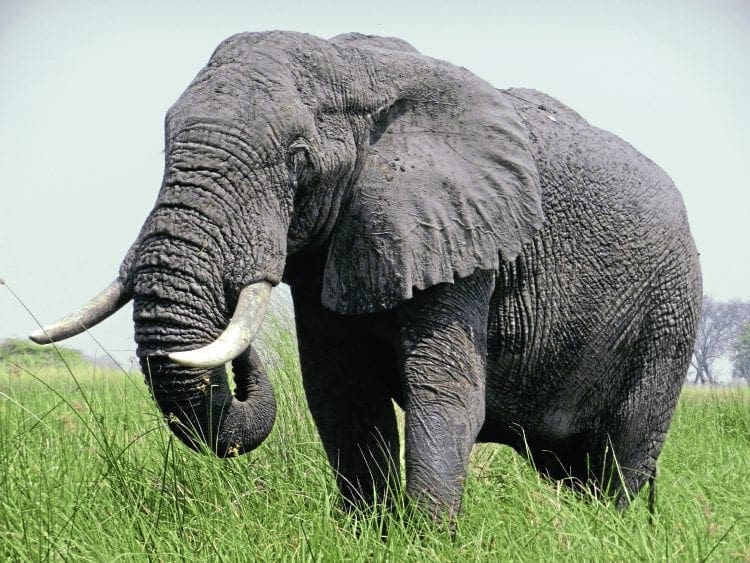 Nearing Mann (the gateway to the Okavango Delta), I saw a red triangle warning sign depicting an elephant, which I thought was a little out of place, given that I hadn't seen any animals for ages. Then, not much further on, there was an elephant standing by the roadside. I stopped, but the elephant did not look happy at being disturbed, so I carefully started the bike and rode off slowly.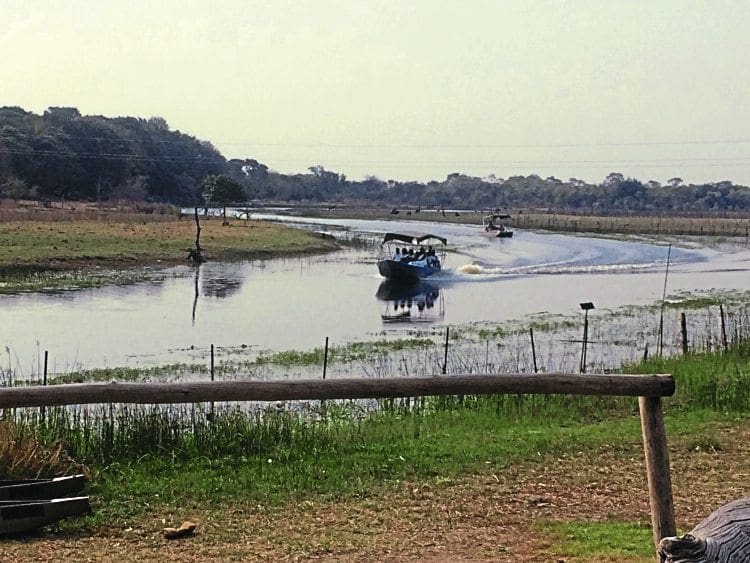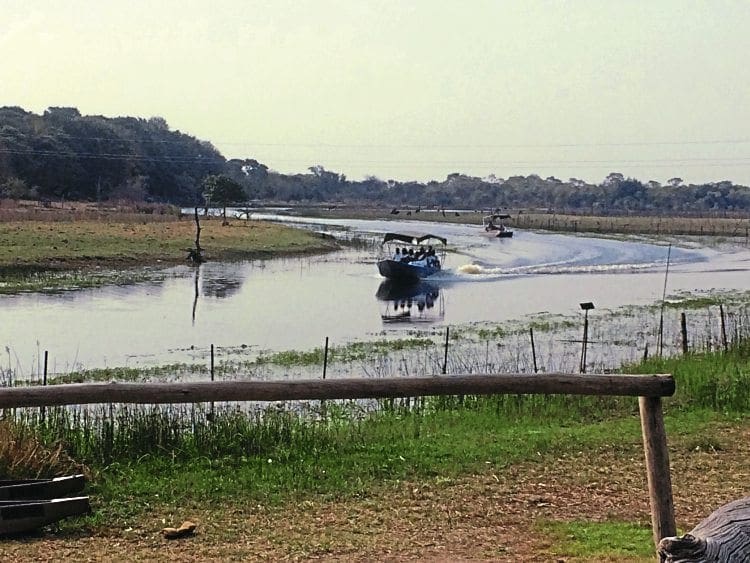 The Okavango is only really accessible by boat or plane. As it's an oasis for wildlife and a safe haven for the bigger animals I parked the bike for a few days and explored. Flat-bottomed boats take you out through the narrow channels; crocodiles bask, elephants tear up reeds, shaking them to remove soil, while storks and ibis slowly step between. Further on, hippos bathe with 'keep your distance' stares. So I did. From Maun I had wanted to ride across the Chobe National Park to Kasane, but I was advised not to. The road is 300km of sand, and my short excursions into sand so far had been hard work. My amateurish, full rev, rodeo riding technique only really worked for short distances, and as one guy put it, "with no fences, you'll probably get eaten anyway." I opted for the 600km Tarmac route via Nata.
LOCAL HELP
Kasane in northern Botswana is at a crossroads between four countries (Botswana, Zambia, Zimbabwe and Namibia), and a tourist hotspot. Despite all the visitors, the wildlife is everywhere, and seems unfazed by the hundreds of selfie sticks pointed in its direction. I crossed the Zambezi into Zambia and to Livingstone, which has a laid-back colonial style with older, crumbling buildings. At Victoria Falls the water levels were so low it was possible to swim out to the edge and look over. I gingerly peered down as a torrent of water roared next to me, dropping 100m to the valley floor.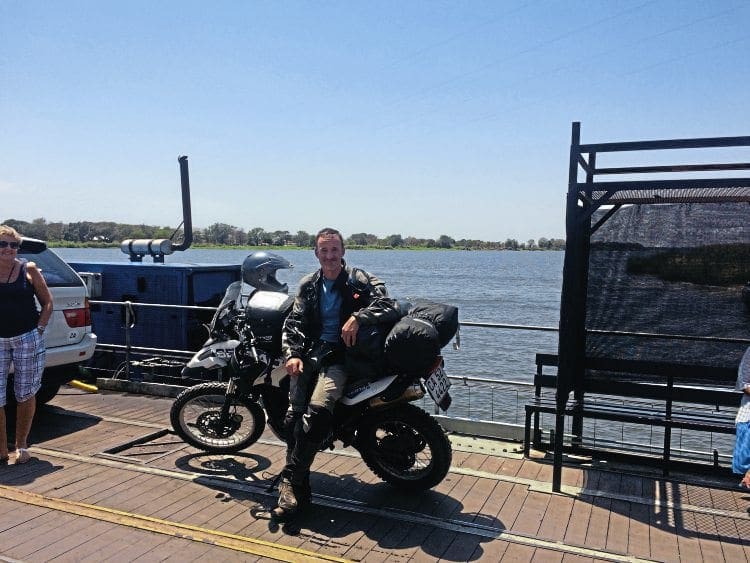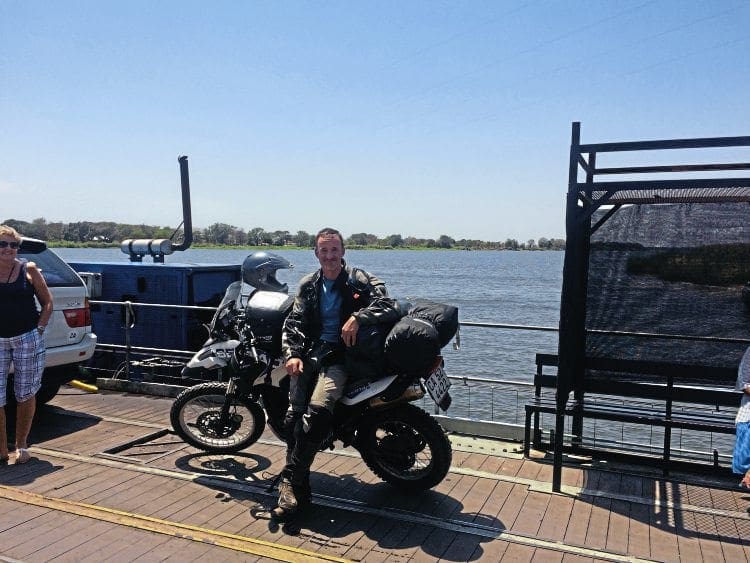 Further north at Lake Kariba, I had my first real riding challenge. I had a booked a lakeside lodge, and the Tarmac access road soon became a patchwork of potholes and then gravel, then sand, but I got there okay. After a few relaxing days, I packed the bike and hit the start button. Nothing. After an hour of fiddling, I was none the wiser, and miles from the nearest town, while jump-starting the bike in sand looked unlikely. Finally, after much deliberating and some advice, I realised a 15A fuse for the ignition had blown. Luckily, I had another.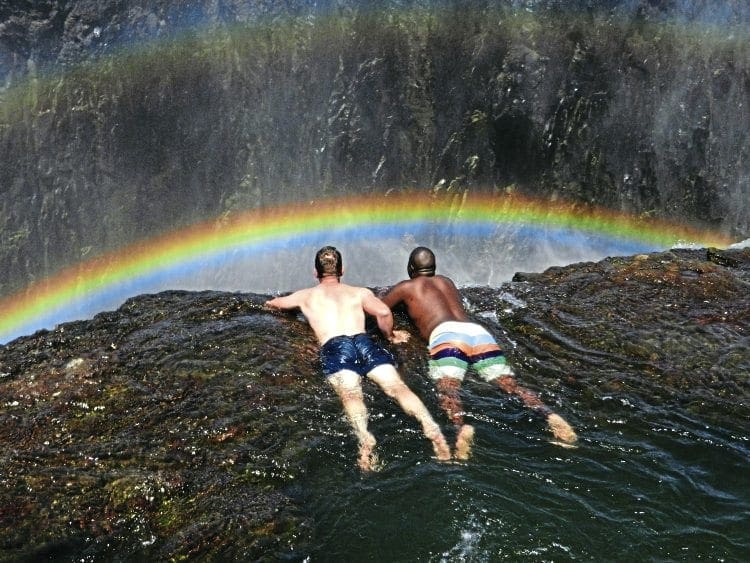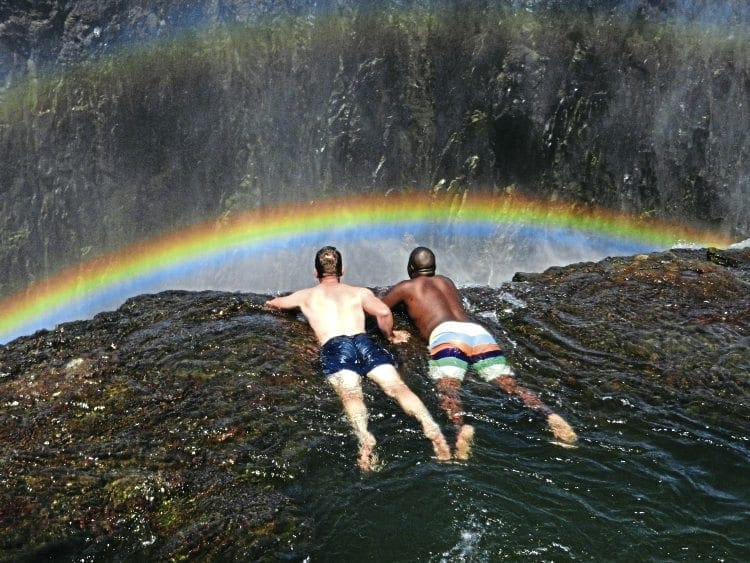 The fuse was to blow again in Zimbabwe. After several more replacements, mid-way between Victoria Falls and Bulawayo, I ran out of spares. I looked up and down the road, and could see no one. Eventually, with the help of a couple of passing truck drivers, we located a hut about an hour's walk away. I watched in amazement as the woman sitting inside dug a cardboard box out from the darkness, removed a plastic bag and offered me a choice of fuses.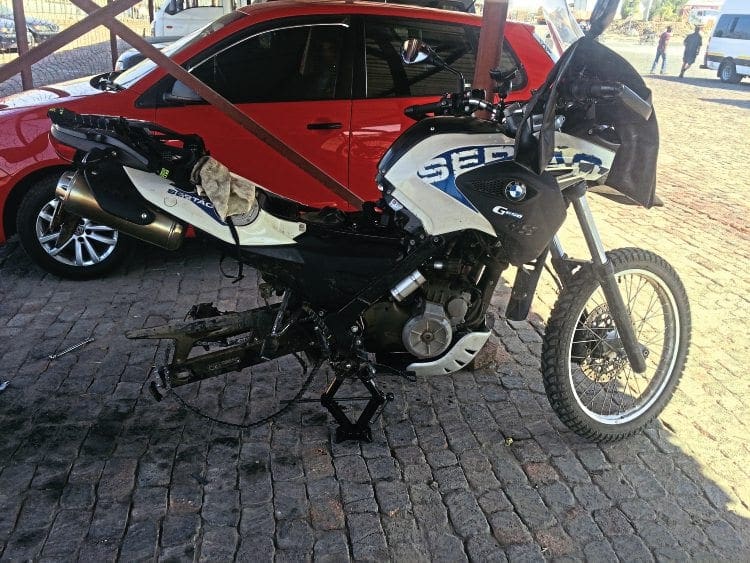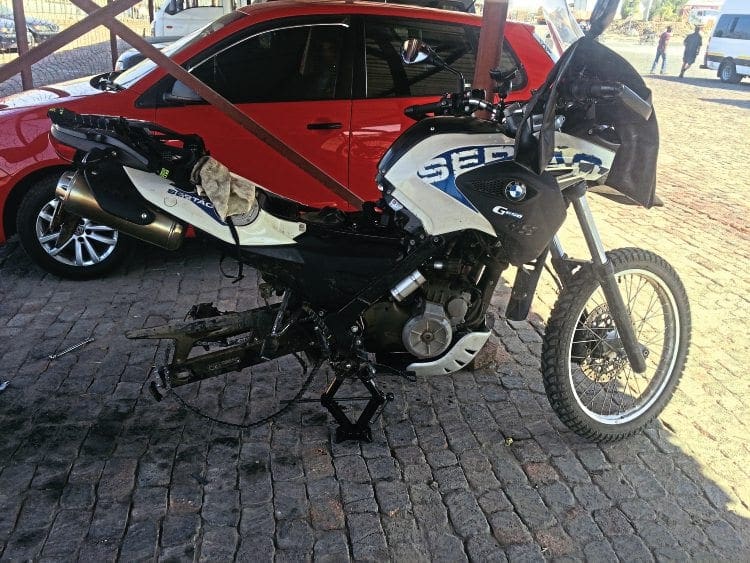 This willingness to help me out was there time and time again. On the border between Zimbabwe and South Africa I had a rear puncture. I pumped it with my compressor but the tyre was flat again within a few hundred metres. I had the tools but was not looking forward to the job without a centrestand and in the baking heat. Again, people helped. I got the bike into the shade, borrowed a jack and took the wheel and new tube by taxi to a local tyre shop. Two hours later I was back on the road.
AVOIDING THE REBELS
I headed for Mozambique. The original plan was to cross from Zimbabwe but there was talk of rebel activity in the north so I opted to enter from the south and head up the coast via Maputo. I got as far north as Inhambane, where I spent five days on a deserted beach trying to spot whale sharks. Dolphins and one distant whale was as near as I got.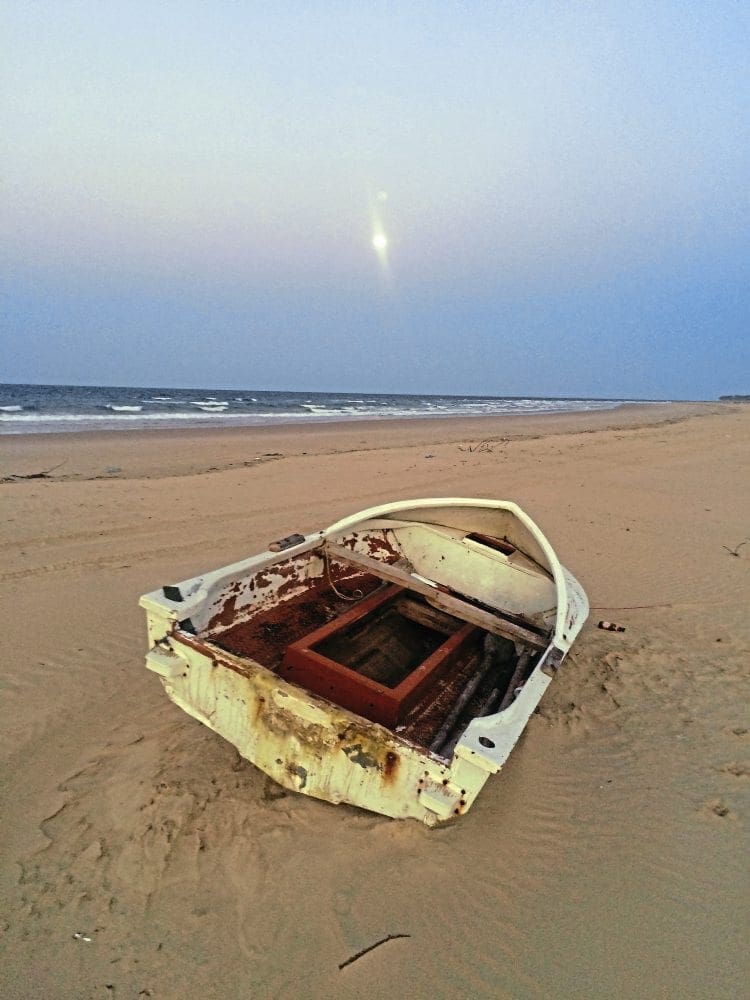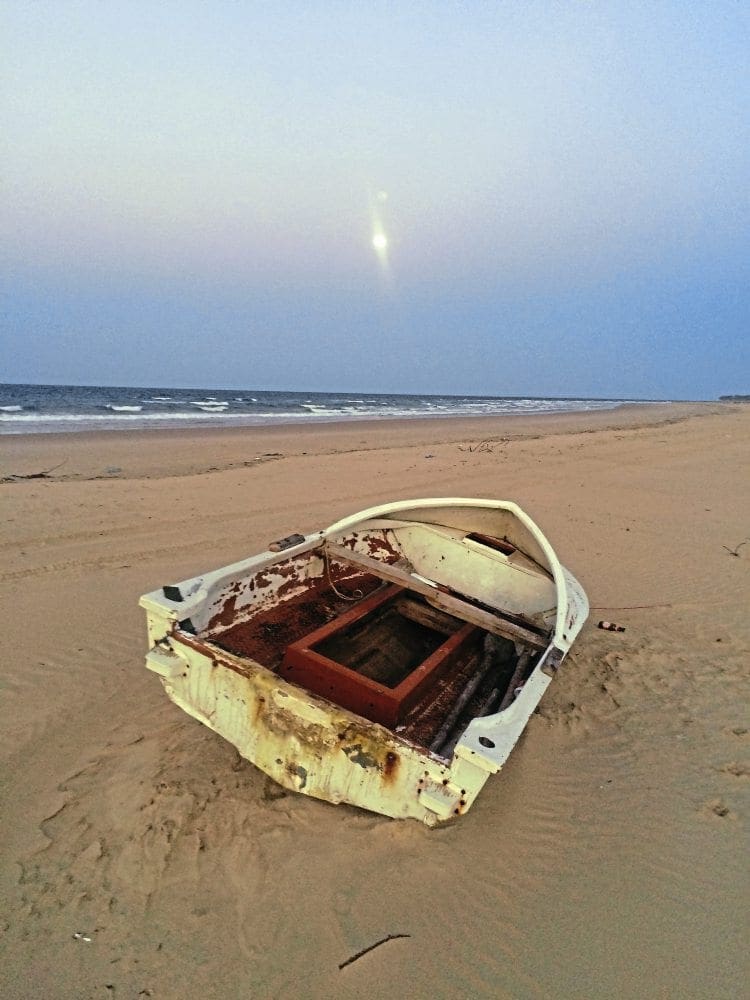 Back in South Africa, I zigzagged in and out of the Drakensberg Mountains, enjoying the scenery and roads, but further south I saw my first rain. Heated grips and inner jacket on, I made my way down to Port St Johns through dense sea fog.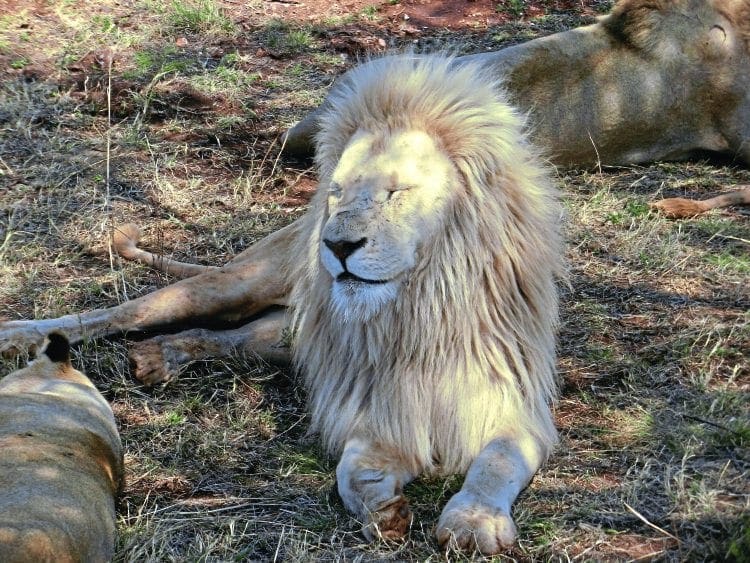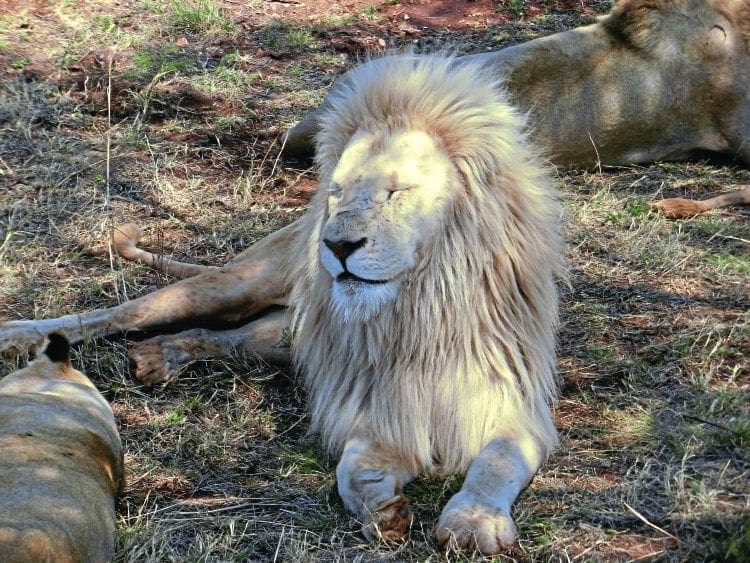 Overall, I covered 7500 miles in six weeks, which sounds a lot, but Africa is huge so there are big distances between stops, and I did take my time. After an initial surge of enthusiasm, I soon settled into early morning starts, finishing early afternoon to avoid the heat. This also meant I had the rest of the day to look around. The exception was my last week as I needed to get the bike back, but the roads heading south are good so 300 miles or more a day was not too much.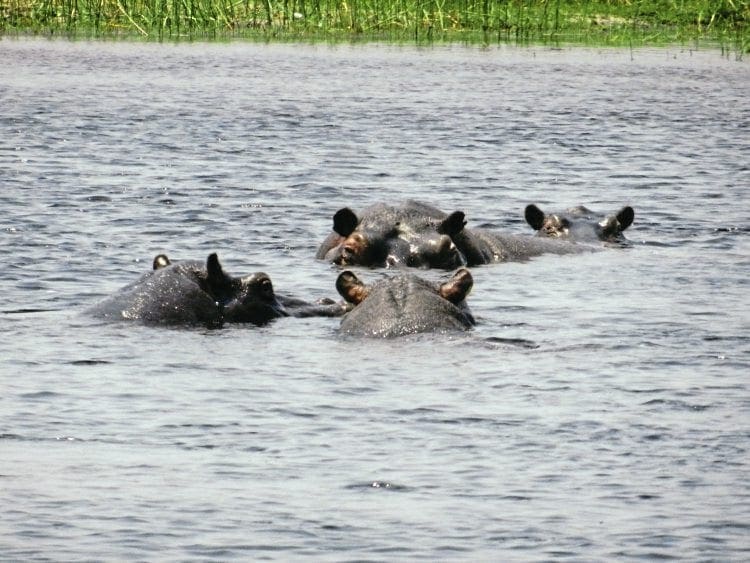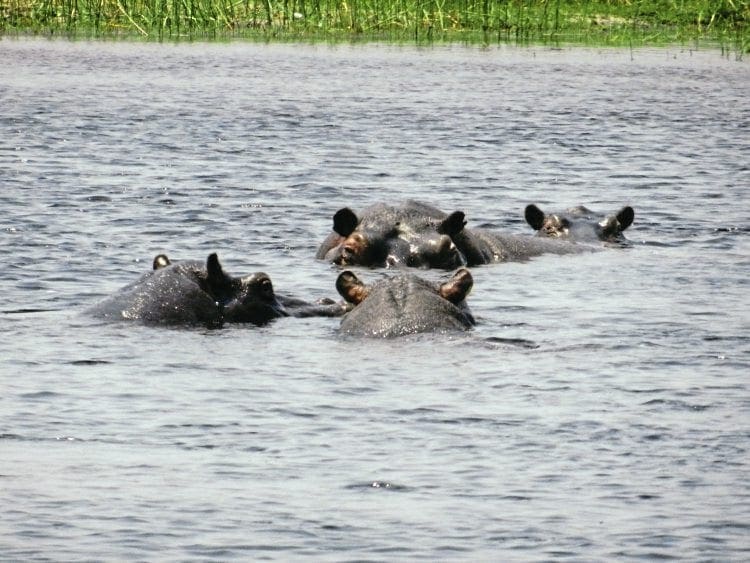 Southern Africa is biking country, with endless possibilities. Having travelled through northern Africa, I have to say the south is much easier to ride through. It's a stable, well-connected area covering hugely diverse landscapes, while the people are friendly, helpful, open and genuinely interested in what you're up to.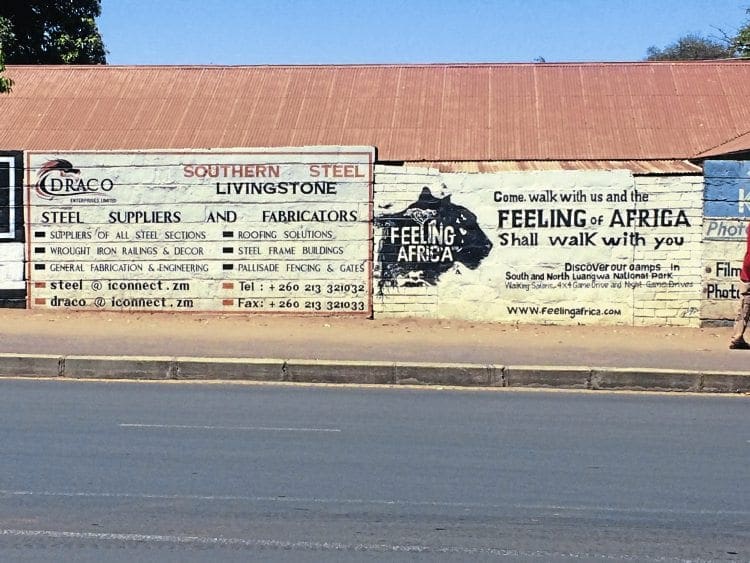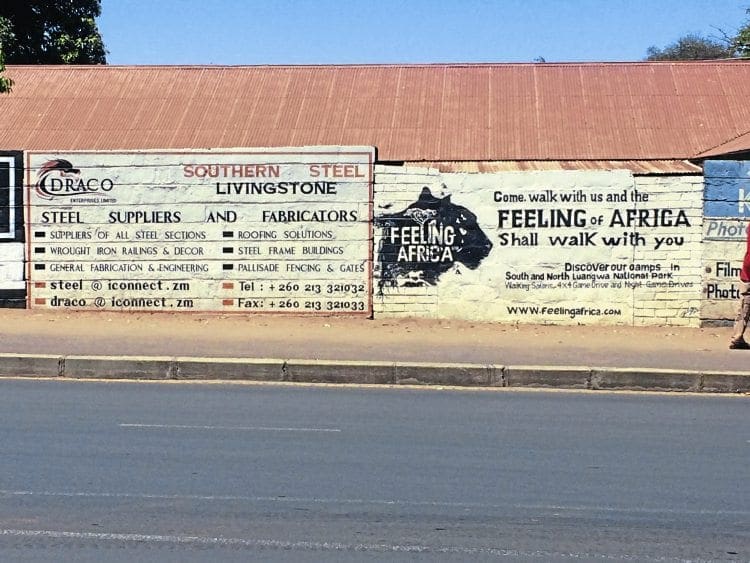 I met no one else travelling independently by bike, though there were organised groups. Most people travel cocooned (or imprisoned, depending on your point of view) in a safari bus, stopping only at pre-arranged spots. That's okay, but for me Africa is all about getting your hands dirty, which does mean dirt, pollution, noise, bugs, chaos and hassle. But it also means openness, friendliness and a willingness to help from the local people.
The route
I was travelling in September and October – springtime in South Africa. It's mild in the south, and Cape Town was in fact cooler than the UK when I arrived. Travelling north, the temperature rises quickly to the mid-thirties. If I had half the time I would have flown into Johannesburg and ridden through Botswana, Zambia, Zimbabwe and back through northern South Africa. You would see the best of the wildlife, deserts and rivers – you'd miss out on exploring the coastal roads and mountain passes but that could be another trip.
You can do the whole journey on Tarmac bar a few excursions to reach an overnight stop. Alternatively, there are good graded roads throughout most of South Africa. I did a few and they were generally well made, but if I was unsure of the condition of a road I would opt for Tarmac. This meant extra mileage but was the safest option travelling alone.
The budget
Bike hire was the biggest expense, and flying your own bike over is prohibitive. Karoo Biking (www.karoo-biking.de) hires BMWs from Cape Town and Pretoria, and charges £55/day for a Sertao, which includes insurance and unlimited mileage. They were quick to provide an alternative bike when mine had its electrical problem. Accommodation-wise, I took a tent but it was too hot for camping, so opted for B&B or self-catering lodges at around £30/night. Taking everything into account, I spent about £1000/week – if you have less time, an organised tour makes more sense, as you make the most of every day, but I prefer the flexibility of riding independently.
The bike
To some, the Sertao is a poor man's GS, not 'a real BMW'. But for those who know, it kicks sand in the face of its beefy brethren. It's hardy, handy off-road (thinnish, tallish, with a 21in front wheel), frugal (it will do 210 miles on 14 litres) and all-day comfortable. Yes, it lacks top-end speed, but why do you need to do more than 80mph when you've got wildlife and wild people on the road? The only nod to modern equipment is ABS and heated grips but so what? Simple is better.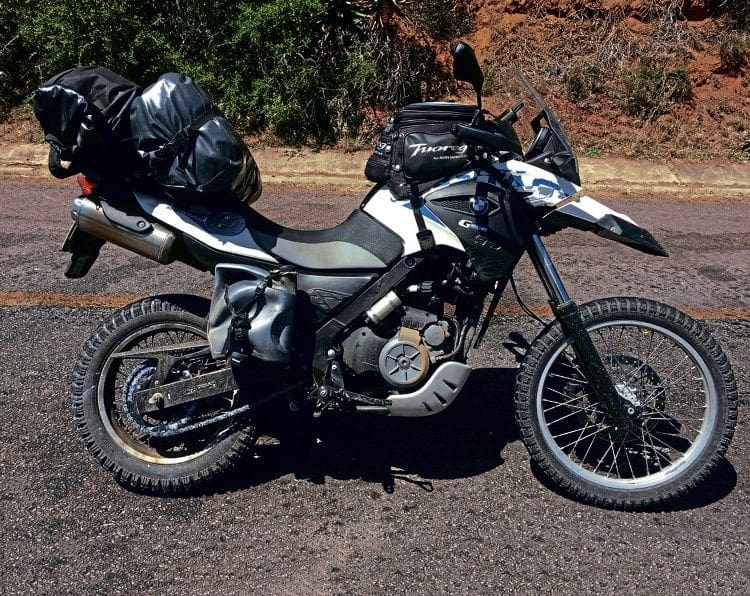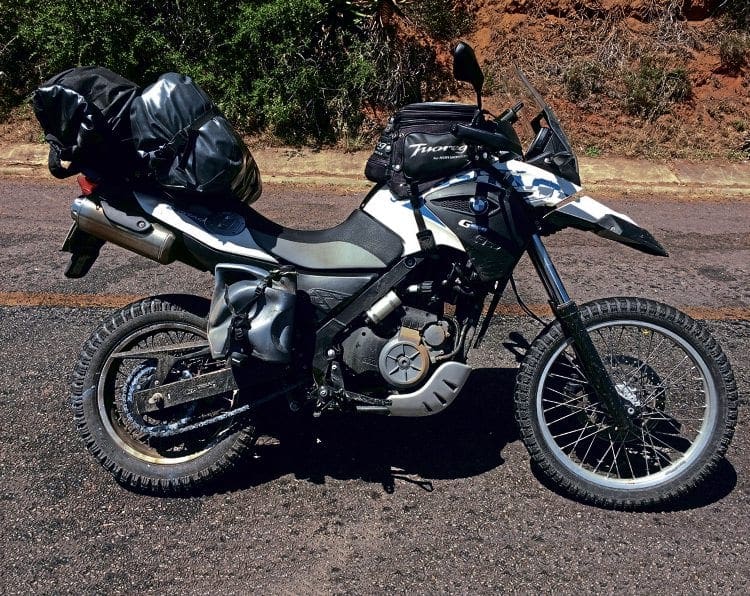 Words & photography: Dave Robinson-Smith
[googlemaps https://www.google.com/maps/d/embed?mid=1tgtnYS3TL5z-57Y83OlgN6G-mlc&hl=en&w=640&h=480]