Himalayan passes by Enfield Bullet – landslides, altitude sickness and not a lot of road.
This ride was the hardest, most fantastic and rewarding thing I have ever done. Twenty-one riders on 16 bikes left Vashisht, a hill village in Himachal Pradesh, north India. There were three couples (I admired the pillion wives for their bravery and endurance), two pairs of younger lads who shared the riding, three solos in their Thirties from Singapore, and me, the token white guy. We had two mechanic/ relief drivers (both named Sonny, conveniently), a driver named Lucky and Gaurav, our road captain.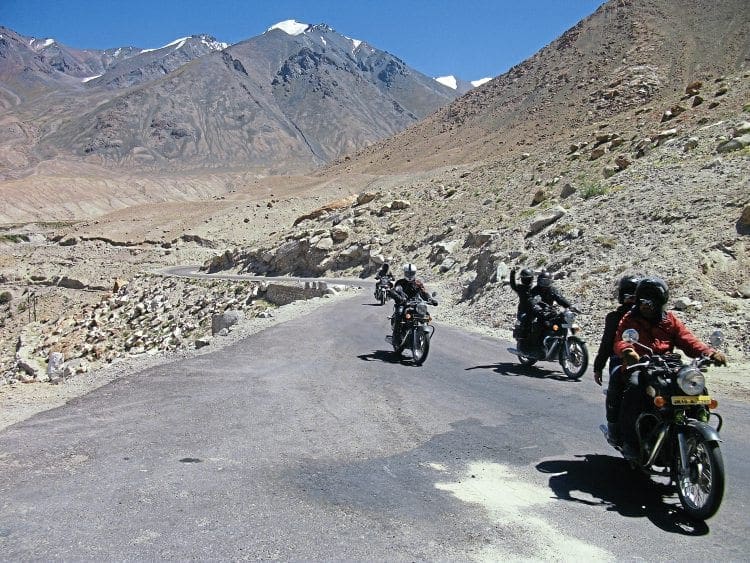 Our destination was Srinagar, which is roughly 1100 miles by rough mountain road (there is only one) but it seemed more like 2000, measured in pure joy, adrenalin-fuelled exhilaration, courage and emotional turbulence as rugged and vast as the majestic Himalayas. I discovered more riding skills in the first few days than I had in 10 years riding on ordinary roads, and I loved every minute of it.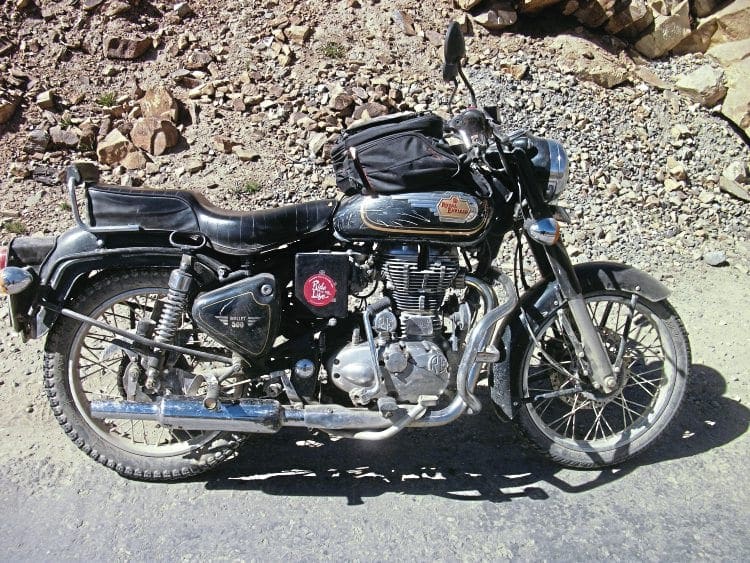 They started us off with a 45-mile round trip into the pine forest hills on what was evidently an evaluation. This is where I discovered that changing the line halfway through a stretch of deep mud with submerged rocks is not a good plan! To avoid total plonker disgrace I decided to put a foot down and stop, but then I needed a push, though I did manage to complete the ridiculous obstacle course. But it was hotter than expected, and having followed instructions and togged up with thermal undies and thick shirt, I very nearly threw myself into the waterfall where we stopped for lunch. The tough riding meant some were considering packing their bags already. Still, none did, and the team gelled.