Alex Carnegie rode a Kawasaki Versys 650 around the Coromandel Peninsula in New Zealand. This is his story…
For most people, riding in New Zealand would mean a two-week tour, or perhaps an organised adventure, but because our trips down under are to visit our daughter and her family, holiday biking is usually limited to the odd day out.
But this year would be different. I rented a bike for a week and son-in-law Nick and I planned some better rides including an overnight stay or two.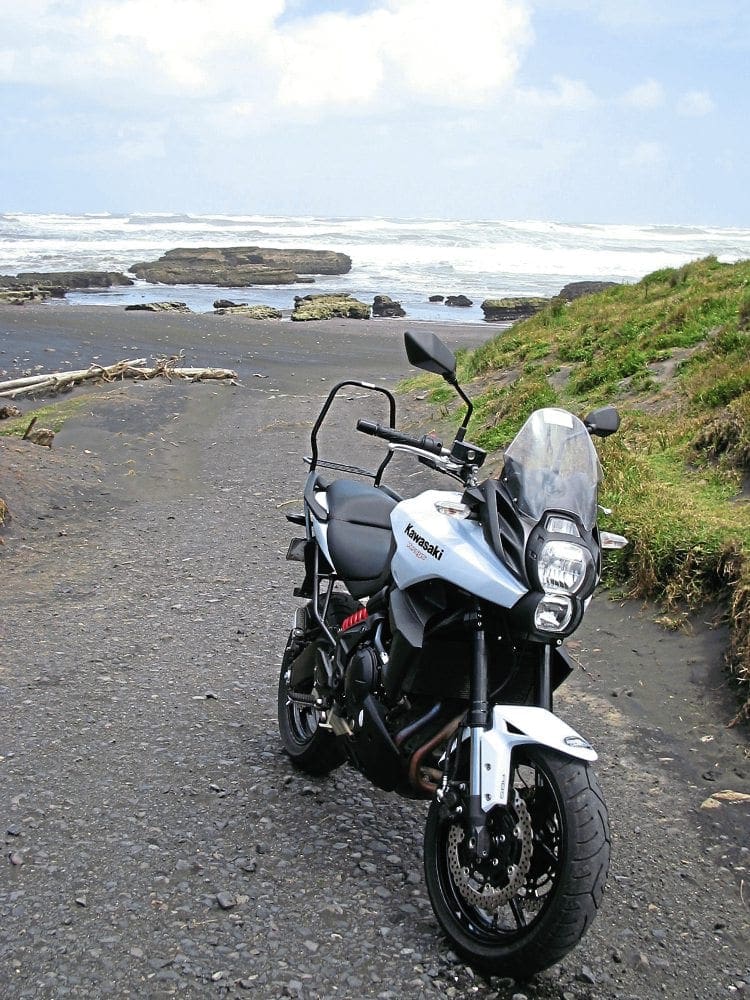 I decided to avoid the Auckland traffic and opted for Hamilton, an hour south, where a hire company offered a recent, low mileage Kawasaki Versys 650 – it proved to be a perfect choice.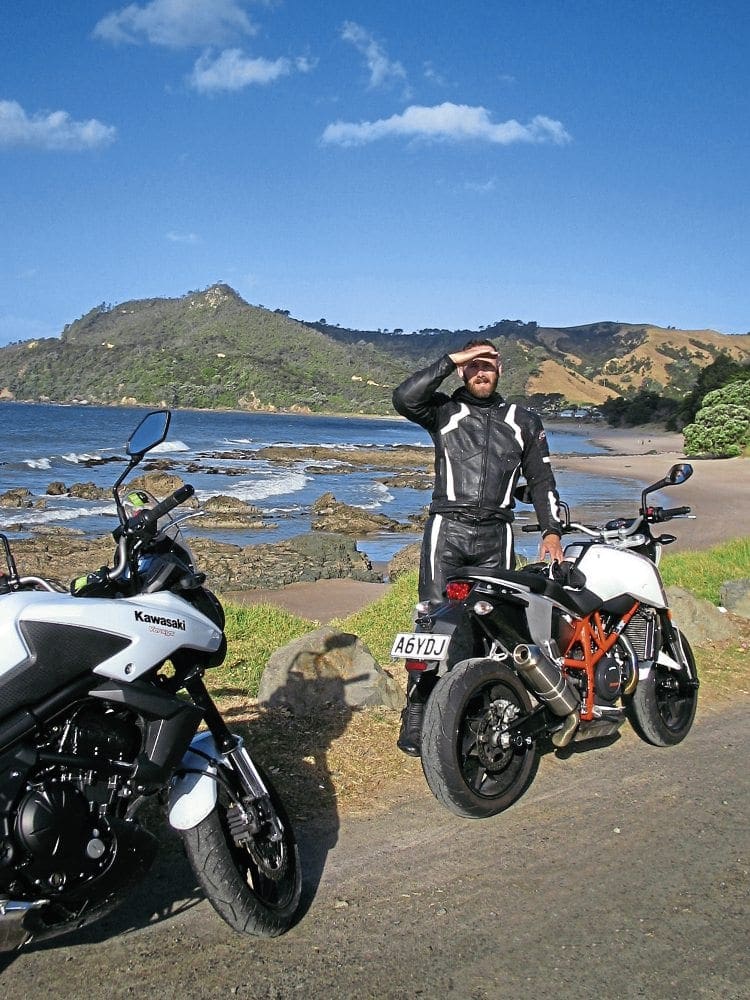 On day one we drove to Hamilton to pick up the bike. I headed back up Route 1 to meet Nick on his KTM 690 at the Bombay junction services. From there we headed east onto some great minor roads marked with warning signs such as 'Unforgiving Roads – Concentrate'. This gave us a taste of what was to come!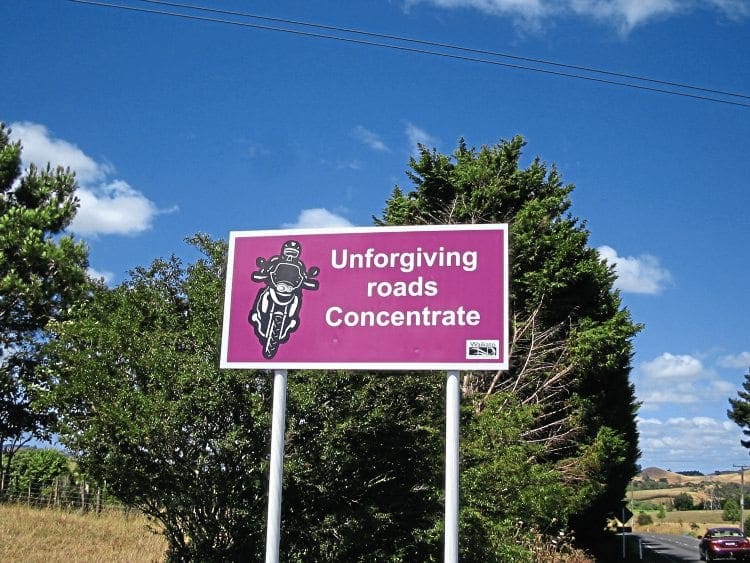 We ended up on Route 25 at the south end of the Firth of Thames, which is the main road onto the Coromandel Peninsula. Along the way we passed Miranda Hot Springs, where a large area of natural hot pools were developed in the 1960s to provide hot spas and an outdoor swimming pool, heated to 36-38°C by the thermal mineral waters. We didn't stop at the spa this time, but couldn't pass the Bugger Café, a coffee shop with a collection of funny photos and memorabilia based on crashes, accidents and other blunders, anything which might make for a You've Been Framed moment – cars in swimming pools and all that stuff. It's a fun place, but imagine trying to get planning permission for a café called Bugger in Tunbridge Wells…
ALL AT SEA
If a café called Bugger doesn't appeal, a few miles along the Ngati Maru Highway is Thames, originally a gold mining town, but now a tourist stop with museums, shops and cafes. Gold fever struck on the Coromandel Peninsula when gold was found in 1852, and most of the main towns developed during this time. Although gold is still produced in Waihi, there is opposition to any further mining in what is now a popular tourist attraction.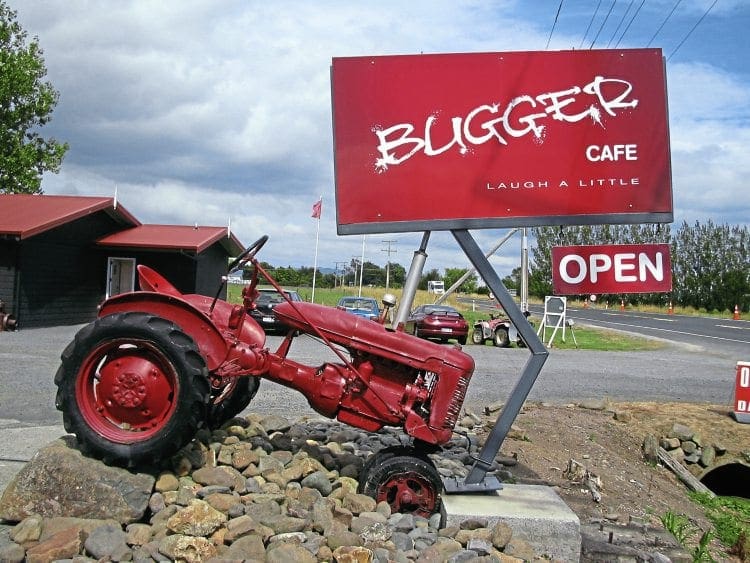 Route 25 is basically a continuous main route around the Coromandel, following the rugged coast of Firth of Thames before turning east and climbing over the peninsula. It's a brilliant road to ride, with little traffic, and constant twists and turns, climbs and descents resulting in ever-changing conditions, and offering everything you would expect of a bike ride in New Zealand. Better still, it took us direct to the family beach house near Whitianga, where we would be staying on our first night. When we arrived, I was surprised to find a full house, with Nick's brother and family already there, with the beers ready chilled and the barbecue on, so after 170 miles we finished a great day with family and friends.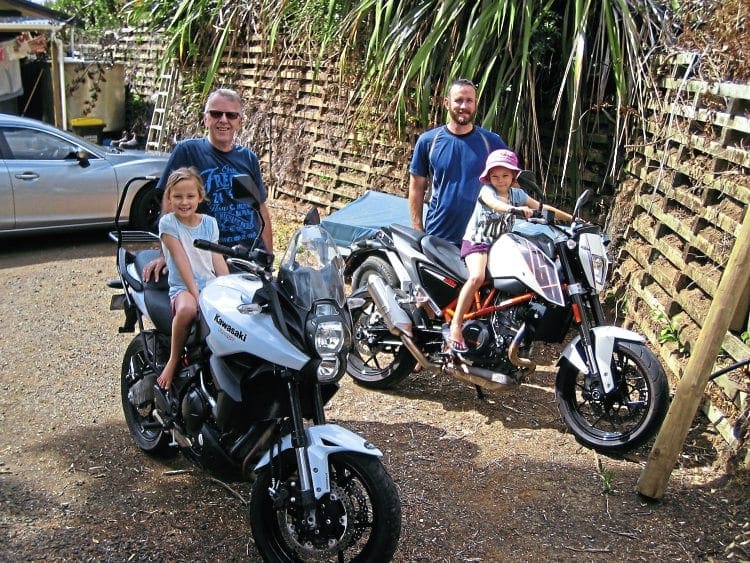 Next day we headed south on Route 25. A short distance out of Whitianga is Hot Water Beach, so named because at low tide you can hire a spade and dig a hole in the sand, which will then fill with hot water from underground springs to form a private hot pool. Evidence of New Zealand's volcanic history is never far away!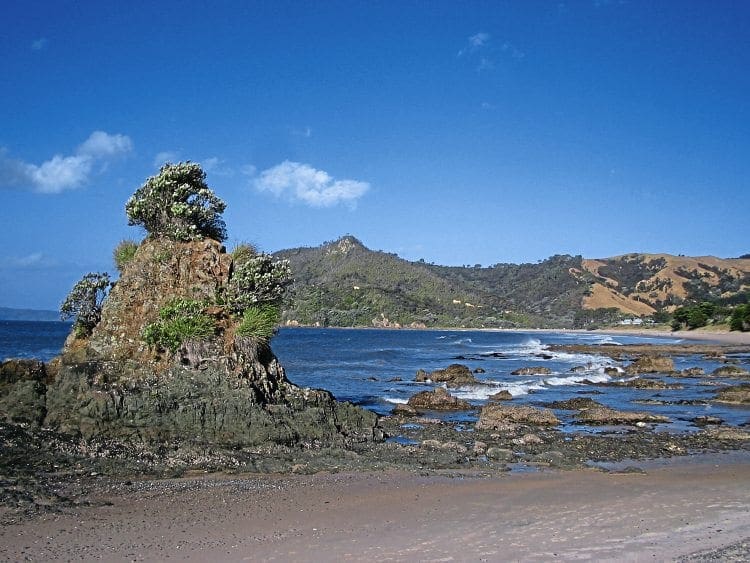 However, we kept riding, and the twists and turns of day one continued as we followed the road through the forest towards the east coast towns of Tairua and Whangamata, where we made a quick photo visit to the marina and beach, before again turning inland.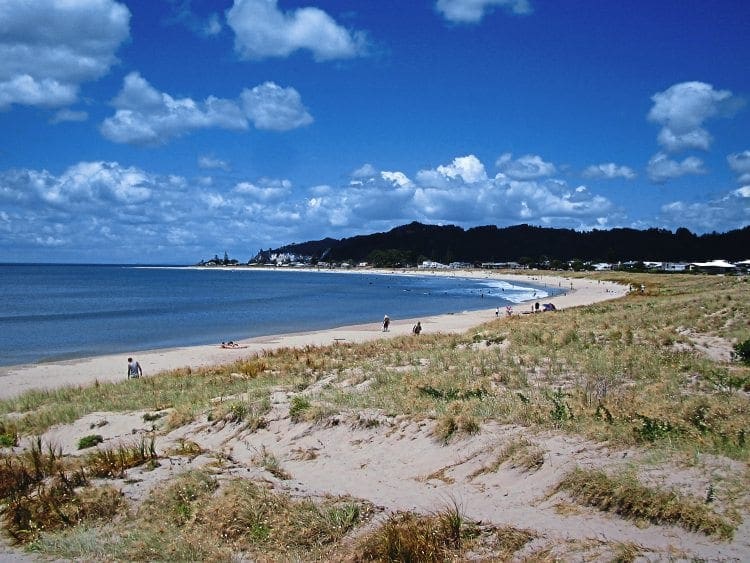 Route 25 carried on through the forest down to Waihi, where we stopped for a traditional Kiwi meat pie lunch from the local Superette (small local supermarket), before joining Route 2 and following this west through Ngatea and home to Pukekohe. We did make a small diversion from the main road though, to enjoy a few of the twisty back roads familiar from the start of day one. Another fantastic 150 miles.
Nick then had a day off the bikes, so I did a quick solo ride out to Port Waikato. It's a tiny coastal town, but the surrounding limestone outcrops are quite spectacular, and were used during filming of Lord of the Rings. On the way, I passed another warning sign – 'Not all roads are equal' – a pretty accurate description of New Zealand's curvier routes!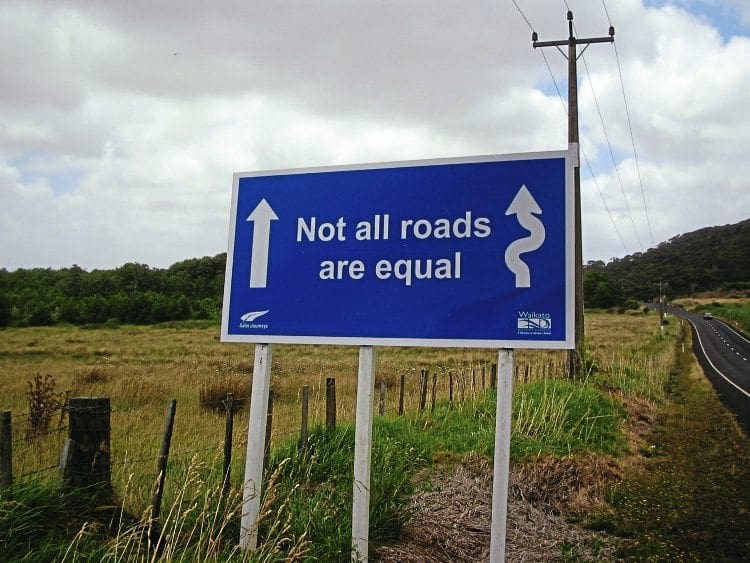 The wind was blowing hard, and it nearly caught me out, not on the bike but on the beach – I had gone down to the shoreline to photograph the heavy surf, and left my helmet and gloves where I thought they would be safe above the waterline. Imagine my surprise when I saw them floating away on a sudden surge! I ended up knee deep in the sea to rescue them and retreated home to dry out. A slightly damp 57 miles followed…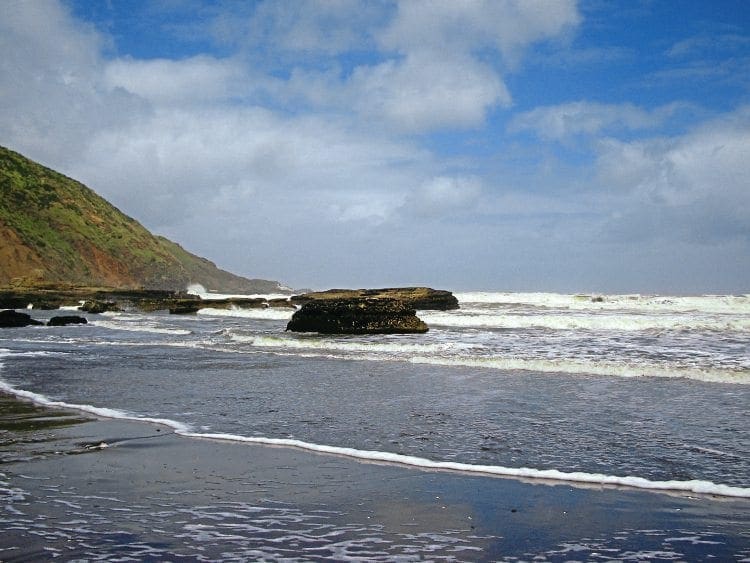 We did a couple of Nick's favourite day rides over the next two days, towards the Hunua Ranges, around Glen Murray and along the Waikato River. Most of the time I had no idea where we were, and just kept Nick in sight as we enjoyed 120 miles or so on some of the best biking roads anywhere.
Article continues below...
---
---
ON THE GRAVEL
We wanted to do another bigger ride as well though, and headed off to stay at Nick's family farm. We stopped at the Nikau Cafe for lunch – this is a popular biking route among both locals and Kiwi weekenders, so it was no surprise to be enjoying more smooth twisty roads on the way there, followed by a great brunch with other bikers.
After lunch, Nick has to head home for an unexpected call into work, so he pointed me down a gravel road as the quickest route to the farm. These roads are quite common in New Zealand, and are classed as public roads, complete with school bus routes and road signs. As I headed down this one, I came across some young bulls, which had escaped from their field, and although most went back in when I approached, one just kept moving down the road ahead of me. I decided I didn't want to chase him far from home, but having been here before I knew of an alternative route, so turned back and approached the farm from another way, which meant a small detour and another six miles of gravel.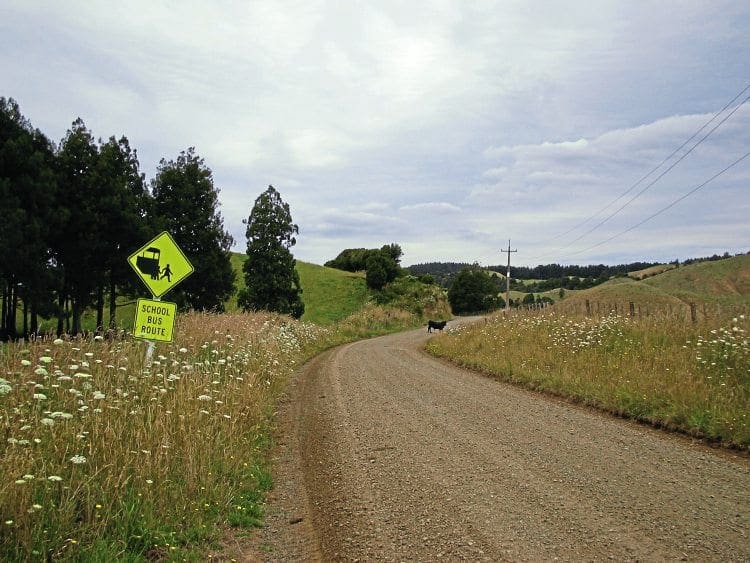 Nick came back for our last day, and the obvious way back to Hamilton (about 90 miles south) was Route 1, the main road. But we decided to avoid it and use parallel mirror roads back to the city. These narrow and twisty roads provided more terrific riding, but we did misjudge our timing a little, and also had a bit of trouble finding the rental company – it was a relief there were quite relaxed when we turned up a bit late!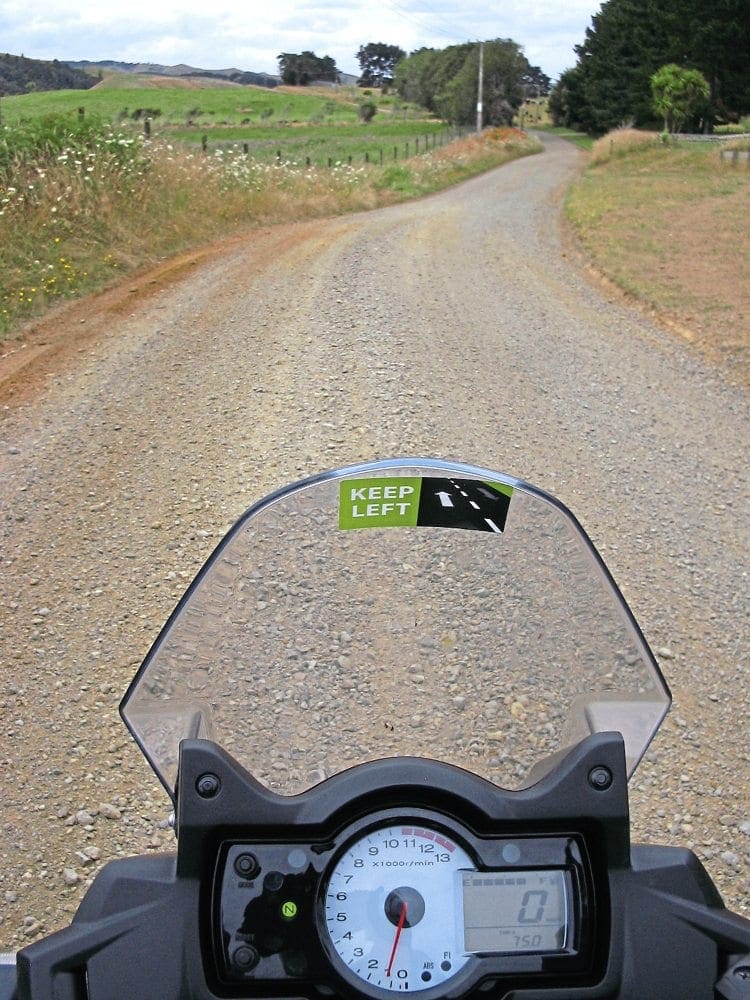 It had been a good week. We'd ridden about 700 miles, all of them on roads within easy striking distantance of Auckland, yet offering much of the enjoyment of a longer ride. As for the Versys, that had proved well up to the challenge. And it all fitted in with our family holiday – perfect.
RIDING IN NEW ZEALAND – TOP TIPS
Roads are generally quiet, but watch for slow moving rural traffic and drivers not used to road bikes.
Weather can change rapidly, especially in the mountains – take waterproofs and a spare warm jumper just in case.
Railway crossings may be unprotected in rural areas, with no barriers, bells or flashing lights. If there's a Stop sign – stop!
Honeypots attract tourists like, erm, honeybees, so beware of cars, bikes, campervans and coaches rejoining the road, or last minute signalling.
Animals on the roads are usually the domesticated type rather than wild creatures. Sheep are often driven along the road and cattle can get loose.
Kiwi drivers are reportedly pretty good – laid back and patient.
Seasons – best time to visit is December-March. June-August is the NZ winter when the mountain passes can be blocked by snow.
Speed limits – generally 100km/h (62mph) on the open road, 50km/h (31mph) in towns and villages.
Gravel roads are open to the public, with all the usual road signs and speed limits… except without tarmac. Keep your speed down, obviously.
Kea parrots are found near the mountains. They've got sharp talons, which can damage motorcycle seats and they can apparently peck a hole in the seat in seconds. One bike hire company offers kea parrot insurance, so it must be true!
Words & photography: Alex Carnegie
[googlemaps https://www.google.com/maps/d/embed?mid=1wsMCr1PdZGy38TotVR58BVJD36g&hl=en&w=640&h=480]

Enjoy more MSL reading in the monthly magazine.
Click here
to subscribe.