This month, a UK Mid Ride, around the coast of Britain by Triumphs – what could possibly go wrong?
Father and son, two weeks' holiday in June, a brace of Triumphs (Street Triple and Bonneville) – what else could we do but a mega-ride around the UK (anti-clockwise)? We'd hug the shore as much as time and road allowed and thanks to my organised wife had a  succession of B&Bs booked en route.
Living on Cornwall's north coast we tackled the initial section the weekend before (a Bank Holiday just to add to the fun). The stunning B3306 views after St Ives (though shrouded in mist today) always remind me why we moved here. After the obligatory picture at Land's End, England's most westerly point (some still argue the case for Cape Cornwall) we continued around the coast to the most southerly, Lizard Point. Here we suffered an annoying narrow lane encounter with a stubborn driver who seemed to think motorcycles can reverse uphill, forcing us to roll on to a crowded footpath.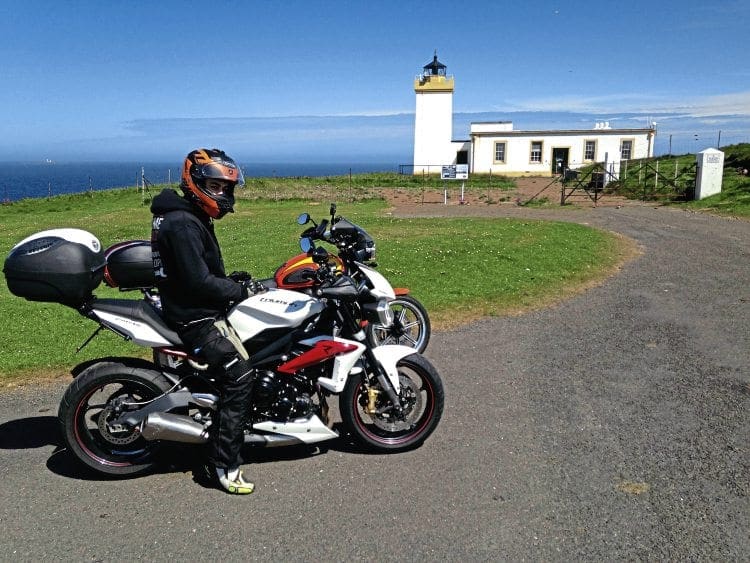 No need for the Lizard fog horn, as the curtain of mist burned away to reveal spectacular views. After getting lost on the myriad of Cornish lanes, we eventually stumbled upon 'King Harry: possibly the world's most scenic ferry. And after this breath of fresh air we dived back into the narrow, often gloomy lanes. These gravel-washed, cave-like tracks never fully dry out, as wall and hedgerow help form dark tunnels. Bursting into sunlight offered a stark contrast, as dry roads snaked through vivid greens, rolling away towards azure and turquoise, where sea and sky met. The sun was sinking as we hit St Austell so we took the A390 home.