Mark and Veronika Siska made it to Slovakia in their 10,000-mile gastronomic tour from John o' Groats to Sicily last month. This time it's Switzerland, France, Italy… mostly Italy.
After a few days' recuperation at home in Slovakia we were back on the road for the southern half of our foodie trip across Europe. We rode back into Austria, camping close to the Formula One circuit near Spielberg, before doing the Grossglockner – that cost 25 euros, for the two of us and the Transalp, but it was money well spent.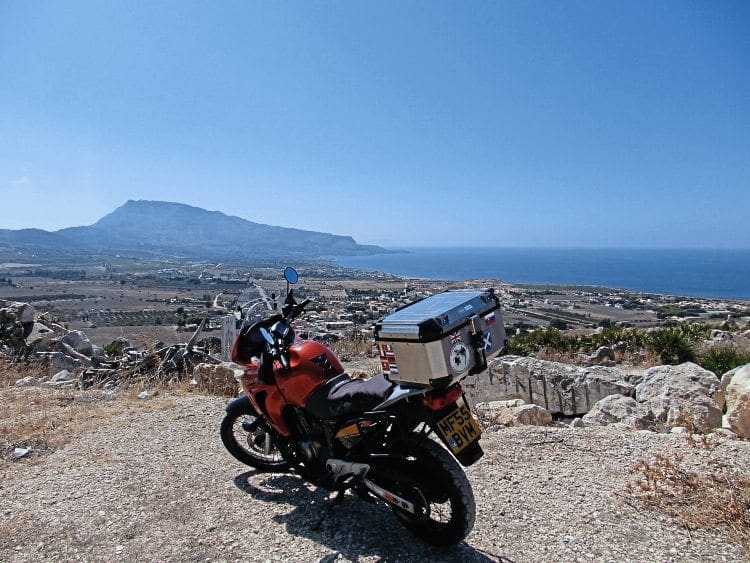 Crossing the natural border with Italy (via the Passo Stalle at 2052m) we continued to the rich little country of Liechtenstein which doesn't take long to ride across, north to south. We didn't stay long in Switzerland either, because of the high cost of camping, but did find many more mountain passes plus some interesting spots like the flooded village Graun in Reschen lake, just over the border in Italy. Graun was submerged by an artificial lake in 1950, but you can still see the church bell tower poking up through the waters, and they say you can walk out to it in winter when the lake freezes over. Riding in summer, we couldn't do that, but there was snow on the road on the some of the higher passes.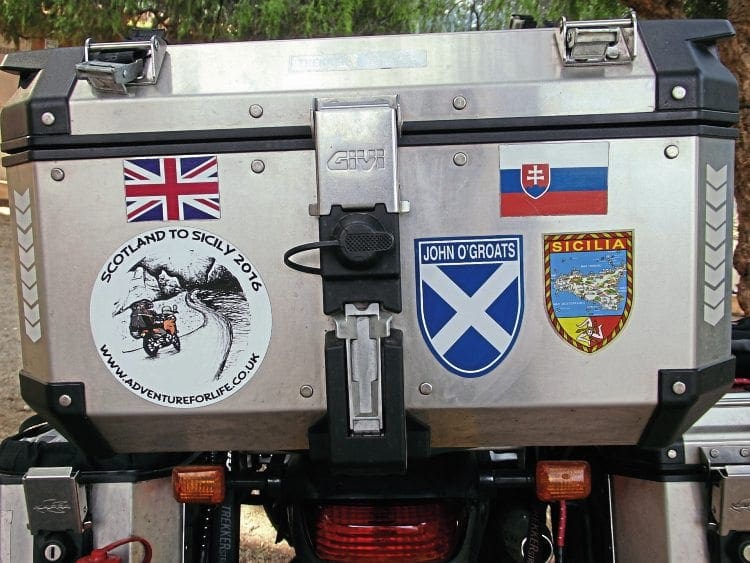 The French part of the journey started on Route des Grandes Alpes, which is close to the Italian border. It's very touristy and very… French, while the best bits at Brianco are the museum – which houses 86 historic Citroens – and plenty of official motorcycle parking.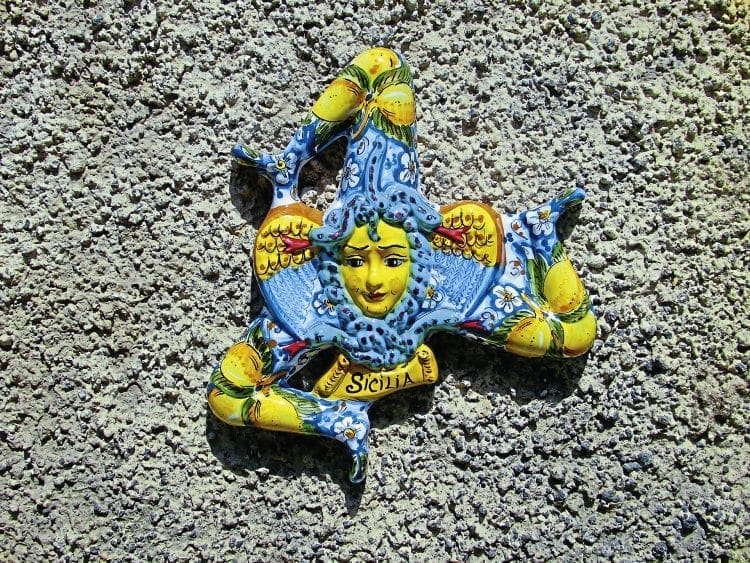 We finally hit the French coast at Saint Tropez, where we explored the story of famous French comic actor Louis De Funes, not to mention the Gendarmerie museum.
HAM & SCOOTERS
But really, we were looking forward to Italy. All the way down from John o' Groats we had looked for local food and drink to try, and heading down the west coast of Italy with detours inland, we would have plenty of opportunity to try more. We knew that in this country we could find plenty of mouth-watering specialities at a price we could afford.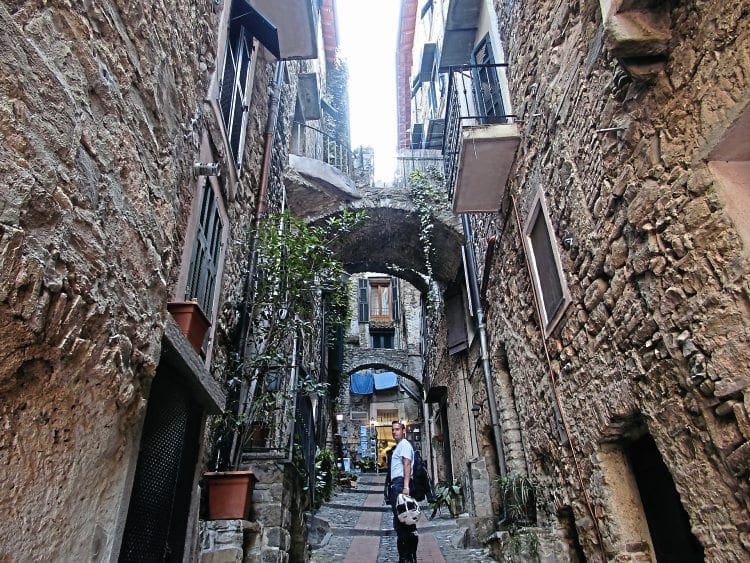 Only a few kilometres from the border we started the Italian part of our adventure by visiting the ancient village of Dolceacqua, famous for being destroyed by earthquake in 1887 but now full of life once again. Moving along the coast we rode into Parma, there to explore the origins of the famous Parmesan cheese. In fact, this region is well set up for foodie tourism, with Parmigiano Reggiano, Parma Ham (Prosciutto di Parma) tomatoes, pasta, Salami Felino and wine all having separate museums.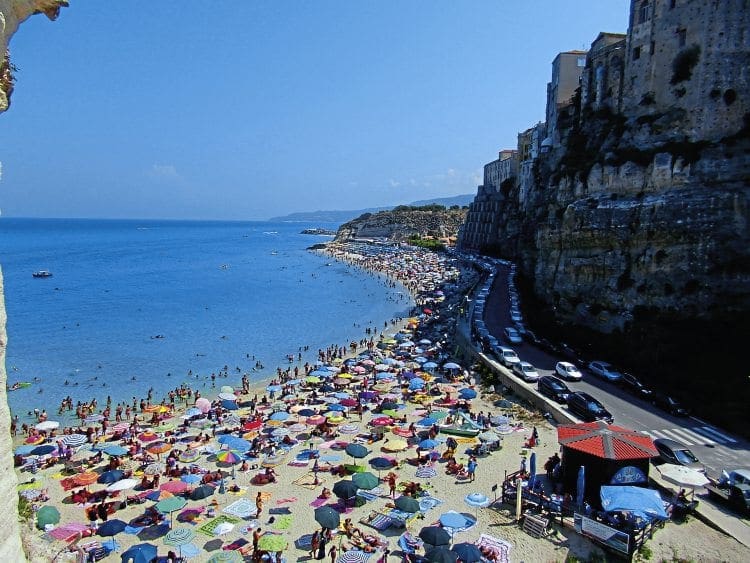 It was still hot, and we cooled down a bit in a nice family run campsite at Schia, located in a ski centre, trying many delicious homemade variations of pasta and pizza, plus desserts. Food-wise, the Emilia Romagna region was one of the best parts of our journey with a lot of original flavours and homemade recipes. You can find Parma Ham almost everywhere, but you need to be a little bit careful because in Italy there is more than one type of 'Parma Ham' in different regions. Maranello provided a day off food tourism with a stop at the Ferrari Museum, though the temperature had sunk, and thinking we deserved a bit more sun, we moved on to Tuscany. The landscape changed to small hills topped by lonely houses and tall trees. We visited the birthplace of Leonardo Da Vinci, near Vinci town, and enjoyed ourselves at a beer festival tasting local specialities like Gnocco with cheese, Tigella (a flat round of bread) and prosciutto ham.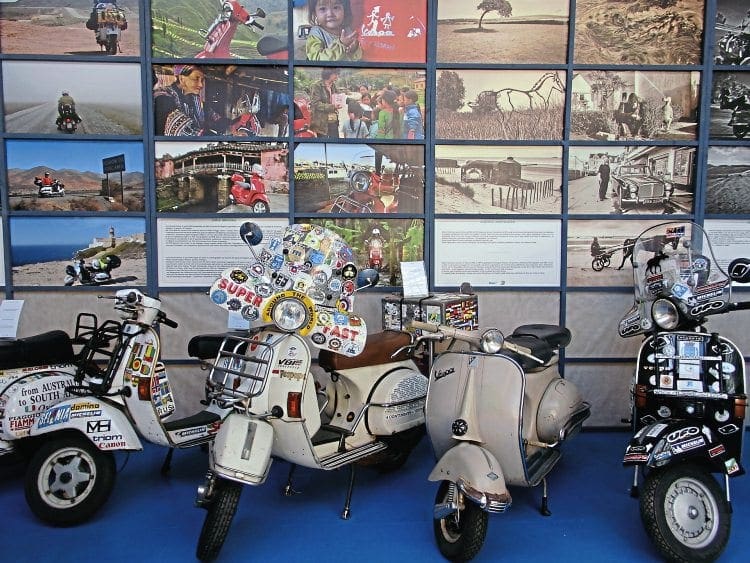 All this food was all very well, but as Vespa fans we couldn't miss Pontedera, where the scooters are still made and the famous Piaggio museum is close by the factory – well worth a visit, even if you are not an avid Vespa lover. We also headed into Pisa and Florence, but to be honest, a big bike, fully laden two-up, is not the best way to get through busy tourist cities because you cannot get through the traffic easily. We fared better in the alabaster town of Volterra, an ancient hilltop settlement which has been inhabited since the 7th century BC and (by complete contrast) Cecina, a modern resort down on the Tuscan coast.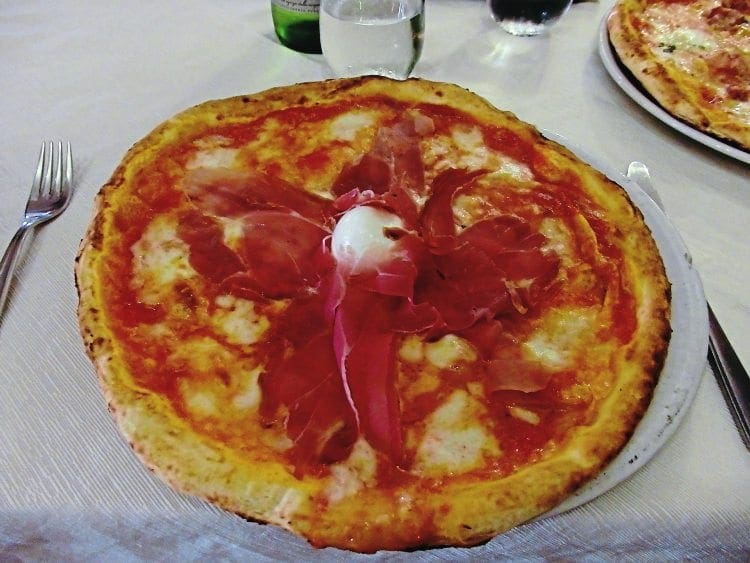 Further south we stayed a couple nights in modern and ancient Pompeii, the evenings spent in the modern town centre trying street food, finishing with scoops of ice cream and rum baba. We kept heading south, sticking near the coast and stopping at Paestum ('God's town') which was colonised by the ancient Greeks long before the Roman Empire was up and running. That explains the three Greek temples which have survived remarkably well through various conflicts including fierce fighting between the German and US armies around here in 1943 – they remain the town's main attractions. On the main road into town, we bought real Mozarella (which has nothing in common with the generic European mozarella) and had a pizza to an original Napoli recipe.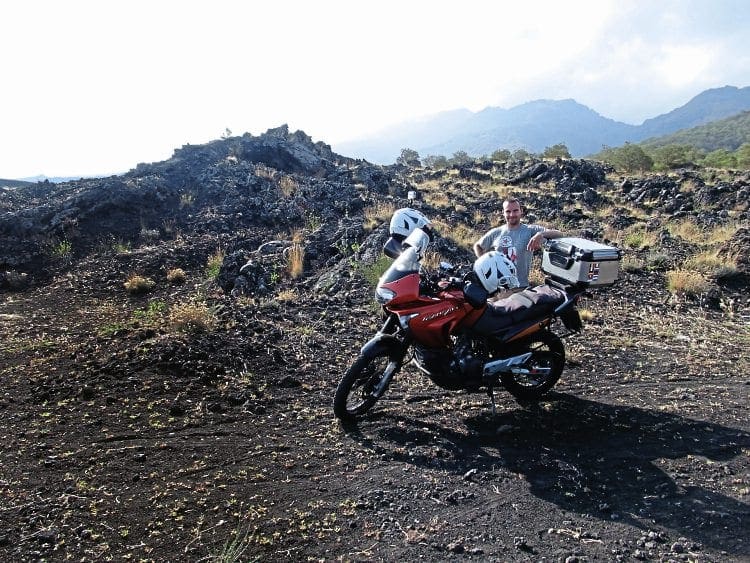 From one region to another we saw new places, secret beaches, experienced more local food, fish, seafood and fresh summer fruits and got to know some inspiring Italian festivals. We were eating ice cream on the beach for dinner, not having proper sleep (because the campsites never sleep) and enjoying sunny Calabria. This region, renowned for its red onions (an ingredient in almost every dish), has unbelievably clear water plus Tartufo Nero and Bianco (balls of ice cream with a liquid chocolate centre).
FROM KIPPERS TO DUMPLINGS
It was on day 80 of our trip when we finally rolled off the ferry into Messina, Sicily – the island is known as the 'land of three legs' but for us it meant the end was in sight. We quickly left the busy town behind us and rode along the east coast, where we could see the summit of Mount Etna covered in snow. After riding up to one of the craters we stopped in Syracuse for a chance to try an amazing combination of ice cream in brioche, which can easily fill up two people for lunch.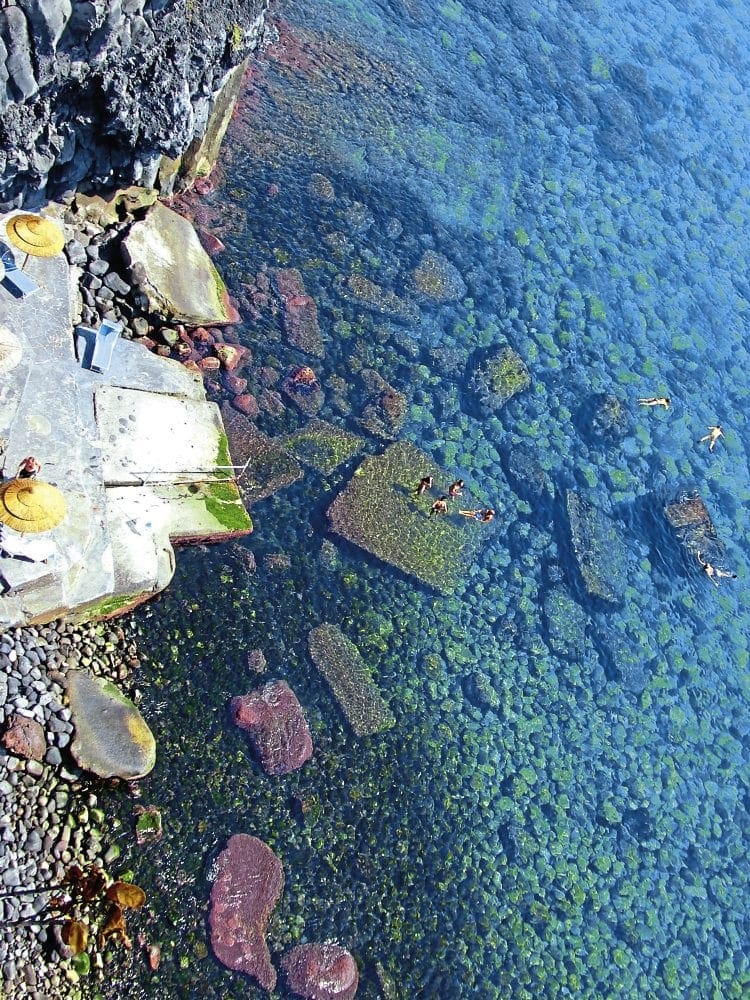 Sated, we headed inland to Caltagirone, famous for its ceramics, then back out to the coast and the famous Sicilian beach of Scala dei Turchi, the whitest chalk cliffs we have ever seen. At San Vito Lo Capo we had a long evening walk to the lighthouse and an amazing Sicilian restaurant nearby. And Custonaci was a town of marble where we ate sweet pasties as part of the food festival. But Trapani was our ultimate goal, and here we saw the white flats of sea salt drying in the sun. We bought a kilo of salt as a souvenir.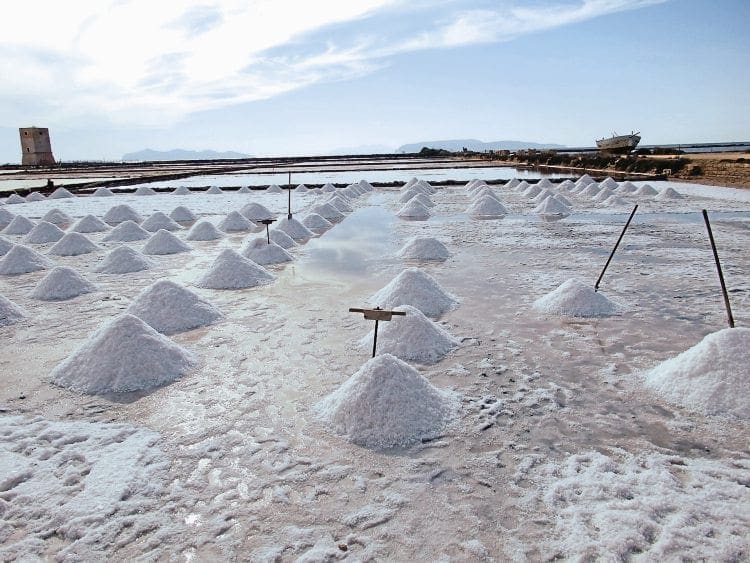 This had been an incredible trip – not just as a long motorcycle ride, but for all the wonderful food and drink Europe has to offer: from Scotch haggis, Isle of Man kippers and Somerset cider to brockwurst, pretzels, Tyrolian dumplings and the real Parma ham.
Words & photography: Mark & Veronika Siska