So can you tour on an Indian, or are they just sunny Sunday cruisers? Nick and Liz Turner rode one to Spain to find out…
It's an Indian Roadmaster and we should be on Route 66. Or in cowboy country. But Spain is closer, has the sierras and the deserts, and even cowboy film sets. So, decision made, bike packed and with the Med beckoning, my partner Liz and I rode off from the UK in the drizzle of a damp May to try out our new bike.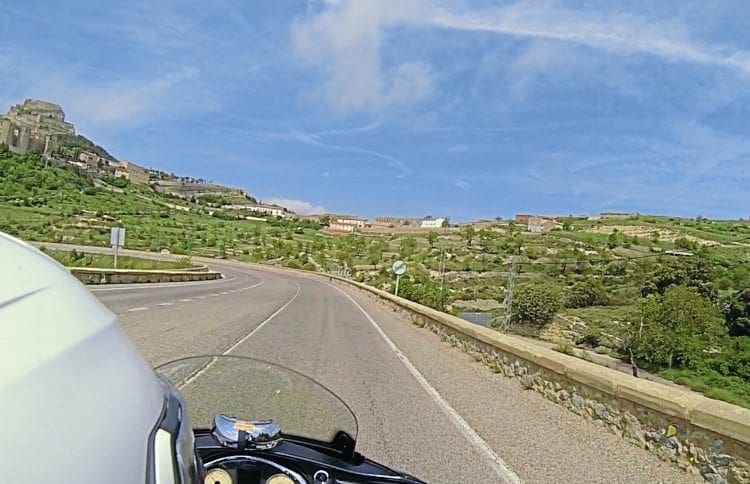 France was damp too, so we made a run for the Pyrenees, keeping to the autoroutes and appreciating cruise control. As ever, even though it was motorway riding, the lack of traffic in the west of France at this time of year was a real joy. We were able to cruise in sixth gear and easily do a 500-mile run in a day without breaking the speed limit, and still have time for a beer and shower before dinner.
We arrived in the mountain resort of St Lary Soulan on the French side of the Pyrenees to discover the tunnel to Spain closed for repair. The next morning, a quick traverse up a steep ridge to the next valley took us to the Tunnel de Vielha. I hadn't planned on hairpin bends so soon and the Indian is a big cruiser, but this is one American bike that you can turn through 270 degrees without hearing the footboard metal scraping asphalt. From the tunnel, the descent into Spain was on a fantastic road, but through uninspiring one-horse villages and a couple of towns where dust and concrete seemed to be the main features.
COSTA DEL HISTORICA
First night in Spain and we booked into a parador at Alcaniz. This state-run hotel was over-budget and under-serviced, but I'd anticipated the need for a decent break after a few days of hard biking. Actually, we didn't need it, as so far the weather had been kind, the roads easy and the Roadmaster chewed up long distances and days much more comfortably than our previous bikes (a Moto Guzzi California of which I have very fond memories, and an H-D Heritage Softail that showed me I'm not cut out for Harleys).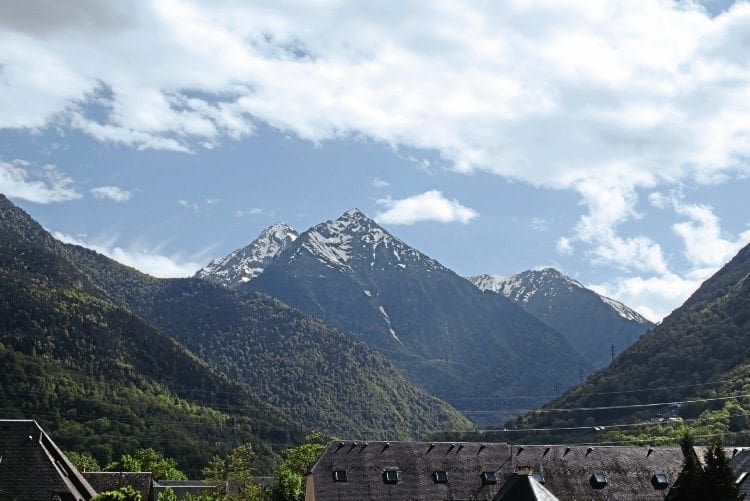 The Spanish roads make for brilliant biking, and in May you can feel like you own them. The run from Alcaniz to the Med at Peniscola on the N232 is superb; ascents, descents, twists and curves with straight runs to throttle through really bring a smile. Then, when you think it can't get any better, it offers up a unique coffee stop: Morella, a fortified town at 2500m – higher than Snowdon – here you can take a stretch and stroll in the footsteps of El Cid, the Spanish warrior nobleman who built the castle here in 1084.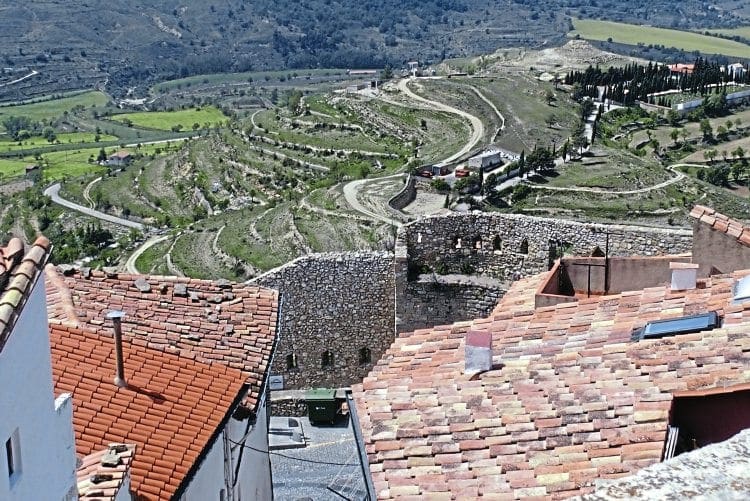 Throttling on, we were soon dropping down from the sierra to the sea. Cruising up the beachfront we took pot luck to find a seaside hotel in Peniscola, which wasn't difficult in May and we were soon lodged, with parking for the bike on the pavement just outside reception.
Peniscola (careful how you say that) is on the Costa, but has history. Hannibal, El Cid and the Avignon pope Benedict XIII all passed here in legend or fact, while the Knights Templar definitely did build the castle around 1300.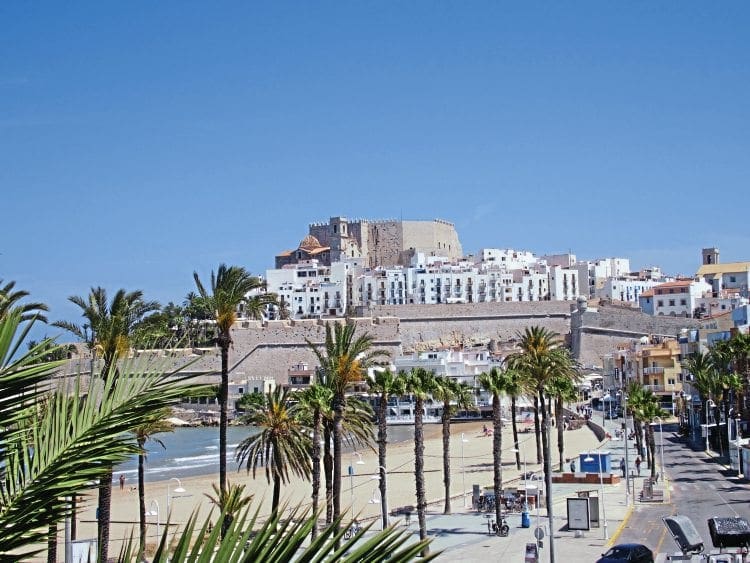 After a rest day on the beach, we decided to keep the Med to our left and head further south. The A7 coast road has little to commend it in the height of summer when it's like the M25, but in May it's still quiet, and you can cover distance at speed without getting stressed, so we soon arrived at the Playa de Orihuela, south of Alicante. It was 30 degrees, which was significant on the Indian – that's when you start to notice that you're sitting astride an 1800cc air-cooled V-twin. Red lights, high temperatures and air-cooled motors don't mix too well, but it's all part of the ride, not to mention the retro experience.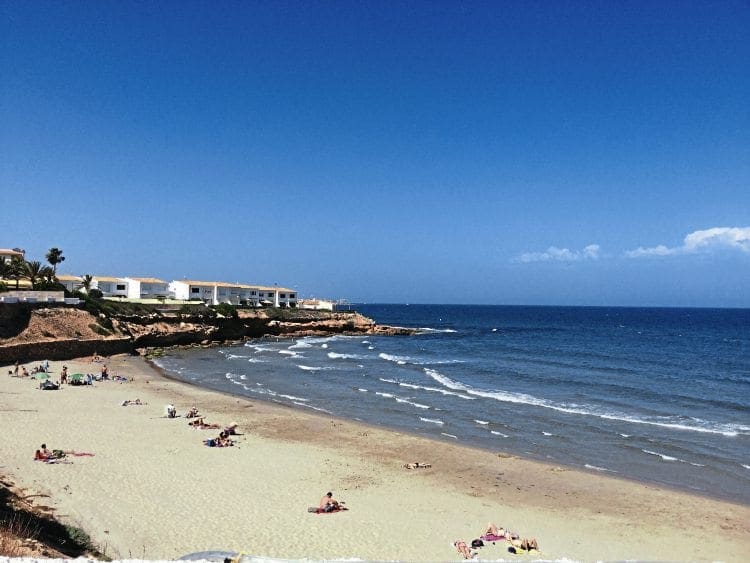 You can be a sun, sea and sand merchant or a culture bore when it comes to holidays, but on a bike tour through Spain, you can do the whole lot. After one of those great 'Ice Cold In Alex' moments, watching condensation drip down your beer glass in a beach bar, it was easy to agree with Liz that a trip to the Alhambra next day sounded like a great idea.
Another bright morning and we set off for Granada. The traffic thinned out as we left the Med and we were soon reminded of that biker truth – not all petrol station cafés are the same. In 33 degree heat, refuelling is also about re-cooling and we found that it was best to head for busy truck stops to find a decent air-conditioned café. Truckers know their stops, and a cool cafe selling tapas and ice-cold drinks is always going to be popular, so 'camion café' became our reference point for refuelling stops.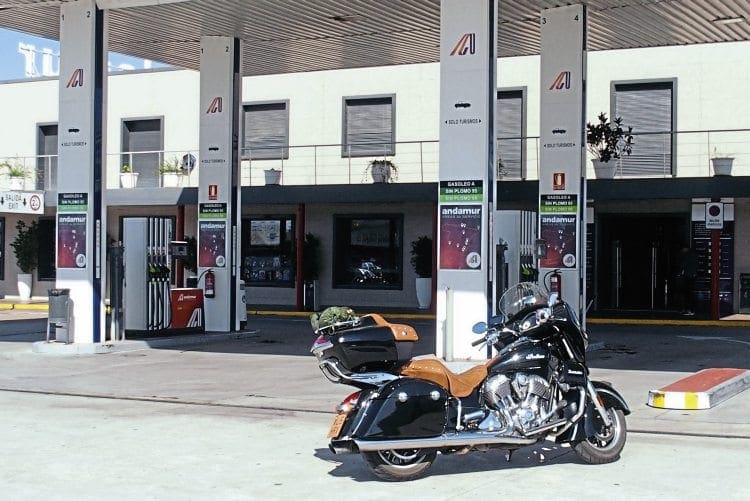 Granada wound into view, and what a view. We were on the bypass and enjoyed a 270 degree tour of the city before the sat-nav allowed us to break in. With snow-topped mountains to one side, the Alhambra on another and the bike in between, it was difficult to conjure up a better vista. Finding our hotel in the old part of the city soon shattered my reverie: cobbled streets, pedestrian areas, one-ways and a temperamental GPS led to one hot and bothered pillion and an equally strained yours truly. To find the hotel and then be warned that parking anywhere other than in a secured car park was asking for trouble, and then discover this was a mile back through the pedestrianized zone was not the best news on a hot and sweaty afternoon. Fortunately, the Alhambra made it all worthwhile.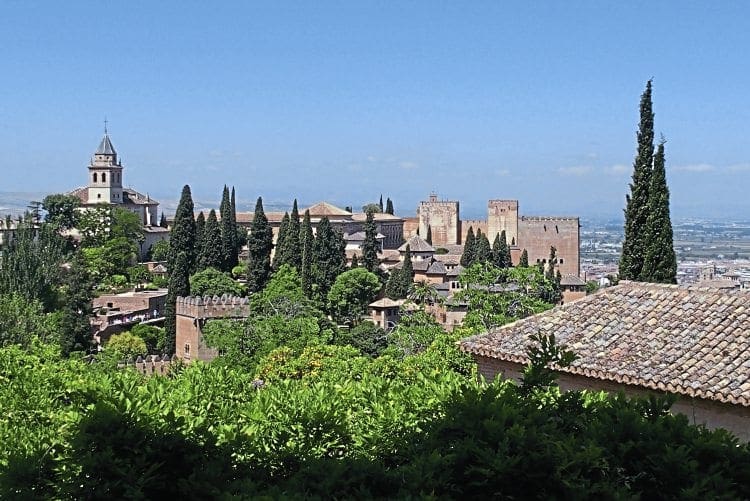 Building started on this magnificent palace about 100 years before William the Conqueror arrived in England. It reached its peak in the 14th century and a tour is definitely worthwhile. Even in May, however, it's best to book tickets in advance as visitor numbers are restricted.
FRANCO'S GRAVE
The culture bug had bitten, and that evening we discussed other places to visit, deciding on Valle de los Caidos (Valley of the Fallen), the site of Franco's mausoleum just to the west of Madrid. To get there was a day's ride through miles of olive groves, parched landscape and brilliant sunshine, all on a fantastic, empty A4 motorway with sweeping curves and an excellent surface. We used the chance to wind up the Indian and enjoy one of those rides where it all comes together, the bike feeling part of us as a slight shift in weight took us through each turn. Yes, even motorways can be rewarding on a bike.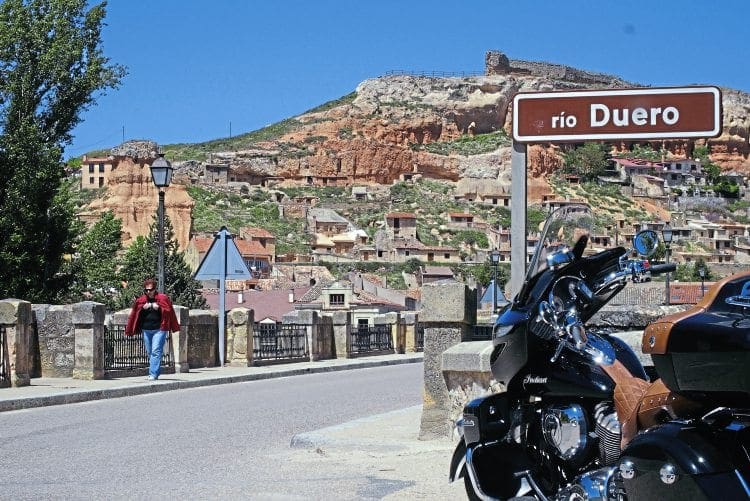 We'd read that The Valley of the Fallen, as a surviving monument of Franco's rule, and with its Catholic basilica, remains controversial. So maybe it was no surprise that it proved difficult to track down tickets – you can find them on the Spanish government website Patrimonio Nacional, or (even easier) turn up at the entrance and get them there. Again, May seems to be a good time to visit: we were alone as we paced a sombre basilica comparable in size to St Peter's in Rome, but carved into a mountain.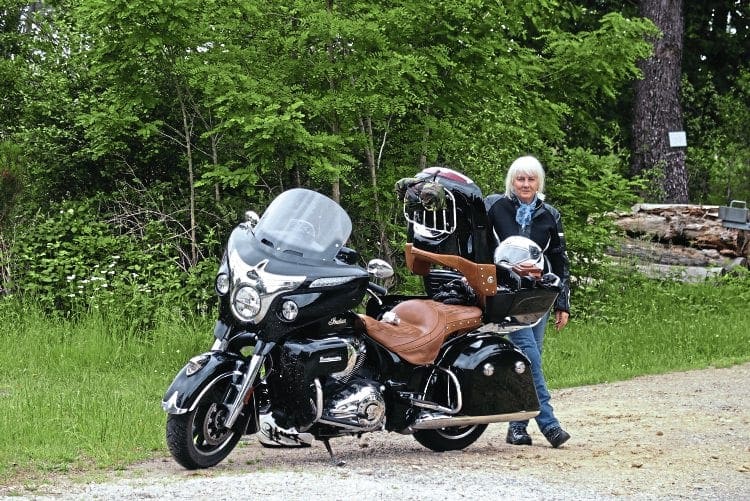 Our last night in Spain was a reminder that the further away you get from tourist centres, the more you have to fit in with local meal times. Late dinners don't sit easy with us, so tapas featured a lot in our evenings. We booked a rural hotel to avoid city noise and get some sleep, and the restaurant opened 'early' at 10.30pm as a special concession to ourselves and the two other Brits staying.
Our last day in Spain was a long one, heading north-east to skirt the western edge of the Pyrenees then back into France at St Jean-de-Luz on the Atlantic. As for the Route 66 experience, who cares? After eight great hiking days, no rain, little traffic, and smooth roads running through wonderful scenery, we'll definitely be back. Hasta la vista!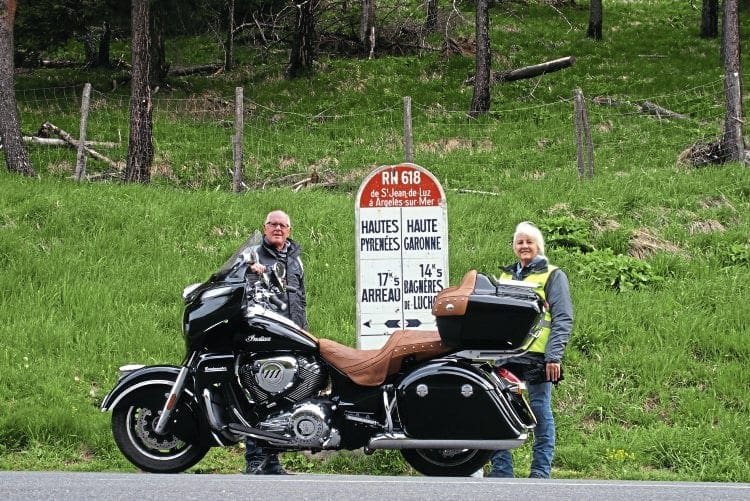 Nick and Liz Turner started their biking adventures on a Jawa 350 with a sidecar in the 1970s. After raising a family, they got back on a bike in their mid-fifties and enjoy riding around their home in Cornwall and across to Europe.
Words and photography: Nick Turner
[googlemaps https://www.google.com/maps/d/embed?mid=1osQOqIURd-3MpmXp0zOYRXKONG8&hl=en&w=640&h=480]