That funny bit of the UK between Yorkshire and Scotland is often forgotten by riders dazzled by the Dales and the Lakes. Steve Rose heads a little further north than usual for the best weekend of the summer so far.
The first morning of our spontaneous tour is peppered with just one phrase: "Can you hear me now?" Our fault for not trying out the new Bluetooth intercom on the bike before setting off. It worked fine with one downstairs and the other in the shed, but above 50mph, all I can hear is noise.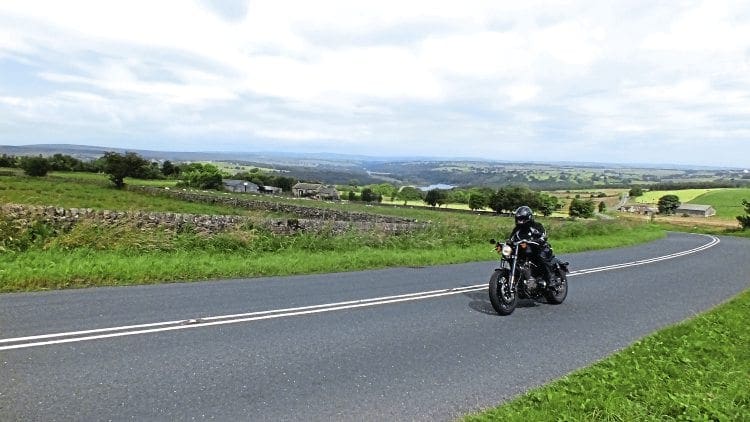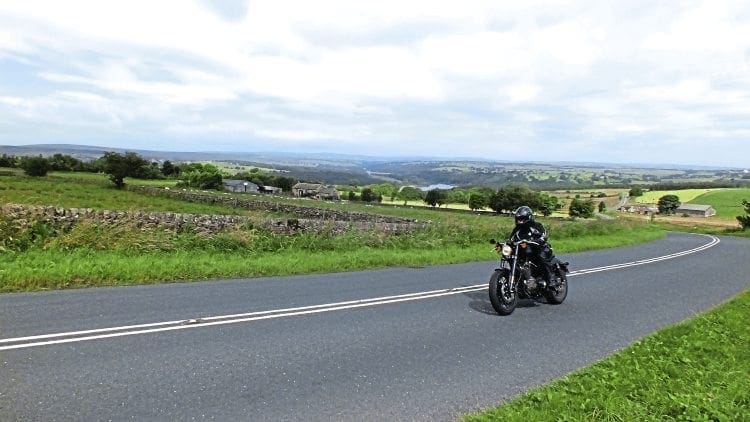 There is no plan because every time we tried, the weather forecast got in the way. So we booked Thursday and Friday off work, checked the forecast on Wednesday night and booked a hotel where the weather looked best. Whitehaven, in Cumbria since you asked.
We weren't looking for the greatest roads – just to get some miles on the bikes over a long, early summer weekend ahead of our American adventure last year. Going with the American theme, we set off, heading for… Middlesbrough, which is the start point of England's Route 66. Not quite Chicago (probably) but the run across the country to Workington (probably not LA) and then Whitehaven would make an interesting end to the day and we'd never been there either.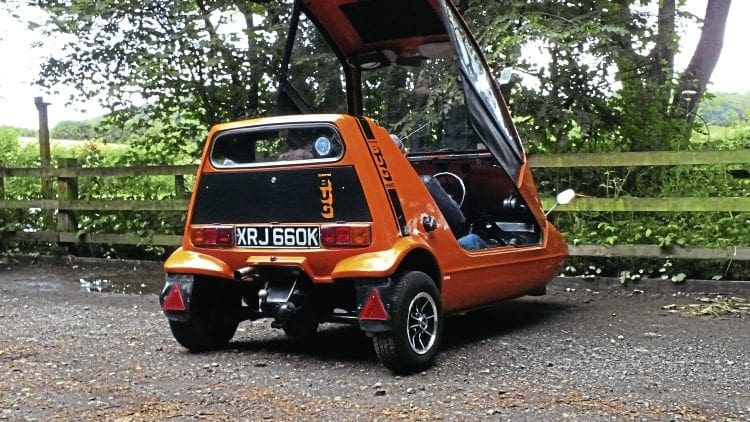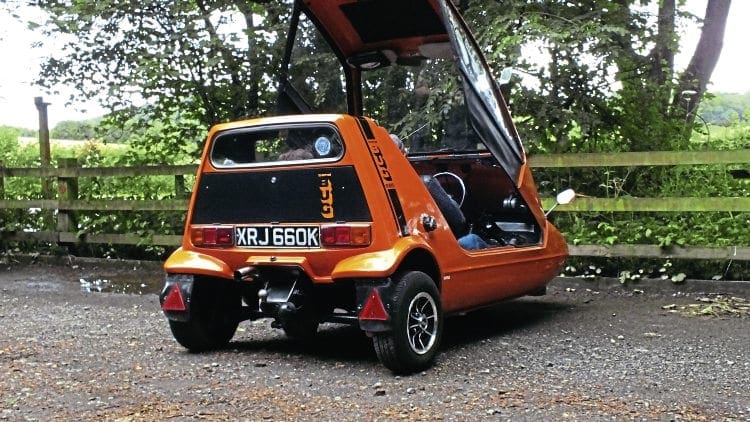 The run up the east coast is via the twisty and scenic B1248 and 'named-by-a-schoolboy' Wetwang, finishing off with a run over the Moors to Whitby. I'd forgotten how enjoyable riding slowly is. Use the torque to get to the front of the queue and then chug to the back of the next one, rather than just charge from one line of caravans to the next.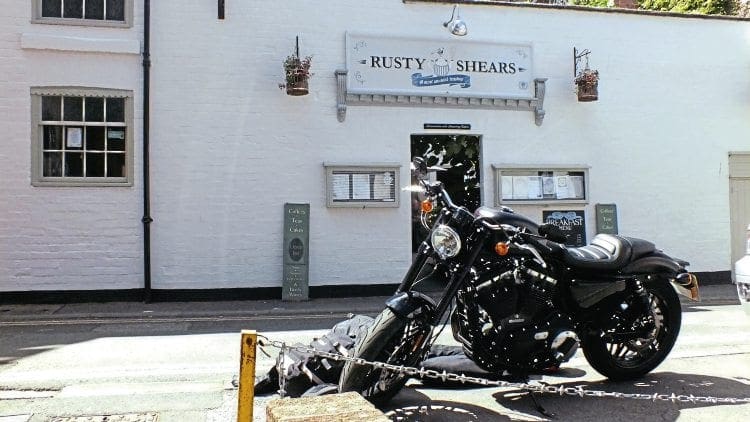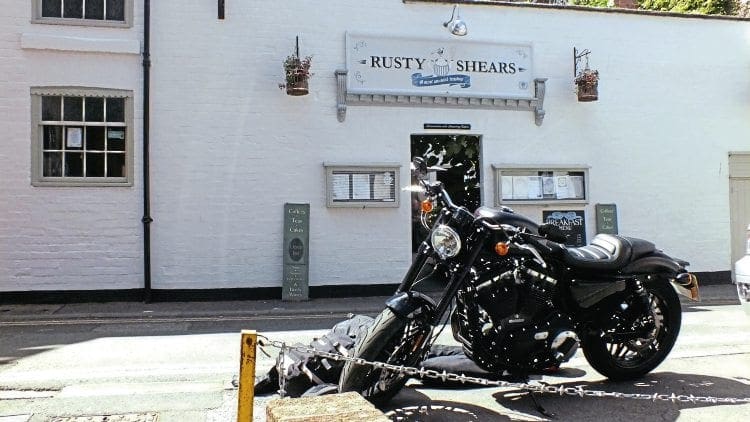 We hit Whitby relaxed in holiday mode and sneak up a side street to park outside a terrific cafe called The Rusty Shears for lunch in the sunshine. Watching the pooch at the table next door enjoying his 'doggy¬cinno' (warm, frothy milk and water) is a giggle, the food for humans is pretty good too.
Whitby to Middlesbrough is an amble up the A171; busy, but easy overtaking with the presence and midrange of a couple of heavyweight cruisers. The A66 begins at a junction on the ring road running past retail parks. To be fair, the first few miles of the other Route 66 are no more spectacular. It's the history that matters and there's a lot of that around here. Stockton on Tees (home of George Stephenson's first railway and the matchstick) and Darlington (destination of that first railway) are just the first 10 miles; there's another 101 to go.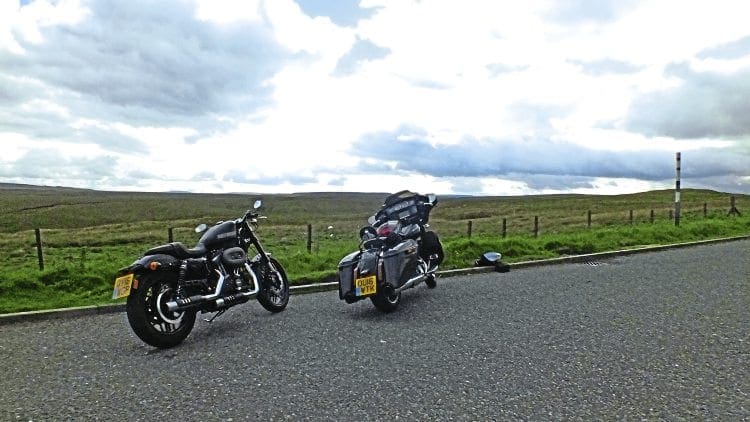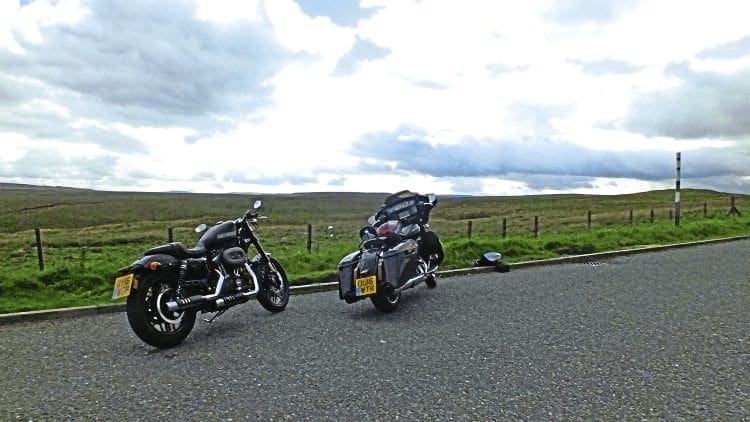 By Scotch Corner we need fuel. The cashier talks, in a soft Scotch-lite accent, of planning for the zombie apocalypse and wishing she had a bigger stock of hammers. Okay, er, fine… bye then.
Both bikes are averaging around 65mpg at our relaxed pace, giving even the teeny-tanked Roadster a range of 175 miles. The mountains of the Lake District stand tall in the distance and the ever-extending skyline reminds us both of Texas… seriously, except I don't remember snow poles in Texas. I know Julie is thinking this too because we've worked out a way of dealing with the intercoms. What it needs is a call sign; "Julie calling Steve" etc. Sounds daft, but doing this switches on the brain of the recipient making the incoming message easier to decipher. And the messages are as bizarre as they were on the stateside R66. Camels, castles and "fancy a cuppa at the Llama Karma cafe?" Turns out there is a Llama Karma cafe.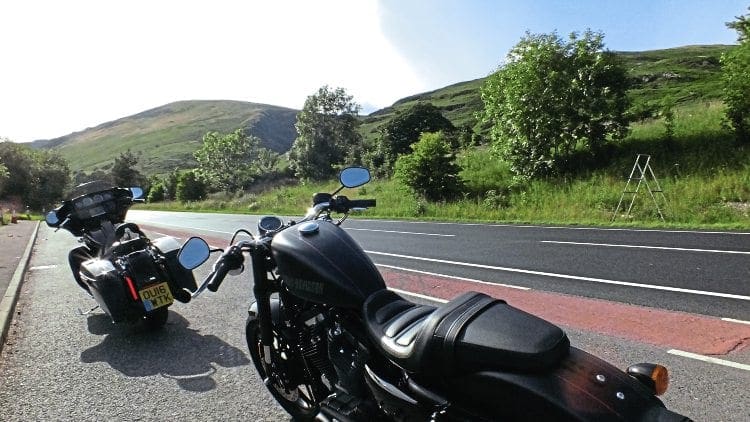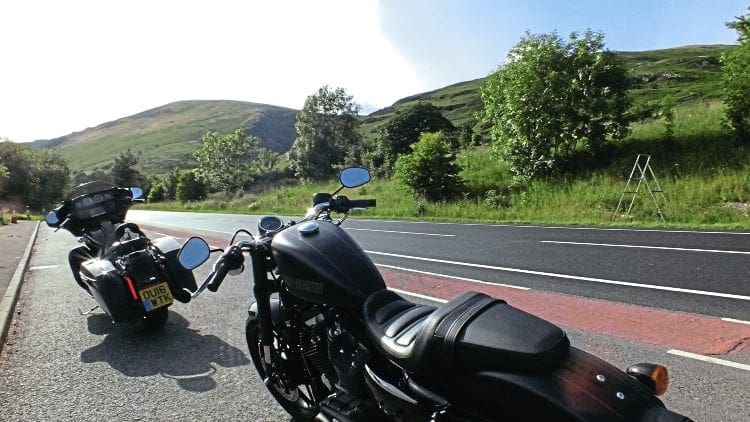 The A66 is beautiful but busy with trucks, slicing across England from the A1 to the M6 at Penrith, where the traffic vanishes. The last 40 miles are relaxing and ever-more scenic as we skirt around the top of the Lakes.
Workington is a tiny coastal town just along the coast from Sellafield that (thankfully) has yet to be bohemianised. Honest, unspoilt, working – the clue is in the name. One of those towns that northerners know from memories of Eddie Waring reading the rugby results on Final Score. So this is what it looks like?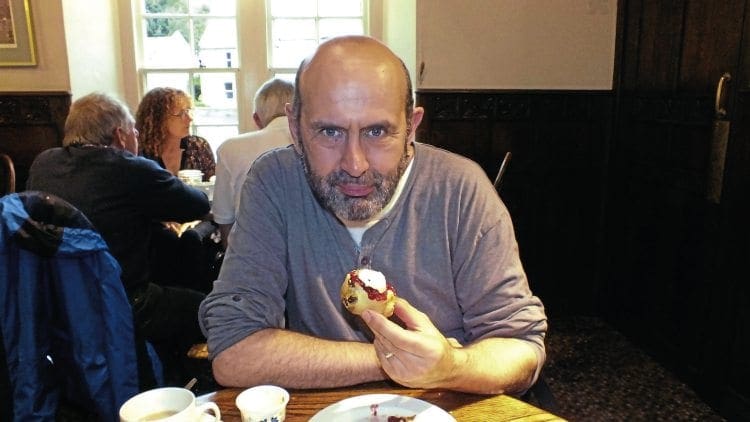 Workington turns out to have many advantages over Los Angeles. The traffic is a lot more polite for one thing, there's no smog and the temperature is a manageable 25 degrees.
Thursday night isn't party night so we do 'northern tapas' (nothing veggie that you fancy on the menu? Just order all the starters and side dishes and call it tapas) at Zest bar. The side dishes are huge and very tasty, especially the 'onion bombs', which are like bhajis, but even better.
[googlemaps https://www.google.com/maps/embed?pb=!1m24!1m8!1m3!1d2403529.804722899!2d-1.8295259999999998!3d53.963768!3m2!1i1024!2i768!4f13.1!4m13!3e0!4m5!1s0x487870aff65c0659%3A0x4f2d79b1081a1858!2sEast+St%2C+Horncastle+LN9+6AZ!3m2!1d53.208138399999996!2d-0.1130955!4m5!1s0x48632dc02bbdb9d7%3A0xa9dc5833ae4cfe12!2sWhitehaven!3m2!1d54.549699!2d-3.5892329999999997!5e0!3m2!1sen!2suk!4v1517488277402&w=600&h=450]
FRIDAY
Aching limbs drop out of bed. Turns out that 270 miles in a day on a Harley might not be as relaxing as we thought It's drizzling outside and the forecast is rain… everywhere. The plan last night was to head for Scotland and continue the faux-merican theme by heading down Route One (the A1) to Berwick-upon-Tweed – a place of emotional significance to us, but zero interest to anyone else, hence easy to find accommodation at short notice. Apparently, I booked a room in the Berwick Travelodge at 11.59pm, which I don't remember – maybe the thinner Pennine air doubles the intoxication.
I've never ridden the A7 from Carlisle to Galashiels. I'm expecting trucks and caravans, but it turns out to be amazing. Running through Border valleys; smooth and with mile after mile of interesting, but not too taxing, corners and stunning scenery too.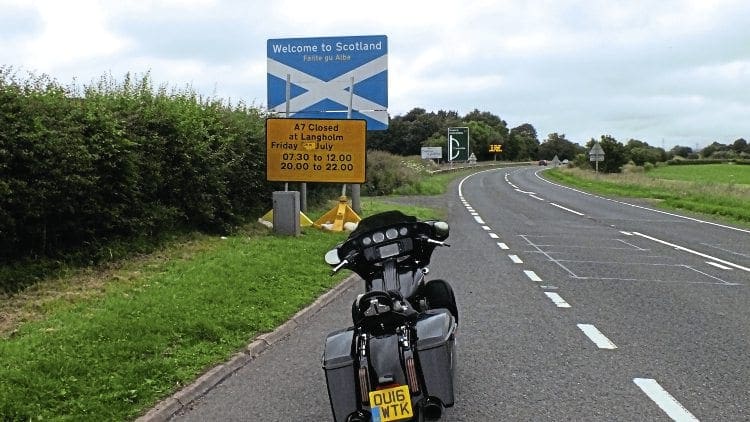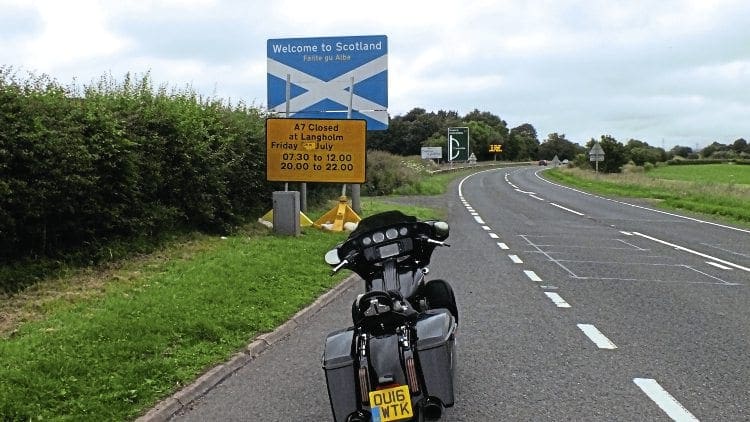 The drizzle has turned to rain, but without traffic there's no spray and at this pace, no worries either. I'm enjoying it, but Julie, without a fairing and still optimistically wearing leathers, is having less fun. We stop in a cafe with a live camera feed from a nest of harriers up in the hills. Fascinating viewing, great tea, good cake too.
Galashiels is wet. Everywhere is wet. Wetherspoons is dry; good food, good value and happy with us dripping on their carpets. We change the plan and head straight for Berwick where we'll dump the gear and make for Bamburgh Castle and Holy Island instead. I challenge the Street Glide's sat nav to find the most direct, but interesting roads to Berwick. The B6374 is tiny, twisty and challenging in this weather. Then the equally testing (on a saturated half-ton touring tank) B6360 takes us to the A68 and then B6460 to Berwick, which is equally deserted, but with a surface like glass in the wet.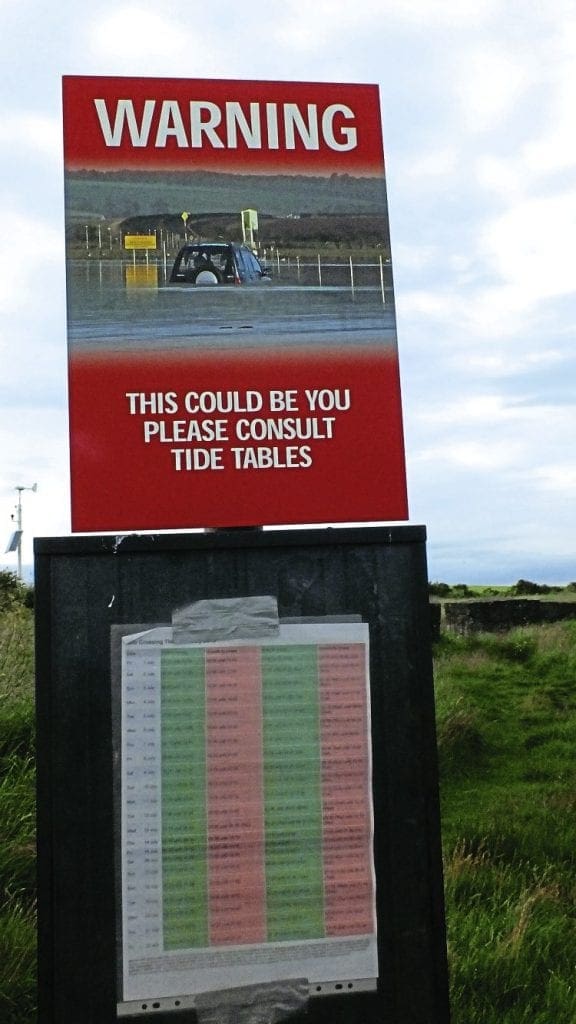 The Travelodge is a welcome opportunity to ditch my rucksack, empty the panniers and annoy the world's most patient receptionist (thank you Donna) with a barrage of stoop-id, old-man questions.
The back road to Bamburgh is slippery and busy, but when the castle comes into view it takes my breath away. Twenty-two years ago I dragged a confused Julie here at midnight in November and proposed on the beach. Aahh. Her reply was unconventional, but we made it and coming back here makes us both go soppy. Bamburgh's facilities shut at 4pm, presumably to confuse and frustrate the Vikings, who'd have had to come back tomorrow (they should think themselves lucky, Lincolnshire still has 'half-day pillaging' on a Wednesday).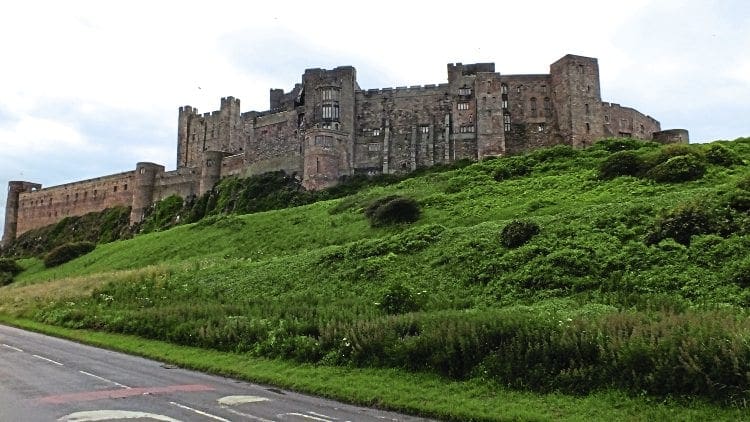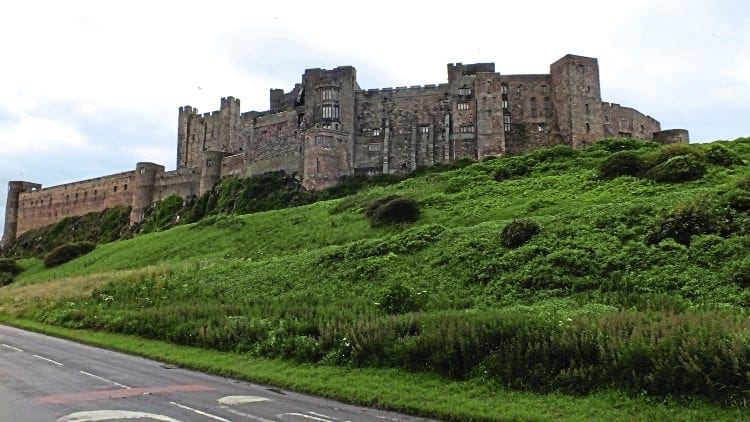 Berwick is a beautiful town, with history and stunning architecture. Well worth a visit, but nobody does… on Fridays. It's like the zombie apocalypse movie our Scotch Corner cashier was dreaming of. The second-best Indian restaurant turns out to be pretty good. The forecast for tomorrow is sunshine everywhere, meaning that everywhere is full. The Travelodge at Skipton has one room left. So we book it.
[googlemaps https://www.google.com/maps/embed?pb=!1m24!1m8!1m3!1d1169357.2439158724!2d-2.608825!3d55.079988!3m2!1i1024!2i768!4f13.1!4m13!3e0!4m5!1s0x48632dc02bbdb9d7%3A0xa9dc5833ae4cfe12!2sWhitehaven!3m2!1d54.549699!2d-3.5892329999999997!4m5!1s0x4880aea65a02c42f%3A0xfc42605b9141c368!2sBamburgh+Castle%2C+Bamburgh+NE69+7DF!3m2!1d55.6089596!2d-1.7099000999999998!5e0!3m2!1sen!2suk!4v1517488417689&w=600&h=450]
SATURDAY
It seems a long, long time since we left Berwick. In between then and now, we've had one of the best days on a bike I can remember. I'm not sure what roads we've ridden, this morning I put some way-points (Jedburgh, Middleton in Teesdale and Hawes) into the Harley's sat nav and let Milwaukee's algorithms work out the Pennine challenge for us.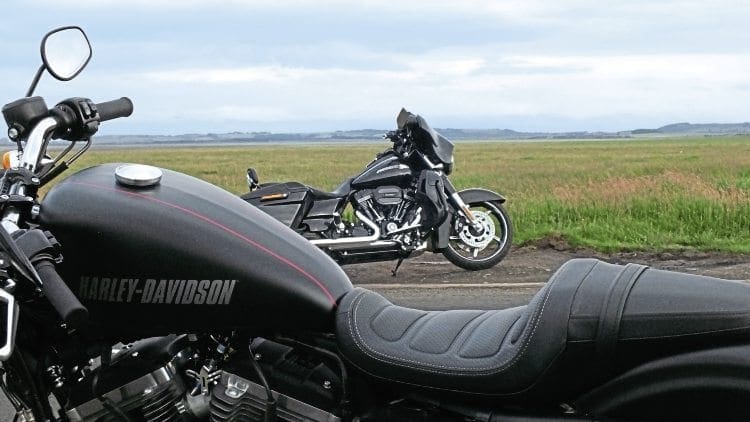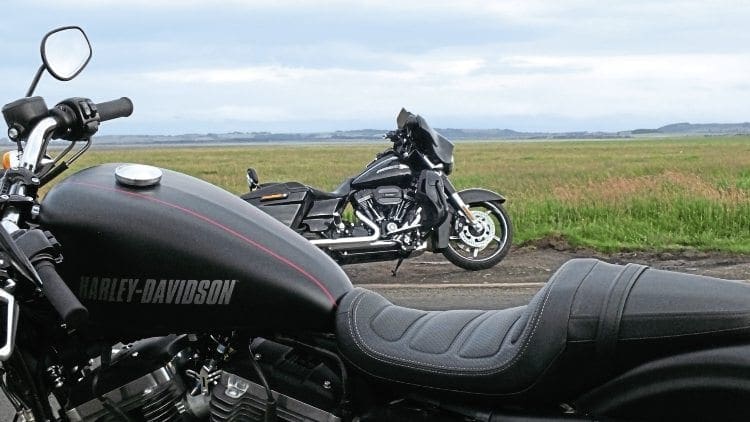 First up is the A689 to Coldstream and Jedburgh. Gentle curves, zero traffic and a lovely way to start the day. Coldstream looks interesting but I promised Julie breakfast in Jedburgh. We're there for 10am, in time for a fry-up with the kind of tea (when only tea will do) that makes every other drink taste like sewage. Jedburgh is old-school Scottish posh with free parking and well-dressed old folks queuing at the bookies while barely dressed teens shiver in the / yet-to-be-warm morning sunshine.
The A68 is a cliche, but it's the Street Glide's choice of route. Just before Otterburn, when most people turn left on to what becomes the A696 heading back for Newcastle, we turn right to continue the A68 for a riot of previously unridden amazing switchbacks, blind summits and miles of childish giggles trying to make a £28k CVO Street Glide fly (it doesn't).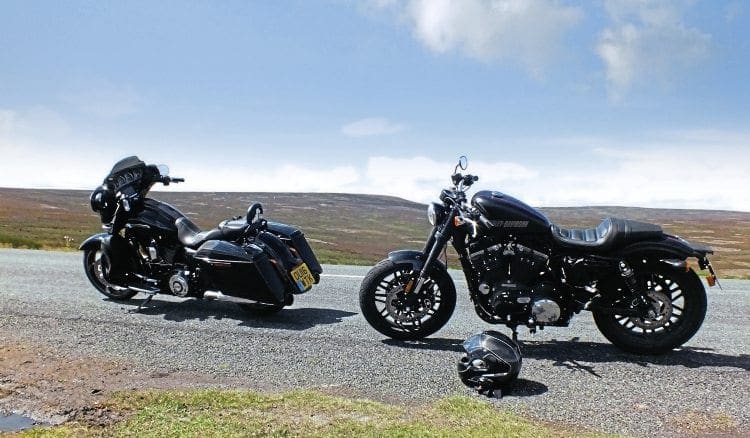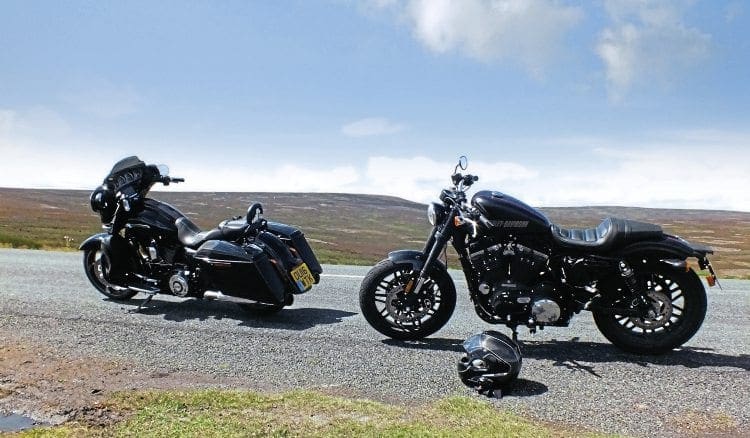 The B6278 out of Stanhope starts simply, rounds a couple of hairpins and then appears to climb vertically, as in straight-up, 'think this could tip over' type of steep. Wow. And then the moors unfold in front of us; sun-drenched, warm, Northumberland light, with a teeny, twisty road running all the way to the horizon. Apart from the sheep, it's our world and this appears to be the very top of it. Whichever medieval road builder put that vertical bit and the hairpins in obviously had a premonition about the curse of the caravan because there is no way you could get one up here – it's a road made for motorcycles.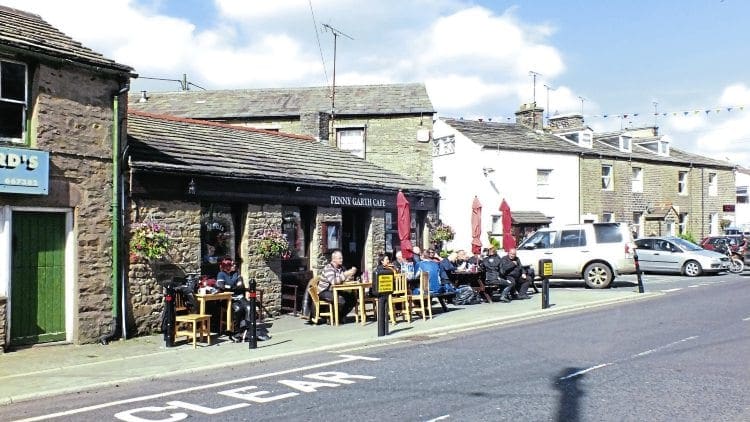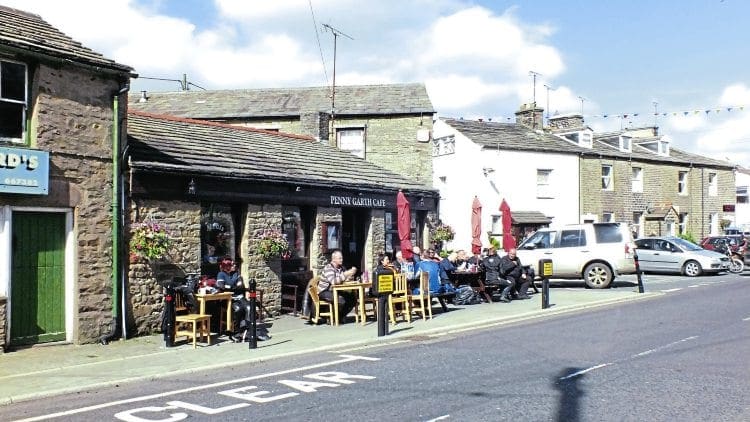 Lunch is Middleton-in-Teesdale, another small town full of bikes and painted with sunshine. Three days in and the aches are gone, muscles are recovered and both of us are remembering how enjoyable modern Harleys are. These two might look the same as a hundred ancient Hogs, but underneath are a couple of almost up-to-date motorcycles. They've got radial tyres ferchrissakes, which means HD handling has reached 1989 and that's probably good enough for most of us.
Harley claims the Roadster is it best-handling bike yet, and while it's still no race-replica Julie talks of it steering accurately and not running out of ground clearance. Plus it punches out of corners, overtakes easily and is still averaging around 60mpg.
The CVO Street Glide is at the opposite end of the H-D scale. Costing around £9k more than the standard bike, it's loaded with extras – far more than I can count – but the one you notice most is the additional torque from the pepped-up engine that gives a lot more power for overtaking. Which is handy because as we head further south towards the Yorkshire Dales the traffic gets heavier, and at Kirkby Stephen we see our first caravan in almost three days. Like most middle-youth riders I've spent a lot of time in this part of the world and tried pretty much all the roads at some point. The next waypoint is Hawes, a firm biking favourite, but for good reason – all the surrounding roads are amazing and it's a good run from there to Skipton.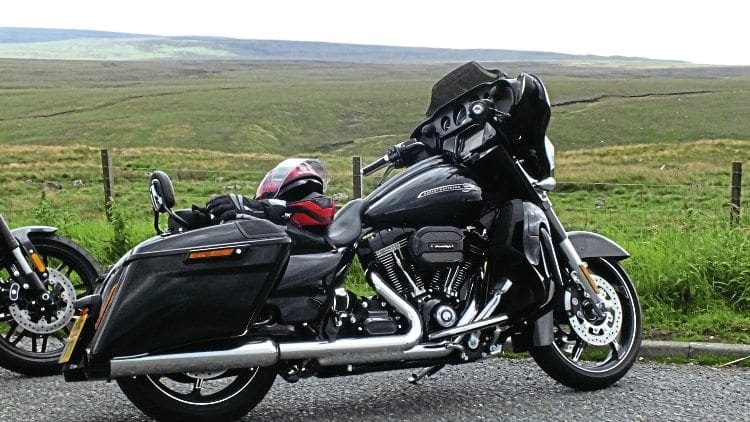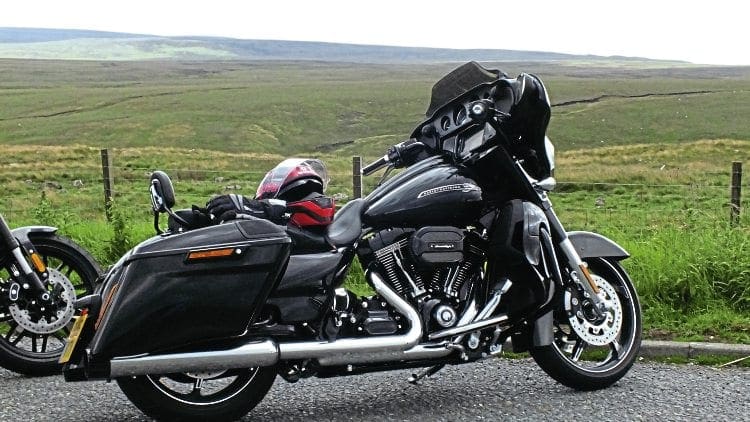 Hawes to Settle via the B6255 and B6479 is part of a test route I built for another magazine in medieval times. None of those urban myths about how a well-ridden example of 'some unlikely bike' will beat a sports bike down a twisty road ever include a Harley Street Glide and now I know why. It's true. Not for the lack of trying though, but these guys (one on a brand new Fireblade, the other on a Triumph 675R) are good. They know the roads, obviously know how to ride and have twice the power, half the weight and half the wheelbase to contend with. After an ambitious attempt to keep on their tails, they are out of sight in the space of a couple of miles. Maybe I need a worse-ridden sports bike to pick on.
The A65 from Settle to Skipton looks great on the map, but is nose-to-tail dawdling halfwits. Stupid, old people in stupid cars driving stupidly slowly on a road with almost constant solid white lines. I slow down, switch on the iPod and serenade Yorkshire with a random shuffle of Northern soul and obscure West Riding glam rock. That'll teach 'ern.
[googlemaps https://www.google.com/maps/embed?pb=!1m24!1m8!1m3!1d2351183.0827881913!2d-2.133698!3d54.86645500000001!3m2!1i1024!2i768!4f13.1!4m13!3e0!4m5!1s0x488740d23cd5e64f%3A0x6b49ee50ba9b24cc!2sBerwick-upon-Tweed!3m2!1d55.770241999999996!2d-2.005395!4m5!1s0x487b860649cad907%3A0x4c7a8de6468c2ec8!2sSkipton!3m2!1d53.9628495!2d-2.0162787!5e0!3m2!1sen!2suk!4v1517488449749&w=600&h=450]
SUNDAY
We've reached the last day and the plan is remarkably simple; head for Squires Cafe at Sherburn in Elmet. Once free of the A65 it's a brisk run on the A59 over Blubberhouses Moor (who came up with these names?) and the memorable B6451 (most of the tourists miss this terrific few miles of testing corners) towards Pool.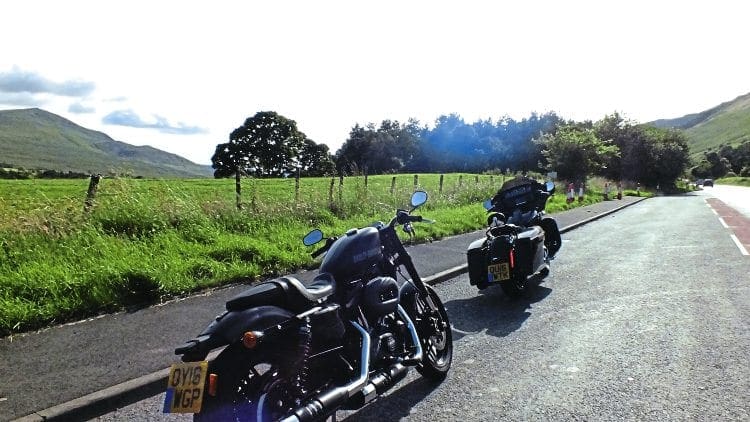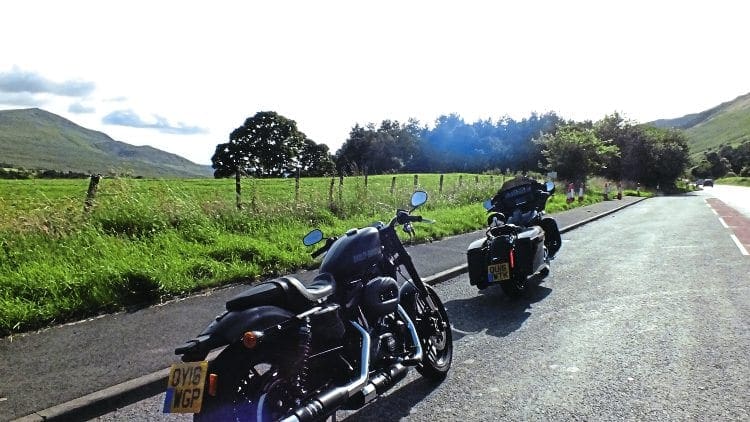 Squire's is busy, but well worth it. The last run home is motorway to the edge of Lincolnshire and then frantic for the last 50 miles, including a much-needed and well deserved cooling ice cream at the Willingham Woods bike meet. After a little over 800 unplanned miles in four days, red hot from sitting atop a couple of mostly air-cooled engines, we roll exhausted into the drive, switch off and then strip down to the barest of acceptable essentials as fast as humanly possible.
I like random touring. Without planning any of it we've seen a whole load of new stuff, revisited some old favourite places and finally done Route 66 as well.
[googlemaps https://www.google.com/maps/embed?pb=!1m24!1m8!1m3!1d1212541.6402181096!2d-1.078252!3d53.58908300000001!3m2!1i1024!2i768!4f13.1!4m13!3e0!4m5!1s0x487b860649cad907%3A0x4c7a8de6468c2ec8!2sSkipton!3m2!1d53.9628495!2d-2.0162787!4m5!1s0x487870aff65c0659%3A0x4f2d79b1081a1858!2sEast+St%2C+Horncastle+LN9+6AZ!3m2!1d53.208138399999996!2d-0.1130955!5e0!3m2!1sen!2suk!4v1517488490599&w=600&h=450]
The smart way to be random
The best thing about Travelodge or Premier Inn is they have a flexible rate where you can cancel up to 12 noon on the day you arrive. It means paying a little more, but what we could have done was booked a trip in the south and one in the north well in advance and then once we'd seen the weather nearer the time, simply cancle the ones we didn't need. In theory we could book the whole Travelodge network for ultimate flexibility and then cancel the ones we didn't need 24 before we were due. Sounds daft? I'm not so sure.
Intercoms… good, mostly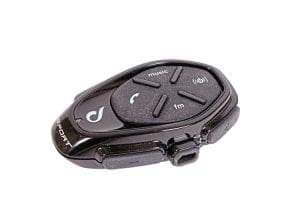 This trip was the first time in 30-odd years riding I've used an intercom. I've never seen the point before, but the planned American trip will be much better if we can talk to each other through rush hour in San Francisco.
We used an Interphone Sport Bluetooth system. Simple to fit, even easier to use and they stay charged all day – longer probably, Interphone claims 14 hours' talk time, but we never left it that long (it's true – I tested them to 17 hours 54 minutes… Ed).
At low speed they work brilliantly – clear, simple, reliable and good for a distance of a quarter of a mile and more in the mountains. Once the speed gets above about 50mph it becomes really tricky to make out what's being said. You can hear the voice, but can't really work out the words. Talking to long-term intercom users reveals that our experience was typical of all makes, and Interphone is well regarded among the chattering classes. They also said that the helmet it's fitted to makes a big difference. We were using Shark lids, which are quieter than many, but not the most quiet (wind noise into the helmet can be a real issue – those with a chin guard for instance, have given me the best results… Ed).
Five Harley truths
1: The handling is fine. Forget the clichés and just ride. Modern Hogs no longer wobble and weave, no longer run straight on in corners and, with radial tyres fitted, no longer run out of grip. Obviously they aren't sports bikes (in the same way that I'm not Valentino), but you can hustle them surprisingly well. The Roadster in particular is a pleasure to ride.
2: They are surprisingly quick too. In context, obviously, but you'll have no problem overtaking pretty much any four-wheeler efficiently and safely, no problem getting your happy glands going with a 'no-one's-looking' exuberant twist of the throttle and no problem cruising at motorway speeds without feeling like the most sadistic engine abuser around.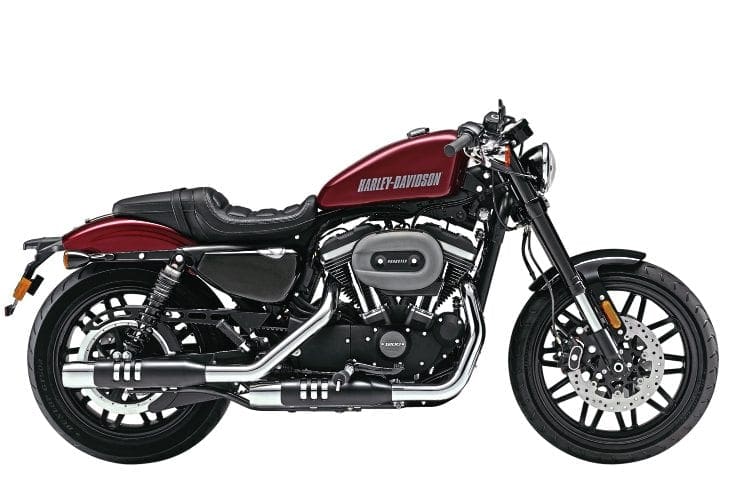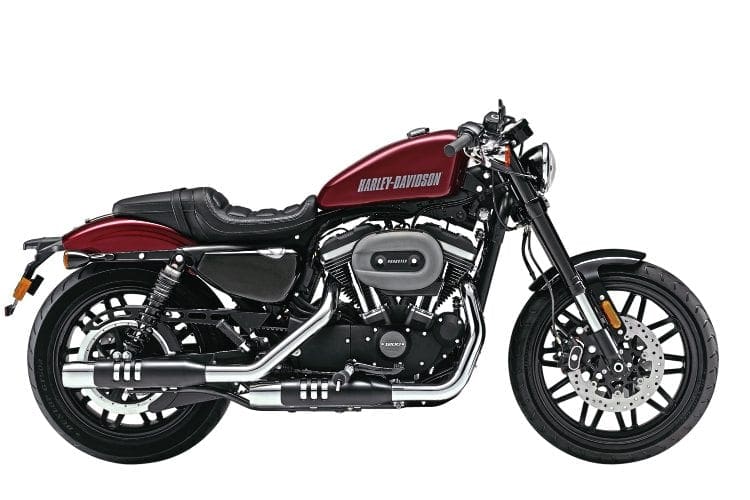 3: If you're swapping from a modern Japanese or European bike you'll need a few hundred miles to acclimatise. It takes time to get used to how Harleys work, but once you understand how to ride them you'll be as quick, confident and capable as on anything else.
4: All the gizmos are ultimately a distraction. Small boys and car drivers get excited about a motorbike with a radio and cruise control, but on the road they are almost worthless. Cruise control can be worthwhile crossing Texas, but in the UK you rarely get a clear run at any road for long enough to be worth it. The radio, even on this £29k CVO special is FM, not digital and frankly, that's a joke in 2016.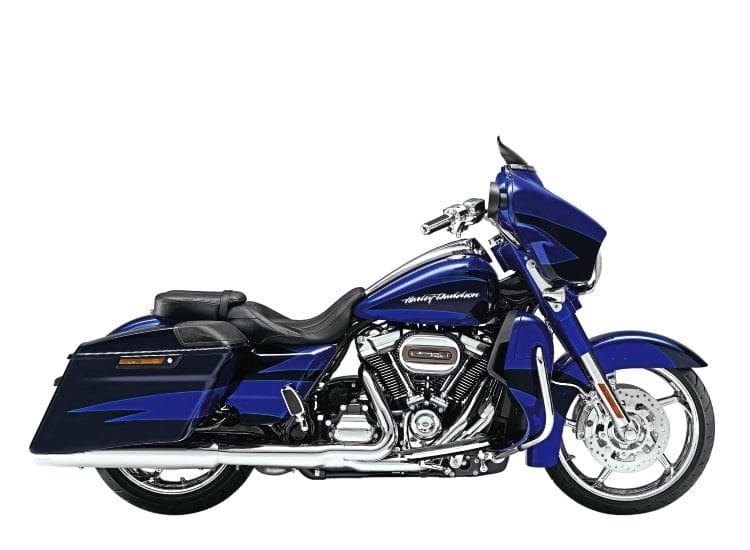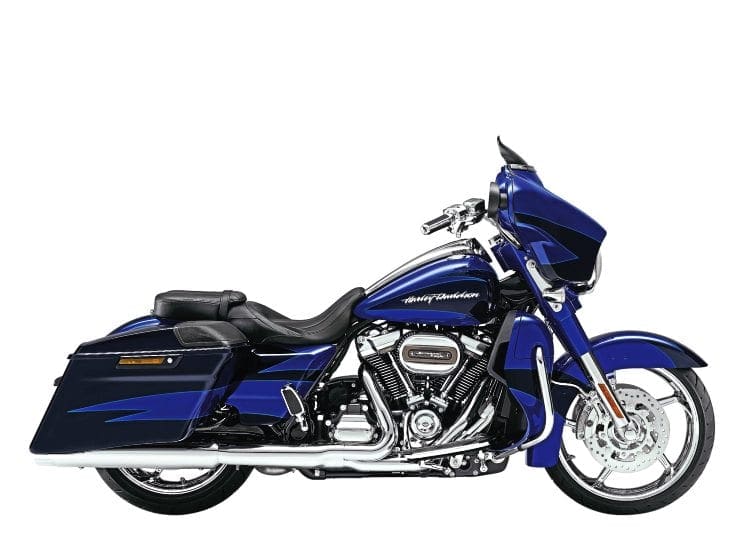 5: Harley owners are not just 'weekend warriors' or some kind of second-class motorcyclist. The culture around H-D is one of getting out and riding. Many owners spend the summer racking up thousands of miles and you'd be surprised how well they ride.
Words & photography: Steve Rose