Off-road riding is a great way to enhance your on-road skills, and it's fun too!
Even if you never intend to venture off-road on your own, the skills and training provided by MotoScotland can and will enhance your on-road experience and help you become a better rider.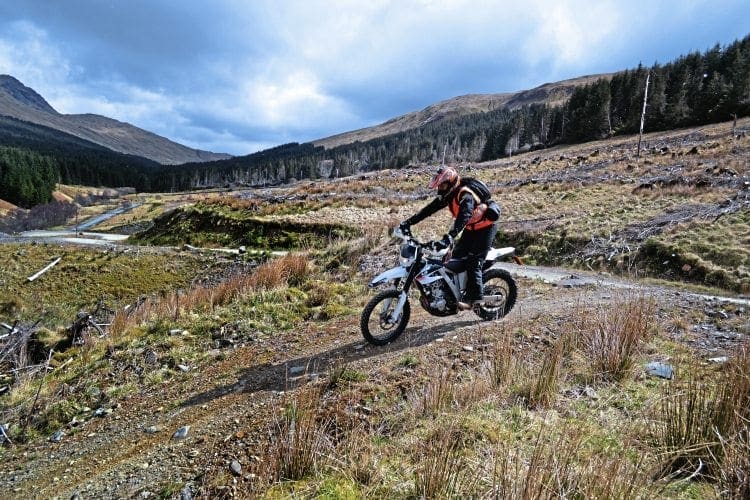 Mind you, given the state of some of our roads you could be forgiven for thinking you were riding off-road… Anyway, there are other benefits to booking a training course with MotoScotland, as most insurance companies will offer discounts to those who have taken extra training. And of course, there's the confidence gained by knowing how to react if the road you're on does throw up a problem with grit, gravel or dirt.
To keep up to date with and everything Motorcycle Sport and Leisure, like our Facebook page or subscribe to our monthly magazine online!
With 50,000 acres of Argyll and Bute to access, your MotoScotland experience will encompass every kind of terrain a rider could wish for, and it's all in a safe environment where you can progress at your own pace. It doesn't matter if you've been riding on the dirt for over 40 years like me, or if you just passed your CBT the other day, you will learn something here.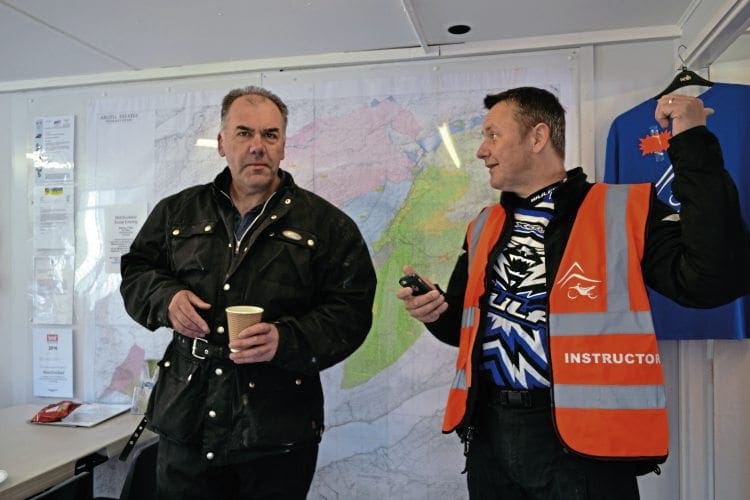 The day starts with an introductory chat where the trainer Clive will assess exactly what it is you're looking for from the course – in his experience, every rider is looking for something different. The nervous newcomer to motorcycling is looking for anything to improve their basic skills, so won't be expected to haul a dirt bike up or over stuff that someone about to set off on an adventure tour into the wilderness would need to do. Clive also introduced me to a communication technique called NeuroLinguistic Programming or NLP… yeah, it was a new one on me too. Basically, it's a communications system to encourage and help people achieve their aims.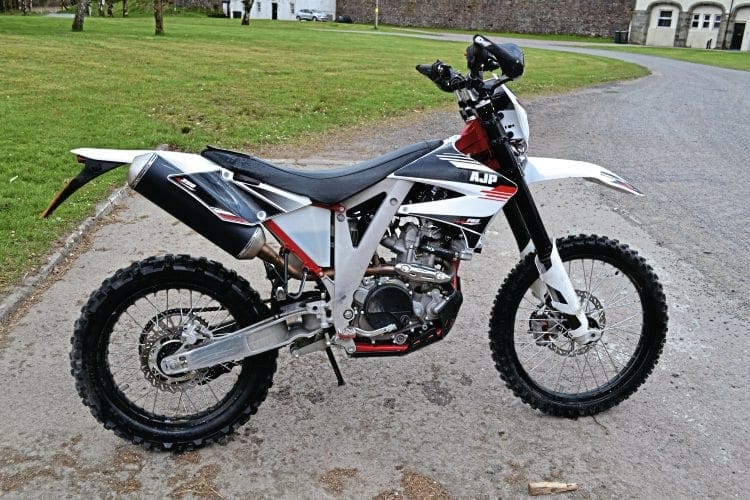 Once the introductory chat was over, it was time to get kitted up. I had my own stuff, but MotoScotland has a range of kit available and even sells the stuff if you're hooked enough to want to do more. So, suited and booted, it was time to be introduced to the 250cc AJP Enduro bike I'd be riding on our test day. Liquid-cooled, electric start and working brakes! This bit was a revelation for someone more used to classic off-road bikes. I'd not ridden an AJP before and enjoyed the six-speed 250 immensely. So, after a quick ride round the car park at MotoScotland to familiarise myself with the Portuguese machine, I popped the pillion footrests down for our photographer to clamber on board, and off we went. With Clive alternating between leading and following, he was obviously assessing my riding, and I'd not been under such intense scrutiny since taking my test in the Seventies.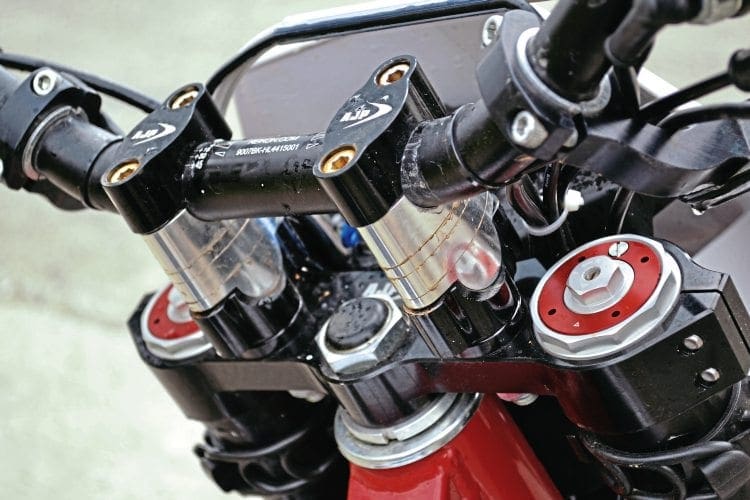 Once leaving the main road behind and taking to the estate road, Tarmac ones at first, it was time to begin the training. Now then, controlling a motorcycle… you steer it with the handlebars, right? Well, not always! It's possible, and sometimes easier, to alter direction by applying weight to one footrest or the other rather than hauling on the bars — especially when standing up. This wasn't such an unusual thing for me as I've been a trials rider for 42 years, so standing up is pretty natural, but according to Clive some road-oriented riders feel a little strange doing this. Clive also introduced the concept of looking where you want to turn: Simply look in the direction you're expecting to head and that's where you'll head.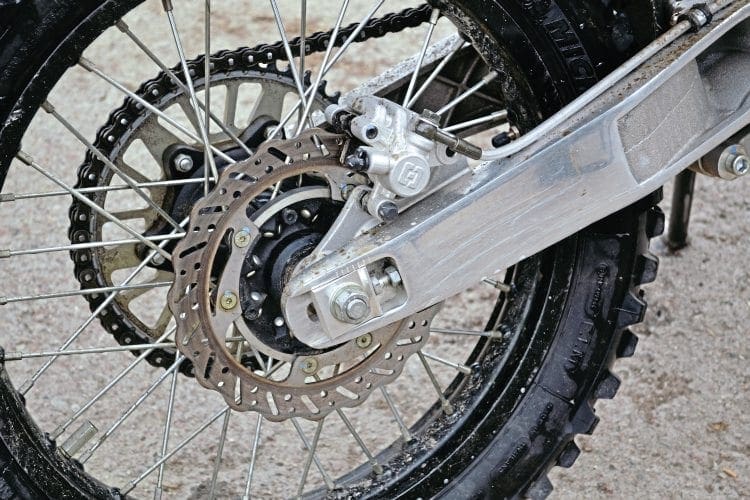 The next stage was to transfer these ideas to the dirt or gravel roads on the estate. Typically, the surface was loose and rough, and could make the front end feel skittish. It's this sort of terrain MotoScotland uses to overcome riders' fears: just because the front end slips, or the rear steps out, doesn't mean you're in a heap.
The first time a wheel locks on a loose surface is a scary thing, but if it happens when you're expecting it or because you have actually caused it to happen, and you've been told what to do to counteract it, then the scare-factor drops way down, and after a few goes it becomes a positively enjoyable experience.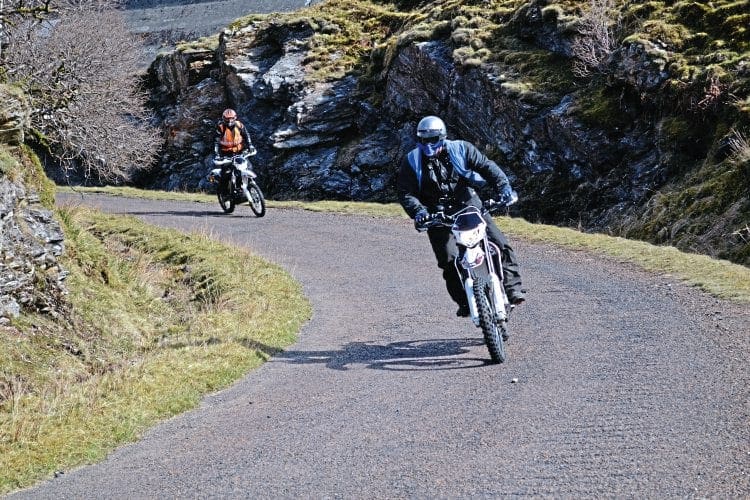 From this technique, the rider is introduced to tight turns using clutch and brakes and body positioning, while turning in ever-decreasing circles until full-lock turns in both directions are being achieved without that teetering on the brink feeling. Yes, you know that feeling, trying to fit into a parking space and there's that 'uh-oh, this could go wrong' moment. Incidentally, in the world of off-roading it is accepted that occasionally it will go wrong, and MotoScotland instructs you on how to pick up a bike you've dropped without damaging your back or the bike.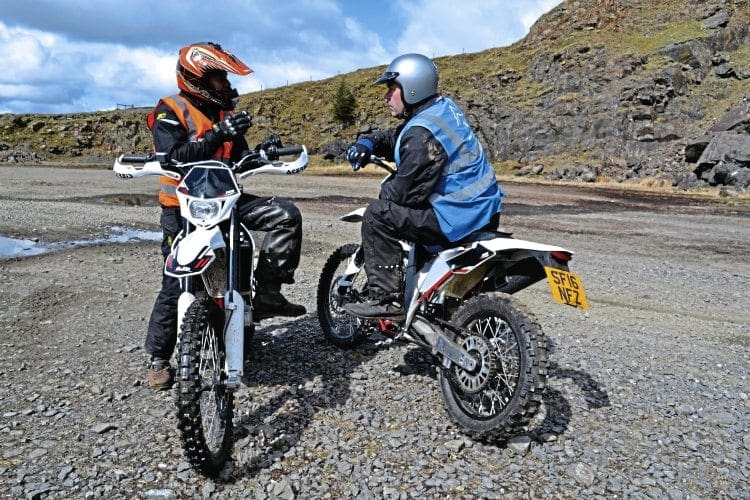 What I found at MotoScotland was that all these skills were being taught or shown in such a way that I didn't feel as though I was being taught. It felt like I already knew deep down what to do, and all Clive was doing was reawakening the knowledge… yeah, I know – deep, eh? But in this way, the information being imparted was more easily ingested.
Once Clive was happy I had a grasp of what was needed, he headed onto some tougher terrain with steeper, looser hills and demonstrated how to ascend and descend such things. There was even a point where he made sure I stalled halfway up a loose climb so he could see if I'd been paying attention during the 'how-to-pull-away-on-a-loose-climb' bit – apparently I had! Even though there is a serious aspect to the course – that of enhancing skills – there is also the enjoyable aspect: once the instructing bit is over there's a chance to just ride trails and impress yourself with how much you've learnt.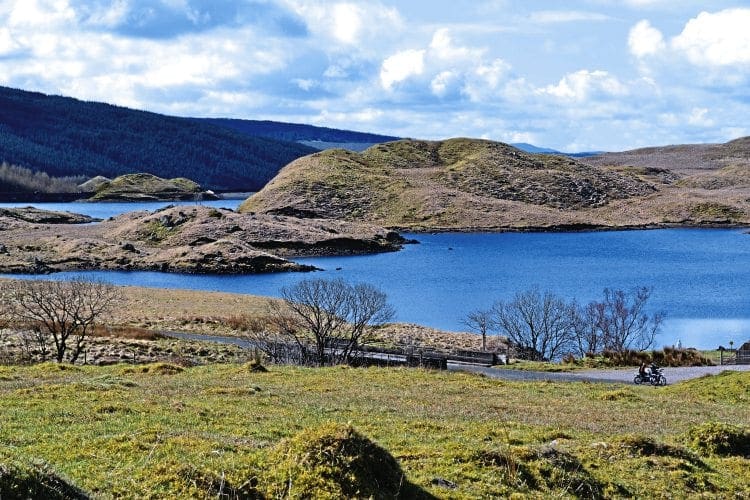 MotoScotland is well up north in the UK, and it's obvious that some overnight accommodation is going to be needed unless you happen to live in Argyll and Bute. MotoScotland has deals going with lots of places in the area – we stayed in the Inveraray Hotel in Inveraray – and very nice it was. There are B&Bs, caravans and you could even camp if you're that keen. The area is also packed full of touristy things to do: if not everyone in your party wants to head into the hills on a motorcycle, it's possible to do it on foot and visit some of the local attractions, or even go further afield to Oban. It's not a question of `do you fancy going?' but rather, 'why haven't you been yet?'
Who and where?
MotoScotland – effectively Clive and Donna Rumbold – is dedicated to improving rider excellence by providing training to varying levels of skill from novice to expert, on trails, tracks and rough terrain. Either way, you'll improve your motorcycle control skills even if you never intend to venture off the Tarmac. Based in 50,000 acres of prime off-road country near Inverary in Argyll and Bute in Scotland, MotoScotland hosts off-road schools, corporate days and training for groups or one-on-one for anyone who cares to come along; the only proviso is that you've got a least a CBT certificate.
To keep up to date with and everything Motorcycle Sport and Leisure, like our Facebook page or subscribe to our monthly magazine online!
Contact them
Web: http://www.motoscotland.com
Email: [email protected]
Tel: 01499 320460