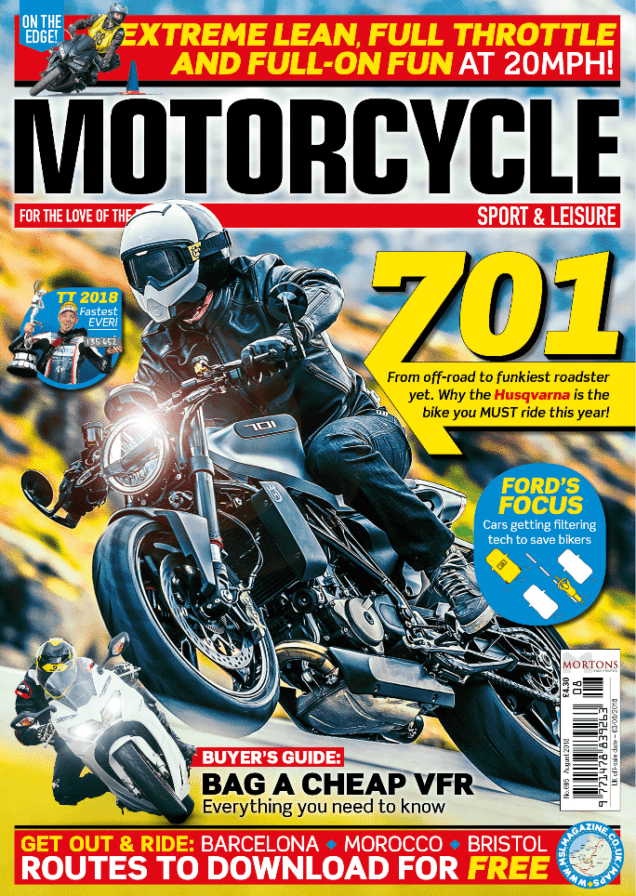 The latest issue of Motorcycle Sport & Leisure is out now. Get yours at any discerning newsagent or subscribe to get yours delivered every month.
Here's a quick summary of what's inside this issue…
Article continues below…
Advert
---
Enjoy everything MSL by reading the monthly magazine, Subscribe here.
---
NEWS & OPINION
News: A frantic few weeks in motorcycling including the Isle of Man TT races.
First Ride: Take a Harley, call it the Fat Boy 114 and see how it goes on British roads.
Maynard Hershon: When that hunger for a new motorcycle strikes.
The High Sider: Lorenzo joins Marquez at Honda in MotoGP. Ructions will be felt.
TOURING & ADVENTURE
Day ride: Who says you have to put up with drab city landscapes when you ride?
Richard Millington: Booking hotels that are motorcycle friendly. A tricky task, sometimes.
Mid ride: Dreams come true with Barcelona and the Spanish countryside.
Long ride: Part two of a life-changing, affirming trip to a music festival.
ROAD TESTS
Husqvarna 701 Vitpilen: Funky, leftfield, oddball – but enough about Mikko. This is the big Vitpilen.
Husqvarna 401 Vitpilen and Svartpilen: Smaller but no less funky, Husky's beginner road bikes.
Zero DSR Black Forest: A full-on (ish) Adventure bike that's powered from a plug socket.
The Gulas: Small and a bit pricey, it's a motorbike with peddles for the 21st century.
Classic test: Roland on the Suzuki that really did start everything.
Used test: Honda VFR800 2014. It's arguably the most capable all-rounder you can buy second-hand
KNOWLEDGE
Coming classic: Honda CBR600 – buying one is a potential minefield. Bertie's here to help you avoid a pup.
What's on: The best of everything to see and do in the world of motorcycling.
Tried & tested: Stuff for your bike and other useful bits and bobs. All used by us.
Kevin Cameron: Four-stroke, yep. Two-stroke, a smelly nirvana. One-stroke? Over to you KC.
TEST FLEET
Kawasaki Z900RS: The retro's keys are snapped up with unseemly haste.
Honda X-ADV: Chris is falling in love with the weird super scooter.
KTM 1090 Adventure: Roger's been fettling the orange bike for the summer.