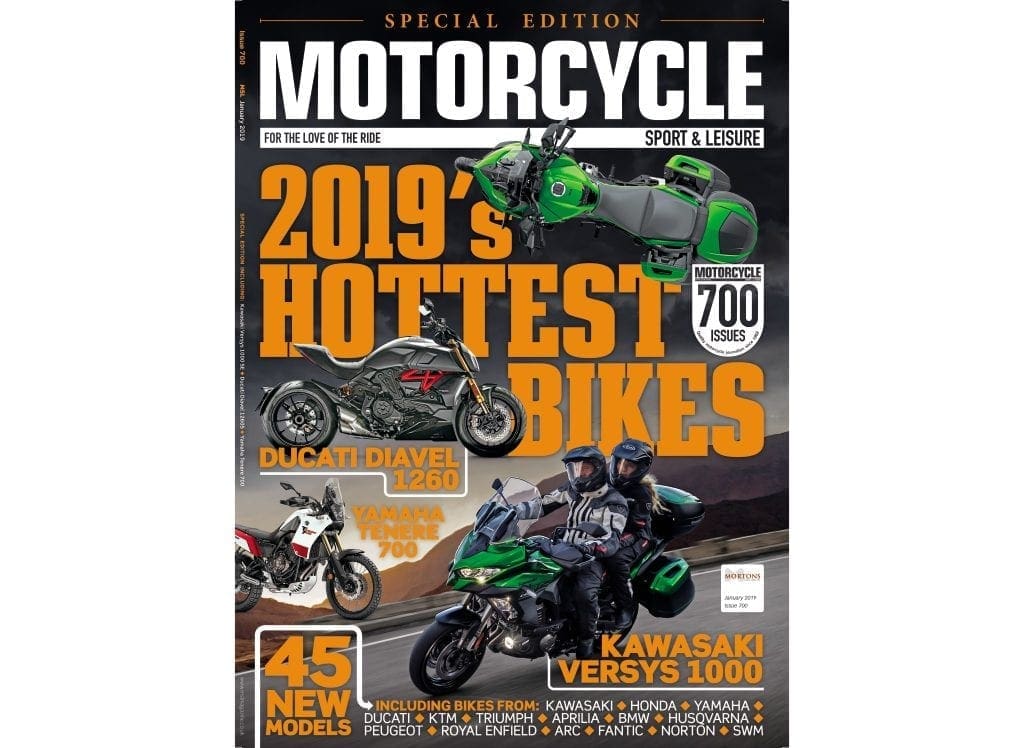 The latest issue of Motorcycle Sport & Leisure is out now! Get yours at any discerning newsagent or subscribe to get yours delivered every month.
Ducati Diavel 1260! Yamaha Tenere 700! Kawasaki Versys 1000! The new year's MSL has got everything to prepare you for 2019 with a special 700th edition!
As ever, this month's issue of Motorcycle Sport & Leisure magazine is packed with news and opinion, ground-breaking test fleets, adventures and tours on  quality machines, and thrilling features with striking pictures!
If you'd like to read January's MSL, then you can cut to the chase and download the digital version, order the print magazine, or better yet save those pennies and subscribe to MSL! Here's what to expect this month…
2019's HOTTEST BIKES       
The show season is in full swing, and there's lots of new metal to drool over! 
RIDING IN THAILAND 
It may be an idyllic island paradise but the roads on the Thai island of Phuket are the most dangerous on earth. Stuart Barker toured the island on a Kawasaki W800 to find out why. 
HONDA CB1000R+ 
Could Honda's CB1000R+ be the perfect commuter? 
2013 SUZUKI BURGMAN AN650 
Maxi-scooters continue to split opinion, but the big Burgman offers such comfort, performance, convenience and practicality that it putsmany 'real motorcycles' to shame.  
CONFEDERATE FA-13 COMBAT BOMBER 
This is the last Confederate – a 2163cc V-twin with a design guaranteed to turn heads. A bike this special needs a rider to match, so they called Alan Cathcart. 
Motorcycle Sport & Leisure magazine is on sale in UK newsagents and supermarkets, and you can buy the current issue in digital and paper formats here!  
You can also buy stacks of back issues of MSL, but it's cheaper to subscribe. Subscribers save money, get their copies delivered to their doorstep, and never miss an issue!