If long-lasting sporty tyres are what you're after, Michelin's new Road 5s might be just the ticket.
Four years ago Michelin launched their Pilot Road 4 – a sport-touring tyre that covered you in every sense; from riding in the wet to a dry track day.
Four years, 1.5 million tyres and €641 million in development later (throughout the entire Road range), Michelin say they've stepped up the game once again, offering an all-new product with improvements in wet performance, dry performance and even longevity.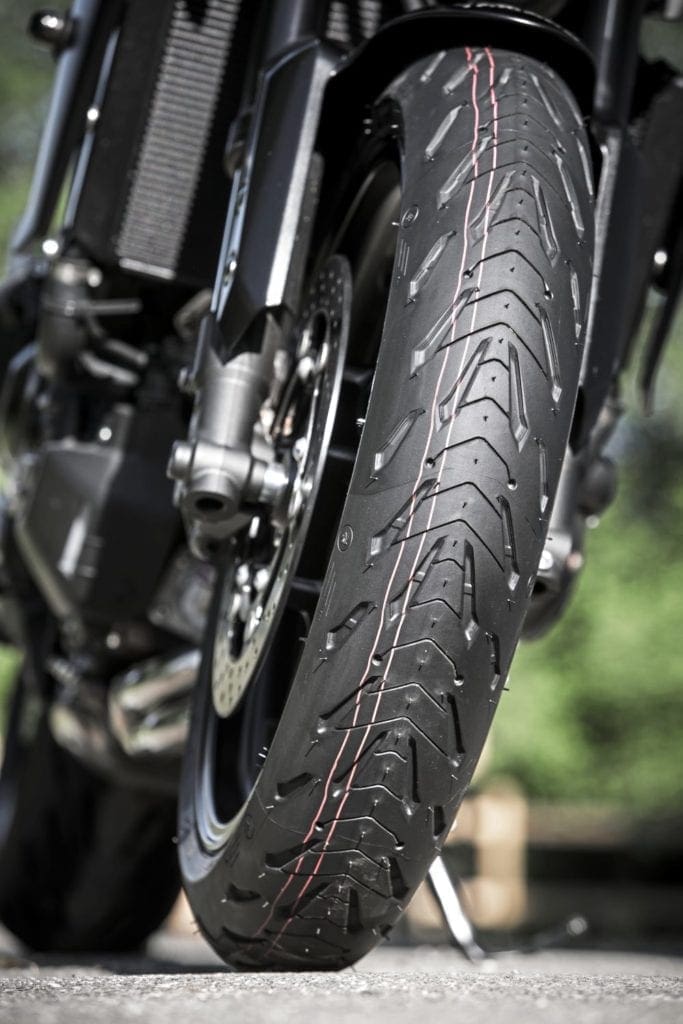 How have they pulled this off, you might be wondering? Well, Michelin have been incredibly busy creating an all-new Two Compound Technology (2CT) system for the rubber for starters, which sees performance enhanced by using different constructions in the front and rear tyres; designed to improve longevity in the rear without sacrificing feel in the front. Genius!
After years of trial and error (no one's perfect), the finalised 2CT tech features an all-silica make-up that's stiff in the middle (for both strength and stability in a straight line), and soft enough on the edges to encourage fast warm-up times, high grips levels, precise handling, and feel. And the rear rubber's even more trick.
Dubbed the Michelin 2CT+, the rear tyre holds the same principles but with added silica for better resistance to wear so it will actually be slightly stiffer, while the edges are constructed from an all-carbon black compound which works like a slick when you get to about 38 degree lean angle (more than you could ever achieve in the wet, apparently).
While we're on the subject of wet, the French marque moved the tyre's traction levels on by introducing deep sipes that open up as the tyre wears down, helping to channel even more of the slippery stuff away from goodness of the tyre's footprint. It's all good stuff, and contributes significantly to the overall revolution of the Road 5.
And it really is a revolution. Tested back-to-back, the Road 5s spanked the Road 4s by three seconds a lap around a 60 second circuit, which is pretty damn significant in my book. But setting laps times is one thing, and performing well on the roads is something else altogether, which is why we headed out to somewhere warmer than Blighty to give them a blast.
Easing in
With the sun almost braking through at a reasonably warm Monteblanco circuit in Spain, it was time to finally give the Pilot Road 5s a good seeing to, starting off with a dry workshop on track; for all of six laps, that is… I bagged three laps on Ducati's Supersport, before clocking the same mileage on BMW's S1000XR, both times heading out on brand new, cold rubber.
Yep, I was twitching at the thought of the gig, but it was sufficient enough to confirm that the rubber was generally quite stable, warmed up relatively quick and gave decent feedback. In honesty, the track test wasn't comprehensive enough to paint a whole and fair picture, but we all survived the exercise and the general impression was of a useable sporty road tyre. Job done then? Not quite. Next up came a wet track handling course, complete with a high speed slalom and heavy braking zone.
In all honesty, I'm not the biggest fan of the wet but the 5s did give me the confidence to ride faster than I normally would on road rubber. They felt instantly grippy and offered a surprisingly positive amount of feedback that's arguably pretty hardwearing and built for distance above all. The new tread design does wonders for firing the water out the way, and even on the high speed slalom the Road 5s gripped impressively well, while still offering a level of flick-ability you'd expect from a much sportier tyre. All good stuff.
---
Five minutes with… Dean Baudart, Michelin Test Rider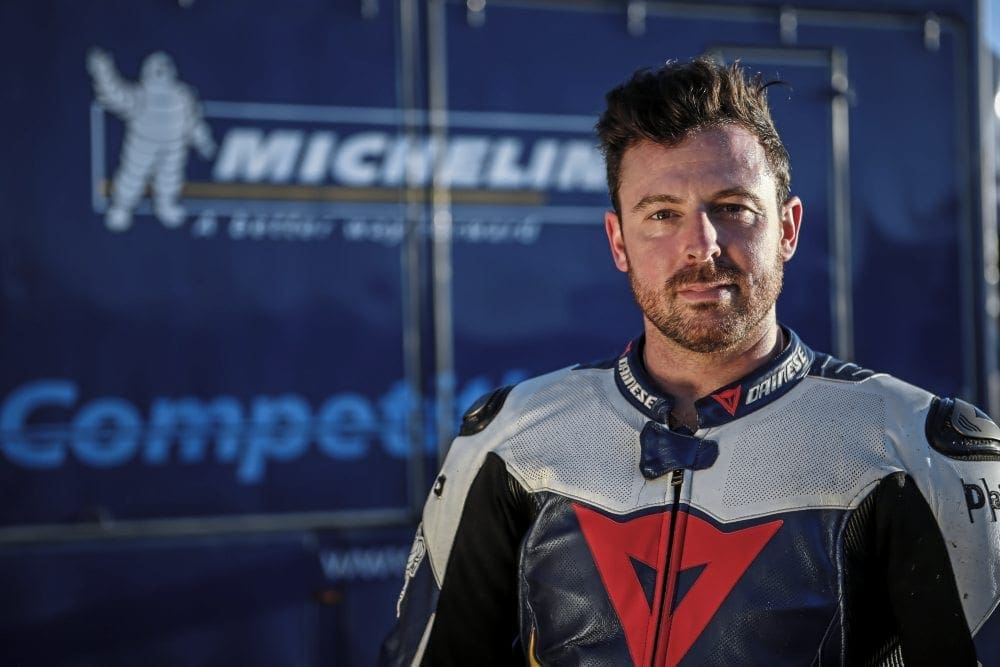 MSL: What was the main aim for the Road 5s?
DB: We all knew how good the previous Road 4 was, which put a lot of pressure on us to create something even better. The big aim for us was creating a superior all-round product to appeal to the worldwide audience – meaning we had to improve the tyre in the wet and dry, but most importantly focusing on longevity as it's a product made to last.
MSL: How rigorous was the testing program for the Road 5?
It was crazy! We worked day and night to make this tyre as good as possible finishing off with a back to back test against its major rivals: Metzeler Roadtec 01, Dunlop Road Smart 3, Continental Road Attack 3, Pirelli Angel 3 and the Bridgestone T30 EVO, which were each fitted to a control bike. We used a Suzuki Bandit 1250 and overall the Road 5 scored better in terms of dry performance, wet performance and stability.
MSL: How hard would you be willing to push on the Road 5s?
DB: At the end of the day, they're a sports touring tyre at heart which are made to last the duration. When putting them back to back with the Road 4 at our test track, I had a difference of 3 seconds around just a 60 second lap. Of course they don't offer the same amount of precision and feedback as the Power RS range will, but they offer a good level if you wish to take on track or ride fast on the road!
---
Testing
Finally, with the sun shining and an arsenal of Road 5 clad bikes, we kicked off on a 230km trip around the roads of Seville to get a proper feel for how well the Michelins coped with everyday antics. Jumping on a Yamaha MT-07 for the first leg of the road ride the Road 5's dry abilities immediately shone through.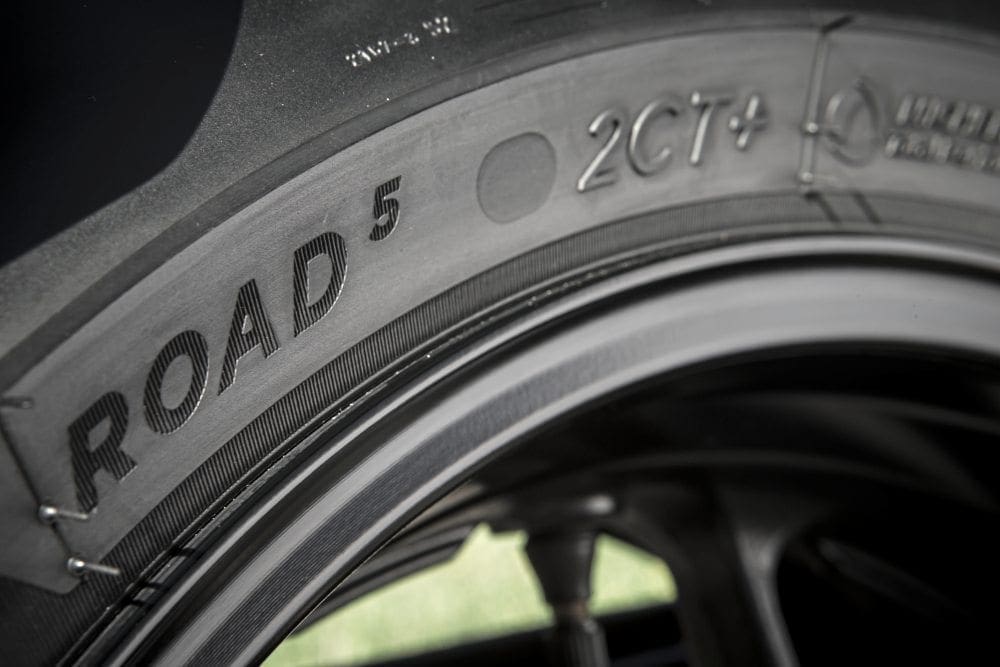 Thanks to the latest-gen compounds fitted, offering astounding amounts of feel on the edge of the tyres. As the roads became twistier the Michelins kept on taking every single ounce of abuse I could throw until the MT's softly dampened suspension was screaming 'no more'. Thankfully, a coffee stop and bike swap was on hand where I traded my Yammy for a something a bit beefier; an Aprilia Tuono V4.
It was only when strapped on to the V4 rocket ship where the Road 5s began to falter slightly, starting to struggle slightly under the mammoth amounts of power as we took in some absolutely stunning roads and some undeniably questionable stretches of tarmac in equal measures. Maybe it's the extra silica for resistance to wear, or maybe it was just me being heavy on the throttle, asking way too much from a sports-touring tyre, but that initial hit on the gas from the Aprilia just seemed that little bit much for the Road 5s; causing the traction to kick in and the dash to light up like the local discotheque.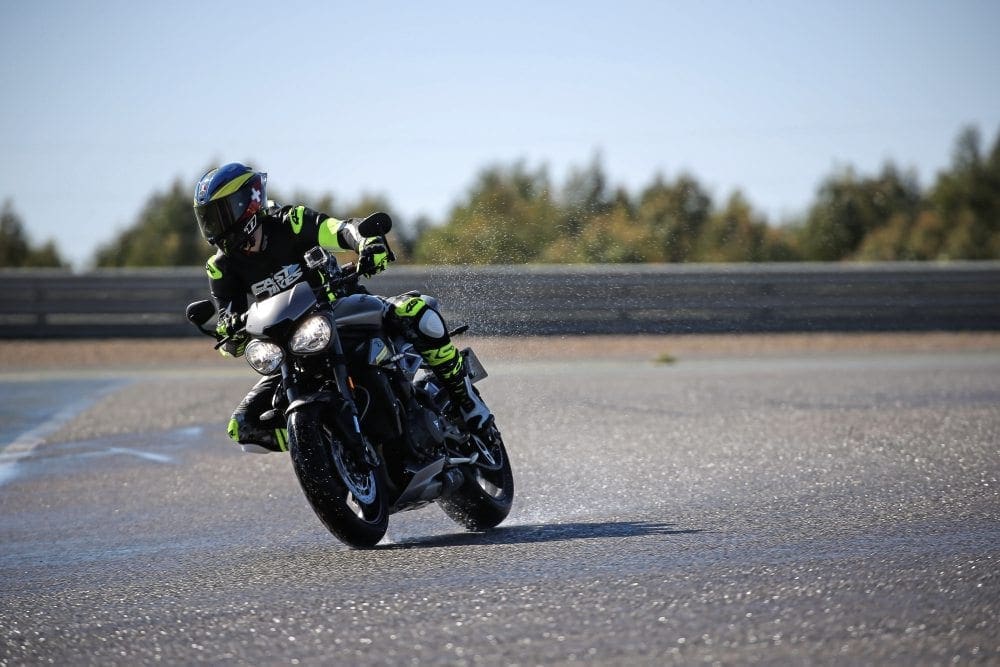 I had to keep reminding myself that I was riding on a tyre built to last rather than go fast when pushing that gorgeously plush Aprilia front end into corners, but I felt egged on by the decent front end feel and feedback. Being honest, they delivered as expected; being a capable tyre that was built with distance at heart over outright grips levels.
Despite being plastered with new tech, pleasantly rolling profiles and cleverly shaped sipes, the Michelin Road 5s were never made for setting lap records, but to give a predictable and long lasting road-friendly riding experience which is exactly what they do.