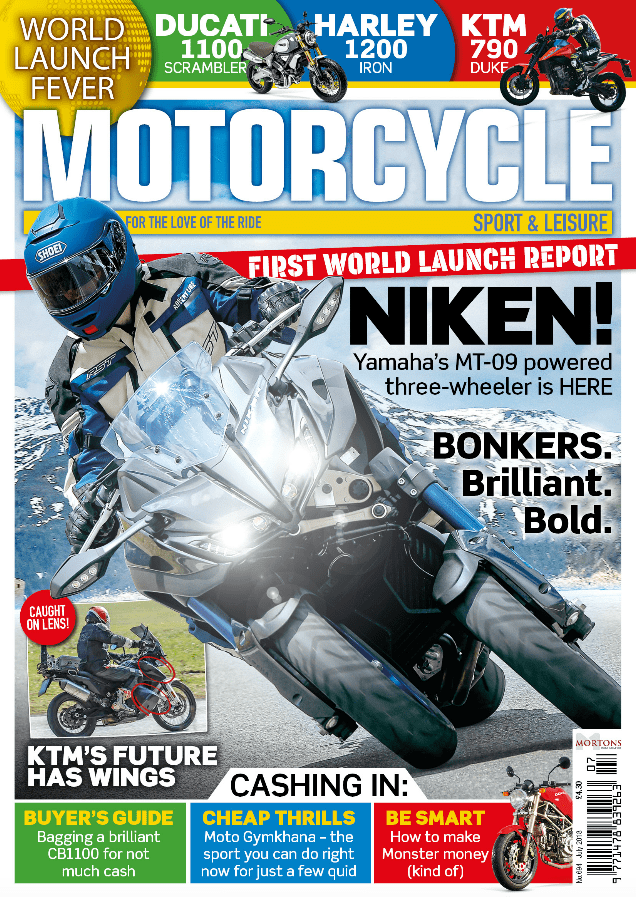 The latest issue of Motorcycle Sport & Leisure is out now. Get yours at any discerning newsagent or subscribe to get yours delivered every month.
Here's a quick summary of what's inside this issue…
Article continues below…
Advert
---
Enjoy everything MSL by reading the monthly magazine, Subscribe here.
---
NEWS & OPINION
News: Everything that you need to know about. Including bike thrusters. Yep.
Products: Our scooter expert assesses the updated Suzuki Burgman.
Maynard Hershon: He likes those helmets… but enough with the emails already.
The High Sider: Our armchair racer extraordinaire considers the TT's 'old codgers'.
TOURING & ADVENTURE
Zoe Cano: Rattling off the miles in part two of her epic journey down under.
Day ride: One reader discovers how beneficial riding is for his mental health.
Richard Millington: What's what in the wide world of adventure riding.
Mid ride: 900 miles on a small Yamaha. Proper fun.
Long ride: A big journey to a music festival destination in Morocco – part one.
ROAD TESTS
Yamaha NIKEN: World launch report on Yamaha's funkiest modern era motorcycle yet.
Harley-Davidson Sportsters: Will the 1200cc Evolution-engine Sportsters live up to the US-led hype?
Ducati 1100 Scrambler: Does bigger always mean better? Usually, yeah.
KTM 790 Duke: More fun than a bouncy castle with a bucket full of frogs. Better than a Triumph too.
Classic test: Roland on the screamer that defined two generations: Yamaha's RD350LC.
Used test – Honda CB1100EX: Big and bulky with a smile. Enough about Mossy, what's the bike like?
KNOWLEDGE
Coming classic: A fine place to put your monies. This month, a Monster of a buy. Arf.
What's on: It's the height of summer and there's so much to get out and see.
Tried & tested: Our favourite things to ride in (and on) from dealers (probably) near you.
Kevin Cameron: Engines are always full of lubricating oil, aren't they? Er, not all the time.
TEST FLEET
Kawasaki Z900RS: The modern retro rocket joins the fleet. Hurrah for the 1970s.
Yamaha X-Max 400: Time to say goodbye to the scoot that looks after you.
KTM 1090 Adventure: The KTM gets its first service. Does much need doing?