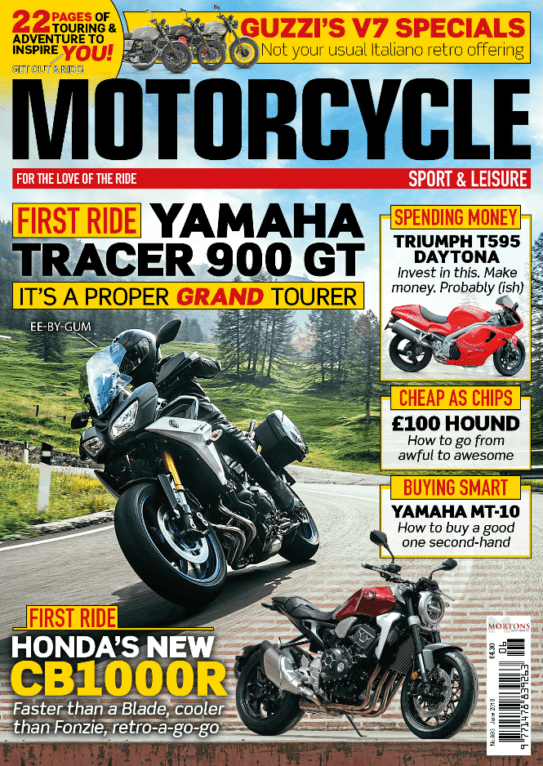 The latest issue of Motorcycle Sport & Leisure is out now. Get yours at any discerning newsagent or subscribe to get yours delivered every month.
Here's a quick summary of what's inside this issue…
Article continues below…
Advert
---
Enjoy everything MSL by reading the monthly magazine, Subscribe here.
---
NEWS & OPINION
News: It's been a busy four weeks in the motorcycling world. Stinger beware.
Products: New kit for both new and not-so-new riders.
Maynard Hershon: A genuine enthusiast is identified by…
The High Sider: Racing from the sidelines.
TOURING & ADVENTURE
Zoe Cano: Riding across the North bit of Middle Earth. And not a hobbit in sight.
Touring news: It's a festival full of ideas.
Day ride: Belgium and not a bun in sight.
Richard Millington: On the subject of having a spare in the cupboard. And insurance.
Mid ride: Czech Republic. And not a Brno-out in sight. Sorry.
Long ride: Canada. That's a looong way, ayyyyyy. Accent joke for the Hosers.
ROAD TESTS
Honda's X-ADV: Looks like a nutter. Goes like a dream. Funky all round.
Yamaha's Tracer 900 and 900 GT: More of this. More of that. More of everything the old Tracer needed.
Honda's CB1000R: Quicker than a 'Blade (to a point). Looks terrific. Smells of avocado.
Triumph's Speed Triple: Sharper. Meaner. Better looking for 2018.
Moto Guzzi's V7 specials: Three variations on a theme. The theme is super cool Guzzis that stop and go really well. We're in.
Used test: Yamaha MT-10: Now is the time to buy and here's everything you need to know.
KNOWLEDGE
Taking the perfect TT photograph: It's not luck, it's art. Secrets revealed.
Coming classic: Spend your money here. Better than a bank. And more fun (probably).
Reflections: Ducati's 1979 Pantah. Essential to what we now know as Ducati.
What's on: Things coming up in the biking calendar that you might find interesting to go to or ride in.
Tried & tested: Kit that we've ridden in and, sometimes, crashed in. What's good and what's not.
Kevin Cameron: Changing gear in a gear changing world.
TEST FLEET
£100 Hound: Bertie has spent his own cash. Not a lot of it, granted, but it has landed him a VFR with some work to do.
Au Revoir Strom: Time for Mossy to wave a tearful goodbye to his Suzuki. He has loved this bike. Oh deer.
Bonjour, mille quatre vingt-dix: Entering the ring, from the orange corner is the beginner's big boy Adventure bike. Roger steps up to see what's what.