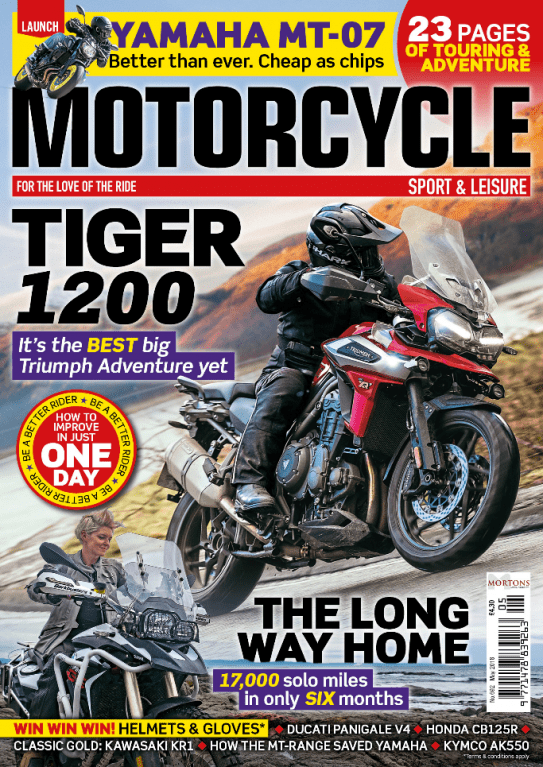 The latest issue of Motorcycle Sport & Leisure is out now. Get yours at any discerning newsagent or subscribe to get yours delivered every month.
Here's a quick summary of what's inside this issue…
Article continues below…
Advert
---
Enjoy everything MSL by reading the monthly magazine, Subscribe here.
---
NEWS & OPINION
News: The biggest stories in biking
Products: New kit and accessories
Your letters: MSL readers have their say
Maynard Hershon: Children's hospital toy run, pt. 2
The High Sider: Popcorn, TV, action!
TOURING & ADVENTURE
Touring news
Day ride: Darting around Dartmoor
Richard Millington: What to do with potholes
Mid ride: Discovering hidden Spain
Long ride: Indian adventures
History Boy recommends: Castle Drogo
Long way home: Kinga rode back home to Poland from Australia – and that was just the start of the trip
ROAD TESTS
Kymco AK550: Do it all super scooter
Honda CB125R: Best-looking 125 out there?
Triumph Tiger 1200: Big miles on the big cat
Ducati Panigale V4: The best Panigale yet?
Classic test: 1989 Kawasaki KR1
KNOWLEDGE
Yamaha's great comeback: How the MT-range saved the day
Kit care: How to look after your riding gear
Improve your riding: British Superbike School
What's on: Dates for your diary
Tried & tested: Including a ladies' kit special
Li-Ion: The what, the why and the how
Kevin Cameron: What's next?
Tony Carter: On the subject of Moto Gymkhana
TEST FLEET
Honda Africa Twin DCT: Mikko resamples the big Honda
Honda FireBlade '02-'03: An up-and-coming classic
Yamaha X-MAX 400: The scoot gets blinged up
Suzuki V-Strom 650: New rubber for new adventures