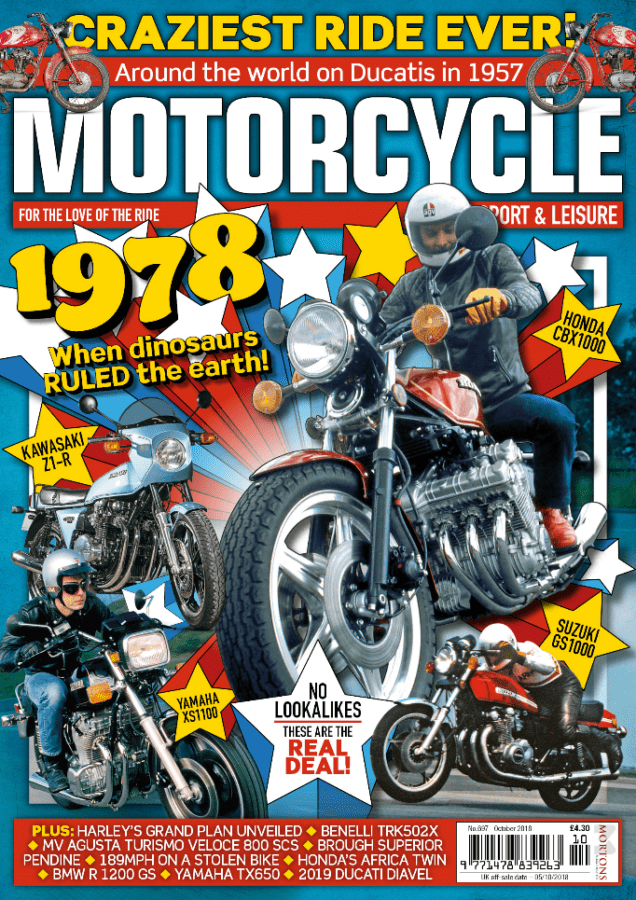 The latest issue of Motorcycle Sport & Leisure is out now! Get yours at any discerning newsagent or subscribe to get yours delivered every month.
Here's a quick summary of what's inside this issue…
Article continues below…
Advert
---
Enjoy everything MSL by reading the monthly magazine, Subscribe here.
---
NEWS & OPINION
News: This is what we spy with our beady little eyes this month.
Maynard Hershon: The story from 1964 concludes.
The High Sider: One down, more to go?
TOURING & ADVENTURE
Day ride: This is the way to ride into Birmingham.
Richard Millington: Why is it that time management on tour never works?
Mid ride: Ireland's Atlantic coast makes for great riding.
Long ride: Riding into northern lights in Russia.
BMW S1000R to Spain: Most people take a touring bike on a tour. Not our Ross…
Ducati World Tour: In 1957 two men did a Charley and Ewan on Ducatis. This is their story…
ROAD TESTS
MV Turismo Veloce 800 SCS: It rides great, it will make your mates green with envy and look, no clutch!
Sinnis Terrain 125: An adventure bike for less than £2500! Can it be any good?
Brough Superior Pendine Sand Racer: It's a Brough, but not like the others.
Das Originals: Back in 1978 these machines put the 'super' in superbikes.
Benelli TRK502K: A Chinese-made Italian adventure bike. What's that like then?
Buyer's Guide: This is how to bag the king of adventure, a BMW R1200GS.
Classic Test: 1974 – the year of the Yamaha TX650.
KNOWLEDGE
Knowledge: Speed limits come under the MPs' spotlight.
Coming classic: Suzuki GSX-R750Y: the best of the bunch.
What's on: These are the places to be.
Tried & tested: This time it's not just about kit. We've been reading too.
Kevin Cameron: Radial valve layout – is it the way to go?
TEST FLEET
Honda CB1000R: Tony has found the bike's niche. And all it took was a deluge.
Kawasaki Z900RS: Bertie is trying to convert the original Z1 fans.
Honda X-ADV: For Mossy this Honda is better than a 'Blade.
KTM 1090 Adventure: Riding with a police escort makes for an interesting tale.
Husqvarna 401: It's very nearly as practical as it is funky.
Yamaha Tracer 900: It's bike night time for Jono.
Honda Africa Twin DCT: When Matt met the AT (again).
Suzuki GSX-S1000F: Stuart turns the naked into a kind of tourer.