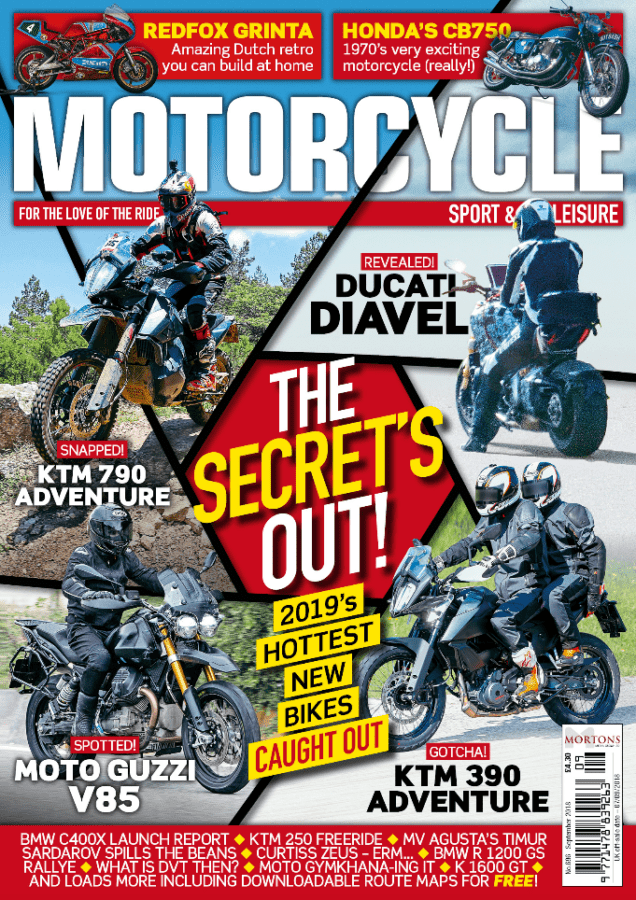 The latest issue of Motorcycle Sport & Leisure is out now! Get yours at any discerning newsagent or subscribe to get yours delivered every month.
Here's a quick summary of what's inside this issue…
Article continues below…
Advert
---
Enjoy everything MSL by reading the monthly magazine, Subscribe here.
---
NEWS & OPINION
News: The biggest stories in biking this month – including genuine from-the-bushes scoop photos!
Timur Sardarov: MV Agusta's money man shares his vision for the future.
Maynard Hershon: Bikes, girls and England. All the way back in 1964.
The High Sider: Sporting prowess from hiding behind the sofa and moaning at the telly box.
TOURING & ADVENTURE
Day ride: Can you get from Essex to Ypres and back in a day?
Richard Millington: What if the bike you really want doesn't fit your image?
Mid ride: We love riding in Spain. This time it's the Pyrenees.
Long ride: Short nights, long fjords, cheap ferries and expensive cheese in Norway.
Toro Trail: English rider, German bike and Spanish trails are the perfect mix.
Travel: From the four corners of the globe they came (back).
Cagiva fest: If you want to see lots of Cagivas in one place, this is it.
Moto Gymkhana: The boys are getting faster, sharper, and still nowhere near the podium.
ROAD TESTS
BMW C400X: They had a rubbish World Cup, but the Germans know how to make scooters.
KTM Freeride: If you want to venture right off the tarmac, this is the way to do it in quarter-litre style.
Redfox Grinta Ducati: Built for the Classic TT. This is a bike you could make yourself.
Curtiss Zeus: Whether you love it or hate it, this electric machine is certainly unique.
Classic test: Honda CB750. It's a classic alright, but how does it measure up these days?
Used test: BMW K1600GT. There's something about that six-cylinder engine… not to mention all those gizmos.
KNOWLEDGE
Coming classic: Where to put your money if you're looking to the long term.
What's on: Don't miss these events in the next few weeks.
Tried & tested: Our real life tests tell the truth behind the marketing spin.
Kevin Cameron: What wins races – the rider, the bike, or something else altogether?
TEST FLEET
Honda CB1000R+: Attention seeker's delight!
Kawasaki Z900RS: Classic looks or a classic ride?
Honda X-ADV: Chris changes his habits to suit the bike.
KTM 1090 Adventure: Roger meets the 'egg boys'.
Husqvarna 401: Ross enjoys the Black Arrow.
Yamaha Tracer 900: It's got what Paul needs.