Mid-weight solution to mid-life desires
WORDS: Mikko Nieminen PHOTOGRAPHY: Gary Chapman
When I got my full motorcycle licence I was riding around on a Yamaha RX-S 80. It was the perfect city bike for commuting in London, and just about agreeable for little adventures outside the city. I loved that bike. But I had a brand-new big bike licence in my pocket, so my lust for bigger toys was strong.
A friend had a friend who had a Honda CBR600F Sport for sale. It was beautiful. Sporty, sexy, and everything that a newly qualified petrolhead desires. I wanted that bike. It was over my budget, but I had an overdraft ready to be called upon. I agreed a viewing, and as long as the bike didn't sit in a pool of its own oil, I was going to buy it.
It's not meant to be
Just before I was meant to go and see [read: definitely buy] the CBR, out of nowhere a Fazer 600 waltzed into my life. It didn't have the sex appeal and the luring lines of the Honda, but it was a good, solid, reliable 'first big bike'. What sealed the deal was the price. It was a load cheaper than the Honda. So, I bought the Yamaha instead.
I had a great time on the Fazer. I liked riding it so much that when it started to feel a bit limited, I went on to swap it for the litre version of the same bike. That Fazer 1000 was my workhorse of a bike for years. It was brilliant.
But as much as I enjoyed all the bikes I owned since then, I never forgot the CBR. It was the one that got away. It was the high-school sweetheart who moved to another town, and even years later you still sometimes wonder how that might have gone if she hadn't moved.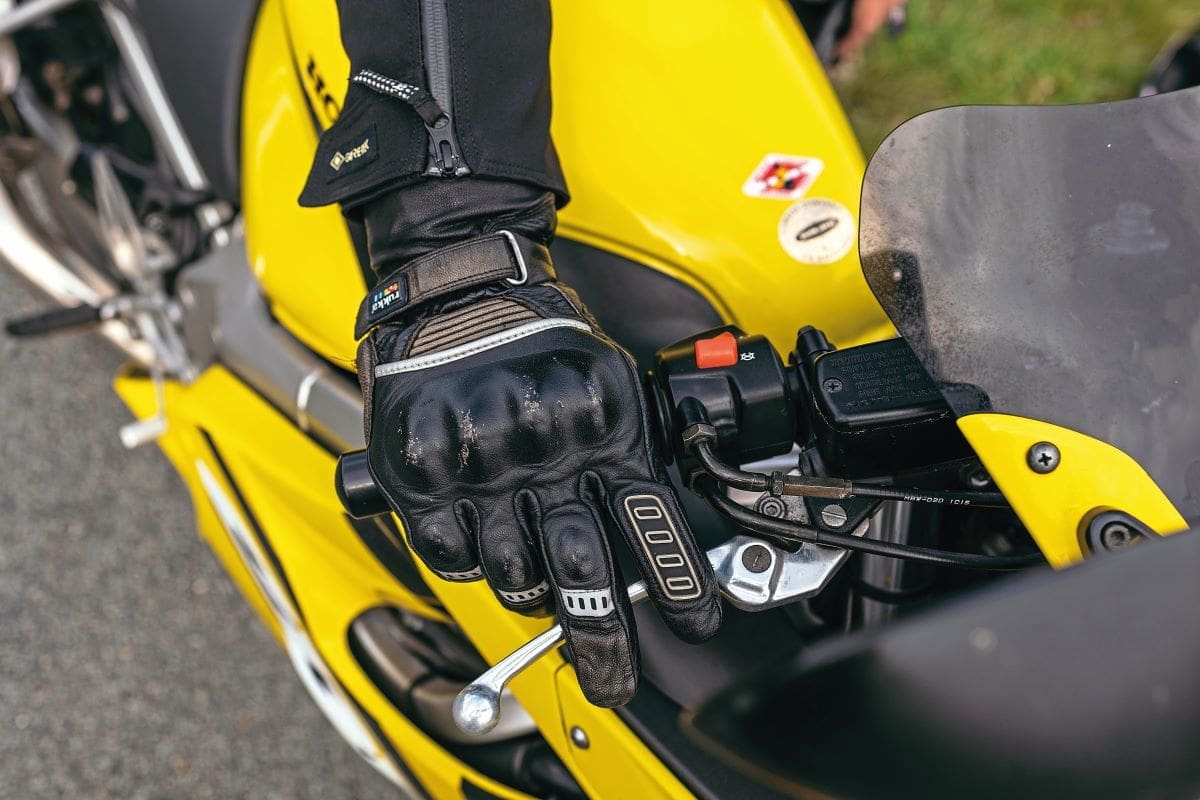 Lighting the fire
A few months ago, that dormant memory was poked to life by my mate and colleague Matt. We were talking about bikes, and I just mentioned that I quite fancied a middleweight sportsbike that was road-legal but could do a few trackdays, too. He didn't realise what he set in motion when he suggested a CBR600 as a cheap, simple and suitable option. Well… I could not have got the idea of a CBR600 out of my head even if I had tried (I didn't). I researched them, talked about them, even wrote about my desire in the mag. I was getting obsessed, I admit it.
As luck would have it, another colleague, Mike, found out about my quest for a Honda. He had one. He was just about to sell it. If I wanted it he could give me a decent price. Deal!
Finally, it's mine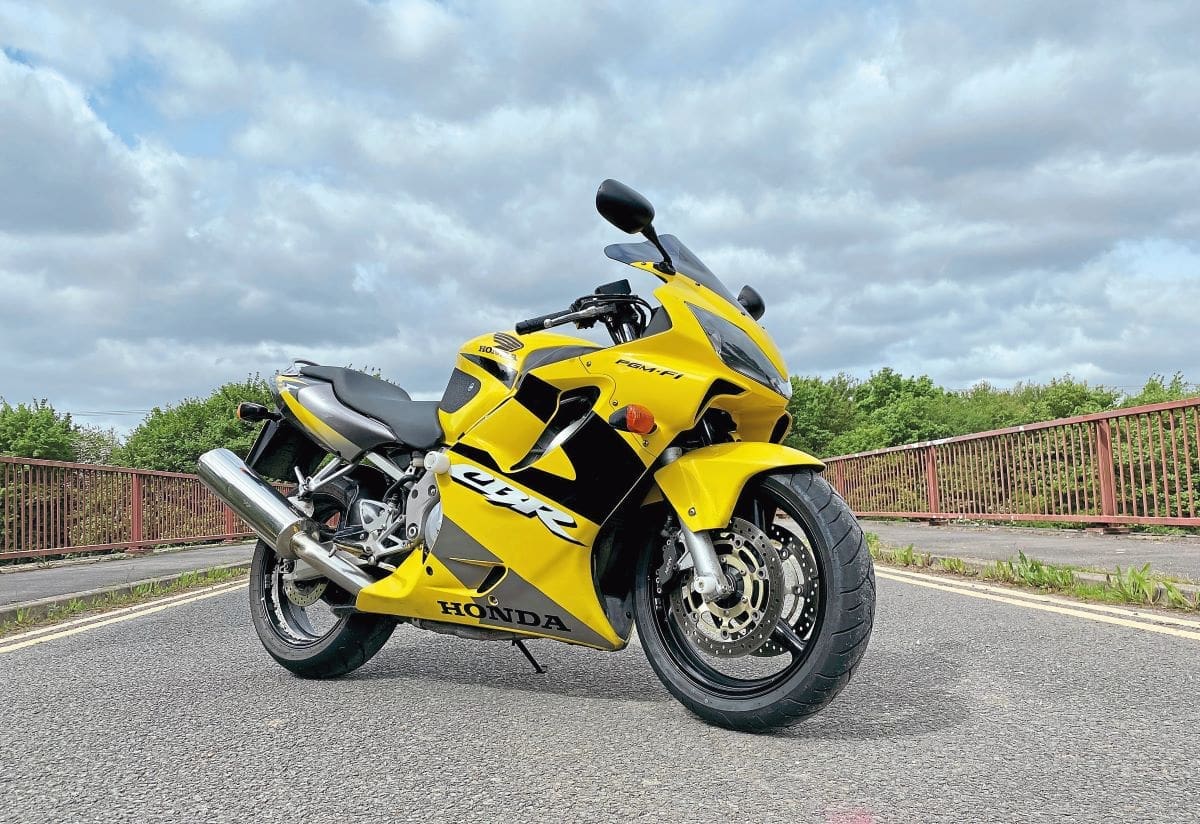 So, there I was, with a nicely kept 2001 Honda CBR600F in yellow and black. It's not the Sport model or red and black, like my original flame, but it's a CBR600, and it's mine.
The bike is the first generation of fuel-injected CBR600s, which suited me fine as I'm not a big fan of cleaning carbs, and to be honest the throttle feel is very nice for an early injection system.
Aluminium frame had been introduced a few years earlier, so the bike has a reasonably modern feel from the chassis. But when it comes to brakes, there's nothing modern about them. I was reminded after the first couple of miles of riding the bike just how much brake technology has developed over the last two decades. I almost felt like sticking my foot to the ground would do more than a squeeze of the brake lever. Improving the brake performance is something I have to look into in the near future. Braided hoses and new pads might make a difference, although the sliding callipers are never going to offer the kind of braking that modern machines do.
My bike being the standard CBR600F rather than the Sport model means that I get a centre stand and a single unit seat, otherwise the bikes are pretty much identical, with their new-for-2001 twin headlights and three-spoke wheels.
Talking about wheels, the ones on my bike are looking rather tatty, so I might need to look into getting them sorted so they match the rest of the bike that looks pretty good for its age.
There is also a small oil leak near the front sprocket, but it's so little that so far I have been happy to ignore it. I just wipe the fairing and side stand every now again, and the problem is out of sight, out of mind.
Power delivery is pretty much what you expect from a turn-of-the-century middleweight sportsbike. As you start to accelerate you have to resist the temptation to give the engine a break by shifting gears too soon. This is because not a lot happens in a hurry until you get around the 6000 revs mark. From there the CBR picks up speed quite nicely, but for someone like me who has spent too much time on torquey twins, it needs re-educating the brain to ride the bike to its strengths.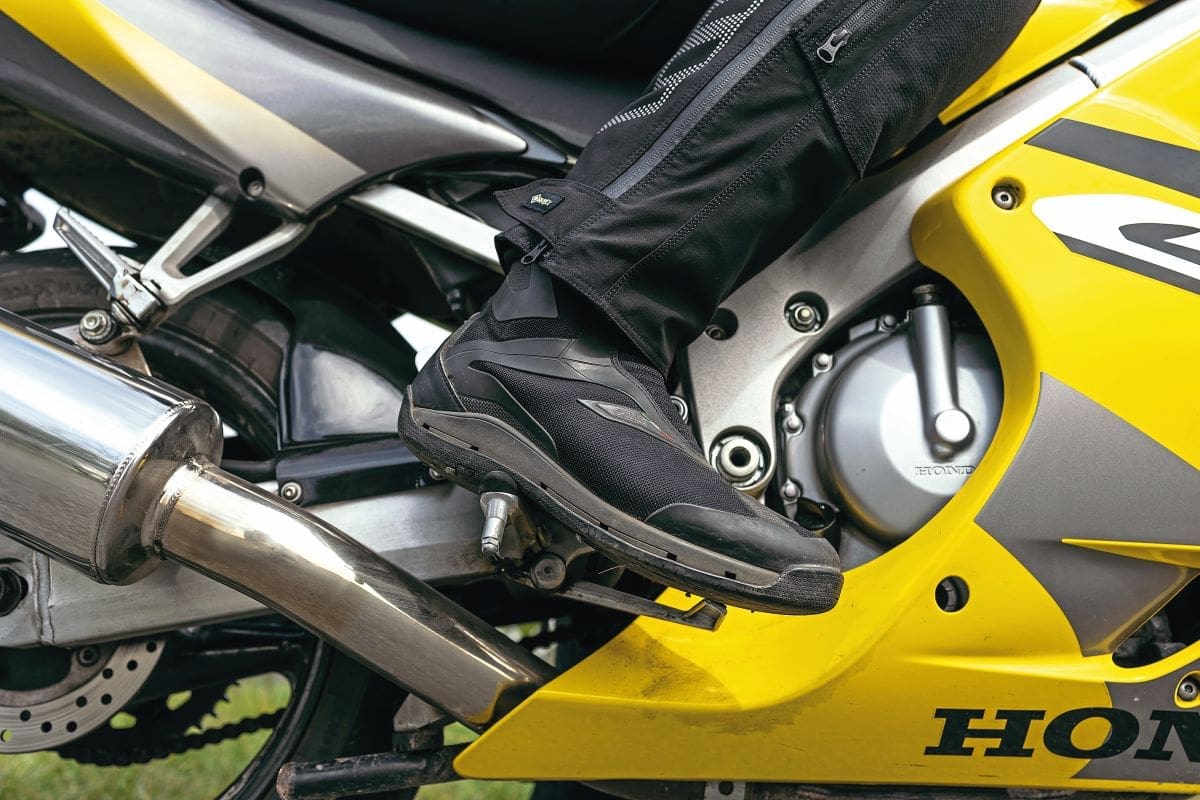 What to do with it?
I haven't had a chance to add many personal touches to the bike yet. The only bits so far are R&G crash protectors for the body and forks, as well as tank grip pads (www.rg-racing.com). I had similar R&G crash bungs on the Fazer, and they saved the bike when I hit some oil in a corner and went sliding. Small investment to avoid a big bill.
Over the next couple of months I hope to get the bike on track, so I can really see what it's like to ride in anger. Since the CBR qualifies as a classic bike for track riding purposes, I have booked myself on a classic bike track day (www.classicbiketrackdays.com), where hopefully I won't be left in the dust of modern speed demons. I think the Honda will be good company there.
I also fancy doing a little tour on the bike, just to remind myself what life was like before the adventure bikes and mega-tourers took over. I might not go too far though, as I'm not so tolerant to aches and pains anymore as I was 20 years ago. Although, I'm not any wiser than I was back then, so maybe I'll give it a go anyway…
Specification
2001 Honda CBR600F
Rider: Mikko Nieminen
Engine: 599cc inline four, l/c, DOHC, 16V
Power: 107bhp (80kW) @ 12,500rpm
Torque: 48lb-ft (65Nm) @ 10,500Transmission: 6-speed, chain final drive
Tank: 18 litres
Seat height: 805mm
Weight: 168kg dry