The original idea was to go for a ride in Ireland and cross the much talked-about Irish border to Northern Ireland the day after Brexit, but you know how that whole process went…We decided to go anyway, and what a good decision that was!
Touring on BMW F850GS Adventure and Triumph Tiger 800 XCx
Our journey started in England, continued through Wales into Ireland and Northern Ireland, and we finally headed home via Scotland. We were treated to some epic scenery, excellent roads from the Wild Atlantic Way to the Causeway Coastal Route, and a friendly welcome everywhere we went. In true Brexit style, we didn't really have any idea of the direction we should take, but it only added to the adventure.
The bikes proved to be an excellent choice for a trip like this. With plenty of power, comfortable riding positions, good weather protection and loads of luggage, they are made for riding like this.
The route
We covered England, Wales, Ireland, Northern Ireland and Scotland on our trip. The ferry from Pembroke to Rosslare set us up for a clockwise coastal route around the island all the way to Belfast. From there we sailed to Cairnryan, and returned home via Moffat.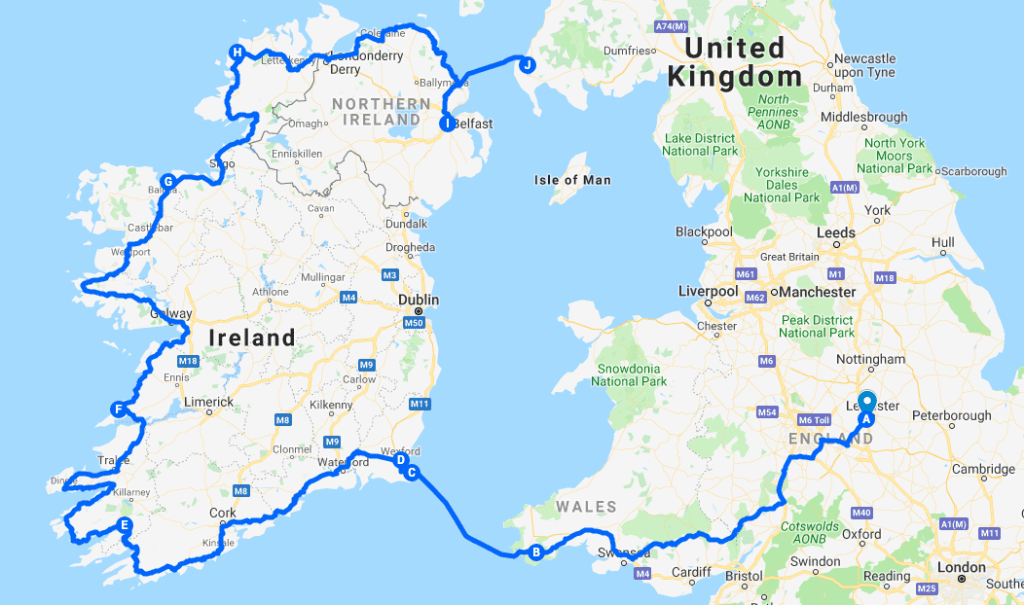 Ferries
We used Irish Ferries (www.irishferries.com) and Stena Line (www.stenaline.co.uk) for our crossings and they were spot on, but several other options are available from various ports in England, Wales and Scotland to Ireland and Northern Ireland.
Accommodation
We only booked hotels for the nights when we knew where we would be. The rest of the time we just winged it, and it worked fine outside the tourist season. This what we booked and would be happy to recommend:
Faythe Guesthouse – Wexford, Ireland
Faythe in Wexford was the perfect location to stay the night after arriving late in Rosslare. It has lovely rooms and service, and they served the best breakfast we had on our trip.
www.faytheguesthouse.com | +353 53 912 2249
Tara Lodge – Belfast, Northern Ireland
Tucked away on a quiet side street, Tara has immaculate rooms, secure off-street parking and first-class service just a short walk from all the action of one of the liveliest cities in the UK.
www.taralodge.com | 028 9059 0900
Buccleuch Arms Hotel
With the exquisite traffic-free roads of the Scottish Borders on its doorstep, and the best setup for motorcycling guests we have seen anywhere, staying at the Buccleuch is a no-brainer.
www.buccleucharmshotel.com | 01683 220 003
Read the full article, pick up the June issue from your local newsagent, or order one HERE.