Just in! CFMOTO 800NK Advanced breaks cover…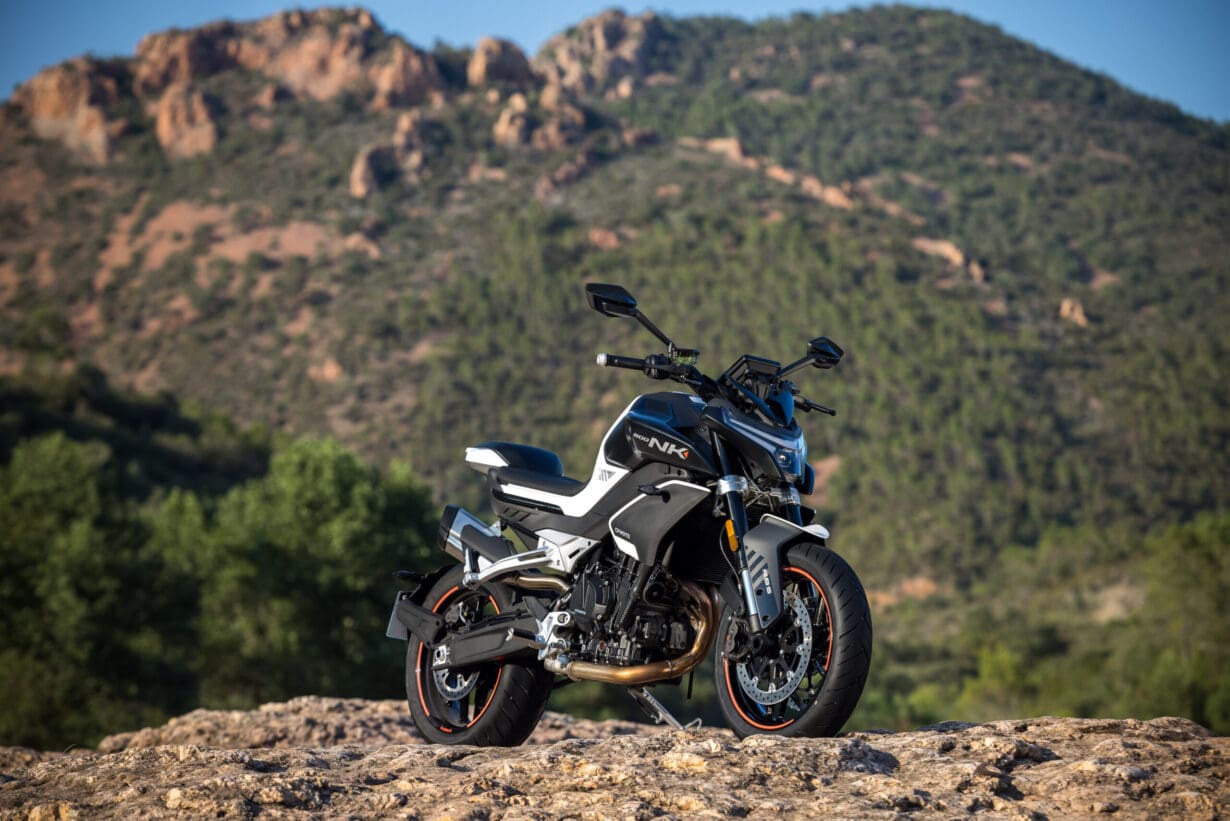 Lining up alongside its SPORT-badged counterpart, the CFMOTO 800NK ADVANCED is the flagship large displacement model from CFMOTO's NK naked bike family. While sharing the signature NK futuristic design, top-class performance and balanced riding position, the 800NK ADVANCED brings additional levels of high-end equipment and technology to the fore, such as
Keyless start
Follow Me Home headlight
Ambient status light
Quickshifter
Apple CarPlay® compatibility
Ergonomics and Handling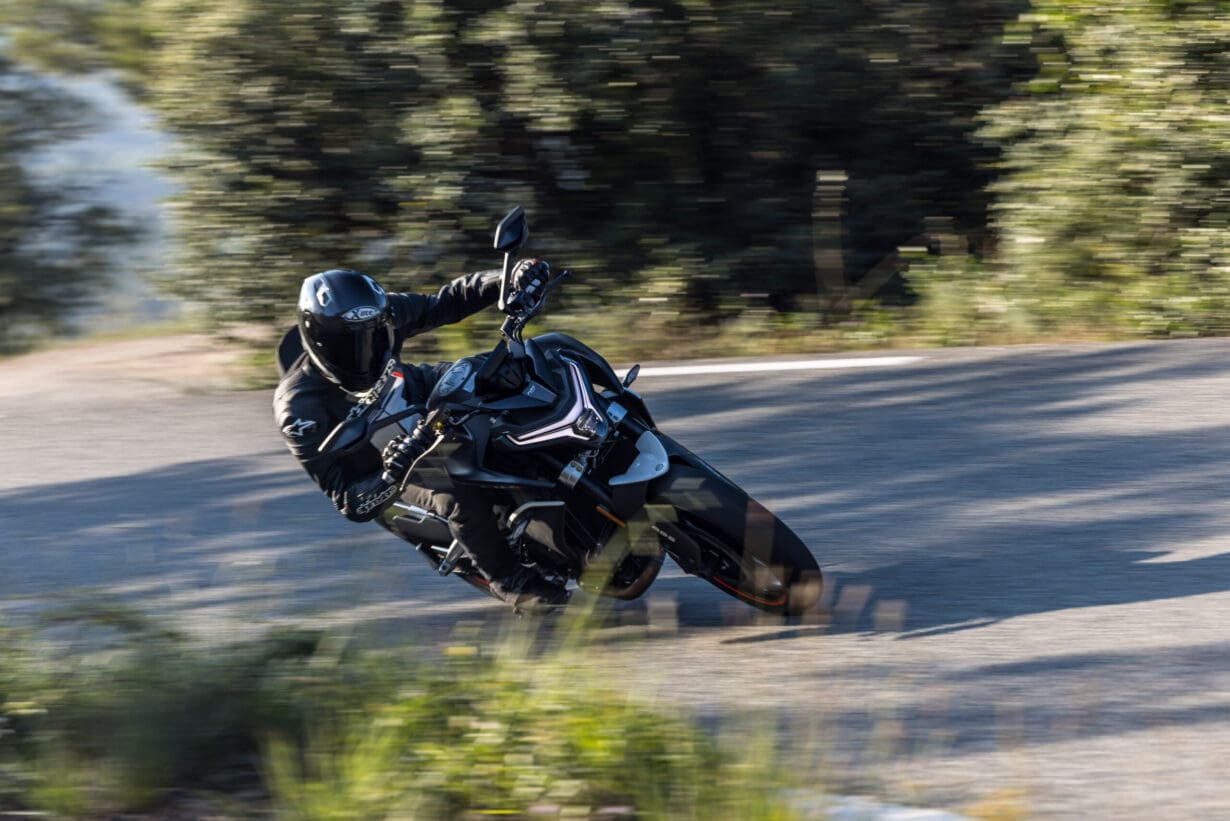 The 800NK ADVANCED shares the same stream-lined muscular proportions and rider triangle as the 800NK SPORT, with the fairing providing purposeful protection to key cooling parts, adding to the overall appearance and design.
At a respectable 186 kg, the 800NK ADVANCED weighs in slightly heavier than its SPORT sibling on account of key additional components, however, the ultra-strong and lightweight chrome-molybdenum alloy steel frame remains. This ensures an optimal rigidity, safety and stability balance, seamlessly integrating with rider inputs.
Designed to straddle the line between aggressive sporty riding and the comfort of everyday commuting, the CFMOTO 800NK ADVANCED makes use of an aluminium alloy split handlebar for an optimal upright riding position, while a 795 mm standard seat height and a narrow seat cushion facilitate more accessible ground contact for riders. An optional 820 mm seat is also available for taller riders.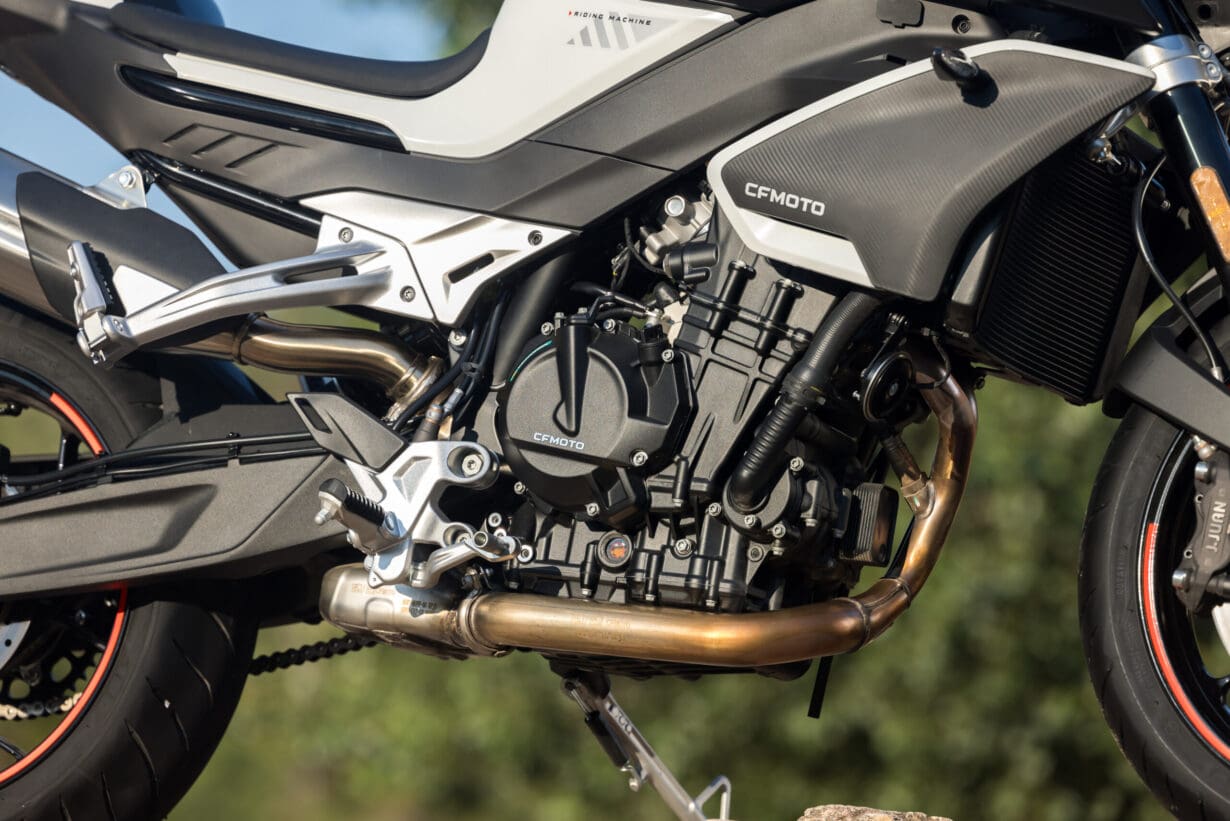 Engine
Power comes courtesy of a Euro5 specification parallel twin-cylinder motor, producing 95 HP/ 9250 rpm and a peak torque figure of 79 Nm/ 8000 rpm. This allows the CFMOTO 800NK ADVANCED to charge through the gears towards an impressive 10,500 rpm, delivering a consistent and smooth power spread.
A 285° crankshaft angle, linear power spread and dual-balance shafts provide excellent vibration suppression and instil the 800NK ADVANCED with a robust and throaty engine note. More so, the dual-balance shafts also reduce vibration transferred to the frame itself, allowing the engine to be used as a part of the frame's load-bearing construction, reducing overall weight.
Allowing the engine to breathe easier, the air filter box with integrated air intake is positioned under the seat cushion, enhancing intake efficiency and providing quick and easy air filter maintenance.
Chassis, Brakes and Suspension
The CFMOTO 800NK ADVANCED features premium chassis components that have been carefully designed and selected to ensure sporty handling characteristics and rider comfort. Upfront, a fully adjustable KYB 43 mm upside-down fork works perfectly with the 74 mm KYB damping adjustable, centre-aligned KYB rear shock absorber to provide unmatched rider feedback, traction and control without compromising comfort.
A combination of lightweight aluminium alloy wheels and high-performance MAXXIS tyres – 180/55 R17 rear and 120/60 R17 front – further enforce the 800NK ADVANCED's sporty character, high grip and high-speed stability and complement each other to effectively reduce unsprung weight aiding in quicker reactions to handlebar inputs and agility.
These are paired to dual 320 mm J.JUAN discs and 4-piston radial calipers up front and a 260 mm disc on the rear, with BOSCH ABS as standard, providing controlled braking force at all times and weather conditions.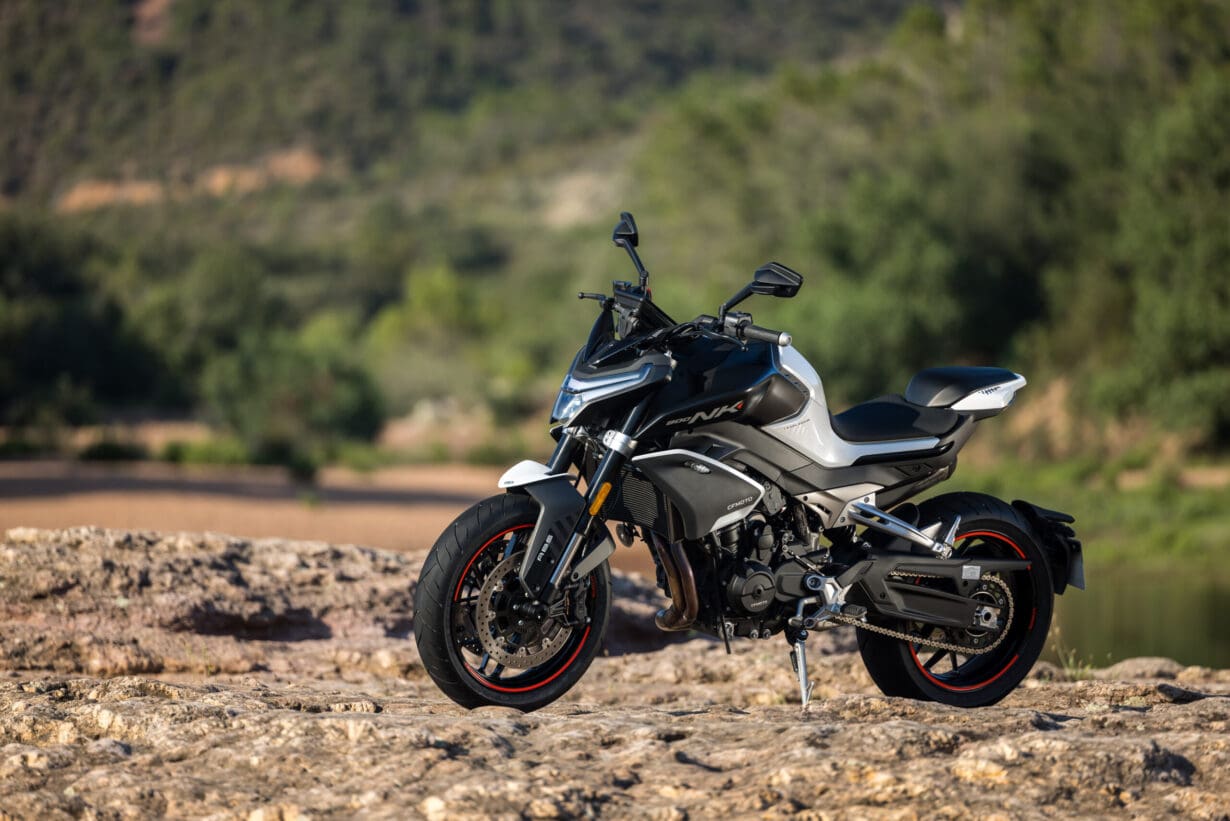 Rider Aids
Staying true to its rider-first approach, the CFMOTO 800NK ADVANCED boasts several rider aids to provide the best overall riding experience.
Thanks to the well-tuned ride-by-wire system, the 800NK ADVANCED offers riders three riding modes: STREET, RAIN and SPORT. With STREET MODE as the default setting, SPORT and RAIN can be selected to provide different throttle responses and power delivery behaviours to suit conditions and riding styles.
A quickshifter is also included as standard in the 800NK ADVANCED package, allowing for clutchless up-and-down shifts, resulting in quicker acceleration. At the same time, an F-SC slipper clutch significantly improves downshifts, limiting rear-wheel slip when gearing down to eliminate any rear wheel locking up concerns.
At the front end, a steering damper enhances stability when riding at speed and prevents the front end from wobbling or shaking in the event of uneven road surfaces. At the same time, cruise control is also fitted as standard and allows for comfortable long distance riding at the push of a button.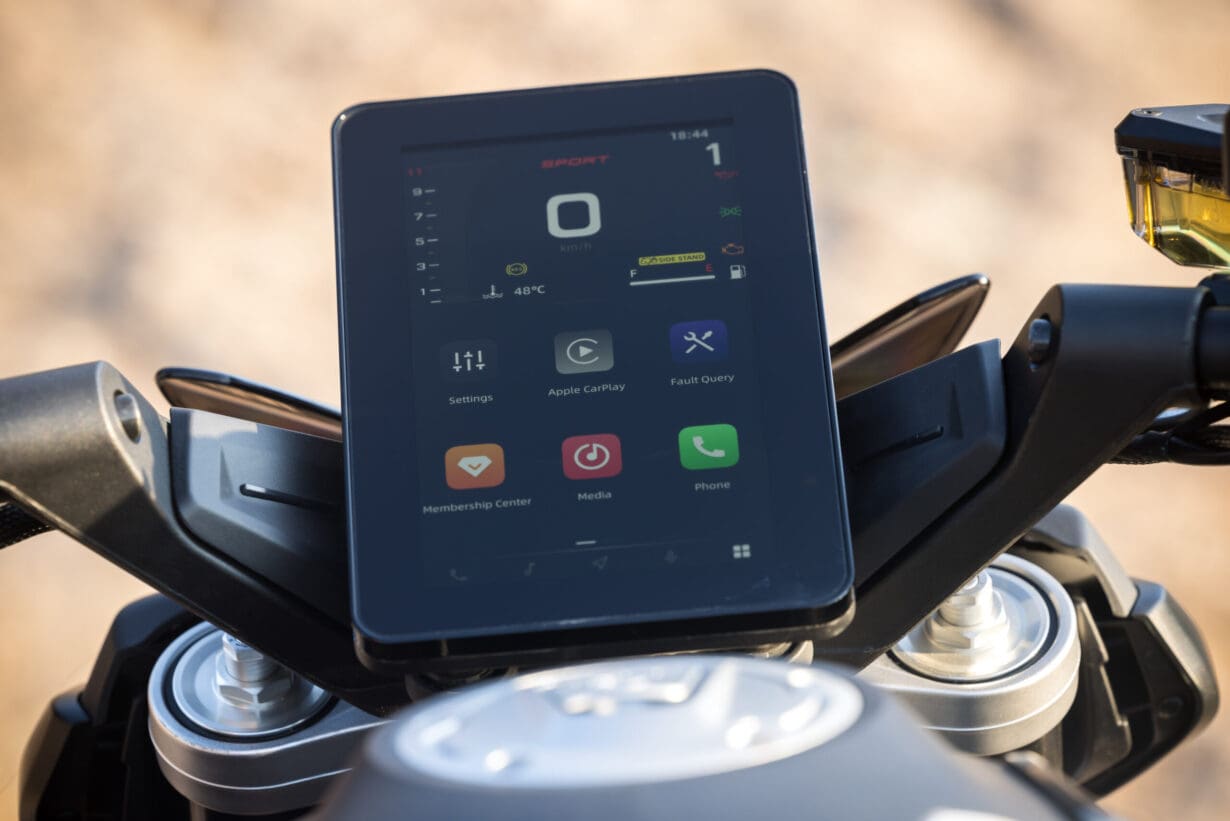 Connectivity and Riding Experience
As the flagship model of the CFMOTO NK range, the 800NK ADVANCED features a forward-looking technological outlook, merging on-bike componentry with off-bike smart technology.
Using the CFMOTO RIDE mobile app on a smartphone and the Multimedia TFT system on the vehicle, owners can access a full range of features ranging from dashboard personalisation to fatigue alerts, to name just a few.
These features can be accessed via smartphone or via the MMI system on the CFMOTO 800NK ADVANCED's 8-inch TFT full-laminated and waterproof display. This provides a range of functions, including offline map navigation, Apple CarPlay® compatibility, Bluetooth calls and a full multimedia centre. The MMI also benefits from over-the-air (OTA) software upgrades, ensuring it remains up-to-date without needing to visit a dealer. This means the software is automatically updated when an open Wi-Fi network is accessed.
A vehicle positioning system is also included, which lends itself to another layer of safety, ensuring owners can keep track of where their 800NK ADVANCED is at all times. Should there be any abnormality, an alarm will sound via the CFMOTO RIDE smartphone App to alert the owner.
The CFMOTO 800NK ADVANCED also boasts Keyless start, follow-you-home lights, and automatic headlights that can intelligently recognise changes in the environment and adjust accordingly, as well as an Ambient light, which changes to different colours by the state of the vehicle.
The T-BOX takes the 800NK ADVANCED technology to another level by allowing vehicle-phone interconnection via the CFMOTO RIDE app, to achieve real-time viewing of a stationary vehicle and race track position.
Pricing and Availability
The CFMOTO 800NK ADVANCED will be available in Zircon Black and Nebula White for £7,499.00 OTR from mid-October 2023, from authorised CFMOTO dealers.
For more information about the CFMOTO 800NK ADVANCED, click HERE.
To find out more about the CFMOTO Motorcycles model range, click HERE.