Staffordshire Police volunteers are providing complimentary, acclaimed motorcycle safety sessions.
Sergeant Rob Gilligan from the Central Motorway Policing Group (CMPG) is leading workshops this year for Biker Down – a project created in memory of PC Luke Van De Sande, who lost his life in an off-duty motorcycle crash back in 2019. He's joined by several currently serving and ex-emergency services personnel.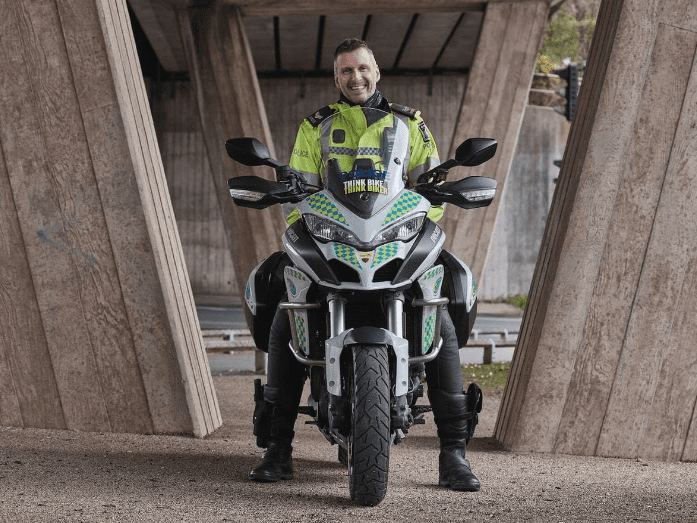 The team of presenters boast significant specialist experience and expertise in the fields of operational motorcycling, advanced first aid and collision investigation.
Workshops are open to motorcyclists of all ages and experience levels and there is no cost to attend.
This course encompasses three sections: scene safety, casualty care and rider skills. Every participant receives a first aid kit constructed to be attached to a motorbike together with a Biker Down pin badge.
This year's Two Wheels Workshops will be initiated as a part of CMPG's operation in compliance with the National Roads Partnership campaigns schedule.
Saturday, April 22 will mark the launch of the workshop at the Staffordshire Honda Dealership in Newcastle-under-Lyme. Representatives from advanced riding training groups will be present to offer advice and provide information for participants.
A select few tickets are up for grabs for the event taking place at Staffordshire Police Headquarters on Saturday, May 27, and the subsequent dates to follow on Saturday, June 10.
If you wish to sign up or gain further information, simply email [email protected]
For more information on Biker Down, visit docbike.org/bikerdown/.
#motorcyclesafety #bikerdown #morebikesyoulike #motorcycles #readersrides #motorcycle #ukbikers #bikelife #bikers #motorcyclists #morebikes #morenews #motorcyclenews #motorcyclegear