Here's what you need to know about the new flip front adventure lid from the German firm.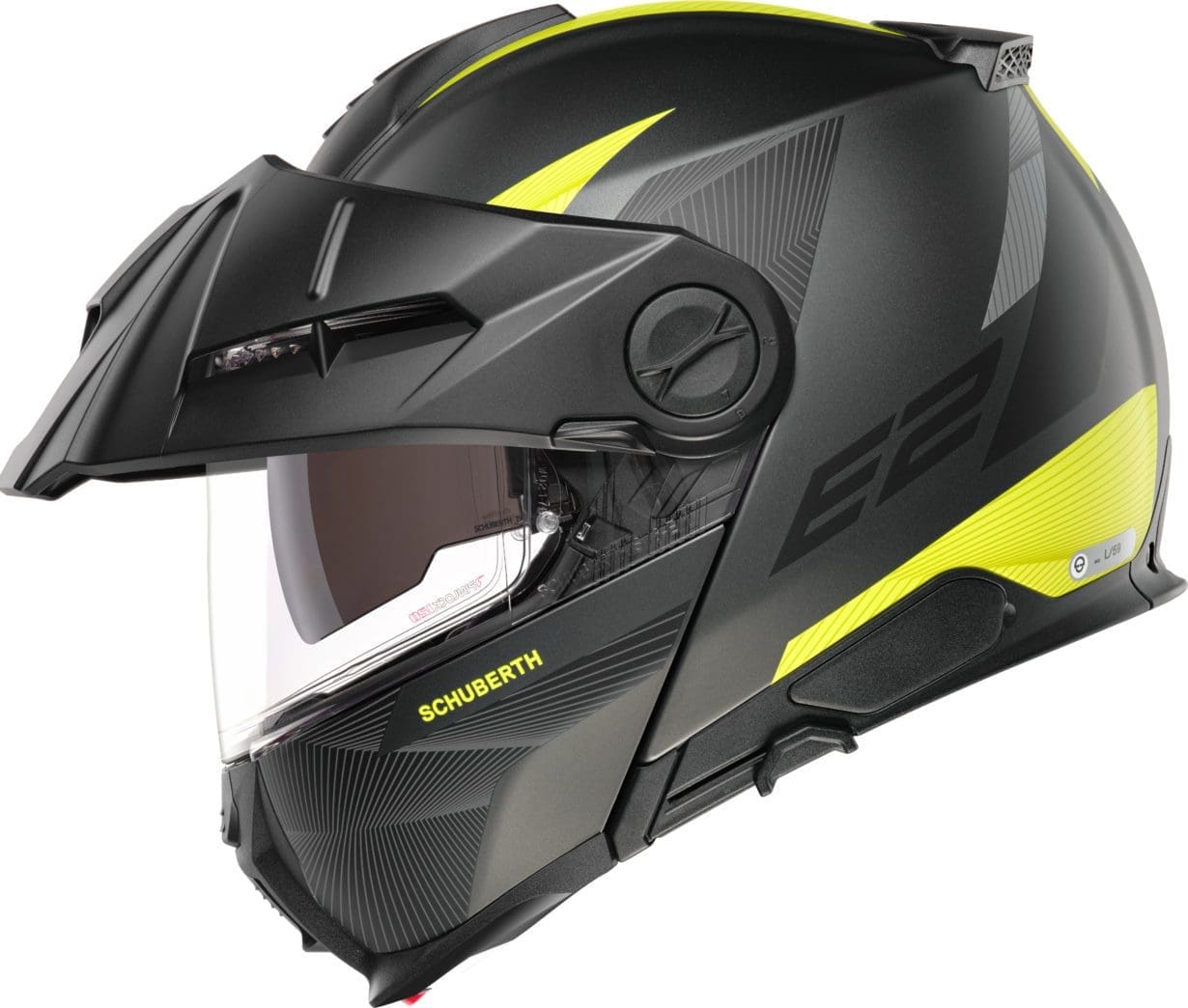 We love a Schuberth helmet here at MoreBikes. We've done thousands of miles in its top-specification flip fronts and have always been impressed by their quality, comfort and quietness. That's why were excited to hear that there's an all-new adventure helmet on the way for 2023. Introducing the E2.
Building on the success of the relatively recent E1 adventure helmet, the German firm (which has been making lids for bikers since 1954) has created a new, fully-loaded, dual-homologated flip-front that meets the latest and strictest 22.06 safety standard.
Article continues below…
Advert
---
Enjoy everything MSL by reading the monthly magazine, Subscribe here.
---
It's packed with cool features, including all the usual good stuff you'd expect from a Schuberth. That means that it's constructed from a glass fibre shell which has been made using the factory's own patented Direct Fibre processing (DFP) technique – and has been developed and tested using its own in-house wind tunnel. There's Class 1 Optics, an integrated two-position drop-down sun visor, a load of ventilation, an adjustable (Winter or Summer) head pad, cheek pads that have been designed for glasses-wearers, and an Italian-made Oeko-Tex 100 washable and removable lining. That's not all, there's a clever Anti-Roll-Off-System (A.R.O.S.) which works to ensure the helmet is kept in place in case of accident – and of course, it comes pre-installed with speakers, a cable harness and a radio antenna to make it super easy to install Schuberth's own plug-and-play communication system.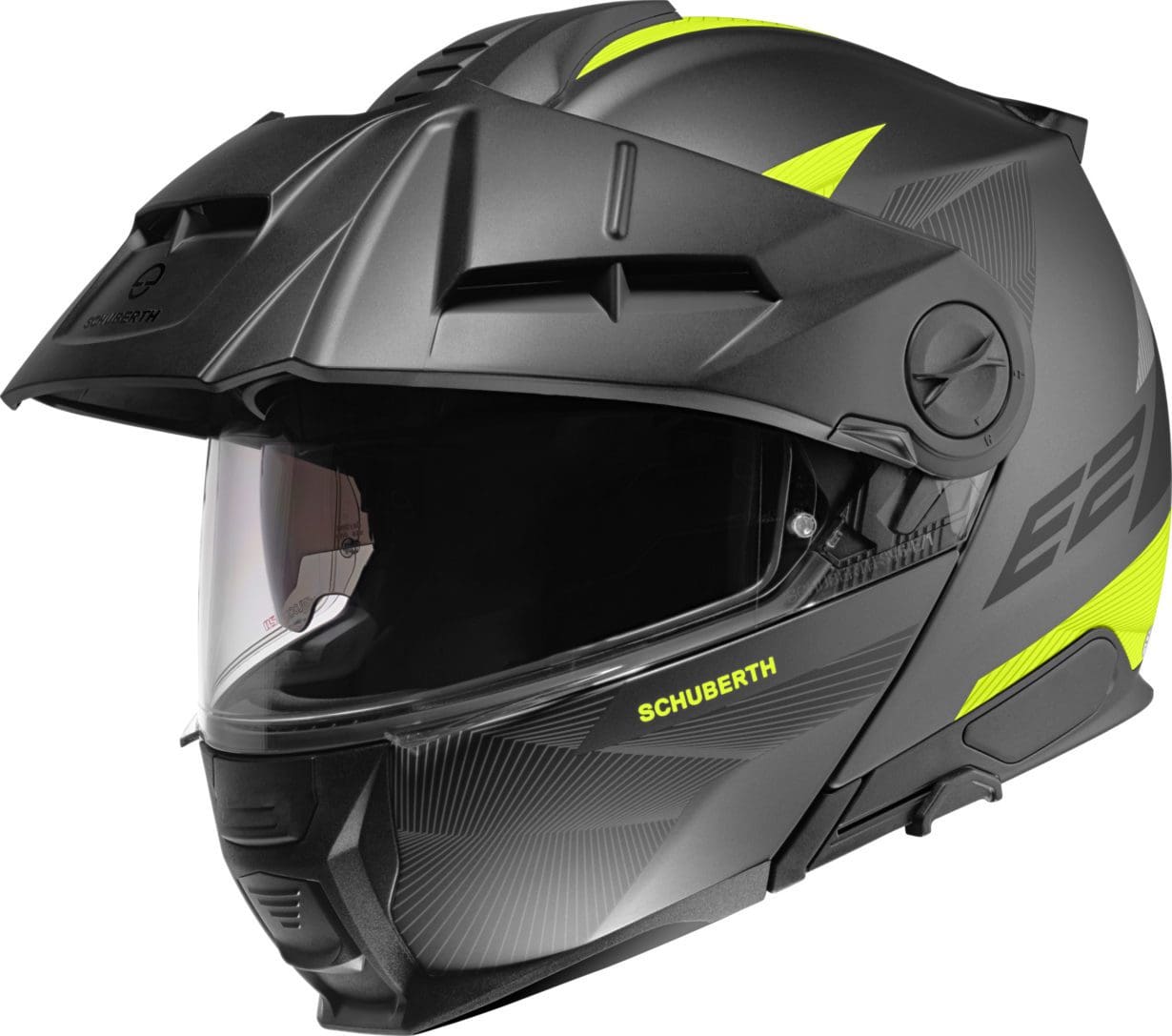 The E2 gets even more good stuff on top of all that. There's three-position adjustable (and removable) peak, a pre-installed Pinlock 120 anti-fog lens, improved field of vision (thanks to a new 'City Position' mechanism), a two-density EPS liner which the factory claims offers improved shock absorption, a Velcro lining (which makes maintenance even easier), and a new, lighter and more usable chin lock mechanism. And to help you get the perfect fit, there's even a custom fit option which allows you to make use of a wide selection of pads.
All that makes for one seriously sophisticated helmet. And add to that a 5 year warranty (when you register your lid online), and it's easy to see why Schuberth's are so popular among big mile bikers – and command such a premium price. You get what you pay for, right?
Article continues below…
Advert
If you want to go the whole hog and make full use of the built-in technology, then you'll want to know more about Schuberth's plug-and-play Sena-supported communication system. It'll cost you another £291 of you buy it with the lid (or £349.99 if you buy it separately). It's not cheap, but for the money you'll get the latest Sena 50s software which allows you to make use of Mesh Intercom and Bluetooth 5.0, and features 2 BT Antennas, Multi-Way Intercom and voice command and Digital assistant (Siri or Google) compatibility, to make it easy to operate your smartphone or sat-nav quickly, easily and safely while you're on the move. You'll also get a wireless control unit, a boom microphone and an easily detachable cable harness (if you need it).
With a claimed 14 hour battery life, there's going to be plenty of life in it for even the longest days in the saddle. It's also worth mentioning that it's fully compatible with rest of Sena's range of comms units. But the best thing about it, is probably the fact it should only take about 20 seconds to fit, because Schuberth's already done all the hard work by pre-installing the hardware and ensuring your helmet's good to go. We can't wait to get our hands on (and head in) one.
Priced at £569.99 for a plain colour and £649.99 for a graphic, there's no denying it's a lot of cash for a helmet (and even more when you include the comms unit) – but that's what it costs to get your hands on (and head in) one of what's sure to be one of the best lids in the game.
Article continues below…
Advert
If you want to know even more information about Schuberth's new E2 adventure helmet, click HERE.