The Ducati Multistrada V4 S stands out from most line-ups, but on our trip down south it was definitely the odd one out. Mainly because of the engine. It's not just that it was the only four-cylinder bike among twins in this test, but it's a very special engine: the 1158cc V4 powerplant was lifted from the officially mad Panigale V4. Sure, it has been retuned to suit the Multistrada, but still – it has 168bhp, for goodness sake. When I first swung a leg over it, I wasn't sure if I had drawn the long or short straw. I soon found out…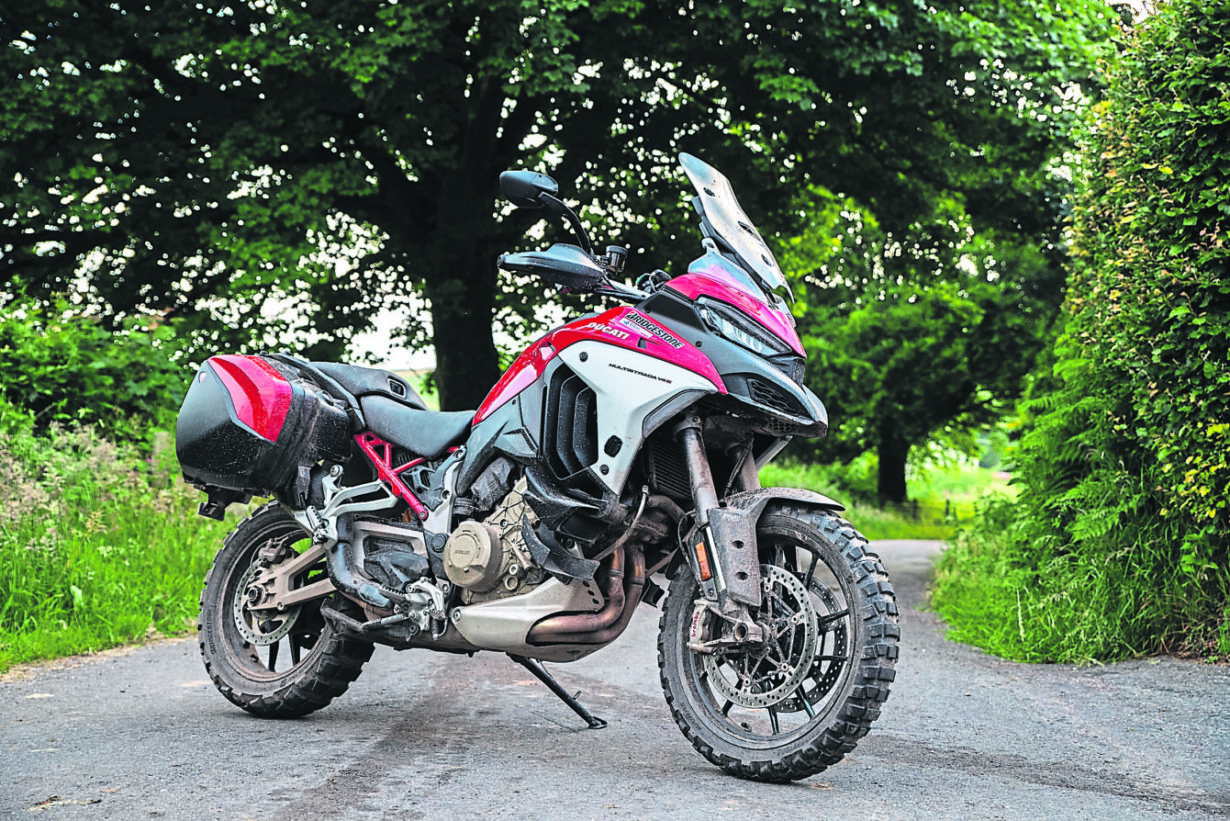 Smooth start
As I rolled the first tentative miles on the Ducati, I was surprised how civilised and easy to ride it felt. It may have the muscles of a heavyweight, but the handling is, if not quite that of a lightweight, maybe something along the lines of a welterweight. It certainly doesn't feel like the 243kg lump that it is.
The seat is not particularly low at 840/860mm, but crucially the bike is very slim in the middle, so you can easily place your feet on the floor. In fact, after jumping on any other bike after the Ducati, you felt like they were trying to stretch your legs apart as they were noticeably wider. With the high tank and wide handlebars, you feel like you sit in the bike rather than on it. It feels very relaxed and comfortable, although after a long day in the saddle I was wondering how much a comfort seat would cost.
I was surprised how quickly and eagerly the bike steered. You can lean it over for a corner with minimum effort, whether you're riding fast or slow. Once you're cornering, the chassis keeps everything super-stable, and you feel instantly comfortable to corner hard.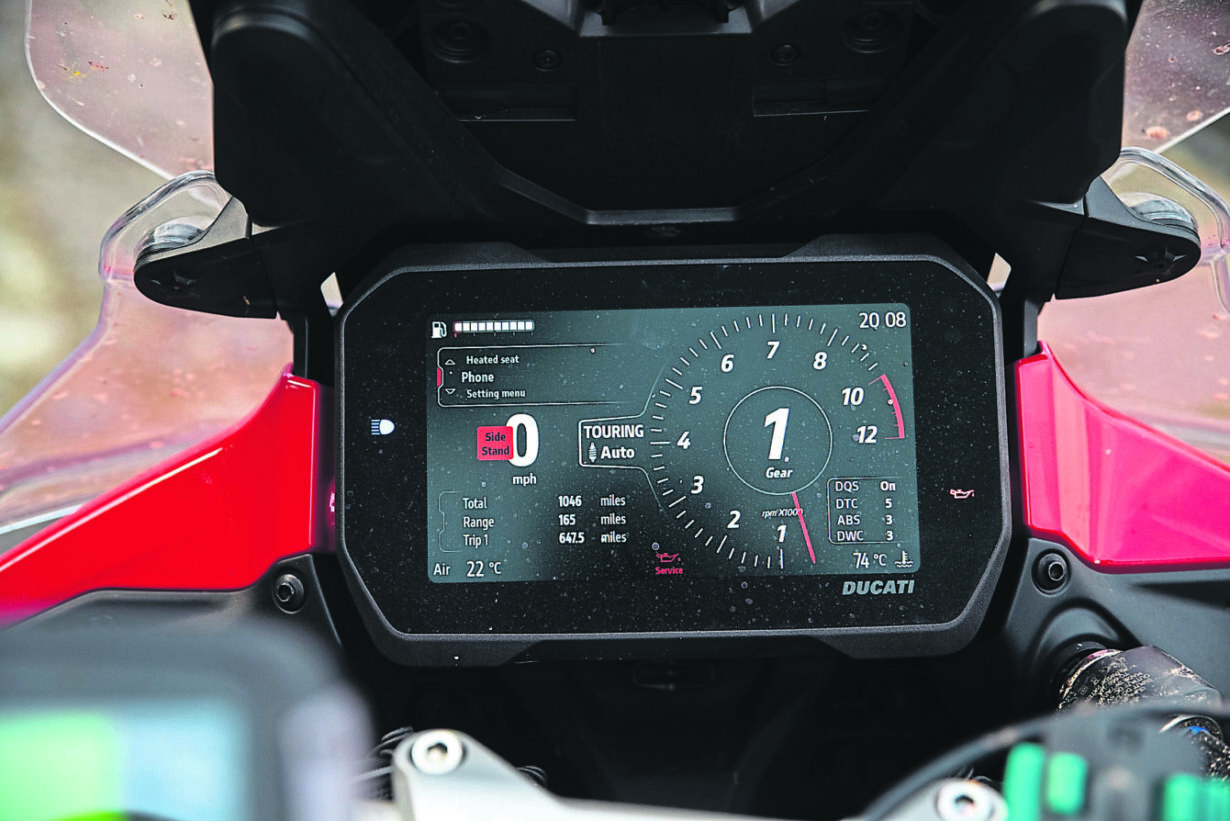 Fast and slow
The Ducati is not the smoothest at very low revs, but anything else is effortless, and the power builds in a nice linear fashion. Slow riding in town is no problem, and it's easy to keep your balance while crawling in traffic. Accelerating on the Multistrada is almost too easy. You have to keep an eye on the dash to make sure you're not doubling the speed limit before you have even changed gear. The bike is so rapid, and so stable and planted that going fast is not a problem in the slightest.
Electronic suspension adds a level of sophistication to the ride, and it's easy to change the suspension settings on the go. I spent most of the time in the 'Auto' mode, which seemed to provide good roadholding and reduce the effects of potholes at the same time.
A big bike needs big brakes, and the Multi has the impressive Brembo Stylema callipers at the front, giving plenty of bite to help slow things down. The ABS is also very good. I managed to activate it a couple of times, but it comes on so smoothly that you hardly notice it.
The Multistrada's front end didn't have the glued-to-the-ground feel that I remember being impressed by when riding the Streetfigher V4, but even though the front felt lighter, there was no feeling of losing grip at any point. Part of that light feeling may have been due to the blocky Bridgestone AX41 tyres that we fitted on the bike to allow us to do a bit of off-roading on our route. On sport-touring tyres the handling would surely be even more assured on Tarmac, but we wanted our fun on trails, so we had to compromise.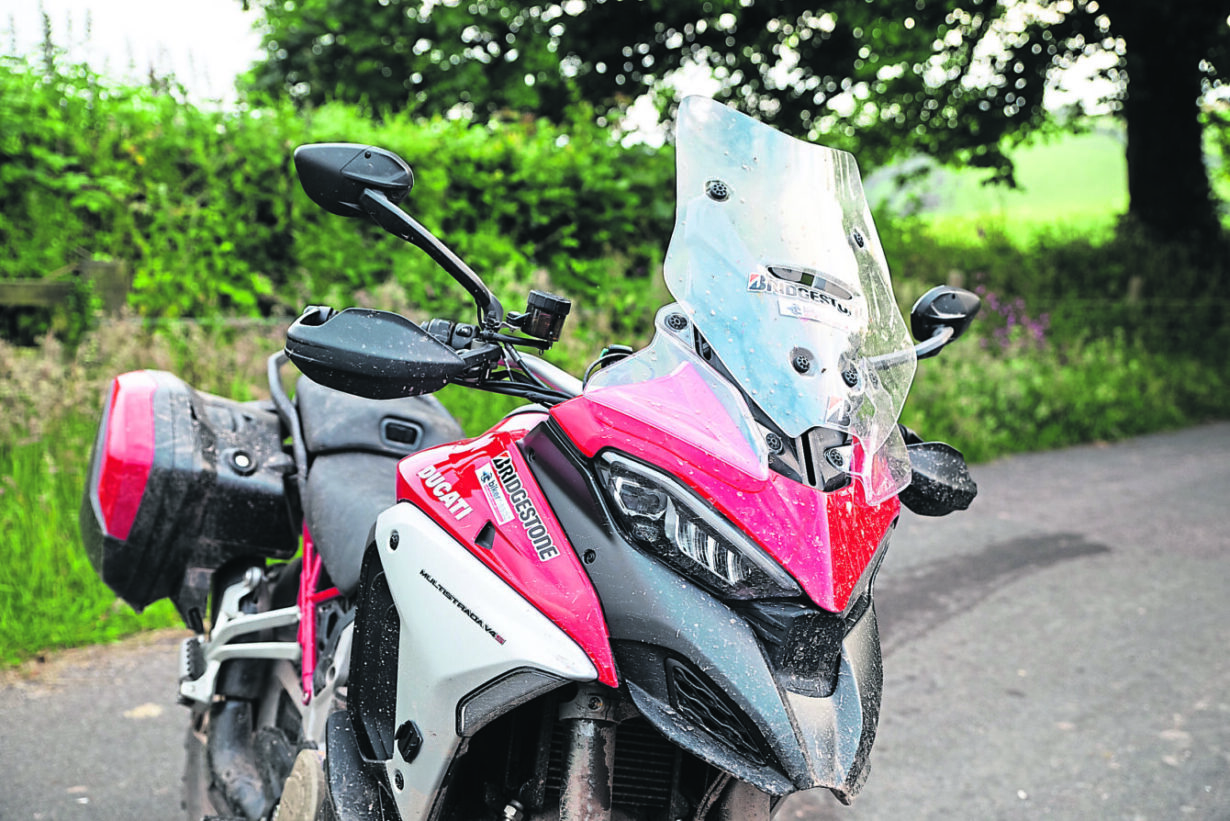 Massive toy box
This has been the year of radars on bikes, and Ducati was one of the first to jump on the bandwagon. The front radar on the Multistrada is used to control the adaptive cruise control – which, by the way, is something that sounds like a useless gimmick, but once you try it and see how useful it is on big, busy roads, you miss it when you only have standard cruise control, or none at all.
Article continues below...
---
---
The rear radar is for the blind spot alert system that switches on a light on your mirror when there's a vehicle either in the blind spot or near you. Most of us are perfectly capable of keeping an eye on what's going on behind us by checking the mirrors regularly, but there were a couple of times that the light flashed before I had noticed an approaching vehicle. I would imagine that it's a bit of a Marmite technology, and Ducati seems to think so, too, as it can be switched off.
You get multiple ride modes on the Ducati, and naturally there is a host of rider aids from lean-sensitive ABS and traction control to the aforementioned electronic suspension and adaptive cruise control. Ride modes change the power, ABS, traction and suspension settings in a flash, so all you have to do to get the ride as you want it is to select Sport, Touring, Urban or Enduro mode.
I stayed in Touring mode most of the time, apart from short spells in Sport mode as we pushed a bit harder, and a while on Urban when I was nursing the bike to a petrol station (she's a thirsty girl, and even with the 22-litre tank, the Ducati was always out of juice well before the other bikes in the test).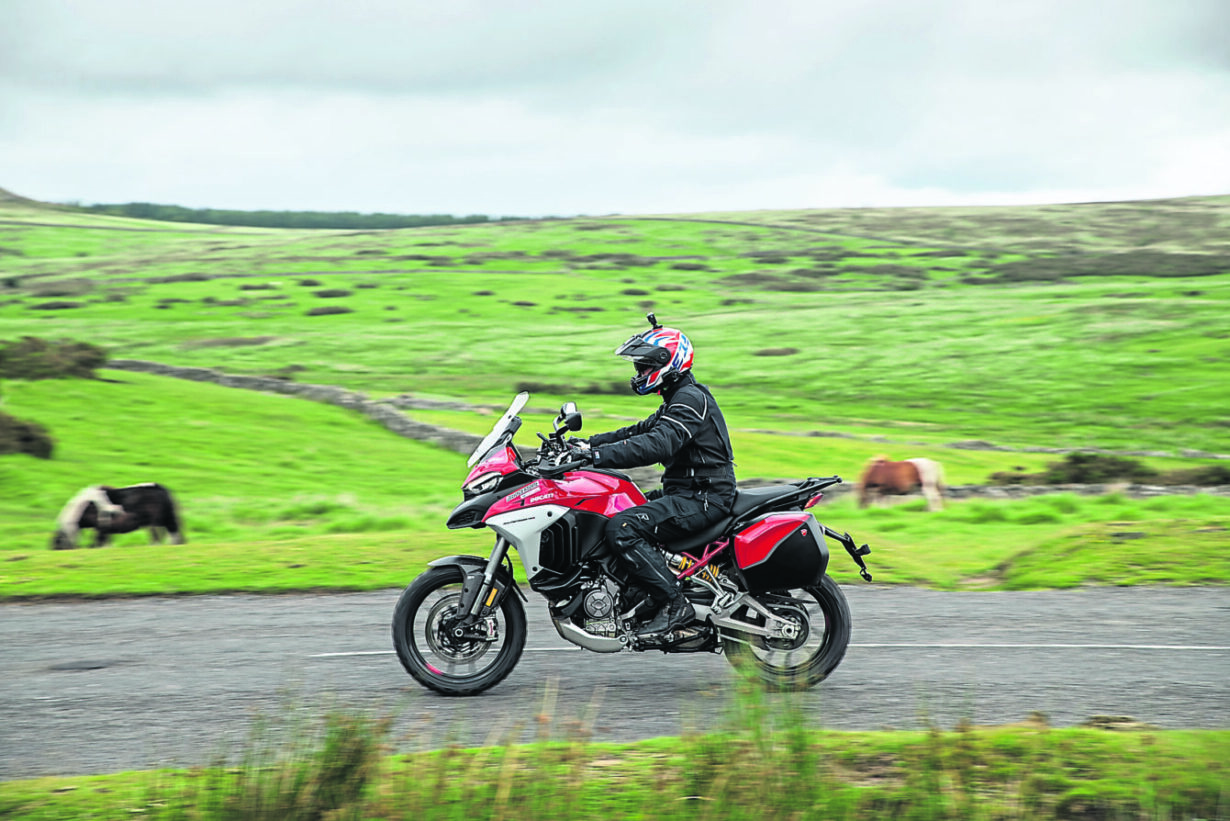 Final thoughts
Italians know how to build a good-looking bike, and I very much like what they have done with the Multi. And the bike rides well, too – it's comfortable and enjoyable, and it can really get a move on when needed.
If I had to criticise it for something, I could moan about the amount of power it has – nobody needs that much on an adventure bike. But it is nice to have. And the Multi was the first bike of the bunch to need refuelling. But if you can live with that, there's not much else to grumble about. It's a helluva bike.
Tech spec
Ducati Multistrada V4 S
Price: £18,995
Engine: 1158cc, V4 90-degree, water-cooled 16-valves, counter-rotating crank
Power: 168bhp (125kW) @ 10,500rpm
Torque: 92lb-ft (125Nm) @ 8750rpm
Transmission: 6-speed, chain drive
Frame: Aluminium monocoque frame
Brakes: (F) 2 x 320mm semi-floating discs, radially mounted Brembo monobloc 4-piston callipers. (R) 265mm disc, Brembo 2-piston floating calliper, Cornering ABS
Suspension: (F) 50mm fully adjustable USD fork, electronic adjustment. (R) Fully adjustable monoshock, electronic adjustment, aluminium double-sided swingarm
Wheels: Light alloy cast, (F) 3" x 19" (R) 4.5" x 17"
Tyres: Bridgestone AX41 fitted for test
Seat height: 840/860mm (33.1-33.9in)
Fuel capacity: 22 litres (4.8 gallons)
Fuel consumption: Claimed 43.5mpg (15.4km/l). Tested 39mpg (13.8km/l)
Weight: 218kg dry/243kg kerb
Warranty: 24 months, unlimited mileage
Service intervals: 9000 miles, 36,000 miles (valve)
Contact: Ducati.com
#multistrada #v4s #ducato #morebikes #motorcycles #adventuremotorcycles

Enjoy more MSL reading in the monthly magazine.
Click here
to subscribe.