Mariano Roman, 63, has been the CEO of Fantic Motor since October 2014, when he and a group of fellow investors acquired the company from its previous owner, Federico Fregnan.
Modest and soft-spoken, Roman however has much to be proud of, having directed the creation of so many iconic motorcycles down the years, starting with the RGS1000 three-cylinder sports tourer during his time at Laverda, before joining Aprilia in 1985.
There, as Technical Director from 1987 onwards, Mariano Roman was responsible for creating Aprilia's first Superbike, the RSV Mille 60º V-twin, as well as the Tuono, Caponord, Falco and Futura spinoff variants.
Amongst many other models, he also oversaw development of the 50/125cc AF1 duo, the Suzuki-engined RS250 race replica, the Scarabeo big-wheel scooter, the Climber trials bike (on which Tommy Ahvala won Aprilia's World Trials Championship in 1992), and another narrow angle V-Twin family of bikes, the SXV/RXV 450/550cc 77º V-twin offroaders that were five-time winners of the World Supermoto Championship.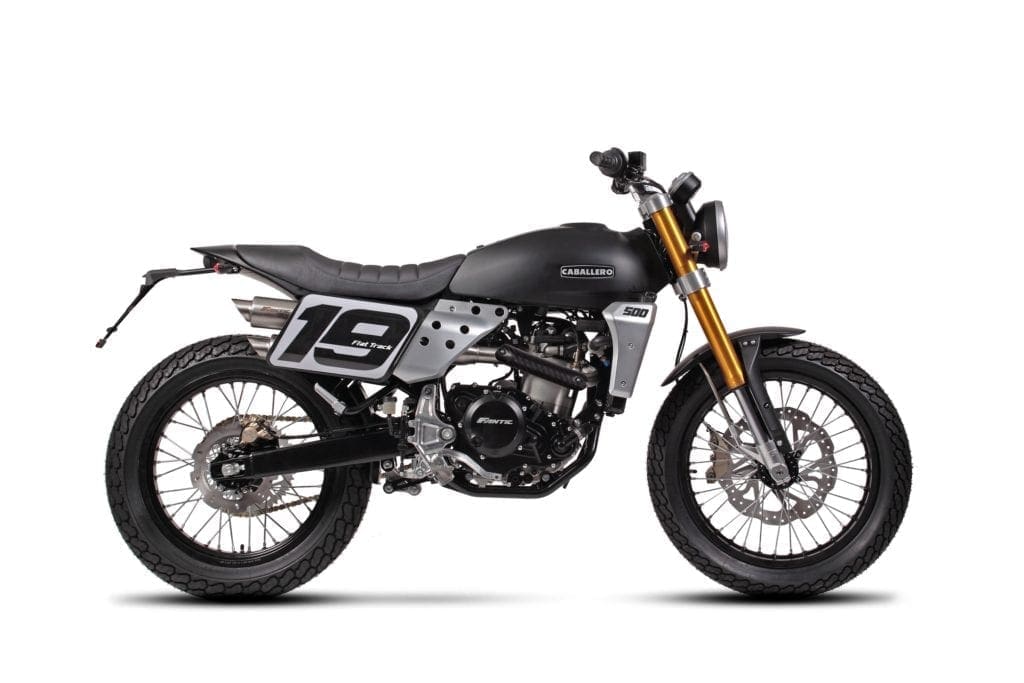 In 2000 under his direction, Aprilia launched the innovative 50cc DiTech direct injection two-stroke scooter engine, which provided greater fuel economy as well as lower emissions and reduced manufacturing costs, and he also collaborated successfully with BMW to jointly develop the F650 Funduro and later F650GS, which Aprilia manufactured from 1993 onwards for the German company.
But after Piaggio's acquisition of Aprilia in 2004, Roman became dissatisfied at what he saw as a lack of strategic understanding of the motorcycle industry on the part of the new owners, and he duly left Aprilia after 23 years spent directing the development of its products.
He then worked in the construction industry for a while, until in October 2014 together with a group of investors he decided to acquire Fantic Motor. Let's leave it to him to take up the story.
Q: Mariano, why did you and your colleagues decide to purchase Fantic Motor?
MR: After I left Aprilia I went to work in the construction sector – we worked among other places around the world on rebuilding Ground Zero in New York, but my heart was not happy about being away from bikes. So at the end of 2014 I decided with some of my friends to buy Fantic Motor from Federico Fregnan. He'd made a good job of running it for ten years, because we found a very clean company. Sometimes when someone buys a brand, they try to make as much money as possible from it, but Fregnan had done a good job, especially in terms of product. Thanks to him I found a very good situation awaiting us.
Q: Viewed from outside, it seemed he understood the Fantic brand very well, but that he was undercapitalised – he didn't have enough money to invest in taking it to the next level.
MR: Yes, you're correct – but there were two issues altogether. First was this one, because the motorcycle business is capital intensive – it's more or less impossible to do anything without cash. But the second issue was that he already had a very nice family company making Elektra coffee machines, and it's very difficult when you have to think in two directions at once, especially when they're such different industries. In the motorcycle business you have to be thinking 24 hours per day, and sometimes even that's not enough! So this is the second reason why he was open to an offer from us to take over Fantic."
Q: So who actually owns Fantic Motor now?
MR: 10% of the company is now owned directly by VeNetWork, which is an investment group consisting of 59 entrepreneurs in the Veneto region. The other 90% is owned by 24 individual members of this group, including myself.
Q: OK – but they chose you to run the company!
MR: Yes. I told them, "I would like to buy Fantic". They said, "OK, if you put some of your own money in there, as well as your face, then we'll do it." So I did! I am the CEO in charge of running the company, and charged with delivering to all of us a return on our investment. So it's a big responsibility!
Q: So, what's happened since then?
MR: In January 2015 we took control of Fantic, and at that stage the range consisted of 50cc and 125cc offroad models only. We bought it because it's a historic brand founded in 1968 that even today is much-loved by Italian motorcyclists, which has remained clean and well managed in recent years. My vision for the Fantic brand is to build company growth based on carefully developing affordable new products in different sectors which embody lots of emotion. That's why we're reviving the Caballero brand – it was the dream of every teenager back in the '70s and '80s to own a Caballero – well, either that or a Fantic chopper! – and our target for Fantic is to become an important presence in the middleweight sector.
Q: How have you set about doing that?
MR: In 2014, before we took over, Fantic Motor's turnover that year was just one million Euro, in making less than 300 motorcycles, all of them 50-125cc offroaders – since Fregnan bought the company in 2003 he built around 10,000 such bikes in twelve years.
Our plan envisages the continuation of development in the offroad segment, the relaunch of the Caballero with both Scrambler and Flat-track models in each of the 125, 250 and 500cc displacements, and also our entry into the world of sustainable mobility, for which we have developed a complete range of medium to high-end Fantic E-bikes which are enjoying considerable success.
We believe that this is a sector with strong immediate potential – already in Europe the total sales are about 1.5 million examples per year, and the forecast for 2020 is for double that, so over three million such bikes. In addition, we're the Italian distributor for Mash Motorcycles imported from China, and these already had a big success in France, where the company is based. We sold 1,000 examples of these vintage-style bikes last year.
Indeed, our turnover has developed very satisfactorily, rising from 4.5 million Euro in 2015, our first year of operation, to over 10 million in 2016, during which we actually posted a profit of 260,000 Euro, in spite of investing no less than 15 million Euro in product development during that year. Our objective is to achieve a volume of more than 40 million Euro by 2020.
My idea is to get young riders started on our 50 and 125cc models, and then offer them a way to stay with Fantic as they gain experience and progress up the capacity ladder. We're working hard on communication via social media, but we are only at the start – we intend to revive the offroad sector for fourteen-year-olds, and we will do it with the Flat-tracker, too – and not just in Italy.
The Fantic brand is well known outside this country, and the Caballero name is still an important tool for selling bikes in countries like France, Spain and England – and the USA, too.
Q: How many petrol-engined motorcycles did you manufacture last year?
MR: For this year, the target this year is 5,000 units – plus another 1,000 Mash bikes, and 7,000 E-bikes. I prefer to talk about this year, because we have been working hard on developing the Caballero range, and this is right now coming to fruition. We already have the 125 on sale in both Scrambler and Flat-track versions, we started shipping the 250 at the end of July, and in September we'll have the 500 – both again in the two variants. The 125 is powered by a Yamaha Minarelli engine, while the 250 and 500 have Zongshen single-cam liquid-cooled four-valve motors, which were both designed and developed in Italy by another company, but are manufactured in China by Zongshen.
Each year I've been to visit Zongshen, I've found a different company. They have decided to become one of the global leaders in motorcycle engines, and have invested a lot of money to update their quality of production. To do this, they decided to use the best suppliers worldwide for each component – so for example, they are working with Mahle to supply crankshafts, they're working with FCC for clutches, and so on – they are teaming with suppliers who are global leaders in their respective categories.
But they have also invested a lot in their assembly lines to bring them up to the highest level – so, they spent 20 million Euros on one single assembly process to become a fully updated company in this sector. So the fact that we're using Zongshen engines for our larger capacity products is actually a definite bonus, because of the quality.
Q: Will you continue to use Minarelli engines made in Italy, if you can obtain engines from China more cost-effectively?
MR: Yes, we'll continue to use Minarelli as we expand our offroad presence -, we have 50cc, 125cc and 250cc at present, but in the future we're also going to develop a 450cc Fantic model, so as to have a full range of offroad products. At the moment we're racing in the 50cc class of the Italian Enduro Championship, in which we're lying first and second, so we're very happy about that. But we're also planning to make something bigger in the near future, and to race that too.
Q: When you acquired Fantic, was the company already making electric bicycles?
MR: No. When we bought Fantic, we strongly believed that the Electric bicycle could be the future, because every year the market has increased by 20/30%. Today, between the USA and Europe the annual sales are at 2.7 million E-cycles, so it's a good moment to develop this business – but only in the medium-to-high end segment, with a minimum price of €3,000. We're not interested in entering the E-bike volume market.
Instead, we've put all our efforts into doing something really special, which combines practicality with Italian style – we have a very good team of young people who are working on this project. We use motors imported from Germany, built by Brose which is the biggest electric motor producer in Europe and maybe the whole world, building around 100 million motors per year of all different types and sizes. 50% of electric cars have Brose motors – it's an incredible company.
I strongly believe in the Electric motorcycle, especially for urban mobility, and we are working to develop something with more performance and range in future than our current very successful E-cycles.
Q: I understand you just moved factories because you ran out of space at the old one, which is a good sign of success for the company. So how large is this new one?
MR: It's 5,000m² in size, with 60 people now working here – against 15 or so when we took over, and just 2,000m² of floor space until now. We also have a sales office in the USA, in San Francisco, but at present only for the E-cycles, and in future for the racebikes we plan to develop.
Our target is to promote something quite interesting for flat-track racing, because just as we did in the past with Laverda, and especially Aprilia, in stimulating interest in the brand via competition, so we must do the same in the near future with Fantic – except this will be in flat track, not road racing or trials! And this will happen both in Europe and the United States, although unlike in Europe and elsewhere we don't envisage making the Caballero available in the USA as a street legal model, only as a racer for flat track competition.
However, Australia, South Africa and South America will be our prime targets for this product, because these three big markets could be very interesting for our Caballero models. They're very suitable markets for these bikes, both streetlegal and not.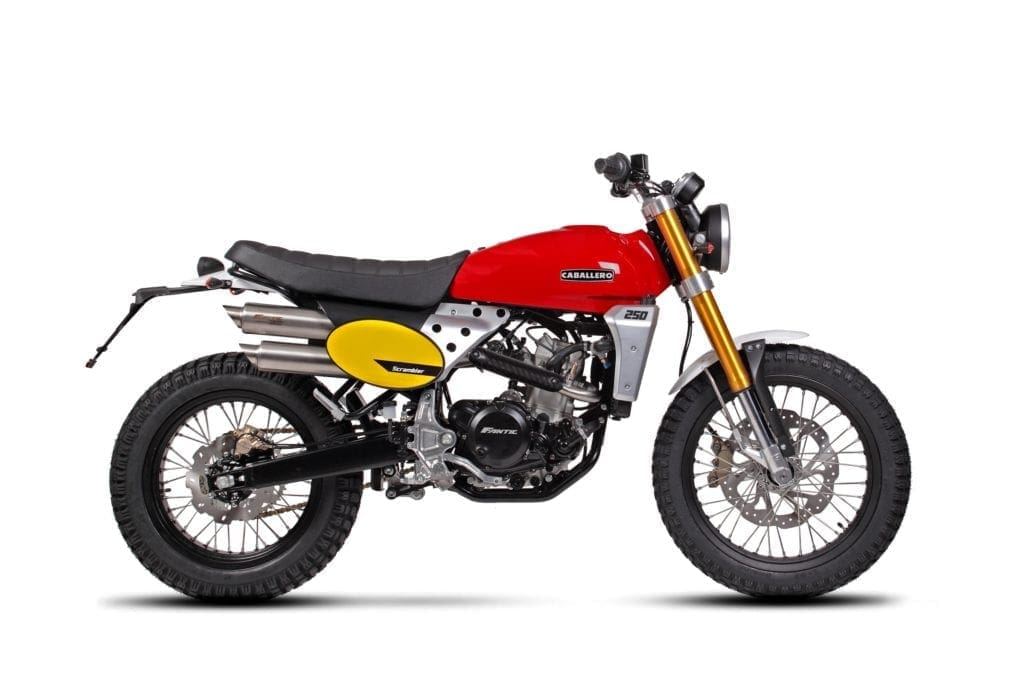 Q: What other kind of street bikes are you planning on developing?
MR: In future, we plan to have some Caballero models suitable for use in the Paris-Dakar and other offroad rallies, with streetlegal spinoffs of these, and we also intend to develop a range of models using a 650/700cc parallel-twin engine. We'll start developing this project at the beginning of next year when we have a prototype engine available from our chosen partner – there are a lot of companies interested in supplying us – with a view to entering the marketplace with it in 2021. So we should present these bikes at the EICMA Show in November 2020.
Q: Which way do you see Fantic developing in the future, in terms of the mix between Caballero funbikes, Enduro and Electric?
MR: We have a huge, huge success with the Caballero, especially with the forthcoming 500 – it seems everyone wants this bike, judging by the pre-orders from our dealers and importers. I believe that in the near future, we can have a really important volume in the Caballero range of models – for sure, more than our offroad models, because 250cc and 500cc are worldwide categories, so we can sell this product anywhere.
Q: To the point that Caballero will be a brand in its own right – in the same way that you were responsible at Aprilia for developing the Scarabeo into a standalone brand?
MR: OK, I admit it – when we presented the Caballero, I started to say to myself, "This is the new Scarabeo"!