Siddhartha Lal. 43, is the dynamic CEO of Eicher Motors, and as such the man responsible for turning what was formerly a sleepy ex-colonial offshoot of a defunct British motorcycle marque into the fastest-expanding manufacturer in the world today, which is set to produce 900,000 motorcycles in 2018.
But when Lal took over as CEO in 2000, Royal Enfield was making just 25,000 motorcycles per year, since when the share price of Eicher Group stock has increased in value 70 times over under his leadership, after he assumed control of the entire company in 2004.
Here he explains why the Himalayan is key to the ongoing development of Royal Enfield's market penetration.
Q: Siddhartha, until now Royal Enfield has always produced retro products, but the Himalayan is your first non-retro model. What's your thinking behind its creation?
SL: Five years from now when we have a completely overhauled range of Royal Enfield bikes, you'll certainly see even more classic motorcycles in that. The majority of our core models will still be classic oriented, and will come from our heritage, our roots, like the Continental GT or the Bullet Classic.
However, every now and then you're going to see something a bit different, like the Himalayan, and in this case it was something that had been in our minds for a very long time, 15 years or so, because it's been in our DNA for even longer. Royal Enfields have been used in the Himalayas for decades, ever since they first started being ridden there in the 1950's, and the Himalayas have always been our spiritual home.
So we figured we should make a motorcycle that does justice to that environment, but also something that's new – because we don't want to do the same s**t over and over again, we want to try something different. Sometimes we'll succeed – as we evidently have with the Himalayan, judging by the sales response in India – and sometimes we'll fail, but we want to try to be as innovative as possible within our chosen segment of the market,
Q: So you're hoping to educate consumers about Enfield's capabilities?
SL: I don't think it's educate so much – it's more a case of our gaining a deep understanding of our consumers and what they really want, and giving them something which they've not even verbalised, but we believe we know they desire.
Because we live that life too, and we've gone through a lot of thought processes before coming up with what we have. So for example, look at the power of the Himalayan, where the experts said it's not powerful enough. But we're not building this bike for experts, we're building this for people who want to graduate from a commuter motorcycle, yet have a passion for adventure and touring. That's who we're building this bike for.
If you're graduating from a 150cc motorcycle, then the 410cc Himalayan is huge step up. So that's what you're going to see – a lot more innovative products from Royal Enfield which address the desires of our customers that they maybe haven't even recognised is what they want, while still retaining our core model range of classics.
Q: Will you produce a larger capacity version of the Himalayan for more expert riders?
SL: Yes, we will. In terms of Royal Enfield sales in India, it's really 350cc motorcycles that are our true core product. But I'd say that in the order of 10% of our motorcycles in India are now 500cc, and 10% is now 60.000 bikes a year, so it's not a small number anymore – and learning from that, you realise there is a case from the Indian perspective for a bigger engined Himalayan, not just for export markets, I always come back to India because any product that we do manufacture with an eye on other parts of the world has to have its roots in India, where we have 96% of Royal Enfield customers.
We will not launch a motorcycle which we don't think can sell in any great numbers in India. India gives us our scale in terms of volume, and if we don't get scale for any given product, then it's not worth our while developing it. I will not make a motorcycle today just for our American market where I can only sell 200 or 500 bikes a month – it's simply not viable. Because if you think about it, for a company which is now selling 60,000 bikes a month, any product that represents just a few 100 units a month is simply not viable.
So back to your question about higher capacity, we have selected which models we will be making bigger and more powerful versions of than we have today, and the Himalayan is one of those – but because our Indian customer says so, not anyone overseas.
However, I recognise of course that this is a benefit for or export sales, and as we get close to meeting demand in India for our products, then we must start to lift our sales overseas. In the next five-year horizon, we intend Royal Enfield should be No.1 in global sales in the middleweight segment.
Q: So what does that represent – a maximum of 750cc?
SL: Yes, we won't go beyond that, and we won't go below 250cc either, though I don't expect to go below our current 350cc capacity – that's the playing field we have set for ourselves for many different reasons. One is because we don't see any genuine volume scale in India or other emerging markets for a motorcycle above 750cc, and our economics only work when we can sell on a large scale basis.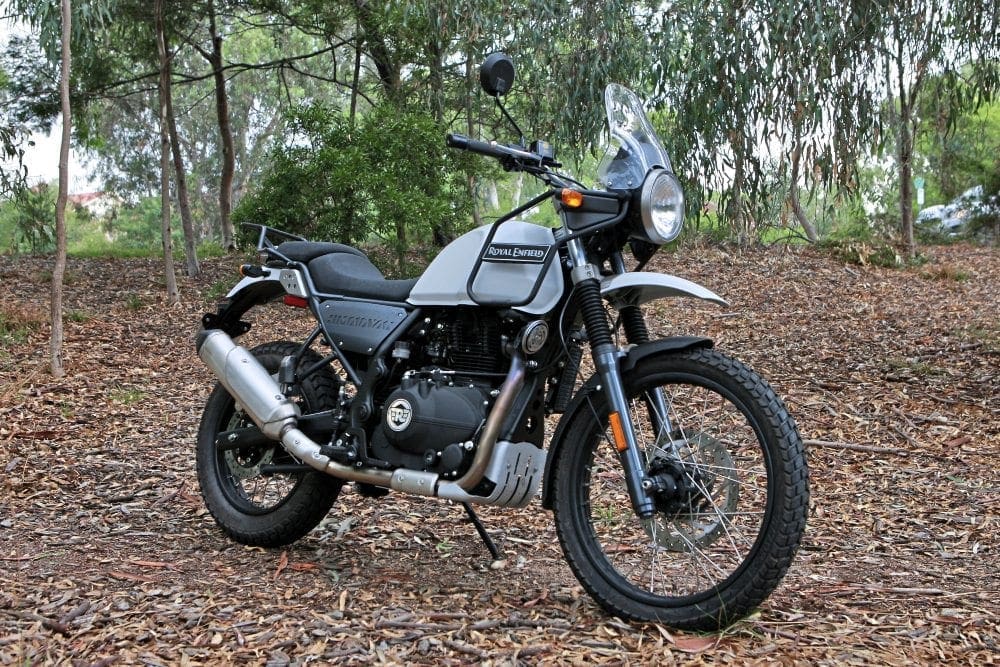 Take our 500cc franchise, which is already 5,000 bikes a month with a very good product – yet in an Indian customers' eyes there's not much difference between a 350 and 500. Now if you give them something which is a bit larger in capacity above that, I think we could do much more than 5,000 units a month, and then that same product I believe can have strong legs in Western markets, and also in other developing markets like Malaysia, because it will be truly highway worthy.
I believe today there's a large section of people who really like to ride our Royal Enfields on Western highways where the traffic is going at 70-75mph, but you're struggling at that speed on our motorcycle, and for some people it's not the most pleasant experience because you're going at full throttle all the time, and you can't do that for too long without getting frazzled.
Q: So for these customers you're going to provide a slightly more powerful product still middleweight in capacity – like, say, the rumoured 650cc parallel-twin you're supposed to be launching sometime this year?
SL: I couldn't possibly comment on that!
Q: When will the Himalayan come to export markets besides Australia, where you're already selling what is essentially the same carburetted model you sell in India?
SL: That's an interesting question, because as I told you we planned the model more with India in mind. If you look at the specifications, it's not a very high performance motorcycle in terms of a Western perspective.
Q: Yes, but something like that doesn't need to be a high performance model. That's part of its intrinsic appeal.
SL: We didn't realise that, to be honest – we honestly didn't realise there would be a global market for a low power adventure bike like this. But there's been a strong pull from the US market for it, and we're delighted about that.
We're getting feedback from riders that they want something that's relaxing and fun to ride for weekend use – so I think there could be an unexpected market for it, and certainly women are key target customers for the Himalayan.
We don't have a Euro 4 version of the bike right now, so we will start to sell it in other markets before Europe while we're developing that – starting with Australia, as we now have.
Q: So the Euro 4 version would be a 2018 model?
SL: We'd certainly like to bring something in this year in the relevant markets where we think there is some traction, where we think we can sell some numbers. But certainly even more so in other emerging markets – in some Latin American markets, South East Asian markets because that's ripe now. I had the opportunity to ride a bit in Colombia for example a couple of years ago – I just loved it.
And the riding conditions there are absolutely wonderful; very mountainous and it's a lovely country. I can see the Himalayan on those roads. The roads are not very quick; the people don't ride very quickly, so it sort of meets our position in terms of product. It's the enjoyment of getting there that matters, not the thrill.