BSA is back. Despite the 50s and 60s glory days (one in four bikes was a BSA) a trading deficit of £3 million was recorded in 1971. BSA closed for good in 1973. Bob Pickett takes a look at the new Gold Star…
When the Mahindra Group purchased the company there could be no other name for its first bike but the Gold Star (the original name came from 1937 when Wal Handley was awarded a Gold Star badge for lapping the Brooklands circuit at over 100mph on a BSA Empire Star.)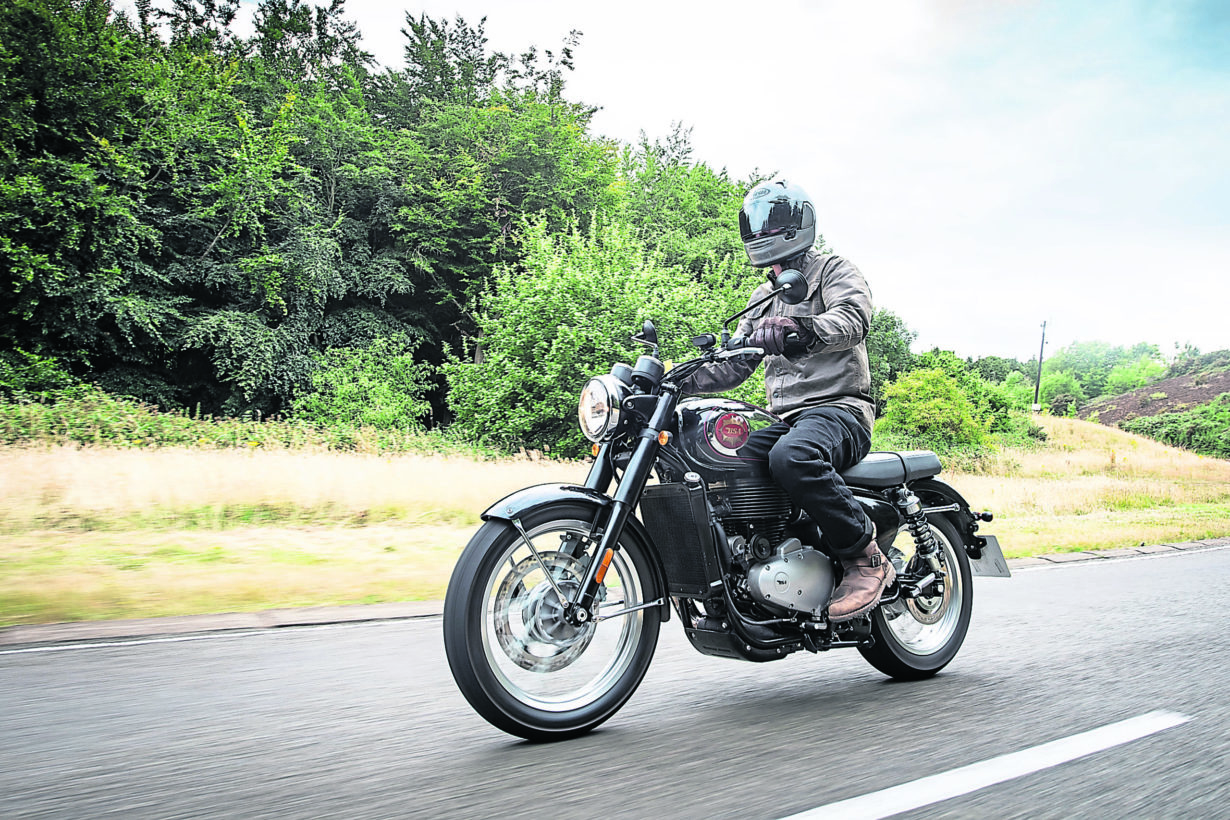 Give me some spec
A 652cc, single-cylinder engine putting out 45hp @ 6,500rpm with maximum torque of 55Nm @ 4,000rpm is housed in a tubular steel double cradle frame with box section swingarm.  Top speed 103mph (est). Seat height is 780mm.  Hauling up the 213kg (wet) weight is a 320mm single floating disc with Brembo twin-piston floating calliper and single 255m rear disc with single-piston Brembo floating calliper.
Changes from last year's model
Brand-new model for 2022/23.
So what is it like to ride?
At the launch on the Millbrook test track (nice nod to the original's racing heritage), testers loved the Gold Star's easy-going nature: 'peach of an engine'and soft, yet composed, suspension. How does that translate to the UK's pothole-strewn roads in February?
It's superb.
It's so easy to get on with. Sat upright, feet and hands in a neutral position, 'controls fall easily to hand' (couldn't resist). It's balanced (once riding for a while, lowspeed bimbling was simple). The relatively light clutch and slick, positive box make town work easy.
Open up, the engine surprises.  It picks up speed quickly, getting on with the task. Overtakes are a doddle; twist the throttle and it punches hard (even at motorway speeds) past your victim.
Handing isn't sportbike sharp but goes where you point, though at motorway pace it's harder work. Up to the 60s it's fluid, letting you flow from corner to corner.
Suspension is firmer than the launch reviews suggest (though it bottomed out a couple of times). There is a fair amount of fork dive under firm braking; get that out the way early when approaching a bend. Talking brakes, they're just about right for the Goldie but do appreciate a firm squeeze.
The tiny mirrors work better than they deserve. I like the warning light placement on the headlight cowl, leaving the clocks to give feedback on the important stuff. My only gripe? The broad seat and peg placement. Great on the move, but coming to a stop I had to splay my (admittedly short) legs wide to touch down.
But you can live with that. BSA has got it spot on with the new Gold Star. It can do anything from commute to motorway (but you're pushing the handling), though the dealer told me bikes sold so far have gone to homes with another bike or bikes.
The middleweight retro arena has gained a serious contender for the crown.
How much does it cost?
£6,500 for the Highland Green base model (£6,800 other colours). There is a chrome 'Legacy' edition for £7,000.
WANT TO RIDE?
To test this bike contact:
Johns of Romford Motorcycles
46/52 London Road
Romford
Essex RM7 9QX
Tel: 01708 726049 or 01708 761047
Email: [email protected]
#bsagoldstar #bsa #mahindra #morebikesyoulike #motorcycles #readersrides #motorcycle #ukbikers #bikelife #bikers #motorcyclists #morebikes #morenews #motorcyclenews #motorcyclegear